Best Crypto Savings Accounts in Canada in September 2023
The cryptocurrency industry has seen an explosion of facilities offering similar services to those available in traditional financial markets over the past few years. In addition, there are several facilities available to investors, such as crypto savings accounts, which can help generate interest in their crypto holdings.
This guide discusses the best crypto savings accounts currently on the market, highlighting the highest rates offered by providers and showing you how to get a crypto savings account set up today – in four easy steps.
Best Crypto Savings Accounts in Canada List 2023
Below you will find an overview of the top cryptocurrency savings accounts available to investors right now. To ensure you have all the information you need to make an educated decision, we will review each of those accounts individually.
DeFi Swap – Overall Best Crypto Savings Account In Canada
AQRU – Best Crypto Savings Account With High-Interest Rates Up to 12% APY
Crypto.com – The Best Crypto Savings Account with High Rates
BlockFi – A user-friendly crypto savings account that compounds interest
Binance – Crypto Savings Account for Flexible and Locked Savings
Coinbase – Trusted Crypto Savings Account with High Security
Best Crypto Savings Accounts in Canada Reviewed
When it comes to buying cryptocurrency and storing it on a long-term basis, you can optimize your returns by partnering up with one of the account providers mentioned above to open a crypto savings account. With this in mind, let's take a closer look at each of these providers to give you a clearer picture of the options you have available.
1. DeFi Swap – Overall Best Crypto Savings Account In Canada

As a result of its meteoric rise and its innovative ideas regarding decentralized finance, we decided to place DeFi Swap at the top of our best crypto savings accounts list. With it, users can interact with a platform where they can trade tokens and generate interest payments passively without relying on a centralized intermediary. Furthermore, through an easy-to-use browser-based platform, the exchange performs this function without carrying out KYC checks of any kind.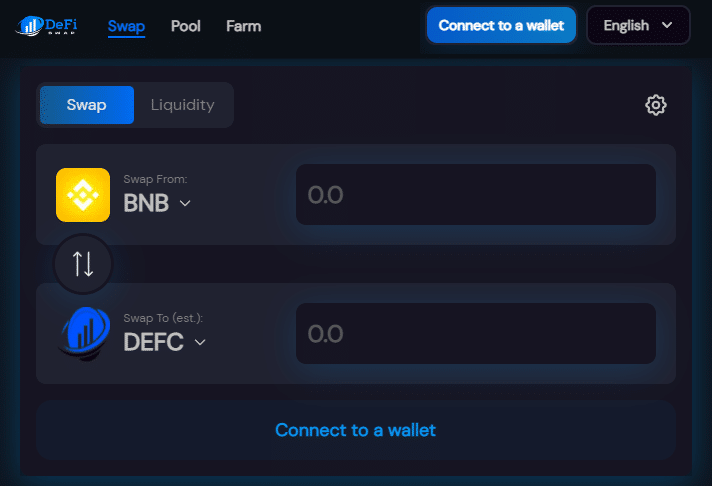 Investors who plan to hold the DeFi Coin, its native token, for a long period tend to prefer this exchange. Among the reasons for this is that payments made through the exchange are subject to a 10% tax. Thus, it discourages short-term gain speculators from trading the token to make quick fortunes.
Half of the taxed proceeds will be distributed to current DeFi Coin holders after the smart contract taxes every transaction. Long-term holders will be rewarded in this manner. On the other hand, the DeFi Swap liquidity pool will be able to hold an additional fifty percent of the collected proceeds after taxes are deducted for each transaction.

Additionally, users can participate in DeFi Swap's yield farming program, which offers four different levels of participation. Every tier comes with its lock-up period and annual percentage yield. For example, the highest one offers up to 75%. Choosing to place your tokens in one of the liquidity pools on DeFi Swap is another alternative to participating in the commissions generated by the exchange by becoming a liquidity provider and choosing to place your tokens.
Meanwhile, the DeFi Coin has already begun to gain traction and show its potential, especially after the growing up of the platform and the DeFi Swap Telegram group, which has already gained over 6,000 members.
Pros:
An intuitive online portal for users
Supports over 50 tokens
Powered by Binance's Smart Chain
Earn passive income by investing in DEFC
Staking and yield farming mechanisms are available
Cons:
The mobile app is still being developed
Cryptocurrencies are highly volatile and speculative assets. Your capital is at risk.
2. AQRU – Best Crypto Savings Account With High-Interest Rates Up to 12% APY

We recommend partnering with AQRU if you're looking for one of the best crypto savings accounts this year. AQRU is owned by Accru Finance Ltd, a London-based financial services company. AQRU, launched in December 2021, looks to be one of the best investment platforms in the burgeoning space by providing high yields and a high degree of safety.
Investors can deposit their holdings at AQRU and generate a solid return by trading their holdings. In addition to accepting stablecoins, such as USDC, USDT, and DAI, along with BTC and ETH, the platform is perfect for crypto investors of all levels. In addition to accepting USD deposits, it also accepts deposits in GBP and EUR. AQRU will subsequently lend the funds deposited by customers to institutional and retail borrowers, with these loans being 100% collateralized.
AQRU is a crypto saving account provider that offers high rates on crypto savings accounts because cryptocurrency is still difficult for certain market participants to obtain. In addition, AQRU is one of the best crypto lending platforms offering a 12% return on stablecoin deposits and a 7% return on Bitcoin and Ethereum deposits. It is also great to know that AQRU does not charge any hidden fees for its services - and that withdrawals can be completed at any time.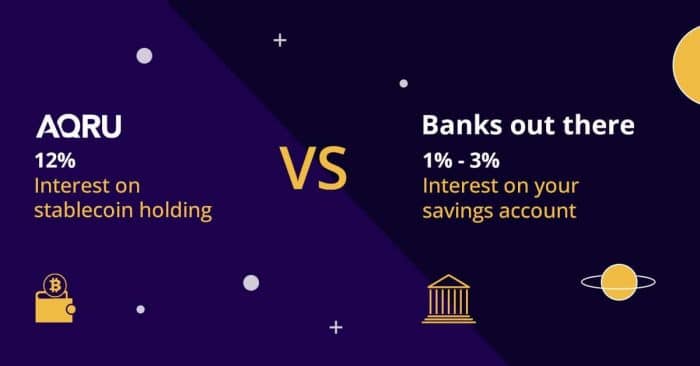 The only fee to be aware of is the $20 fee when withdrawing crypto, which is charged in the withdrawn currency. Regarding payment methods, AQRU offers clients the option of using a credit/debit card, a bank transfer, or cryptocurrencies. Furthermore, the minimum deposit amount with AQRU is only €100 (£83.44), making their services accessible to people just getting into investing. Lastly, the user can access AQRU's full range of services through the app, which will allow the user to make deposits and check their account stats, in addition to securing their account with two-factor authentication. The AQRU platform is also one of the best crypto lending platforms available today.
Pros:
Cryptocurrency buying is free
No matter how large your balance is
There is no lock-in period
Transactions are processed quickly
10 USDT welcome bonus
Available on mobile
Free of charge
Cons:
KYC and ID verification required
Earnings limited to a limited number of cryptocurrencies
Capital at risk. You must be satisfied that this crypto offering is suitable for you in light of your financial circumstances and attitude towards risk. The price or value of cryptocurrencies can rapidly increase or decrease at any time.
3. Crypto.com – The Best Crypto Savings Account with High Rates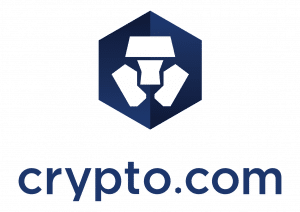 We recommend Crypto.com to anyone looking for a high yield crypto savings account. Crypto.com is a cryptocurrency exchange with over 10 million customers worldwide. In addition to various trading services, Crypto.com offers a crypto savings account that generates high returns.
Known as Crypto Earn, the savings account at Crypto.com offers users the possibility of earning up to 14% on stablecoin deposits and 14.5% on crypto deposits. In addition to BTC, ETH, and USDC, Crypto Earn supports over 40 different cryptocurrencies. Furthermore, users can customize different aspects of their crypto deposits based on specific goals. Lock-up periods, for example, can be flexible, one month or three months - allowing for easy access to crypto holdings.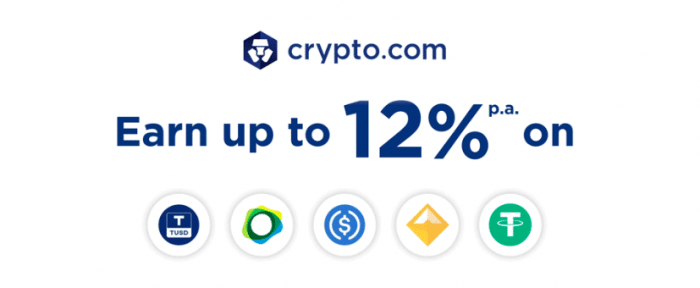 Users can obtain the highest savings rates by staking a specific amount of CRO - Crypto.com's native coin. If you stake 40,000 CRO or more, you will get the highest rates, but users who are content with lower rates can deposit their crypto without staking CRO. In addition, the lowest returns will come from flexible lock-up periods, while the highest returns will come from opting for a three-month lock-up.
The attached crypto wallet will receive weekly interest payments on crypto deposits every seven days, with no compounding. To earn interest, users must deposit the minimum amount for each supported cryptocurrency. For example, users must deposit 0.0005 BTC or 0.15 ETH to earn interest. In addition, Crypto Earn can be accessed through the Crypto.com app, and deposits can be made instantly.
Pros:
Supports more than 40 cryptocurrencies for earning
14% annual returns from stablecoins staked on the platform
Get up to 8% back on your purchases with the Crypto.com Visa Card
NFT marketplace available
Multiple DeFi integrations on the site
Mobile app available
Affordable fees that are transparent and competitive
Cons:
Lower returns per annum without sacrificing CRO
Complex discounts on trading fees
Capital at risk. You must be satisfied that this crypto offering is suitable for you in light of your financial circumstances and attitude towards risk. The price or value of cryptocurrencies can rapidly increase or decrease at any time.
4. BlockFi – A user-friendly crypto savings account that compounds interest
BlockFi is a great option for beginners looking for a crypto savings account offering high interest. With over 1 million customers, BlockFi has a stellar reputation within the cryptocurrency market. With its BlockFi Interest Account, BlockFi manages over $10 billion in assets and offers an APY of up to 10%. The platform accrues interest daily and distributes it to investors each month like other platforms.

BlockFi's savings accounts support over 15 different cryptos. In addition, there are also less-supported coins like ATOM, ADA, and AVAX that are widely supported, such as USDC and DAI. Each asset has its rate of return, which increases as time passes. Furthermore, BlockFi's sign-up process is extremely simple, and there are no hidden fees or minimum balance requirements.
Pros:
Compounds earnings on a monthly basis
Encompassing over 14 stablecoins and other cryptocurrencies
Increasing crypto interest tiers
Mobile app available
Cons:
Digital currency is not legal tender, is not backed by the government, and crypto accounts held with BlockFi are not subject to FDIC or SIPC protections. Digital currency values are not static and fluctuate due to market changes.
5. Binance – Crypto Savings Account for Flexible and Locked Savings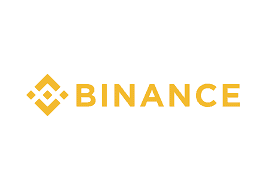 Binance is widely known for its cryptocurrency trading platform, but the exchange has also expanded its service offering to include crypto savings accounts and cryptocurrency trading tools. As measured by daily trading volume, Binance is the world's largest crypto exchange. It is said to have 21.5 million users worldwide, and the app is currently available for both Android and iOS. In addition, the platform offers an easy way to generate interest through a feature called "Binance Savings" that is accessible to every registered user.
It is said that Binance supports over 140 coins through its flexible savings accounts, while ten coins can be locked up for a certain period to earn a higher return. Furthermore, users of flexible accounts have the option of redeeming their funds at any time and interest will be directly credited to their accounts every day. As a result, Binance offers some of the highest yields of any exchange, with AXS and CAKE deposits offering 12% and 10% annual percentage returns, respectively.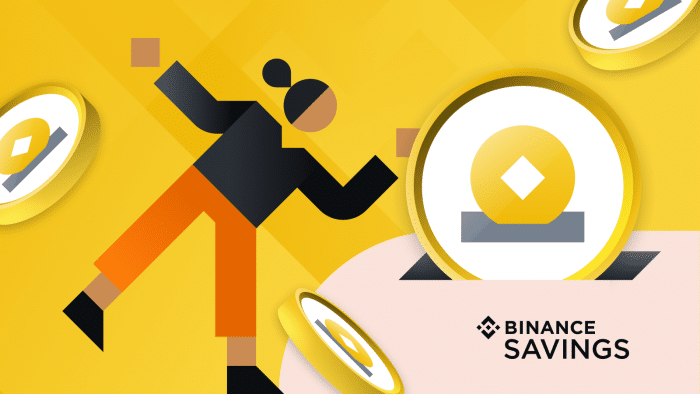 Choosing to lock-up crypto will result in higher yields. For example, seven-day lock-up periods for AXS and CAKE can grant users an annualized interest rate of 25%! Notably, there is also a section on Binance for coins with a limited supply of coins. The amount of cryptocurrency that can be deposited for each of the featured coins is limited, so if the user wishes to participate, they must be quick. Despite this, the rate on these coins is exceptional, with a prime example being Everipedia deposits, which can net users a return of 70% per year.
Pros:
Daily compounding is possible
140 cryptocurrencies and stablecoins available
Various savings products available
Difficulty funding and crypto staking
Mobile app available
Cons:
Needs KYC and account verification
Average APY
Cryptocurrencies are highly volatile and speculative assets. Your capital is at risk.
6. Coinbase – Trusted Crypto Savings Account with High Security

Coinbase rounds off our reviews of the best crypto high yield savings accounts. Coinbase is one of the largest exchanges globally and is a popular choice for crypto traders because of its robust security features. In addition, the FCA has authorized Coinbase in the UK, and it stores 98% of its customers' holdings in cold storage, ensuring high levels of safety for all users.
Through its free crypto wallet app, available on iOS and Android, Coinbase offers a crypto savings account. The user can select the DeFi protocol with Compound, DyDx, and Fulcrum options. In addition, investors can tailor their savings activities by choosing the provider with the lowest minimum deposit. Coinbase currently supports the following cryptos: ETH, ATOM, ALGO, DAI, USDC, and XTZ.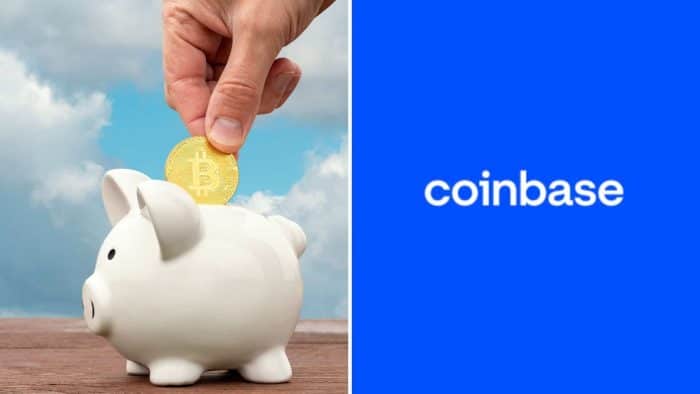 With Coinbase, investors receive a 5% APR through Compound rather than other trading platforms, such as AQRU. However, even though the returns are lower, the process of getting started is extraordinarily simple and can be done in a matter of moments , which is ideal for beginner investors. In addition to the crypto savings service, Coinbase also offers an array of trading and educational services to its users, providing them with a convenient 'all-in-one' platform for crypto trading.
Pros:
Platform that is user-friendly for beginners
Offering a variety of popular coins
Mobile apps that are user-friendly
Depositing and accessing profiles are simple
Cons:
The number of yieldable cryptos is limited
Below average returns
Your money is at risk.
Best Crypto Savings Accounts in Canada – Comparison
When finding the best crypto savings account for your needs, you must pay attention to the coins supported and the returns offered on these coins. In the table below, we have presented a clear breakdown of these two factors for your easy reference:
Platform
Coins Available for Saving
Savings Rates
AQRU
USDT, USDC, DAI, ETH, BTC
Stablecoins: 12% per year

BTC & ETH: 7% per year

Crypto.com
40+ (stablecoins and other cryptos)
Stablecoins: Up to 15% annually

Other Cryptos: Varies; up to 14.5% annually

BlockFi
14+ (stablecoins and other cryptos)
Stablecoins: Varies; up to 9.25% annually

Other Cryptos: Varies; up to 10% annually

Binance
140+ (stablecoins and other cryptos)
Stablecoins: Varies; up to 9.25% annually

Other Cryptos: Varies; up to 12% APY

Coinbase
ETH, ATOM, DAI, ALGO, USDC, XTZ
It varies by provider and can change frequently - currently 5% per year for USDC deposits.
What is a Crypto Savings Account?
In the technical sense, a crypto saving account is a special type of account where investors can deposit cryptos and earn interest. As a result of the high-yielding nature of these investments, they tend to provide higher returns than traditional financial markets, making them an attractive option for people with substantial crypto holdings. Furthermore, due to the rapid expansion of the cryptocurrency market in recent years, more and more platforms offer crypto savings accounts. This increased competition is resulting in favorable terms for investors.
When you use a crypto savings account, you will lose control of your deposits, making it one of the key differences between regular and crypto savings accounts. The reason for this is that the crypto that you deposit will be loaned out to third parties, such as other investors or financial institutions, thanks to your deposit. Generally, since crypto deposits are deemed riskier than deposits in traditional banks, cryptocurrency deposit rates tend to be much higher than those of traditional banks.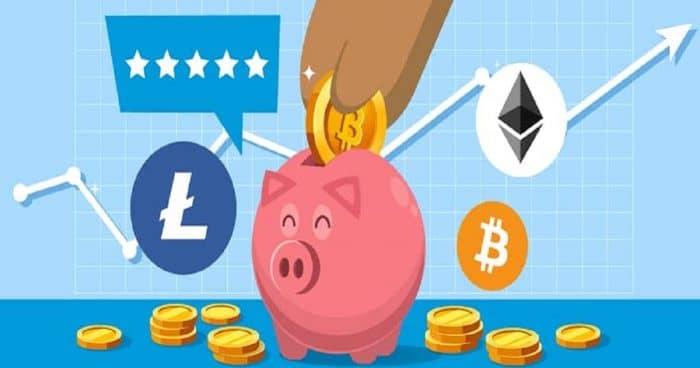 Most savings account providers will ask you to 'lock-up' your deposit for a period of time before you can withdraw it. The result is that users cannot withdraw their holdings until the period has ended - even though this generally means that yields are higher during this period. In addition, several providers offer 'flexible' accounts that tend to offer lower yields in return for allowing the user to receive access to their investments at any time.
Which Platforms Have the Best Crypto Savings Interest Rates?
Investing in a crypto savings account is one of the best long-term investments you can make, and you will be ideally suited to partner with a platform that offers the highest interest rates. Unfortunately, although there are a variety of accounts to choose from, comparing their annual percentage yields (APYs) is not simple - and then there are lock-up periods to consider as well.
In the section above, we emphasized that lock-up periods will mean that you will not be able to access your crypto for a specified period, but you will earn a higher interest rate during that period. Consequently, platforms that provide lock-up opportunities tend to offer higher APY rates than those that do not. Binance is currently offering a 70 percent APY on Everipedia deposits locked up for 15 days, which is a good example.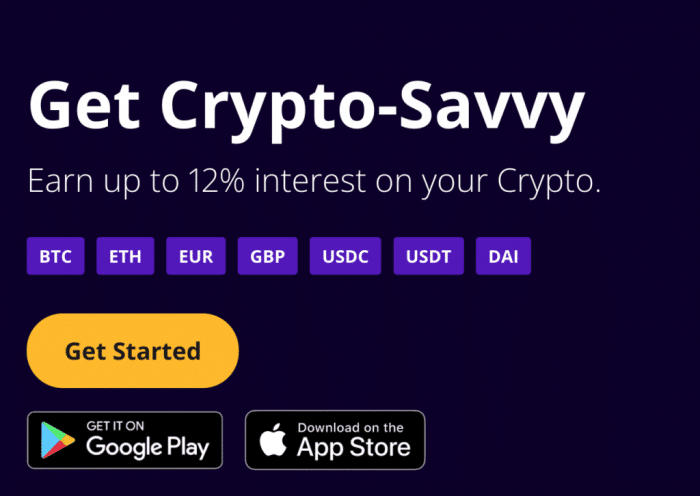 With that in mind, some platforms offer fantastic rates that do not require a lock-up period. The best crypto savings account we recommend is AQRU, which offers interest rates of 12% per year on stablecoin deposits, and lets you use your funds at your convenience. Additionally, users can deposit ETH or BTC with no lock-up period and earn 7% interest per year on their deposits.
In addition to this, some platforms may require staking to achieve higher rewards. A good example of this would be Crypto.com, one of the best crypto staking platforms available to traders. Users of Crypto.com can earn higher interest rates by depositing more CRO - the Crypto.com native cryptocurrency.
In the following image, you will see a quick breakdown of how the staking process affects returns on a DAI or other deposit held for three months with Crypto.com:
Less than 400 CRO staked = 10% per annum.
4000 CRO staked = 12% per annum
40,000 CRO staked = 14% per annum
What Cryptocurrencies Can You Earn Interest On?
Many of the most popular cryptocurrencies can be deposited into crypto savings accounts to earn interest. These cryptocurrencies are usually divided into stablecoins and non-stablecoins. To understand each one, let us break them down separately:
Stablecoins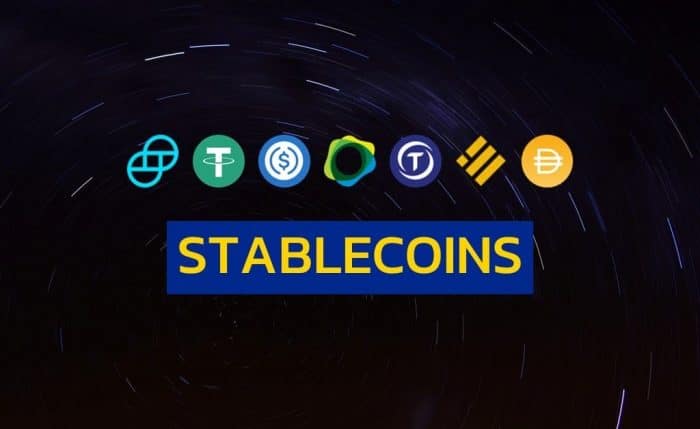 In accordance with a definition provided by the Financial Times, stablecoins are cryptocurrencies pegged to the value of an underlying asset to limit volatility in their price. In terms of market capitalization, USDT is the world's largest stablecoin and has a market cap of over $79 billion. Other notable stablecoins are USDC, USDT, and DAI. The high demand for stablecoins and their volatility-beating attributes make stablecoin deposits one of the highest-yielding cryptocurrencies from crypto savings accounts.
Non-Stablecoins
The term "non-stablecoin" refers to crypto that does not belong to the stablecoin category. We have included popular cryptos such as BTC and ETH in this category and a wide variety of other cryptocurrencies. Because the supply of cryptocurrency cannot be artificially increased easily, as central banks do when they print money, certain crypto coins are in high demand. Consequently, crypto savings accounts allow certain parties to have access to these coins. In addition, the accounts offer a favorable rate of return to compensate depositors for taking on the risk of holding these coins.
How to Setup a Crypto Savings Account in Canada
Over the past year, the process of signing up for crypto savings accounts has become extremely streamlined due to their popularity. Therefore, depositing money and earning interest can often be accomplished within minutes.
Here are the steps to help you through the process of setting up a crypto savings account with AQRU, our recommended provider.
Step 1: Open an Account
Sign up for AQRU by going to the website. Then choose your preferred FIAT currency by entering your email address and creating a password.
If you want full access to your account, you must complete the verification process. First, on the homepage, click the 'Verify your Identity' banner and enter the information AQRU needs to perform the KYC check. Then, you will be asked to take a picture of your photo ID (such as your passport) and proof of address (utility bill). As a final step, you'll also need to take a selfie to ensure that the documents you provide are real.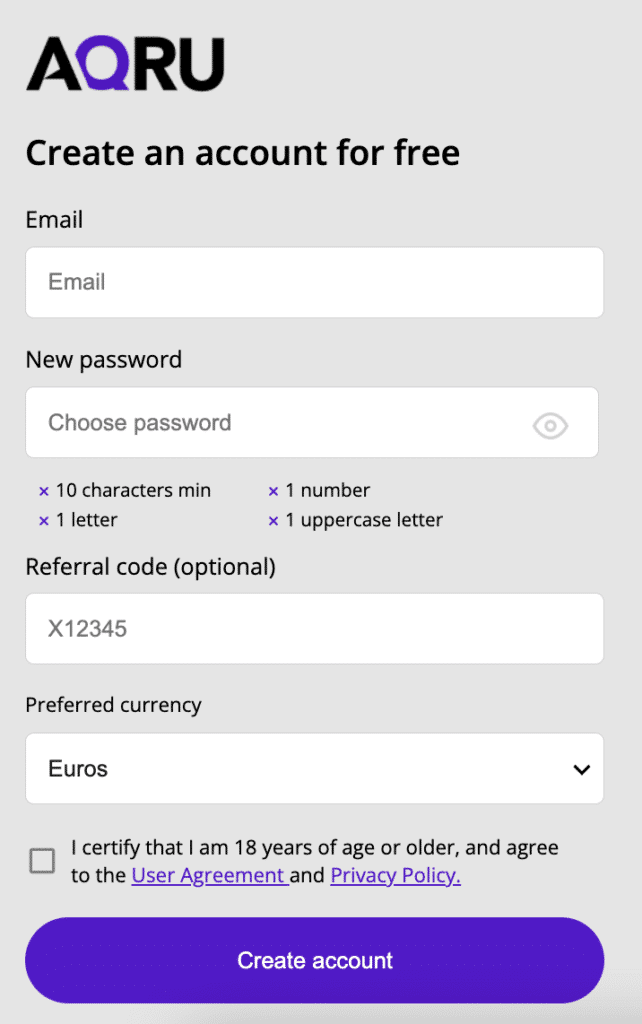 Capital at risk. You must be satisfied that this crypto offering is suitable for you in light of your financial circumstances and attitude towards risk. The price or value of cryptocurrencies can rapidly increase or decrease at any time.
Step 2: Deposit Funds
Next, you will need to download the AQRU app from the Apple App Store or Google Play and enter the credentials you created earlier into the app. Then, on your account dashboard, click on the 'Deposit' button and choose either bank transfer, card deposit, or crypto deposit:
Transfer funds by a bank - free, though it may take 48 hours for the funds to arrive.
Card deposits - Facilitated through MoonPay. This platform allows you to buy crypto, although third-party fees are involved.
Crypto deposit is free, and AQRU will supply a wallet address to transfer your crypto holdings.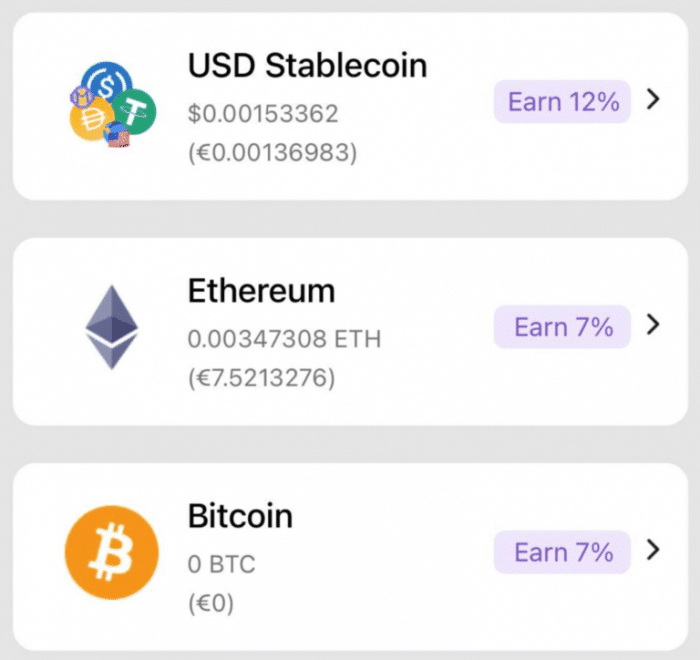 Step 3: Begin Earning Interest
In your account dashboard, you will see the 'Buy' button. Click on it and choose either stablecoin, Bitcoin, or Ethereum - depending on the crypto you will deposit. Afterward, you can choose how much you would like to invest in the savings account before confirming the investment. When your deposit is confirmed, you will automatically begin earning interest on your deposit. Interest accrues daily, and you can withdraw your interest at any time!
Are Crypto Savings Accounts Safe?
It is very important to mention the security aspect of crypto savings accounts before concluding our discussion. Because crypto markets are still relatively young compared to 'traditional' markets, it is only natural to be cautious about operating within them.
Two of the most important factors to remember regarding the security of your crypto savings account are as follows:
No Deposit Insurance
Among the critical differences between regular savings accounts and crypto savings accounts is that the crypto savings accounts do not offer deposit insurance. Deposits with Canada-based banks can be protected by the Financial Services Compensation Scheme (FSCS) up to the value of £85,000, according to FSCS.org. However, because such protection does not protect crypto deposits, they are considered riskier and offer higher yields to make up for this risk.
The possibility of a decline in deposit values
You should also consider the value of your deposit, especially if you wish to open a savings account that requires a lock-up period. Participants in the crypto market will be well aware that the cryptocurrency market can be highly volatile, with significant price declines not uncommon. Therefore, if your crypto holdings are kept locked up for an extended period, and the market turns bearish, their value will decrease very quickly - and you may experience defaults, putting your deposit at risk.
Conclusion
The purpose of this guide has been to discuss the best crypto savings accounts in detail, including which providers are offering the highest rates and how actually to get an account started right away. Considering the massive size of the crypto market and the fact that it shows no signs of slowing down, opening a crypto savings account offers a straightforward approach to generating solid returns for your investment.
We recommend partnering with AQRU if you want to open a crypto savings account today. AQRU offers a selection of stablecoins and yields of 12% per year, with no hidden fees or charges. In addition, AQRU's mobile app offers users the chance to earn 7% interest per year on BTC and ETH deposits.
AQRU – Best Crypto Savings Accounts Platform in Canada

Capital at risk. You must be satisfied that this crypto offering is suitable for you in light of your financial circumstances and attitude towards risk. The price or value of cryptocurrencies can rapidly increase or decrease at any time.
FAQs
How exactly do crypto savings accounts work?
How much should I invest in crypto?
Are crypto savings accounts safe to use?
Is it possible to lose money in a crypto savings account?
Should I keep my savings in crypto?