ZenGo Australia Review 2023
Fact Title
fact tooltip may be found in theme options under general.
ZenGo Wallet is a non-custodial mobile wallet for cryptocurrencies. It works by replacing the use of private keys with threshold signatures to create two "mathematical secret shares" – one that is stored on the mobile device and the other that is stored on their server.
Furthermore, the ZenGo wallet can also be used to buy, trade, send, and receive crypto directly from the wallet itself. Our ZenGo Australia crypto wallet review will help you determine if this mobile crypto wallet is the right choice for you if you're looking for a crypto wallet on the go.
ZenGo Crypto Wallet Review Australia  2023 – Pro's and Con's
Overview
What is the ZenGo Crypto Wallet Australia
The ZenGo cryptocurrency wallet has been designed with the goal of increasing security by eliminating passwords, private keys, and seed phrases to ensure the wallet is protected. As a result, investors have greater control over and access to their cryptocurrency investments. Ouriel Ohayon, Tal Be'ery, and Omer Schlomovits, the company's three cofounders, founded it in 2018.
ZenGo was founded on the belief that cryptocurrency – and personal finance in general – is far too complicated, dangerous, and difficult for most people to understand. So, in an attempt to solve this problem, they created ZenGo.
ZenGo offers a cryptocurrency wallet that is keyless, unlike similar products. There is a new approach to cryptocurrency wallets that does not require you to have a password or a private key to use it. In addition, it does not require any special hardware to operate. As an alternative, it uses a three-factor authentication system (3FA), which includes facial recognition and backs up the decryption code in the cloud to ensure security.
ZenGo is available through an app from which customers can access their cryptocurrency holdings, buy and send cryptocurrency, send and receive money, track their portfolio, earn daily interest rewards, and more.
ZenGo Pros and Cons
Pros:
Smooth user interface
Buy and sell within the app
The easiest wallet to use
Earn interest on holdings with no lock-up
Non-Custodial Wallet
Cons:
Have to store Keyless Recovery Backup on iCloud or Google Drive
ZenGo Wallet Features
From buying and selling cryptocurrency to earning daily interest rewards, ZenGo offers a variety of features to help its customers manage their cryptocurrency accounts.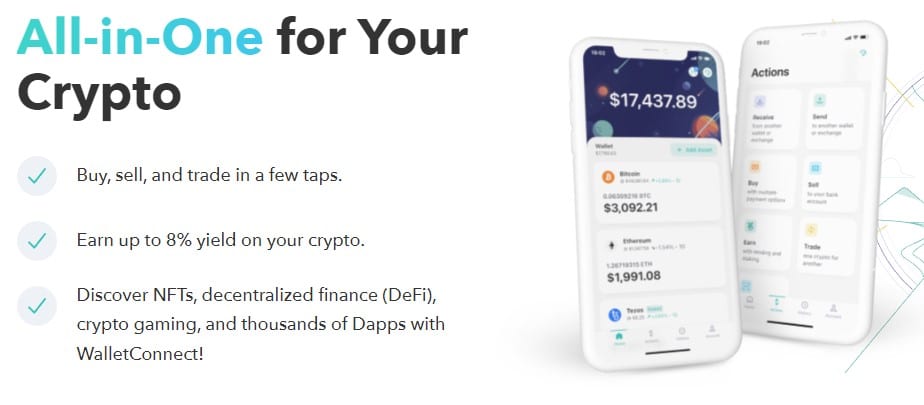 Your capital is at risk.
Storing Cryptocurrency
Crypto wallets are necessary when you begin investing in cryptocurrency. For example, ZenGo is a crypto wallet storing bitcoin, ethereum, and other cryptocurrencies.
There is no doubt that ZenGo represents a major advancement in the cryptocurrency industry as it eliminates this industry's major point of failure, which is private keys. As an alternative, the company uses advanced cryptography to keep your cryptocurrency safe, ensuring you'll always have access to it anytime.
Buy and Sell Cryptocurrency
A further feature of ZenGo is that it allows you to buy and sell over 70 cryptocurrencies. As a result of their fast, simple, and secure transactions, you will be able to purchase assets in 188 countries using your preferred payment method. Several payment methods are accepted by ZenGo, including credit cards, bank transfers, Apple Pay, Google Pay, and Samsung Pay.
In addition to that, you can sell your bitcoins for cash in your national currency if you wish. As of right now, this feature is available in the US, the United Kingdom, and the European Union (EU).
Trade Cryptocurrency
Aside from buying and selling cryptocurrency, exchanging one crypto asset for another is possible. The ZenGo platform allows you to trade a wide variety of assets such as bitcoin, ethereum, tezos, dogecoin, and more. So it is just a matter of exchanging one cryptocurrency in your wallet for another.
The important thing to remember is that cryptocurrency trading is not available everywhere, including in some areas of the United States.
Send and Receive Cryptocurrency
Through its app, ZenGo allows customers to send and receive cryptocurrency worldwide. As far as the amount you can send or receive is concerned, there are no minimums or maximums. In addition, there are no additional fees that need to be paid.
Earn Daily Interest Rewards
ZenGo also offers the option of earning interest on your cryptocurrency holdings, another great feature of the platform. ZenGo Savings is an account that helps you to keep track of your crypto coins in partnership with Nexo. It does not have a lock-up period attached to it. The APY is higher than that of a traditional savings account. Depending on the crypto, you'll earn a different rate. In your ZenGo account, you can enable this feature.
ZenGo Savings offers you two different ways in which you can earn money:
Lending: Lending involves lending your cryptocurrency to other investors or a decentralized liquidity pool. Then, you will earn interest rates that are calculated algorithmically by an autonomous interest rate protocol in return for your investment.
Staking: As long as you stake with ZenGo, you can earn extra money by contributing your assets to the network security proof-of-stake asset. Whenever you stake your ZenGo coins, along with others who have staked their ZenGo coins, you will earn a share of the rewards.
Earn Free Bitcoin
ZenGo offers a variety of ways for users to earn free bitcoin. In the first place, customers receive $10 worth of bitcoin when they apply a referral code to their account and purchase $200 or more worth of crypto.
By inviting friends and followers to join ZenGo, they will be able to earn even more money. In return for referring people, you will receive a free bitcoin when they buy cryptocurrency, and the other person will also receive $10 in bitcoin.
Is ZenGo Wallet Safe?
When using a financial service, one of the most important questions is whether the service is safe for you. Ultimately, you want to protect your money.
ZenGo goes above and beyond the standard two-factor authentication (2FA) and requires three-factor authentication (3FA). These are the three factors it uses:
A confirmation link will be sent to your email address when you sign up
The backup file that contains the decryption code that is associated with your account in the personal cloud service that you use
Even if you delete the app or switch devices, your facial identification will still work
Apart from these three factors, ZenGo also uses cutting-edge MPC-based cryptography. As a result of these features, your cryptocurrency assets are both safe and accessible.
Additionally, ZenGo recommends that you do a few additional things to ensure the safety of your account. Some of these include:
Don't create your ZenGo account on a device that belongs to someone else
Your keyless backup needs to be verified
Adding a face map
Adding a second email address
Creating a copy of your backup
Adding two-factor authentication to your email and cloud accounts
Creating an offline copy of your phone's cloud data
Updating your ZenGo app and operating system
ZenGo Wallet Support Countries
It is available worldwide for those looking to store and use cryptocurrency, with anyone over 18 able to use it.
Several countries do not allow you to make purchases from the website, including the following:
Afghanistan
Albania
Bahamas
Bangladesh
Barbados
Belarus
Bolivia
Botswana
Burkina Faso
Cambodia
Cayman Islands
Central African Republic
China
Congo
Côte d'Ivoire
Cuba
Ecuador
Ghana
Haiti
Iceland
Iran
Iraq
Jamaica
Kosovo
North Korea
Liberia
Malta
Mauritius
Mongolia
Morocco
Myanmar
Nicaragua
Pakistan
Panama
Russian Federation
Senegal
South Sudan
Sudan
Syrian arab republic
Trinidad and tobago
Uganda
Ukraine
Virgin Islands
Vanatu
Venezuela
Yemen
Zimbabwe
The following states are not currently supported in the US:
Hawaii
New York
Rhode Island
US Virgin Islands
To purchase (all tokens except those listed below):
Buy (ADA, BNB, BUSD, DOGE, ETH | Polygon, MATIC | Polygon, USDC | Polygon):
How to deposit money into ZenGo Australia?
It is possible to deposit cryptocurrencies into your ZenGo wallet either from another wallet or exchange or directly from the app itself.
When you receive money from another wallet or exchange, you have two options:
The home screen can be accessed by swiping left on an asset.
Select an asset from the home screen.
You can copy and paste your address into your favorite app. QR codes are also available for your address. However, if you wish to send crypto to your ZenGo wallet, you must first enter your address in another wallet. As soon as it arrives, you'll receive a notification.
Please note that Ethereum (ETH) is required to withdraw, save, or trade Ethereum tokens (ERC-20).
How to withdraw money from ZenGo Australia?
As with receiving crypto, ZenGo allows you to send your crypto to other wallets or exchanges. The "Send" option appears when you tap on an asset. Enter the amount you want to withdraw and the address where you want to send it.
ZenGo Wallet Australia – Verdict
Taking everything into consideration, we recommend ZenGo if you're looking for a wallet in Australia that can hold all your cryptocurrencies across different blockchain networks at the same time.
The UX and security of ZenGo are outstanding. Additionally, it offers excellent customer service that can be reached via email, social media, or live chat within the app at any time. In some cases, you will even have the CEO answering questions in the support chat, showing how obsessed they are with their customers. Especially for beginners, ZenGo is a great choice due to this feature, which is very rare in the space.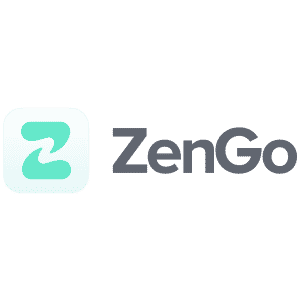 Your capital is at risk.
FAQs
How safe is ZenGo Australia?
Is ZenGo Australia a custodial wallet?
Is ZenGo Australia regulated?