Absolute Markets Review 2023 – Fees, Features, Pros & Cons Revealed
Fact Checked
Everything you read on our site is provided by expert writers who have many years of experience in the financial markets and have written for other top financial publications. Every piece of information here is fact-checked. We sometimes use affiliate links in our content, when clicking on those we might receive a commission - at no extra cost to you. By using this website you agree to our terms and conditions and privacy policy.
Absolute Markets is a user-friendly online broker that lets you trade from the world's leading markets at competitive spreads and fast trade execution speeds.
If you're looking for a customer-centric and highly rated broker, continue reading this Absolute Markets review as we go through the pros and cons of the platform and how you can start trading on the platform.
What is Absolute Markets?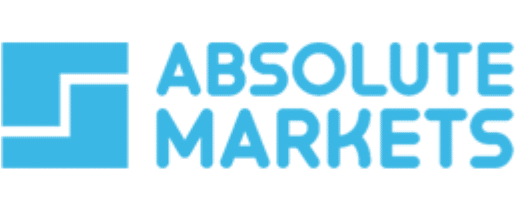 Founded in 2021, Absolute Markets is a CFD trading platform that focuses on being the best trading solution for its clients. Absolute Markets LLC is the company that owns and operates the Absolute Markets platform and is registered under the St Vincent & The Grenadines Financial Services Authority (SVGFSA). The strategic location of the platform's company in the southern Caribbean nation allows them to garner US clients and offer larger leverage.
Absolute Markets is equipped with the right trading tools and assets of a proper CFD broker. On top of being supported in over 170 countries, the broker has integrated the highly popular MetaTrader 4 (MT4) trading platform, a leader in forex trading. With this, users will enjoy fast order execution speeds, informative trading indicators, and programmable trading bots.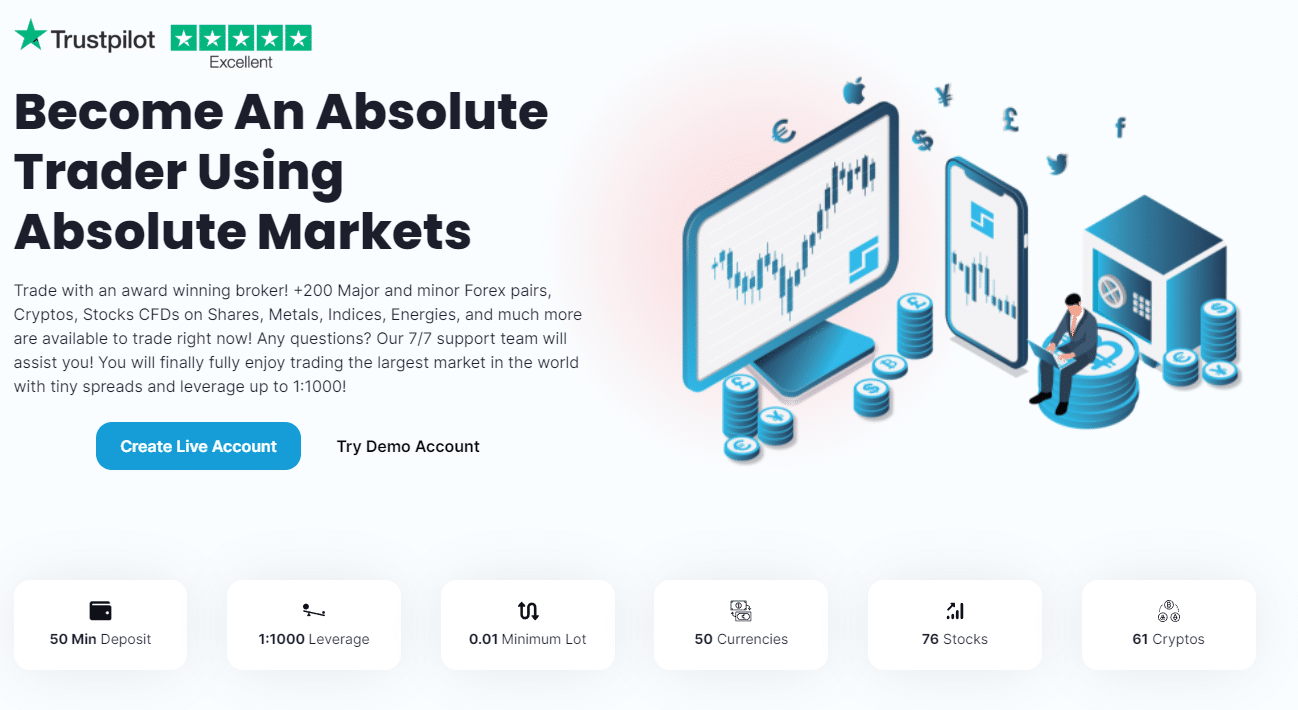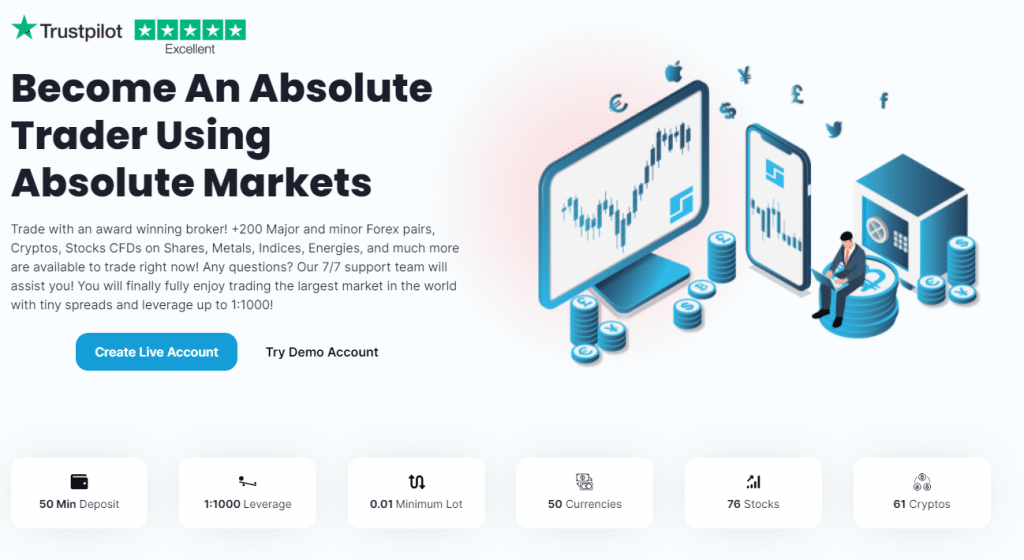 Your capital is at risk. 
A strong emphasis on customer satisfaction is a strong growth driver for the Absolute Markets platform. Live and friendly chat agents are available seven days a week as all clients are treated with one-on-one support which most other brokers do not offer.
Novice and veteran traders alike can stand to benefit from Absolute Markets, from its easy-to-use graphical interface to the technical indicators offered via the MT4 integration. With different markets accessible on the platform, traders can earn in any market condition and across multiple industries.
What Assets can I Trade at Absolute Markets?
As we touched on earlier, Absolute Markets is a CFD broker that lets you trade different types of assets from major markets around the world. In this section of the Absolute Markets review, let's go through a few of the trading instruments available on the platform.
Forex Pairs
Forex trading is the largest market in the world and operates 24/7. In Absolute Markets, over 200 major and minor forex pairs are offered with a maximum leverage of 1:1000. Aside from being able to trade major pairs like EUR/USD and GBP/USD at very low spreads, the online broker also offers exotic currency pairs such as ZAR/JPY and NDZ/NOK.
Cryptos With Leverage


Forex trading might be the flagship product of Absolute Markets, but the platform does offer a lot for other trading instruments as well. Over 61 cryptocurrencies can be traded on the platform—just as much as some of the best crypto exchanges. Crypto leveraged trading of up to 1:100 is featured.
For the major cryptocurrencies like Bitcoin and Ethereum, the platform features a variety of crypto pairs such as Bitcoin vs Japanese Yen (BTC/JPY) and Ethereum vs Gold (ETHXAU). Traders looking to profit from the price movements of unique crypto pairs can look among the 128 crypto pairs from the broker.
Stock CFDs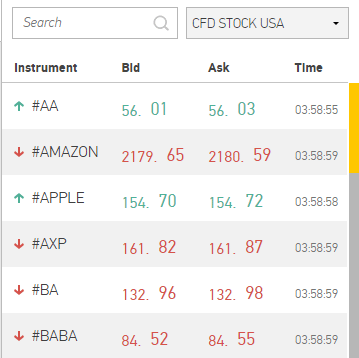 The stock market offers a variety of investment opportunities and trading stocks can be profitable with both long and short-term strategies. At Absolute Markets, a growing number of 76 stocks is available for trading with CFDs which offer instant trade executions and let you take a long or short trading position.
Absolute Markets allows up to 1:1000 leverage for stock CFDs. This means that buying $100 of Amazon stock with this amount of leverage is like holding a  $100,000 position on the stock. A 1 percent upwards price movement would earn $1,000 given this situation.
Indices
An index is an aggregate performance of a group of stocks, usually in a particular market or industry. Absolute Markets features some of the most traded indices in the world. Companies from Japan, Germany, France, Hong Kong, and more have indices that you can trade on the platform with a leverage of up to 1:100.
Some of the top indices on Absolute Markets include:
S&P 500 (SP500)
DAX Performance Index (DAX40)
Dow Jones Industrial Average (DJI30)
Nasdaq-100 (NQ100)
Japan Stock Market Index (JP225)
Absolute Markets Fees, Charges, and Commissions
It's important to take note of any broker's trading fees since these will be the only direct costs that the trader can control. Let's go through some of the fees, charges, and commissions that are required on Absolute Markets.
Commission Fees


As mentioned earlier, Absolute Markets offers different account types that were built to match different traders and their varying preferences. Specifically, four account types are available: Micro, Variable, ECN, and VIP ECN.
The first two account types require lower minimum deposits and offer trading at 0% commission. These kinds of accounts will mostly benefit newer traders who want to maximize their earnings with low amounts of capital.
On the other hand, those looking to trade with significantly large amounts of capital can use the last two account types which have larger minimum deposit requirements. Traders with these kinds of accounts will usually hold larger positions and will benefit more from flat commissions of $10 per lot (ECN) and 7$ per lot (VIP ECN).
Varying Spreads
Commission fees are one way that brokers earn from the trades of their clients, but another way is through spreads. The spread is the discrepancy between the bid and ask prices and is larger for Micro and Variable accounts since these account types enjoy 0% commission. Spreads as low as 1.4 pips are offered for Micro accounts while Variable accounts can have lower spreads that can reach 1.2 pips.
Spreads get very low when it comes to ECN and VIP ECN accounts where the rates go as low as 0.1 pips and 0.0 pips, respectively.
Swap Fee
Take note of the CFD positions that you plan on holding overnight as they will be subject to a swap fee which is the interest put for borrowing the equity to keep the trading order.
Absolute Markets offers swap-free accounts for Muslim traders, making it a potential future entry for some of the best Islamic forex brokers. Otherwise, swap fees are charged on all CFD positions held overnight and the amount varies depending on the asset. Once you make a trade, the overnight swap fee rate will be shown.
Inactivity Fee
It's common for brokers to charge an inactivity fee for accounts that have not engaged in any trading over a certain period. Absolute Markets charges an inactivity fee of 5 EUR, USD, or GBP after an account has been inactive for six months.
Absolute Markets Leverage
Earlier we touched on the different tradable assets on Absolute Markets and touched briefly on the amount of leverage you can have depending on which instrument you trade. Leveraging allows for positions to gain more exposure without needing to inject more capital from the trader's end.
Because of the higher risks involved with trading on leverage, some of the best high leverage forex brokers have great safety measures in place alongside extreme leverage ratios—and Absolute Markets does just that. With a 1:1000 leverage ratio, Absolute Markets makes sure that all accounts have negative balance protection, a feature that closes positions when they reach a certain threshold so that users' equity does not drop below zero.
While a leverage of 1:1000 is not unheard of, it's on the higher end of what is offered in the industry, so Absolute Markets is a great option for experienced traders looking for the extra edge in leveraged trading.
Absolute Markets Trading Platforms and Tools
Where the actual trading happens is through the trading platforms where Absolute Markets shines. The online broker has made sure to make trading accessible through any device. Let's take a look at the trading platforms and tools integrated into this section of our Absolute Markets review.
Absolute Markets WebTrader
The Absolute Markets web-based trading platform, WebTrader, allows for any device to make trades with the broker. This platform runs on a web browser so it's compatible with mobile (Android and iOS) as well as desktop devices.
With TradingView API, Absolute Markets WebTrader offers a wide array of technical indicators such as basic and exponential moving averages (MAs), volume-weighted average price (VWAP), and the relative strength index (RSI). These are just a few of the indicators that can be accessed for forex, stocks, indices, and many other trading instruments.
MetaTrader 4
MetaTrader 4 (MT4) is one of the most established forex trading platforms and is used by thousands of traders thanks to its many technical tools and programs. After creating an account with Absolute Markets, you will be given credentials for an MT4 account which you can use to start trading right away.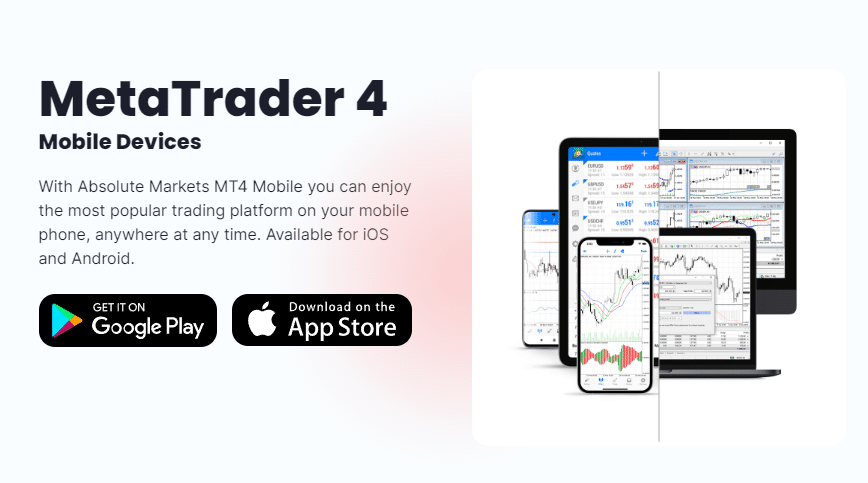 If you're looking to trade forex pairs with high leverage, then Absolute Markets is one of the best MT4 brokers for you. Not only can you better analyze price movements with MT4's extensive technical analysis tools, but you can do so on your desktop or mobile. The MT4 mobile app is available for iOS and Android, allowing Absolute Markets traders to continue monitoring and managing their positions on the go.
Absolute Markets App
Many online brokers offer downloadable apps so that users can trade from anywhere and create price alerts for their positions. Absolute Markets currently does not have its own mobile app, but as above-mentioned, users can still trade through the WebTrader via the web browser on mobile. Alternatively, the MT4 mobile app can be used for this as well.
Having tried the Absolute Markets WebTrader interface on mobile, we found the platform to be stable and execute orders quickly while still remaining user-friendly. All the features for trading such as using leverage, one-click trading, and options for stop-loss and take profit levels can be accessed with WebTrader on mobile.
Education and Research at Absolute Markets
Trading in any market requires being on top of recent events, industry narratives, and general economic news. Every Absolute Markets account is given an economic calendar that shows the relevant and latest news and indicators from the largest economies of the world. Analyzing these conditions will help in making more informed trading positions.
While going through the platform for the Absolute Markets review, we found particularly useful features for new traders. Trading neophytes will benefit immensely from the demo trading feature of Absolute Markets. Even without fully verifying their accounts, users can get a feel of how trading is like on WebTrader as demo accounts are given $10,000 worth of virtual equity to trade with.
Absolute Markets Deposits and Withdrawals
Absolute Markets allows for an unlimited number of deposits and requires just a minimum deposit that ranges from $25 to $200 depending on the deposit method. There are no deposit fees and users can choose from a wide array of deposit options such as local bank transfer, international bank transfer, cryptocurrencies, and bank cards.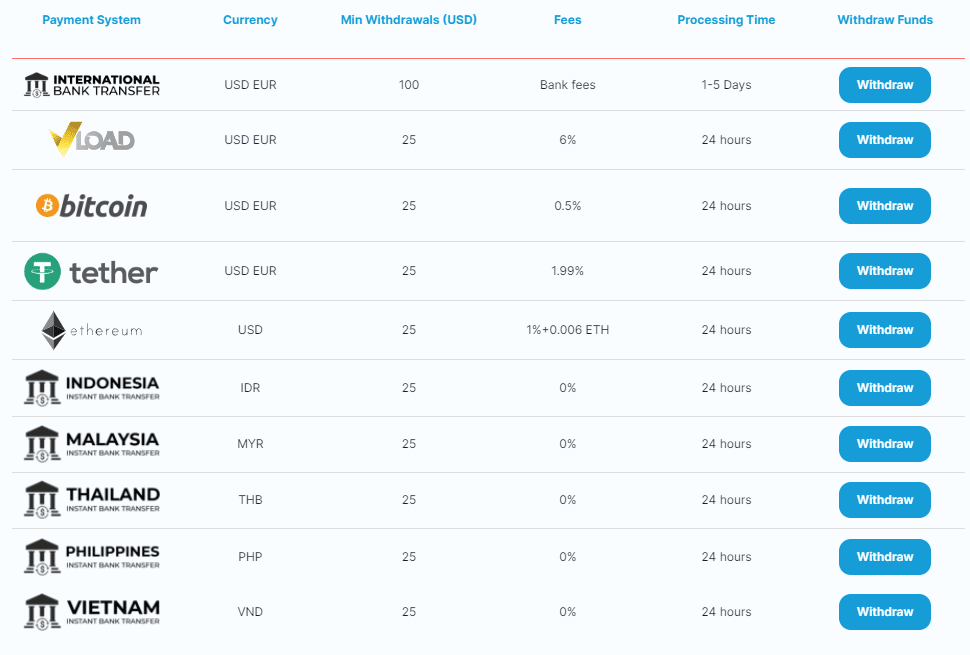 In every trading journey, a trader reaches the point where they will want to collect their profits by withdrawing funds. With Absolute Markets, withdrawals are processed during standard business hours. Withdrawal fees depend on the payment system and can vary between banks. For withdrawing cryptocurrencies, a 0.5% fee is charged for bitcoin, a 1% plus 0.006 ETH for Ether, and 1.99% for Tether (USDT).
Is Absolute Markets Exchange Safe?
At the start of this Absolute Markets review, we stated that Absolute Markets LLC, the company behind the trading solution, is fully registered with the SVGFSA. We've checked the records of the official SVGFSA website and found an active registration under their name.
Being a new online broker, Absolute Markets will need to continue establishing itself as it gains more users and grows rapidly. However, offering negative balance protection for all accounts as well as being fully registered does give credit to the budding broker. Having very responsive customer support does make the trading experience feel safer, especially with priority support for premium clients.
How to Get Started at Absolute Markets
Before wrapping this Absolute Markets review, let's go by some of the steps to help you start trading on the platform.
Step 1: Open an Absolute Markets Account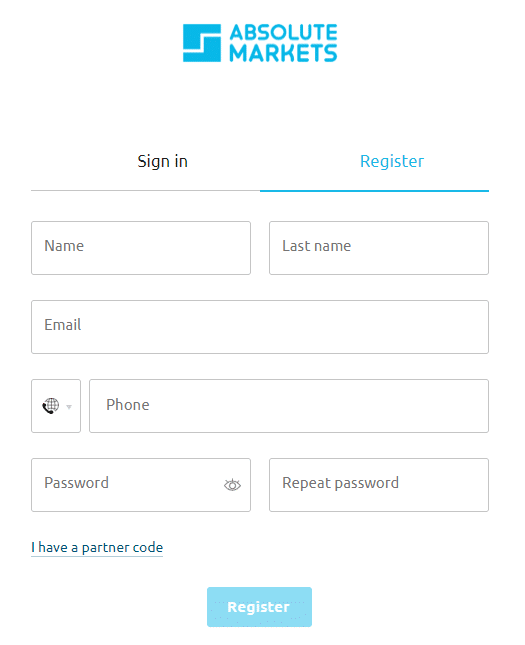 Your capital is at risk.
First, head over to the Absolute Markets website and click 'Start Trading'. You'll be redirected to the site's registration page. Fill in your first name, last name, email, and phone number on the registration form. Afterward, simply input a secure password and click on the 'Register' button.
Step 2: Verify Your Identity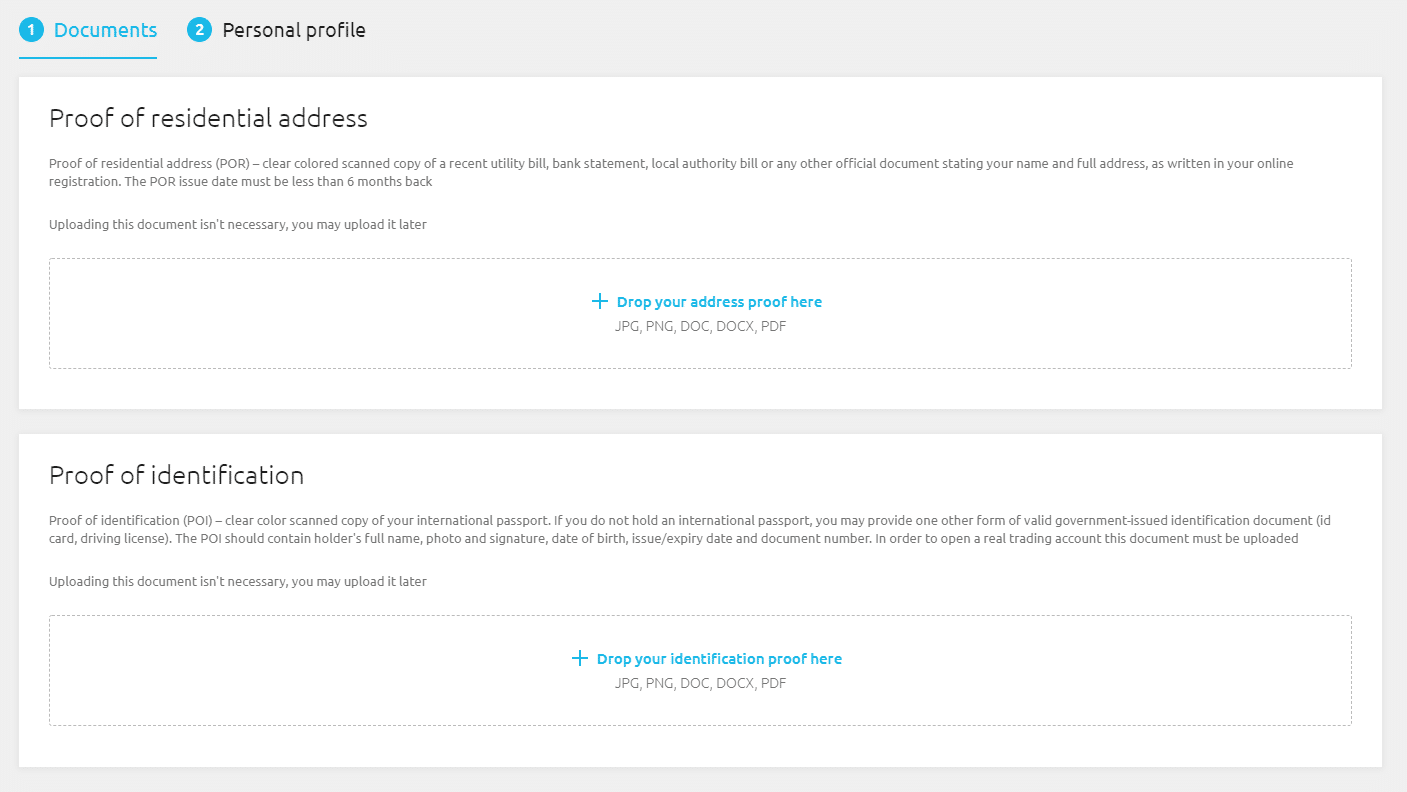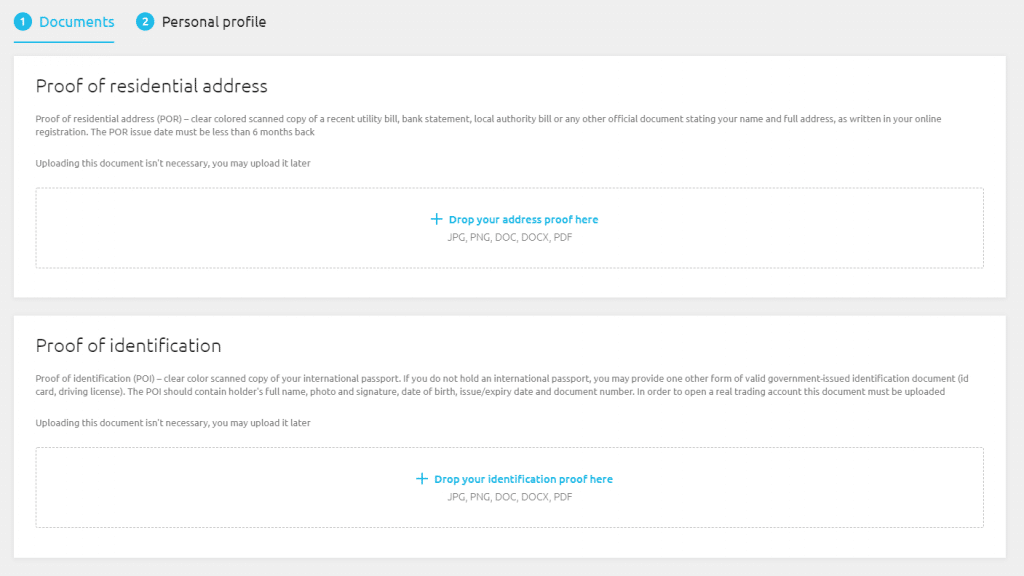 As a registered company, Absolute Markets will need to verify your identity to make sure that deposits and withdrawals are coming and going through your personal bank accounts. On your dashboard, click on 'Verify Identity' to get started. You'll be asked to upload proof of residential address that should not be older than 6 months. You will also be required to upload a valid ID such as a passport or driver's license.
Step 3: Deposit Funds
Once your account has been fully verified, you will be able to deposit funds for trading. Under the Finances section of your account dashboard, click 'Deposit'. After confirming your payment method, choose which account to use, input the amount you want to deposit and select which currency you wish to use.
Step 4: Start Trading with Absolute Markets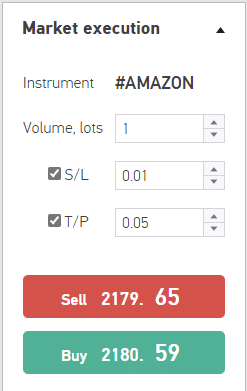 Depending on processing times, your deposit can come through in minutes. With your account funded, select the live account and search for the asset that you wish to trade. On the right-hand side, an order box will appear where you can select the size of your trading position with stop loss and take profit parameters. After you're set with all the values, click on 'Buy' to initiate the trading order.
Accepted Countries
Absolute Markets accepts traders from a wide variety of countries across the world, including the UK and the US.
Absolute Markets Pros & Cons
Pros:
Stocks, commodities, forex, crypto, and indices trading available
MT4 and WebTrader integrations
Multiple payment methods like online bank transfer, bank cards, and even crypto currencies
Choose from 4 different account types
Up to 1:1000 leverage
Live chat support that replies immediately
Demo trading account available
Cons:
5 USD inactivity fee after 6 months
Mobile app for MT4 only
Absolute Markets Review – The Verdict
Sometimes it's difficult to gauge a very new online broker, but in this Absolute Markets review, we think that we covered all the important aspects of the platform. Despite its novelty, Absolute Markets offers excellent customer service and a respectable trading interface. Though many of its features remain raw and unpolished, the platform has a lot of potential to grow and add to the list of products it offers. The online broker is still owned by an SVGFSA registered company and offers some safety measures as a CFD trading solution. With extremely high leverage ratios offered, new users should trade cautiously and understand the risks of high margin positions.
If you want to open an account with Absolute Markets, click on the link below to get started. Start trading stocks, forex, cryptos, and more at 0% commissions and competitive spreads on the Absolute Markets platform.
Absolute Markets – Customer-centric Broker with High Leverage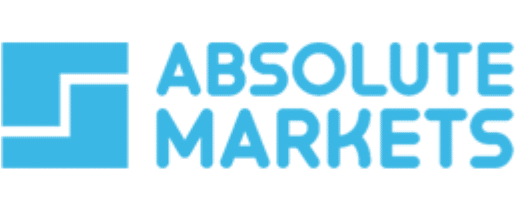 Your capital is at risk. 
FAQs
Is Absolute Markets Safe?
When was Absolute Markets launched?
Does Absolute Markets offer shares?
What trading platforms does Absolute Markets offer?
What is the minimum deposit at Absolute Markets?