Best Crypto Savings Accounts in the UK
Fact checked
Everything you read on our site is provided by expert writers who have many years of experience in the financial markets and have written for other top financial publications. Every piece of information here is fact-checked. We sometimes use affiliate links in our content, when clicking on those we might receive a commission - at no extra cost to you. By using this website you agree to our terms and conditions and privacy policy.
The growth of cryptocurrency markets has helped launch a variety of facilities that offer similar services to those available in traditional financial markets. One of those facilities can help investors generate interest in their crypto holdings by offering crypto savings accounts.
This guide will tell you all you need to know about the best crypto savings accounts in the market, as well as which providers offer you the best rates in the crypto space, as well as how to get a crypto safety account established today – in just four easy steps!
Best Crypto Savings Accounts in the UK List 2023
Here is a brief overview of the most popular crypto savings accounts available to investors. Throughout the remainder of this section, we will be reviewing each of these accounts and ensuring that you have the information you need in order to make a suitable decision.
DeFi Coin – The Best Cryptocurrency Savings Account At Only One Dollar
AQRU – Overall, The Best Crypto Savings Account For 2023
Crypto.com – The Best Crypto Savings Account With High-Interest Rates
BlockFi –A User-Friendly Crypto Savings Account with Compound Interests
Binance – A Crypto Savings Account that Offers Both Flexible & Locked Savings Options
Coinbase –Highly Reputable Crypto Savings Account with High-Security Levels
Best Crypto Savings Accounts in the UK Reviewed
It is recommended that if you are planning to buy a cryptocurrency and store it long-term, you partner with one of the crypto savings account providers mentioned above to optimize your returns. As a result, let us dive in and take a closer look at each provider. By doing so, you will know what your options are.
1. DeFi Coin –The Best Cryptocurrency Savings Account At Only One Dollar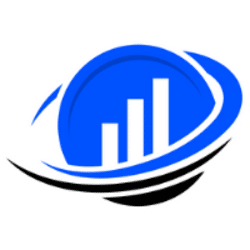 One of the UK's best crypto savings accounts is the DeFi coin; this is a cryptocurrency token strongly related to the decentralized sector (DeFi). DEFC is the native token that belongs to the exchange.
Here it is also possible to obtain static rewards for the owners of the DEFC tokens. This is possible since a 10% collection tax is charged every time someone wants to buy or sell DeFi Coins.
This currency is the only one available on the DeFi Swap platform that can be used for betting. It is also possible to get high-interest rates on this platform during times that can be much longer than other exchanges.

With this, what is sought is that the profit is divided into 50%-50%, where the first part will be used in the form of rewards for users with what is sought to produce passive income regularly. The other part is for liquidity funds used to promote automatic liquidity.
With its token burning system, it is sought that this is not a way to get rich quicker, but with the remaining tokens that are considered unique, users are motivated to keep them, promoting upward momentum.
Its main characteristic is that it can be purchased for only one dollar and currently has more than 6000 members who are part of the official group on Telegram, giving the assurance of being completely safe and famous crypto.
Cryptoassets are highly volatile unregulated investment products.
2. AQRU – Overall, The Best Crypto Saving Account For 2023

The person who wants to save crypto this year should consider working with AQRU if they're looking for the best crypto savings account. The AQRU crypto savings platform has been developed by Accru Finance Ltd, a financial services company based in London. AQRU will be launching in December 2021 and is expected to be one of the best investment platforms in this rapidly growing space because it offers high yields and a significant level of safety.
Investors can deposit their holdings with AQRU and generate a great return on their investment by investing in the company. The platform is suitable for crypto investors of all levels of experience and accepts stablecoins such as USDT, USDC, and DAI, along with BTC and ETH. In addition, AQRU also accepts deposits in GBP and EUR. AQRU will then lend its customers' funds to institutional and retail borrowers, with these loans being fully collateralized once they are deposited.
Because cryptocurrency is still hard to get for certain market participants, AQRU can offer high rates on their crypto savings accounts. Furthermore, AQRU is one of the best crypto lending platforms, offering a 12% return on stablecoin deposits and a 7% return on deposits in Bitcoin or Ethereum. In addition, the great thing about AQRU is that there are no hidden fees for their service – and withdrawals can be made at any time.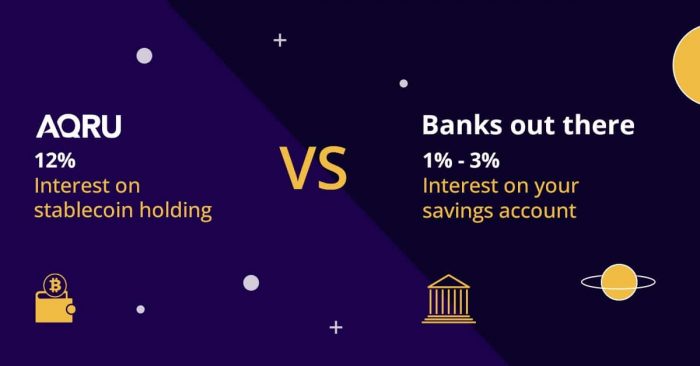 In terms of costs, the only cost to be aware of is a $20 fee when withdrawing crypto. In terms of payment methods, AQRU offers clients the option to deposit using credit/debit cards, bank transfers, or cryptocurrencies. Furthermore, AQRU's services are accessible to beginners because the minimum deposit is only €100 (£83.44). Finally, all of the services provided by AQRU can be accessed through the handy mobile app. Users can make deposits, check account statistics, and secure their accounts with two-factor authentication.
Cryptoassets are highly volatile unregulated investment products.
3. Crypto.com – The Best Crypto Savings Account With High-Interest Rates

The Crypto.com website is a great place to start if you are looking for a high-yield crypto savings account. One of the leading crypto exchanges, Crypto.com, has over 10 million customers worldwide, making it one of the top crypto exchanges in the world. Besides providing a wide variety of trading services, Crypto.com offers a convenient crypto savings account to generate high returns.
As part of its savings account, Crypto.com's 'Crypto Earn' allows users to earn up to 14.5% on crypto deposits and 14% on stablecoin deposits. Crypto Earn supports more than 40 different cryptocurrencies, including Bitcoin (BTC), Ethereum (ETH), and US Dollars (USD). In addition, users can customize different aspects of their crypto deposits in accordance with their specific needs and goals. You can, for example, arrange lock-up periods to be flexible, ranging from one month to three months – ensuring you have easy access to your crypto holdings.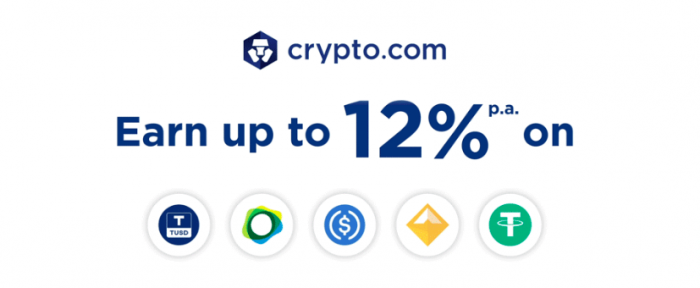 For Crypto.com users to achieve the best savings rates, a specific amount of CRO – the platform's native token – must be staked. To get the highest rate, users must stake 40,000 CRO or more. If users are happy with lower rates, they can deposit their crypto without staking CRO. In addition, flexible lock-up periods will result in the lowest returns, while opting for a three-month lock-up will generate the highest returns.
The interest on deposits in cryptocurrency is paid to each depositor daily, with no compounding, and is deposited into the attached crypto wallet every week. A minimum deposit amount must be deposited to earn interest regardless of the supported cryptocurrency. For example, users must deposit at least 0.0005 BTC or 0.15 ETH to generate a return. Last but not least, users can easily access the Crypto Earn feature via the Crypto.com app, which enables deposits to be made in a matter of seconds.
Cryptoassets are highly volatile unregulated investment products.
4. BlockFi – A User-Friendly Crypto Savings Account with Compound Interests

BlockFi is an excellent option for investors who want to open a high-interest crypto savings account, especially a beginner. Over 1 million users use BlockFi in the cryptocurrency market and have a stellar industry reputation. Through its BlockFi Interest Account, the platform manages assets worth more than $10 billion and offers users up to 10% APY. With other platforms, interest is accrued daily and is distributed to investors every month.
BlockFi will allow you to save up to 15 different types of cryptocurrency. There are stablecoins such as USDC and DAI that are widely supported and coins such as ATOM, ADA, and AVAX that are not as widely supported. As a result, the rate of return associated with each asset will increase as the holdings remain in the account longer. Furthermore, there are no hidden fees or minimum balances required to start saving with BlockFi, and the sign-up process is extremely streamlined.

BlockFi's savings account offers monthly compounding of interest on crypto deposits, which is one of its most attractive features. Unfortunately, only a few accounts offer this feature, which can be useful if you are looking to grow your deposits exponentially over the long term. To conclude, BlockFi ensures a high level of security for all its customers by providing two-factor authentication and partnering up with Gemini to store a majority of the client's holdings in cold storage.
Cryptoassets are highly volatile unregulated investment products.
5. Binance – A Top Crypto Savings Account that Offers Both Flexible & Locked Savings Options

Even though Binance is mainly used for cryptocurrency trading, the exchange has also recently expanded its offering to include crypto savings accounts. There are reportedly over 21.5 million users of Binance around the world, and the exchange is the largest in terms of daily trading volume in the crypto world. In addition, all registered users of the platform are eligible to access the 'Binance Savings' feature, which provides a simple way to generate interest.
Over 140 coins are supported by Binance's flexible savings accounts, ten of which can be locked up for a specific period to earn a higher return. Users with flexible accounts can redeem their funds at any time – and interest is distributed directly into the user's account every day. The reward rates for Binance's flexible accounts are also among the highest in the industry; the AXS and CAKE deposits are yielding investors 10% and 12% respectively in return for their deposits!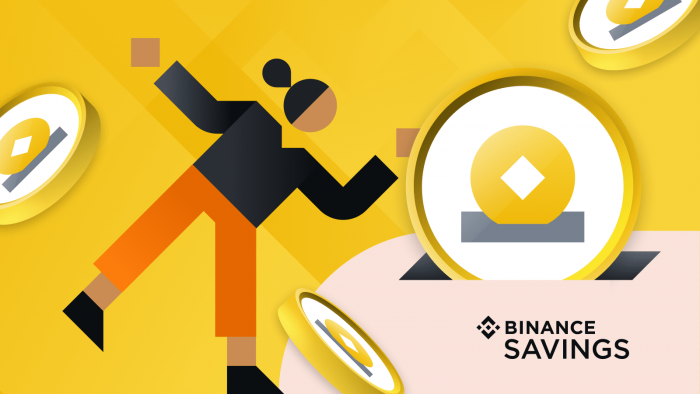 AXS and CAKE users can earn an annualized interest rate of 25% if they choose to lock up their crypto during seven days, and AXS users can earn 25% annualized interest if they choose to lock up their crypto; during seven days! Binance also provides a section for coins with a limited supply, which is noteworthy. In order to participate, users will have to deposit a certain amount of cryptocurrency for each of the featured coins. As a result, users will have to act fast if they wish to participate. Even so, these coins offer some of the best rates around – with Everipedia deposits, for example, providing users with a yield of 70% per year!
Cryptoassets are highly volatile unregulated investment products.
6. Coinbase – Respected Crypto Savings Account with High-Security Level

To complete our review of the best crypto savings accounts, we turn to Coinbase. Due to its robust security features, Coinbase is certainly one of the world's largest and most popular exchanges among crypto traders. Coinbase is also regulated by the Financial Conduct Authority (FCA) in the UK and stores 98% of customers' holdings in cold storage, ensuring a high level of security for users.
Crypto savings accounts are available through Coinbase's free crypto wallet app on iOS and Android, as well as the platform's website. Users can choose which protocol they would like to earn interest through, with options that include Compound, DyDx, and Fulcrum. In addition, each service provider will have its minimum deposit amount, enabling investors to customize their savings activities according to their needs. Coinbase's current list of supported cryptos, Coinbase is currently offering a return on ETH, ATOM, ALGO, DAI, USDC, and XTZ.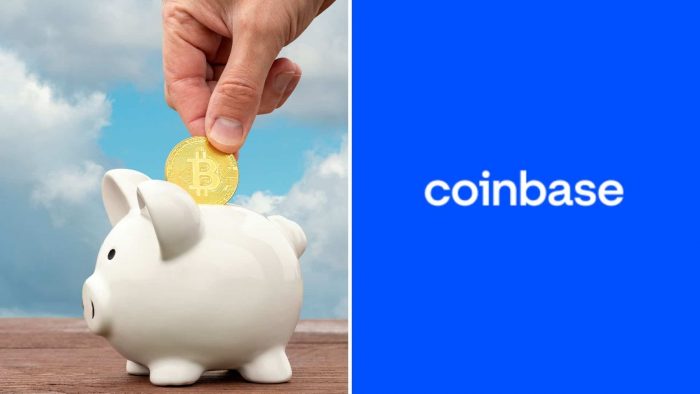 With USDC deposits through Compound, investors can earn a 5% APR on USDC deposits, which is significantly lower than the returns they can get through other platforms like AQRU. However, it is important to note that although the returns are lower, earning money is really easy and can be completed in as little as a few taps – which is perfect for beginners. Furthermore, Coinbase offers cryptocurrency savings services and a range of trading and educational services, providing a comprehensive platform for crypto traders.
Cryptoassets are highly volatile unregulated investment products.
Best Crypto Savings Accounts in the UK – Comparison
If you are searching for the best crypto savings account to suit your needs, it is crucial to determine which coins are supported by the account and the rate of return offered on these coins. To make this easier to understand, the following table presents a clear breakdown of these two aspects:
Platform
Coins Available for Saving
Savings Rates
DeFi Coin
DeFi Coin.

 

10% per transaction
AQRU
USDT, DAI, USDC, ETH, BTC
Stablecoins: 12% per year

BTC & ETH: 7% per year

Crypto.com
40+ (stablecoins and other cryptos)
Stablecoins: Up to 15% annually

Other cryptos: Varies; up to 14.5%

BlockFi
14+ (stablecoins and other cryptos)
Stablecoins: Rates vary; up to 9.25% per year

Other Cryptos: Varies; up to 10% annually

Binance
140+ (stablecoins and other cryptos)
Stablecoins: Varies; up to 9.25% annually

Other Cryptos: Varies; up to 12% APY

Coinbase
ETH, ATOM, ALGO, DAI, USDC, XTZ
It varies depending on the provider and can change regularly – currently 5% per year for USDC deposits.
What is a Crypto Savings Account?
As the name suggests, Crypto savings accounts are designated accounts where investors can deposit crypto and accumulate interest. Having access to high-yield investments such as these can be an attractive option for people with substantial crypto holdings. Since they offer much better returns than traditional financial markets, they are a very attractive option. With the rapid growth of the cryptocurrency market, more and more platforms are offering crypto savings accounts – with the continued competition resulting in favorable terms for the investors. However, one of the main differences between regular and crypto savings accounts is that you will lose control over your deposits if you choose crypto savings accounts. That is because the crypto you deposit will be loaned to third parties such as other retail investors or financial institutions. In addition, since crypto deposits are perceived as riskier than traditional bank deposits, interest rates on them tend to be much higher than they would otherwise be.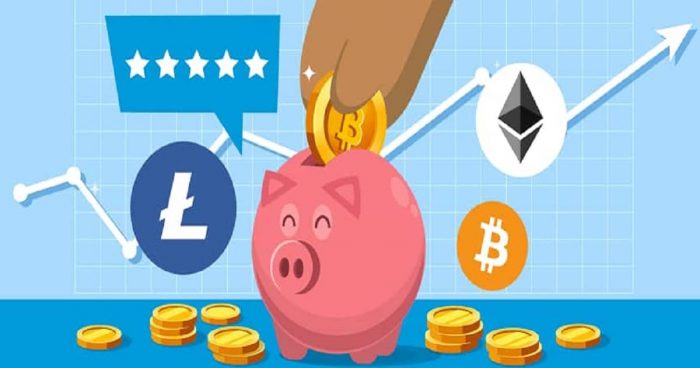 Saving account providers often ask users to 'lock-up' their deposit for a certain amount of time to provide them with access to the account. Essentially, this means that users cannot withdraw their holdings until the period ends – even though a higher yield often accompanies this. There are, however, providers that offer 'flexible' investment accounts that have lower returns but allow users to have access to their holdings at any given time.
Which Platforms Have the Best Crypto Savings Interest Rates?
If you're looking to invest in the best crypto savings account for the long term, it's likely that you wish to partner with a platform that has the highest interest rates. However, when it comes to these accounts, comparing annual percentage yields (APYs) of various options isn't as straightforward as comparing APYs only. Lock-up periods must also be taken into account when comparing these accounts.
As mentioned previously, these lock-up periods mean that you will not be able to access your crypto for a certain period, but you will also earn a higher interest rate if you do. Consequently, platforms that offer lock-up opportunities tend to offer the highest annual percentage yields. Binance, which at this moment offers an astonishing 70% annual percentage yield (APY) on Everipedia deposits locked up for 15 days, is an example of this.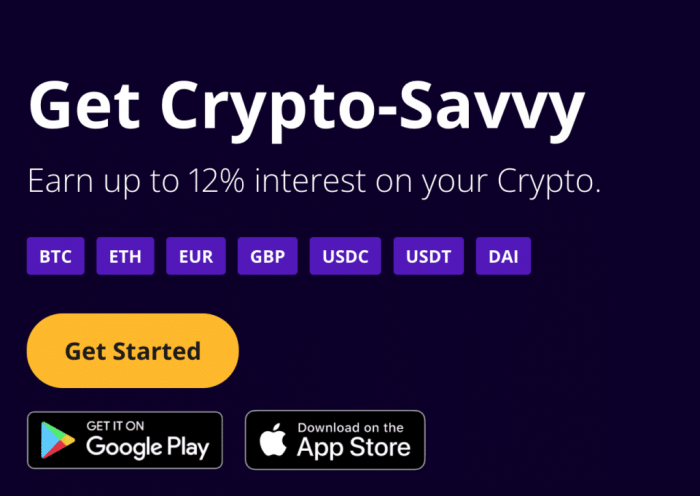 Cryptoassets are highly volatile unregulated investment products.
Some platforms offer fantastic rates without requiring a lock-up period. For example, AQRU, our recommendation for the best crypto savings account, is a platform that offers interest rates of 12% annually on stablecoin deposits – and you can access your holdings at any time. Aside from that, users can deposit ETH or BTC with no lock-up period and earn 7% interest per year on their investments.
To conclude, some platforms may require staking to achieve higher rewards. For example, here is Crypto.com, one of the best crypto staking platforms you can use as a trader. By depositing more CRO – the native cryptocurrency of Crypto.com – users can earn higher interest rates than their peers.
Following is a quick breakdown of how staking affects a deposit made to Crypto.com with a three-month lock-up period to show how staking affects returns:
Less than 400 CRO staked = 10% per year.
4000 CRO staked = 12% per year
40,000 CRO staked = 14% per year
What Cryptocurrencies Can You Earn Interest On?
The best UK cryptocurrencies can be deposited into crypto savings accounts to earn interest. There are usually two different types of cryptocurrencies – stablecoins and non-stablecoins – which fall into this category. Let us examine each of these categories individually in turn.
Stablecoins
The Financial Times defines stablecoins as cryptocurrencies whose value is based on the price of an underlying asset to limit price fluctuations. With over $79 billion, Tether (USDT) is the world's largest stablecoin. Apart from Tether, other notable stablecoins include USDC, USDT, and DAI. In part because of their volatility-beating attributes, stablecoins tend to be in high demand from various parties – this means that stablecoin deposits tend to attract the highest interest rates from crypto savings accounts.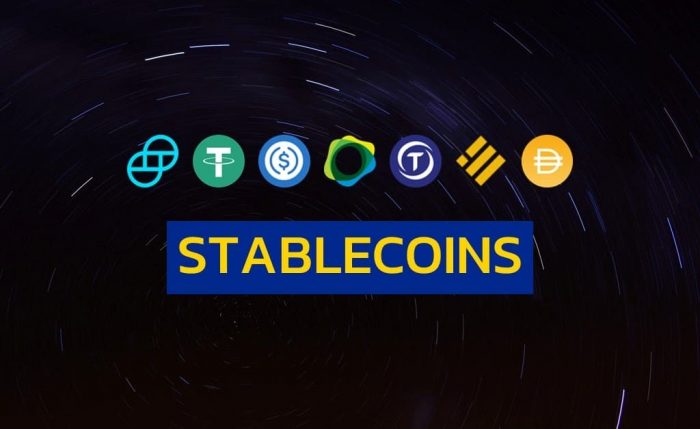 Non-Stablecoins
The non-stablecoins category refers to any cryptocurrency that isn't a stablecoin, as the name suggests. The category includes popular cryptos such as Bitcoin and Ethereum and a wide variety of altcoins. Due to the difficulty of artificially increasing the supply of crypto, like a central bank does when they print money, certain coins are in high demand. The crypto savings accounts provide a way for specific parties to get their hands on these coins, and the accounts offer a favorable rate of return as compensation for taking on these risks.
How to Setup a Crypto Savings Account in the UK
Over the past year, the sign-up process for crypto savings accounts has become immensely simplified, thanks to the popularity of these accounts. As a result, making a deposit and earning interest on your deposit can usually be done in just a couple of minutes.
Here is a step-by-step guide to help you get started setting up a crypto savings account with our recommended provider, AQRU.
Step 1: Open an Account
Go to the AQRU website and click the 'Sign Up' button to begin. Make sure that you enter a valid email address, create a password for your account, and then select your preferred FIAT currency to work with.
You need to complete a verification process to gain access to the full functionality of your account. First, click on the 'Verify your Identity' banner on the homepage and enter the information that AQRU needs to verify your identity. After you provide the required documentation, you will be asked to take a photo of your photo ID and proof of address. You will also be asked to take a selfie to ensure that the provided documents are legitimate.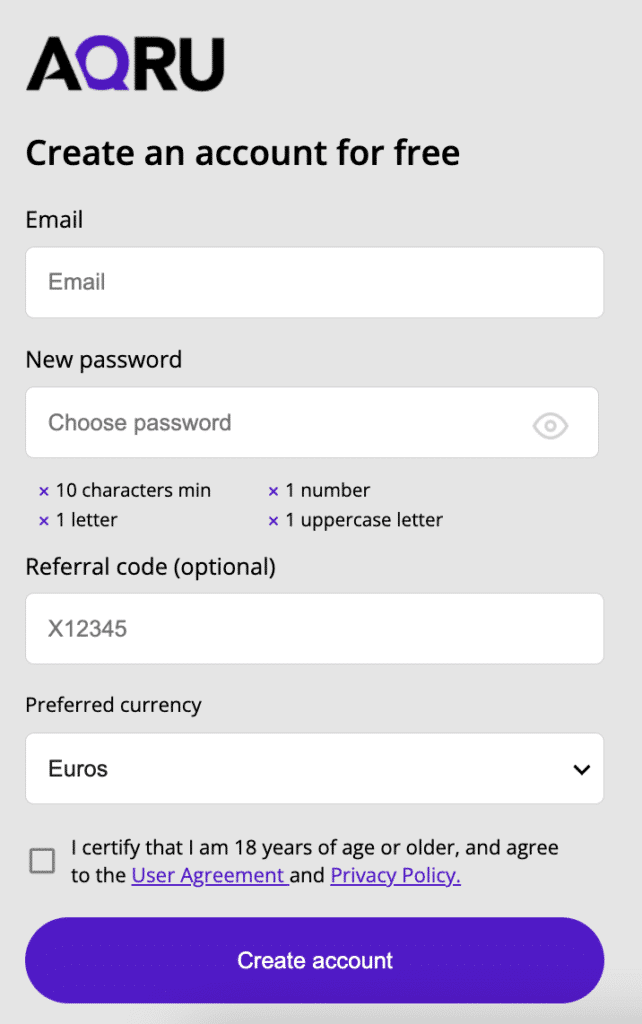 Cryptoassets are highly volatile unregulated investment products.
Step 2: Deposit Funds
After downloading the AQRU app from the App Store or Google Play, log in with AQRU's credentials you created earlier, and you will be able to use all of its features. Next, click 'Deposit' in the account dashboard and decide if you want to use a bank transfer, a credit card, or a cryptocurrency deposit:
Bank transfers – Free, but funds can take up to 48 hours to arrive.
Card deposit -You can buy crypto through MoonPay, but third-party fees apply.
Crypto deposit – Free, and AQRU will provide a wallet address to which you can send your crypto holdings.
Step 3: Begin Earning Interest
The 'Buy' button can be found on your account dashboard, where you can choose between stablecoins, BTC, or ETH, depending on which crypto you plan to deposit. Afterward, before you confirm the investment in the savings account, you can decide how much you would like to invest. You will then begin earning interest on your deposit, which accrues daily and can be withdrawn at any time after it is confirmed.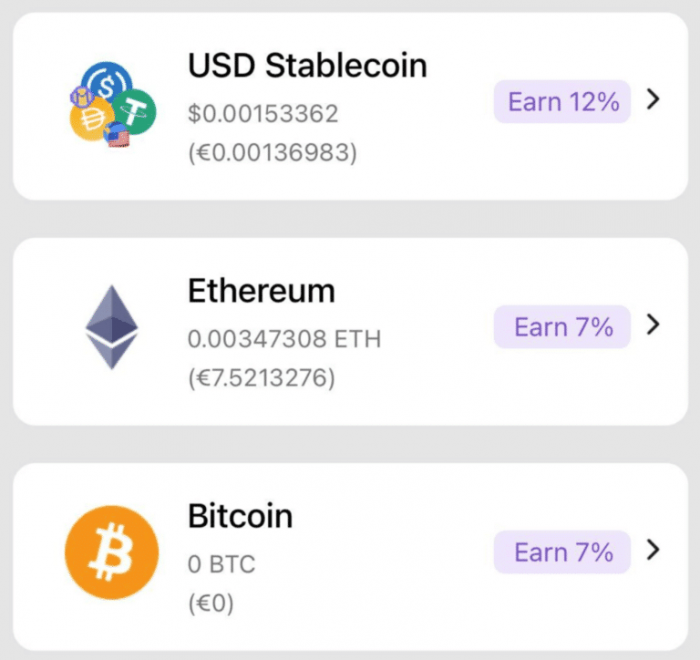 Cryptoassets are highly volatile unregulated investment products.
Are Crypto Savings Accounts Safe?
To finish our discussion of the best crypto savings accounts, it is essential to discuss the safety of these accounts before we move on. The crypto market is still relatively young compared to the 'traditional' markets, so it's only natural to be cautious about operating in it.
Keeping that in mind, the following are two of the main aspects to be aware of when it comes to a crypto savings account's safety:
No Deposit Insurance
The crucial difference between regular and crypto savings accounts is that the latter does not offer deposit insurance. FSCS.org confirms that clients who hold deposits with UK-based banks are protected up to £85,000 in terms of deposit insurance. However, due to the absence of such protection with crypto deposits, they are deemed riskier and offer higher yields to compensate for this risk.
Potential for Deposit Value to Decline
It is also important to consider the value of your deposit – primarily with savings accounts that have a lock-up period. Participants in the crypto market will be aware that the market can be highly volatile at times, with significant price declines not being uncommon. Therefore, if your crypto holdings are locked up for an extended amount of time during a bear market, their value can quickly diminish – which can result in defaults that could put your deposit at risk.
Conclusion
In summary, this guide looked at the best crypto savings accounts in detail, outlining which providers offer the best rates and how to get started right away with a new bitcoin account. There is no sign that the growth of the crypto market will slow down, so opening a crypto savings account offers a straightforward way to earn steady returns on your investments.
We recommend partnering with AQRU today if you're interested in opening a crypto savings account. The company supports a variety of stablecoins and offers yields of 12% per year, with no hidden fees. The AQRU Mobile App is also a great way for users to earn 7% interest per year on BTC and ETH deposits – all from the convenience of their mobile phones!
AQRU – Best Crypto Savings Accounts Platform in the UK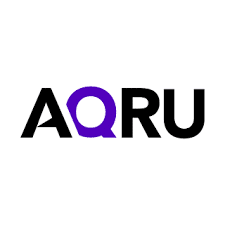 Cryptoassets are highly volatile unregulated investment products.
FAQs
How do crypto savings accounts work?
How much should I invest in crypto?
Is it safe to use crypto savings accounts?
Can you lose money in a crypto savings account?
Should I keep my savings in crypto?