Best Crypto Loans UK 2023 – Top Rates Compared
Fact checked
Everything you read on our site is provided by expert writers who have many years of experience in the financial markets and have written for other top financial publications. Every piece of information here is fact-checked. We sometimes use affiliate links in our content, when clicking on those we might receive a commission - at no extra cost to you. By using this website you agree to our terms and conditions and privacy policy.
Crypto loans are one of the emerging trends in the blockchain industry. For long-term investors, Bitcoin loans provide liquidity without the need to sell their assets. This article looks into the ins and outs of crypto backed loans and the platforms offering these services.
Best Crypto Loans 2023 List
DeFi Swap – Best Loan Provided With High Interest Rates
eToro – Overall Best Crypto Loan Provider
SALT – Best Provider for Stablecoin Loans
BlockFi – Top Loan Provider with Low Interest Rates
Nexo – Best Provider for Instant Crypto Loans
Celsius – Best Loan Provider with Flexible Rates
Best Crypto Loans Reviewed
Here are the best crypto loan platforms in the market now:
1. DeFi Swap – Best Loan Provided With High Interest Rates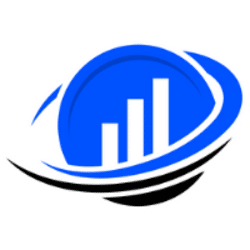 Apart from eToro, DeFi Swap is another of the best crypto loans platforms in the UK. One of its most important features is supporting the best DEX coins. It should be said that it is an exchange that is decentralized and community-driven (DEX) and offers the services of exchange, yield farming, and staking. To use the platform, it is necessary to use the DeFi Coin token known as DEFC.
DeFi is a platform that, compared to others, offers high-interest rates over a considerably long period of time. This is possible thanks to its native token known as DeFi Coin or DEFC. This is the only cryptocurrency available for use on the platform. It is necessary to block for a time not less than 30 days and a maximum of one year. Saying in percentages, for 30 days, there is an APY rate of 30%, and for one year, the APY rate is 75%.

So far, in 2022, DeFi Swap has positioned itself as one of the most popular platforms. First, it is a service that offers swaps, and DeFi is decentralized. It is possible to trade on DeFi Coin using any popular cryptocurrency and most stablecoins. The second reason for its popularity is that it has a Telegram group with more than 6000 active members.
Pros
Quick and easy to access online portal
Supports over 50 tokens
Hosted on the Binance smart chain
Passive returns can be achieved through investment in DEFC
Staking and yield farming systems are provided
Cons
The mobile application is still under development
2. eToro Money Account – Overall Best Crypto Loan Provider

Crypto loans require collateral like Bitcoin or Ether and there's no better service to buy cryptocurrency than through eToro Money Account.
The eToro Money Account allows you to connect to the eToro account to trade cryptocurrencies, swift withdrawal, and manage your crypto holdings. The Money account easily integrates with the eToro Investment platform, allowing investors to manage their crypto from one platform.
This app allows you to quickly purchase any coin of choice on their crypto exchange. Furthermore, traders can easily store and manage your assets from the eToro Money Account. The app allows you to send any cryptocurrency purchased to any wallet.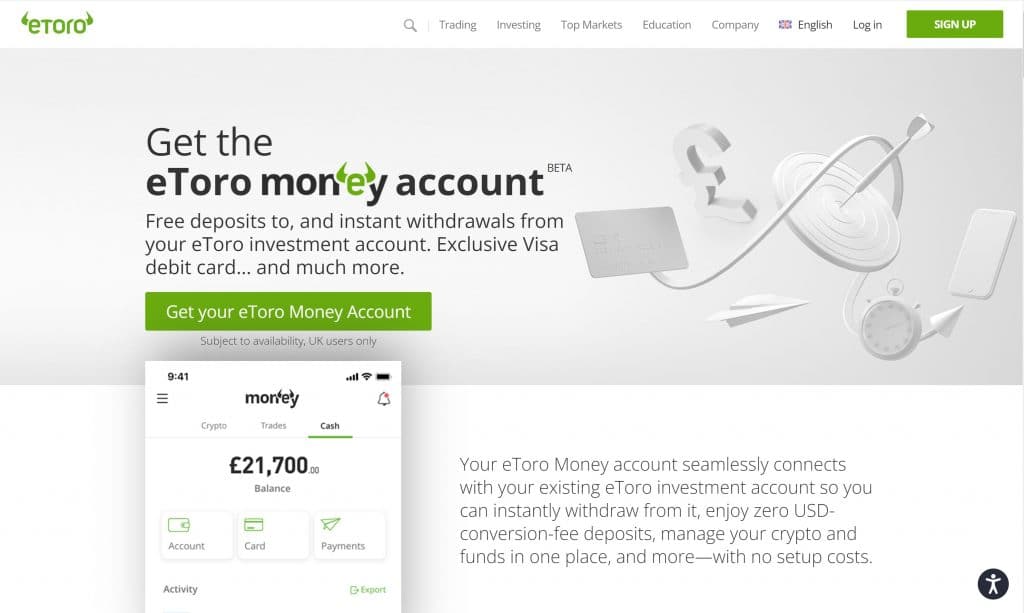 The eToro Money App offers a Visa Debit Card so you can spend your crypto loans with ease and withdraw them through ATMs. Furthermore, customers are also entitled to a sort code and personal bank account number for a virtual bank account. This bank account number can be used to send and receive funds from other banks. eToro's Money Account also converts USD for free, and a savings reward of up to £5 for every £1,000 you deposit. In summary, eToro Money Account is a remarkable system to manage your crypto-backed loans.
Pros
Support for 25 cryptocurrencies
Flexible loan period
Comes with a VISA debit card
Cons
Subject to availability
Limited to only the UK
Your Capital is at risk
3. SALT – Best Provider for Stablecoin Loans
SALT is a crypto lending and borrowing service. Founded in 2016, the platform is based in Denver, Colorado.
The crypto lender supports 12 cryptocurrencies, including four stablecoins. The minimum loan deposit available on SALT is $5,000, which is pretty high.
The primary benefit of SALT is that it allows you to take different types of loans – primarily personal and business loans. Each comes with a set of benefits for the ideal borrower. Loan durations on SALT range between 3 to 12 months. You don't have to pay any origination fees, and transactions are also free. However, the platform also segments LTV ratios and interest rates.
Pros
No credit checks
Comprehensive insurance cover loans
Use different coins as collateral
Cons
Small repayment window
High minimum loan amount
4. BlockFi – Top Loan Provider with Low Interest Rates
BlockFi is one of the pioneers of crypto loans.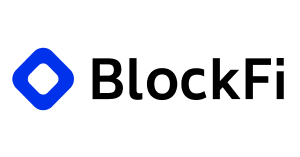 Founded in 2017, this U.S.-based service incorporates an interesting technology that lets you take loans in USD against your cryptocurrencies. BlockFi allows you to take loans using three cryptocurrencies – Bitcoin, Ether, PAX Gold, and Litecoin. The platform is easy to use and will pay you out fast too.
With BlockFi, you're faced with a minimum loan amount of $10,000 and a loan-to-value ratio of 50 percent. Note that the service will notify you when your loan-to-value ratio crosses 70 percent to increase your collateral. Loan duration and interest rates have been set at 12 months and 4.5 percent. However, note that you might pay some additional fees in some situations.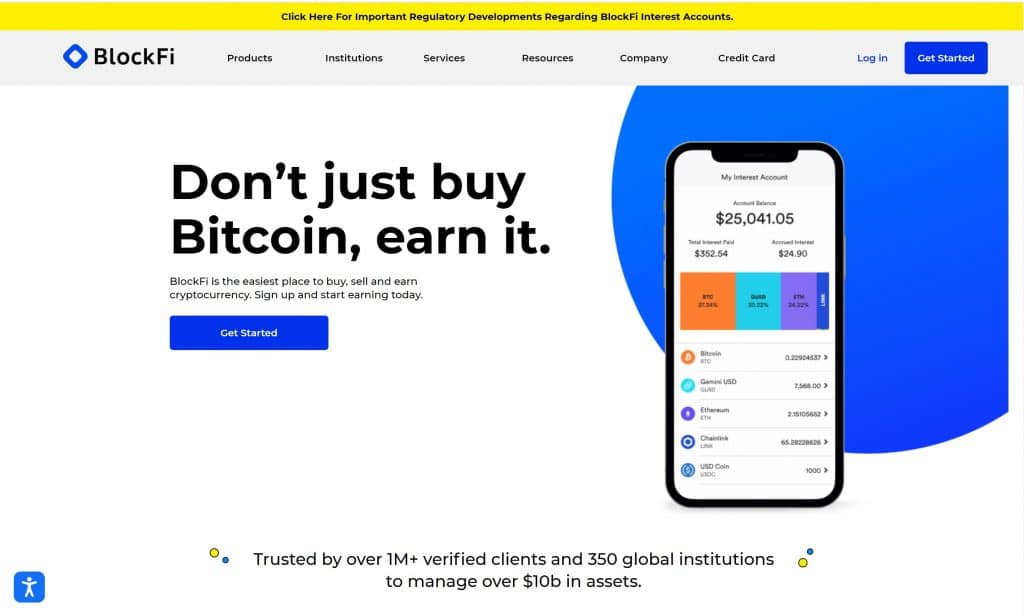 Pros
Competitive rates
Competitive LTV ratio
Cons
High minimum loan amount
Only supports three assets
5. Nexo – Best Provider for Instant Crypto Loans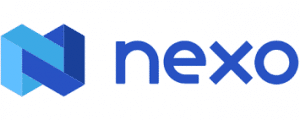 Nexo is a fast and rising crypto banking app that facilitates lending and borrowing. The platform is known for its interest-bearing accounts, where investors can earn up to 12% on their coins and fiat currencies. Nexo also offers crypto-backed loans that allow investors to retain control over your crypto holdings.
The platform is known for the simplicity of its processes. There are no origination fees or monthly payments on credit lines extended by Nexo. The loan approval is automatic with this provider.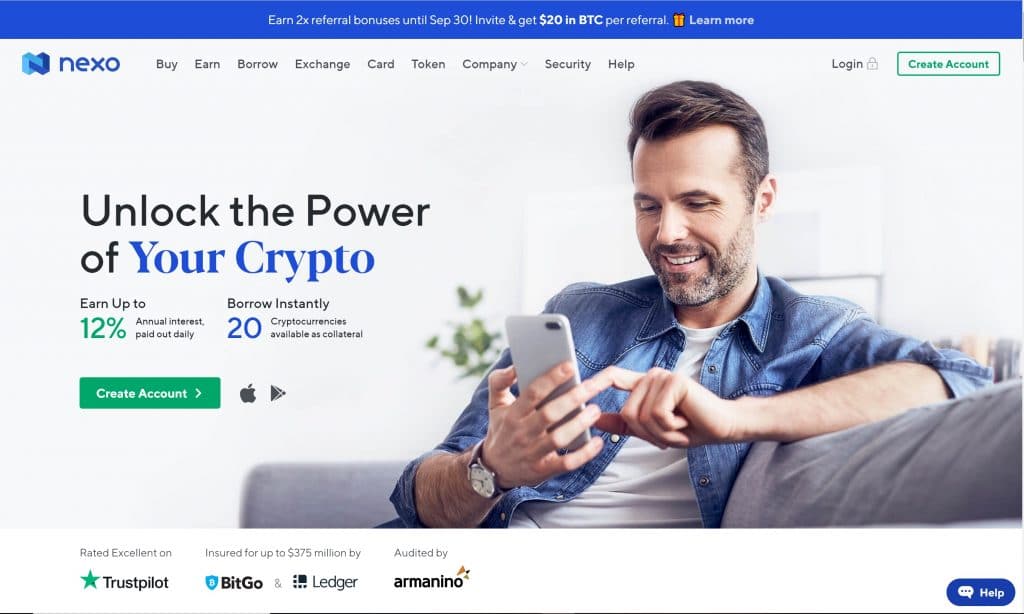 There are no lengthy credit checks or credit reports required. Nexo offers different loan ratios and a starting interest rate of 6.9 percent. With over 40 currencies available for borrowing, you have quite a broad range to choose from. Nexo offers a minimum loan amount of $50, with the maximum being $2 million. Interestingly, the service allows you to continue borrowing until you hit your credit limit. While this is dangerous, it's also quite convenient for traders. The LTV on Nexo varies from coin to coin. But, the standard is 50 percent.
Pros
Varying loan durations
Multiple currency support
Low minimum loan amount
Cons
High interest rates
Different LTV ratios
6. Celsius – Best Loan Provider with Flexible Rates

Another rising player in the crypto loan industry is Celsius. The platform was founded in 2017 and is based in the United Kingdom. The service allows customers to borrow USD or crypto, promising the best rates in the market.
Celsius allows you to use over 40 coins as collateral. But, you should know that the company might lend out your collateral to other financial institutions. Loan approvals on Celsius are instant, and there are no credit checks.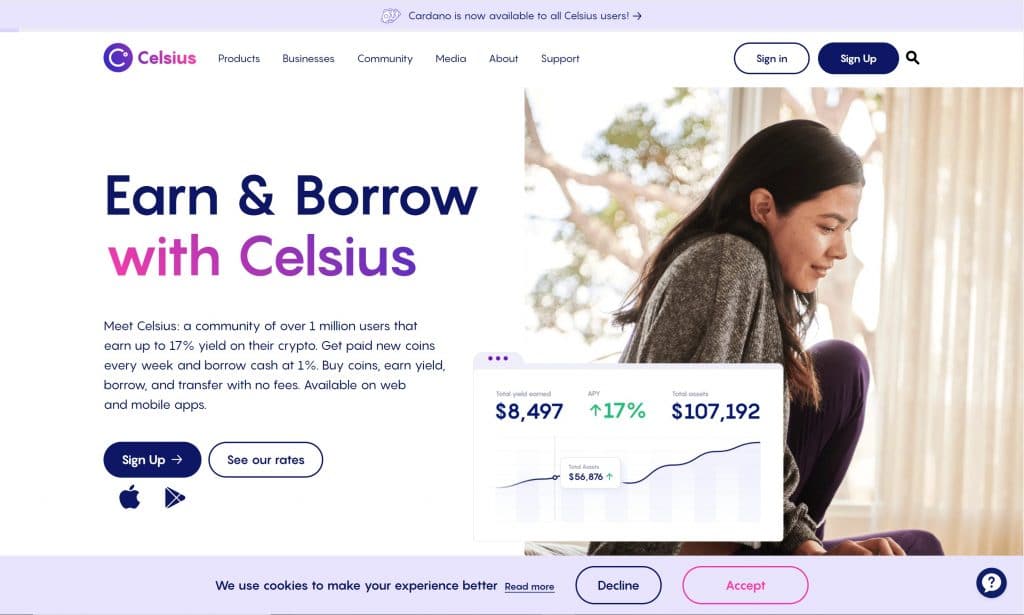 Like Nexo, Celsius offers varying LTV ratios. On this network, you get 25%, 35%, and 50% respectively. There's a $50 sign-up bonus in Bitcoin for customers who join the platform and transfer at least $400 in crypto to Celsius.
Pros
CEL available for discounts
Over 40 coins are available
No credit checks
Cons
Best Bitcoin Loans Comparison
| | | | | | |
| --- | --- | --- | --- | --- | --- |
| Platform | Loan Type  | Coins Supported | Loan Period  | Interest  | Any Other Fees? |
| DeFi Coin | Decentralized | 50 | Fexible | 10% | No |
| eToro Money | Centralized | 25 | Flexible | Varying | No |
| SALT  | Centralized | 12 | 3-12 months | At least 3.5% | No |
| BlockFi | Centralized | 4 | 12 months | 4.5% | No |
| Nexo  | Centralized | 40+ | 1- 12 months | Varying | No |
| Celsius | Centralized | 40 | 1-20 years | Varying | No |
Your Capital is at risk
What is a Crypto Loan?
A crypto loan is a financial facility that is backed by cryptocurrencies. Similar to a securities-based loan in traditional finance, a crypto loan uses cryptocurrencies as collateral in exchange for providing liquidity. Crypto loans became popular in 2020 when the bull market was in full swing.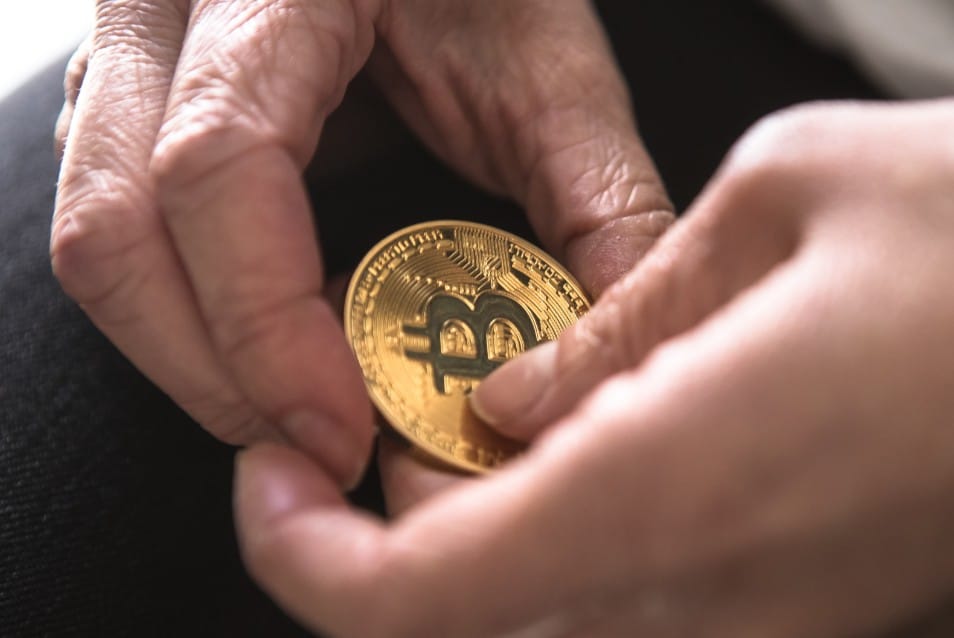 Many investors who weren't concerned about the short-term volatility of digital assets started using their crypto portfolios as collateral, getting cash from financial institutions to spend, while still keeping their cryptocurrencies. Crypto-backed loans are preferred by long-term investors as crypto prices tend to rise over time. So, if Bitcoin trades at $50,000 and you use 10 BTC to get a $500k loan to be repaid in a year, the price of Bitcoin could jump 25% before you liquidate your loan, leaving you with more money even after paying off your loan.
How do Bitcoin Loans Work?
A Bitcoin loan works like a securities-backed loan. A borrower deposits a certain amount of Bitcoin as collateral with the lender, who then loans them the fiat equivalent. Once the loan is paid off, the lender returns the collateral to the borrower. In most cases, the borrower retains ownership of the collateral during the tenor. While ownership remains, the borrower loses certain rights such as the ability to trade or use the Bitcoin for transactions.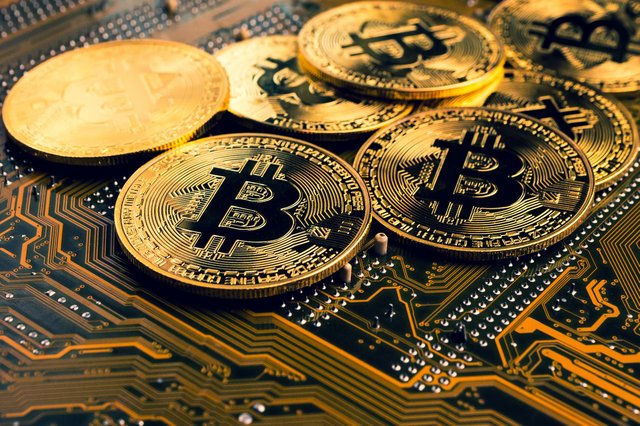 Once the validity period eventually expires, you pay back the value of the loan. So, if you use 1 BTC to get a one-year $50,000 loan at a time when the asset trades for that price and Bitcoin rises by 50 percent in a year, you still have to pay back that $50,000. Of course, the caveat for this is that you will end up paying more money if the value of Bitcoin drops throughout the tenure of the Bitcoin loan.
Types of Cryptocurrency Loans
There are two types of cryptocurrency loans namely:
Custodial Crypto Loans
These are loans gotten from centralized finance (CeFi) platforms. Essentially, a custodial entity – such as a loan company or a crypto exchange – takes custody of your collateral. This means they control Bitcoins by holding on to the private keys. A vast majority of the crypto lenders in the market offer custodial crypto loans. These platforms loan out both crypto and fiat currencies.
Non-Custodial Crypto Loans
The alternative to a centralized crypto loan is the decentralized finance (DeFi) option. Instead of requiring approval from a centralized company, these crypto loans depend solely on smart contracts. If you take a non-custodial crypto loan, you'll retain control of your private keys – unless you default on the loan, in which case you lose the keys
While many people prefer these loans to the custodian crypto loans, non-custodial ones are still not as prevalent in the market. They also tend to have higher interest rates than custodial crypto loans, and these platforms tend to have lower liquidity than the centralized options.
Crypto Loan Fees & Rates
| | | |
| --- | --- | --- |
| Loan Platform  | APR  | Any Other Fees?  |
| DeFi Coin | Varying | No |
| eToro | Varying | No |
| SALT  | At least 3.5% | No |
| BlockFi  | 4.5% | No |
| Nexo  | Varying | No |
| Celsius  | Varying | No |
Advantages of Crypto Loans
Compared with traditional loans, crypto loans come with several prominent benefits. These include:
Low interest rates: Compared to personal loans and credit cards, crypto loans are much cheaper. It's quite easy to get a crypto loan with interest rates of less than 10 percent.
Value-based loan amount: For many crypto loans, you can borrow as much as half of your entire portfolio.
Currency choice: Depending on the platform you use, it's possible to get loans in different cryptocurrencies – including fiat assets. Weigh this against the traditional loans, which only support dollars.
No credit checks: Most lending platforms and exchanges won't run credit checks when you apply for crypto loans. This is especially true when you're taking a loan from a DeFi platform. So, even if you have a poor credit score, you'd still be able to get a loan.
Quick funding: Once your loan is approved, you can access your funds in minutes – or hours at the worst.
Risks of Bitcoin Loans
For all their benefits, crypto loans also have some risks. These include:
Volatility: Cryptocurrency prices are very volatile. So, the collateral could be worthless when the crypto loan tenure ends or you could ever face a margin call before the tenure's end.
Security: Platform security is another rising issue, especially with DeFi lending platform.
Reduced access: For the tenure of your Bitcoin loan, you'll be unable to do anything with your Bitcoin – even if you still have access to it.
How to Choose the Best Crypto Loan for You
Some of the most important factors to consider when choosing the best crypto loan platform include:
Interest rate: This will depend on the coin you're looking to lend
Lending duration: You want a platform with a fixed lending duration
Deposit limit: Check to see if there's a minimum deposit amount.
Collateral: Consider how much collateral the lender is asking for – especially concerning the amount of money you're borrowing.
Security: Does the platform have a track record of hacks?
How to Qualify for a Bitcoin Loan
Collateral
The first step is to organize your collateral. This will determine how much you can borrow on most platforms, so you need to be careful with it. The rule of thumb is that you should never put up your entire portfolio up as collateral for a crypto loan. Set aside a little to act as your haven in case of a margin call.
Choose a Crypto Loan Platform
Once you're ready with your portfolio, the next task will be to find the ideal lender for you. As explained, you can choose between centralized and decentralized lenders. Centralized platforms allow lenders and borrowers to agree on some of the loan's terms, but they still handle the critical parts of the loans – including fund management and transfer. On the other hand, decentralized platforms eliminate the need for a third party to handle the loans.
Get Your Loan
Once you've selected a loan platform and agreed to the terms, you're set. Get your cash and you're free to go.
Conclusion
Crypto loans are an impressive financial innovation that further legitimizes cryptocurrencies. They take several cues from the traditional sector, but crypto loans are much of an improvement as they speed up the borrowing process and are much more convenient. While there are several crypto loan platforms, we recommend starting your journey with eToro.
The eToro Money Account is the best platform to buy, sell, and manage your crypto funds. You can also use your funds to trade in robots like Bitcoin Trader. Need a crypto debit card to spend your crypto funds? The eToro Money Account has everything set up and ready. It's simple and free to use.
eToro – Manage Crypto Loans via eToro Money Visa Debit Card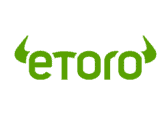 67% of retail investor accounts lose money when trading CFDs with this provider.
FAQs
Can You Get a Crypto Loan?
How Much Can You Borrow From a Bitcoin Loan?
What Cryptocurrencies Can You Loan?