How To Buy Amazon Shares UK – Best Places To Buy
Fact checked
Fact Tooltip Text
Disclosure
Disclosure Tooltip Text
In the UK, Amazon is one of the most attractive long-term investment opportunities due to its remarkable growth since its founding in 1997, which is when it emerged as a major global retailer. Additionally, Amazon shares did not experience significant losses during the COVID-19 crisis. On the contrary, Amazon shares were able to benefit from the volatility of the stock market for some time.
During this article, we will show you how to buy Amazon shares in the UK and give you a quick guide to some of the most trusted brokers to invest in for UK traders.
How Much Are Amazon Shares Worth?
The price of every stock fluctuates throughout the day, and that is no exception for the price of Amazon's stock. Currently, the Amazon stock price per share is $115.54 as of July 9th, 2022.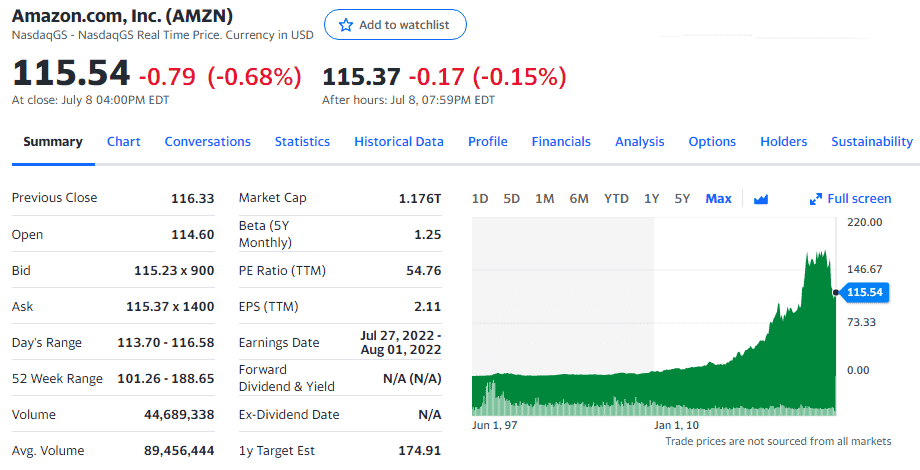 Sponsored ad. Your capital is at risk.
To put things in perspective, let us look at the trajectory that explains Amazon's exponential performance over the past few decades in a concise way.
Having shared Jeff Bezos' vision when Amazon first went public in 1997, you would now be enjoying unprecedented gains. In those days, you could buy shares for just $18 each. Unfortunately, Amazon has initiated many stock splits, so we must adjust this future accordingly. Therefore, the initial Amazon share price in the UK was just $1.73.
For example, if you had invested £1,000 in Amazon in 1997, your investment would now be worth over £1.6 million. However, Amazon shares haven't always been smooth sailing.
In contrast, the stock was heavily affected by the early 2000s Dot Com bubble. It took over a decade for Amazon shares to return to pre-bubble levels. The market has, however, been on an upward trajectory ever since. In recent years, Amazon has undoubtedly benefited from the Coronavirus pandemic.
In 2020, most of its divisions and subsidiaries performed well, but its retail platform exceeded expectations. As a result, Amazon's shares started the year at $1,900 each – an increase of 75% in a year. Overall, Amazon now has a market value of multi-trillion dollars.
In the years following the pandemic, Amazon has grown rapidly, diversifying into a range of high-growth markets. As part of Amazon's ongoing strategy, the company's Amazon Web Services (AWS) division holds the largest market share within the flourishing cloud computing sector.
Two reasons explain Amazon stock's rise in early July. First, JEDI (Joint Enterprise Defense Infrastructure), a $10 billion contract awarded to Microsoft for cloud computing, was canceled shortly afterward. Amazon's stocks surged to record highs after it was announced that it might win the JEDI contract.
Toward the end of June, Comcast Corp. signed a deal enabling its Peacock app to be accessed on Amazon devices. It is interesting to note that the Comcast-Amazon partnership has garnered a lot of investor interest with 42 million active users, especially considering the demand for live streaming services.
Yahoo Finance estimates that this market will be worth $947 billion by 2026 – more than double its value in 2021. This highlights Amazon's immense growth potential, boosted by its e-commerce and streaming businesses. 
Amazon Share Dividends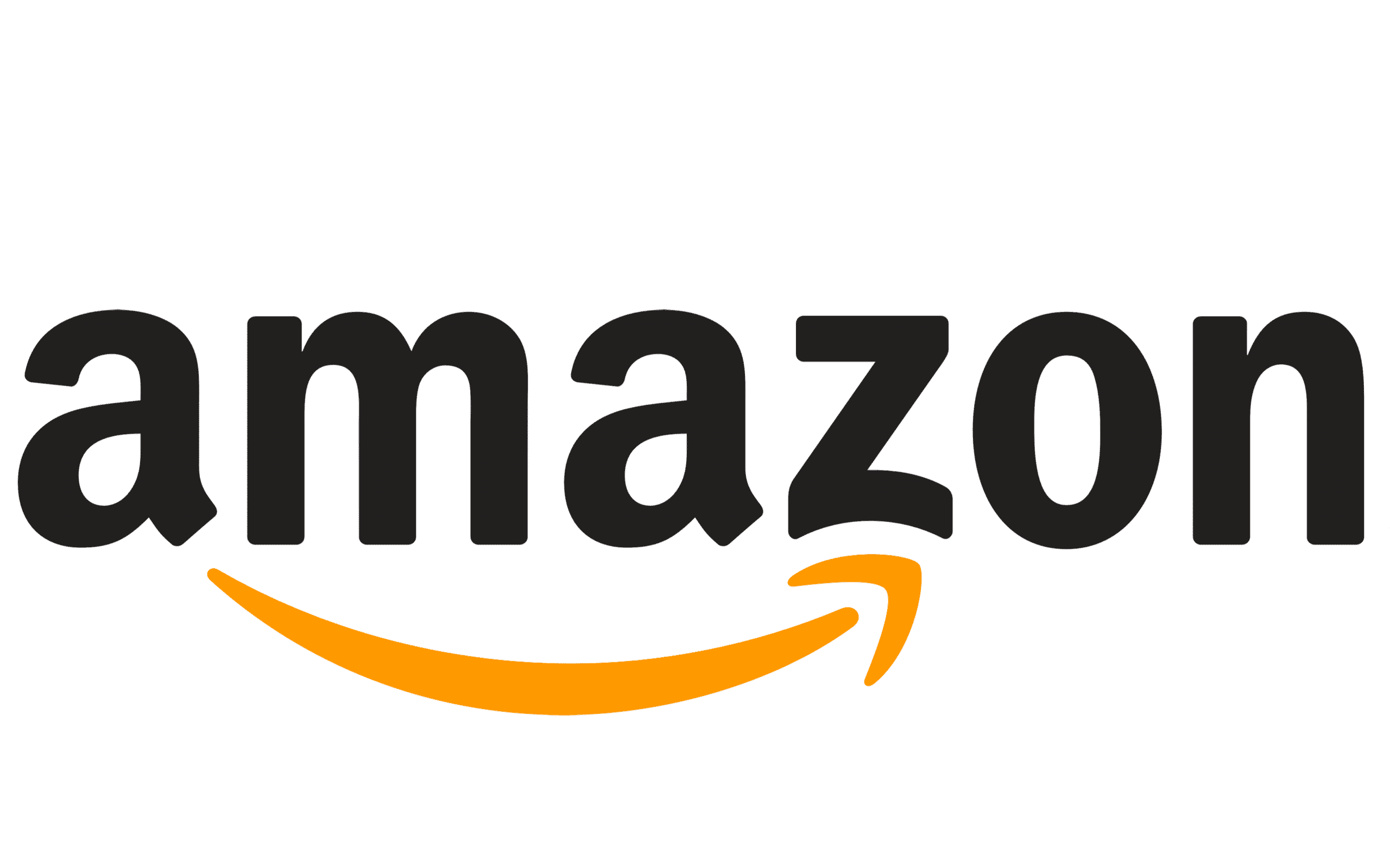 Amazon has many impressive characteristics including a long and successful listing on a major stock exchange, consistent growth, market dominance, and billions of dollars in cash.
However, it may be a surprise that Amazon has yet to pay a single penny in dividends. The same applies to other stocks, such as Facebook, Netflix, and Google. Since most high-growth businesses reinvest their profits to grow, it is not uncommon for them not to pay dividends.
As a result, any gains from Amazon's stock will be realized through increased share prices. About $60 billion has been spent by Amazon on properties, employees, and other projects over the past three years.
How To Buy Amazon Shares Overview
Step 1: Choose A Broker
Open a trading account with a regulated broker. You will be required to provide certain personal information, including your name, address, birth date, etc.
Step 2: Fund Your Account
For KYC purposes, upload two documents to verify your account and remove withdrawal restrictions: A passport or driver's license, a recent utility bill, or a bank statement.
Step 3: Search For Amazon Stock
You're ready to buy Amazon shares now that you've funded your brokerage account. Once you're on your broker's dashboard, you can search for 'AMZN' in the search bar and click the result. 
Step 4: Buy Amazon Shares
By clicking on Amazon, you will be taken to a trading window where you can click the 'Trade' button. After completing the investment process, you will be asked to enter your total stake. A trade can be placed if the amount exceeds the broker's minimum investment threshold. 
Once you have entered your total stake, you can click 'Open Trade' to buy Amazon stock.
Best Places To Buy Amazon Shares UK- Reviewed
1. eToro – Overall Best Platform For Buy Amazon Shares In The UK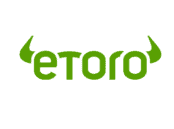 If you are looking for the most suitable place to buy Amazon shares in the UK, our top pick for where to buy them is eToro. The variety of trading options offered by eToro makes it the perfect trading platform for all types of traders.
It is well known that many UK stock apps charge a premium to access international shares, such as Amazon. This usually includes an FX fee added to your broker's typical share dealing fee.
eToro, on the other hand, does not charge a penny in commissions when you invest in the stock market. This applies to all 2,000 shares listed on 17 supported exchanges.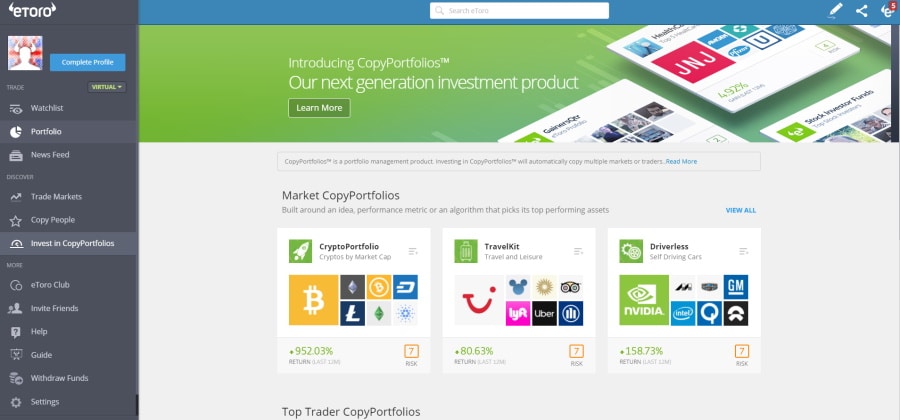 Aside from being a CFD trading platform that lets you trade yourself, eToro is also a platform that allows you to copy other professionals' trades, which has become popular. The feature allows you to trade without having to make any trades yourself. The in-depth statistics on eToro's site can help you find traders who have been profitable in the past year if you're interested in becoming a copy trader. This will allow you to copy their trades on the markets they watch.
Additionally,  a platform for trading CFDs is offered by eToro. You can quickly make and manage trades using it from a desktop or mobile device. With eToro's CFD platform, you can see the exact amount you will profit or lose when a trade goes against you very quickly, which is very helpful.
From ETFs to cryptocurrencies as well as forex, indices, gold, silver, oil, and thousands of stocks, traders can trade a wide range of markets on eToro's CFD platform. These markets can also be traded commission-free. In addition to charging a spread, eToro doesn't add any additional fees on top of it. A maintenance fee is also not charged for their accounts.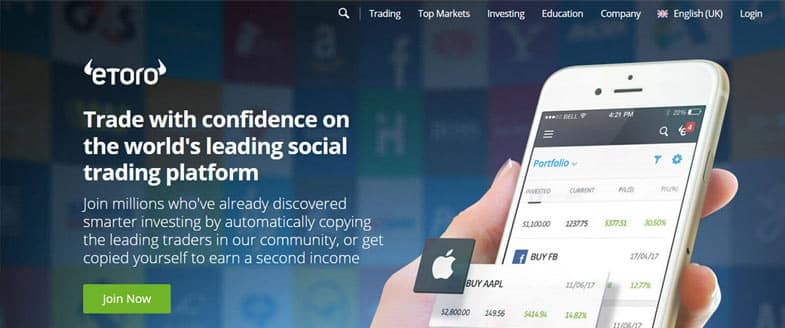 A key aspect of eToro's regulatory framework is that the UK Financial Conduct Authority regulates it. It also possesses other tier-one licenses worldwide, making it a very tightly regulated provider of CFDs. The platform allows you to use the leverage of up to 30:1, making it one of the cheapest in the UK.
You can deposit and withdraw funds using e-wallets, debit cards, and bank transfers. The site is easy to use and offers a variety of deposit and withdrawal options. With its UK trading platform, eToro has a well-rounded offering
Pros:
A variety of assets are available
Best platform for trading stocks overall
Zero-commission listings are available for thousands of stocks
Works both with and without leverage
There are many assets and markets to choose from
Smart-Portfolio and Copy Trading features are available
Cons:
There are some assets with very high spreads.
Sponsored ad. Your capital is at risk.
2. Alvexo - Stock Trading Platform With Outstanding Educational & Research Features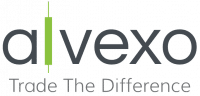 Such an alternative option to consider to buy Amazon shares is Alvexo. It was officially founded in 2014 and now has offices in Paris and Cyprus.
With a focus on providing traders with a friendly trading experience while offering a place to enhance their knowledge and skills, traders of all experience levels can execute trades instantly by taking advantage of the company's leading trading technology.
Besides offering many of the same services as stockbrokers, Alvexo also offers many web-based and mobile trading platforms and MT4 support for forex trading. Due to Alvexo's focus on CFDs, each asset's spread includes the platform's commissions. Depending on the type of account used, there can be as few as 2.9 pip spreads on the classic account. In particular, there is only a spread charge; there are no additional transaction fees.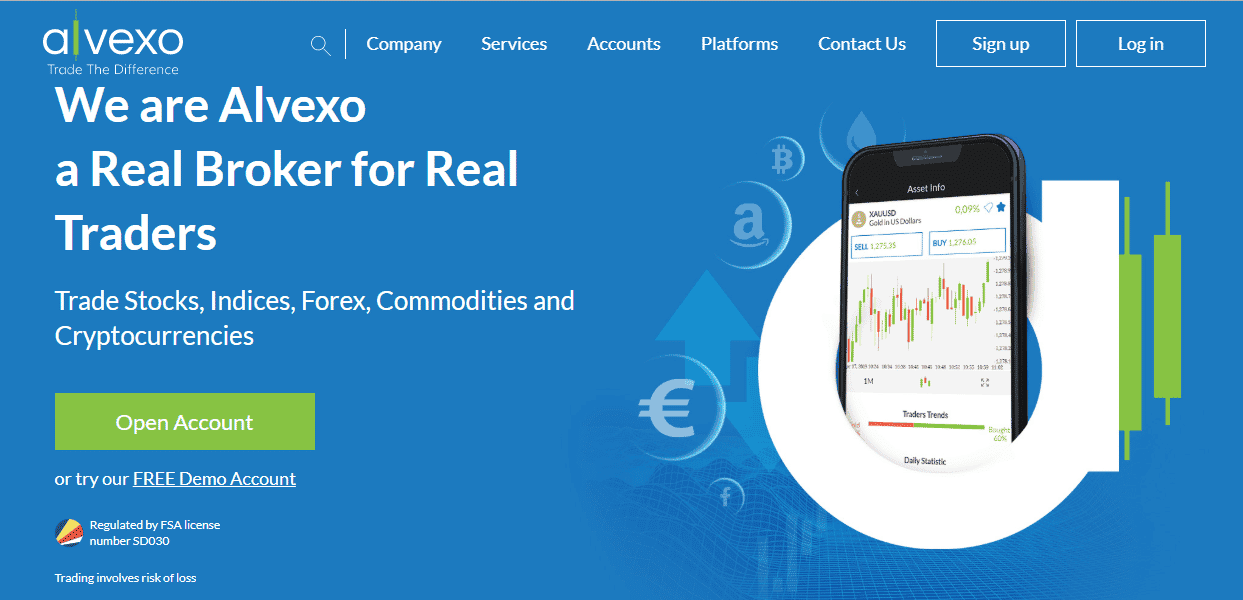 With Alvexo, traders can trade while gaining knowledge simultaneously. Many educational resources are available, including trading signals, news, webinars, eBooks, economic calendars, and Financial Web TV. Additionally, because Alvexo is regulated by CySEC and licensed to work in the EU, traders can benefit from its reputation for security.
Pros:
It offers a wide range of deposit and withdrawal methods
Contains a wide variety of tools to create a user-friendly experience
Protection against negative balances
Cons:
There is a higher initial investment on this platform than on others
Investing in bonds and stocks is not possible with a basic account
69.80% of retail investor accounts lose money when trading CFDs with this provider.
4. Plus500 - Noteworthy Low-Cost Trading Platform For Buy Amazon Shares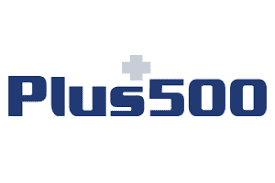 Next on our review is the Plus500, an extremely popular stock broker in the UK. Founded in 2008, Plus500 offers traders a low-cost, online share dealing account alternative.
More than 2,000 contracts for differences (CFDs) are available on this platform, including hundreds of shares from around the world. Through CFDs, Plus500 offers trading on more than 2,000 financial instruments. It offers both share trading and forex, commodity, cryptocurrency, and index trading. CFDs can all be traded with leverage, which means you can borrow money from Plus500 to increase your effective position size.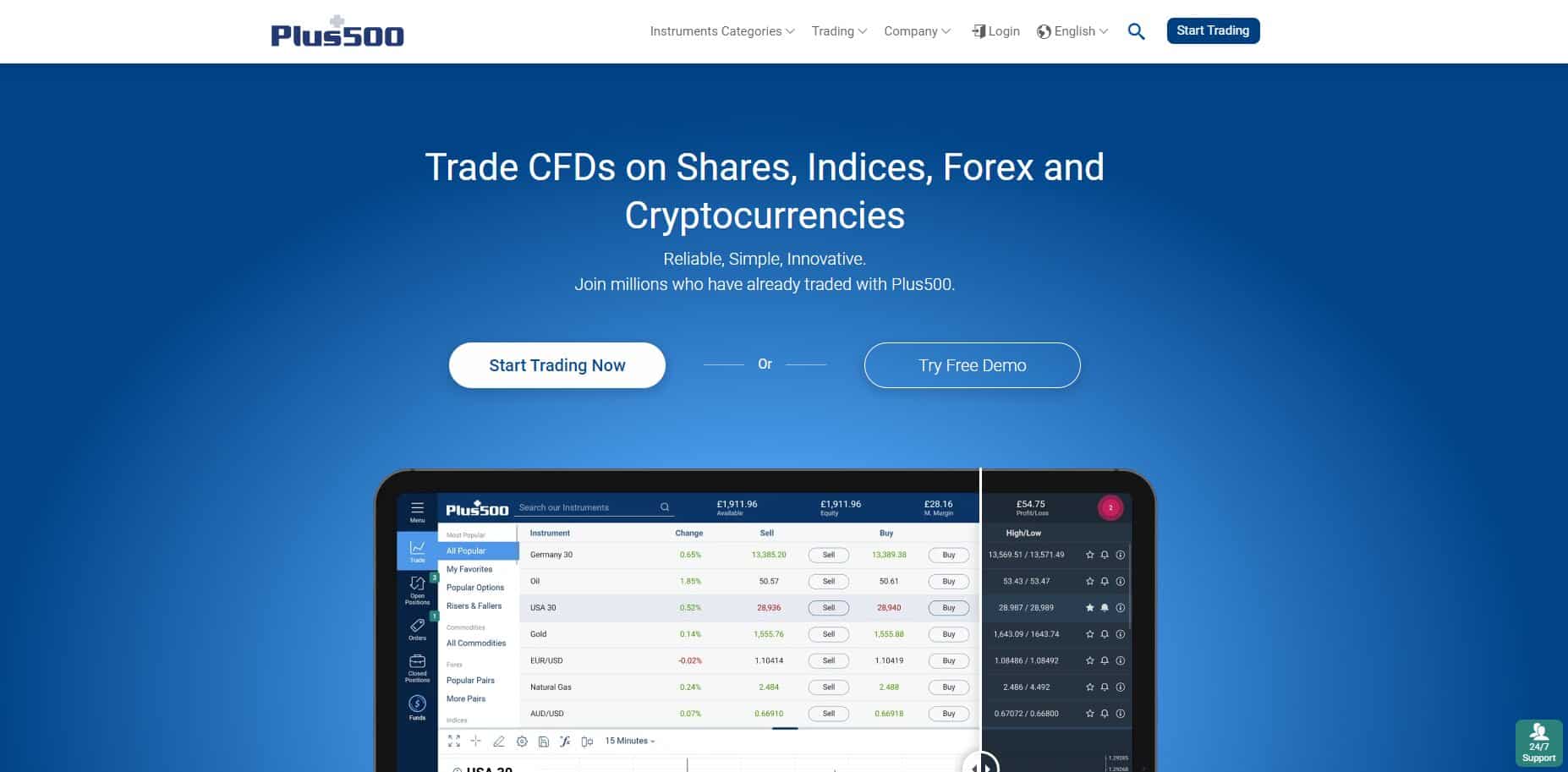 Trading CFDs on Plus500's platform allows you to take advantage of their leverage. 30:1 is the maximum leverage you can use on your positions. However, it is essential to note that some markets and financial products will have different leverage limits, so check them before placing your trade.
Globally, the platform is used by over 50 countries. A key feature of Plus500 is its disclosure of its finances and its ability to withstand scrutiny from financial analysts and regulators. Thus, it is considered a reputable online broker in the UK.
There are no commissions associated with Plus500's CFD products, but there are other fees you should consider, such as conversion fees and rollover fees.
Pros:
User-friendly platform
Quick and easy registration process
Customer service team available 24/7 by live chat and email
Mobile application available
Authorized & regulated by the FCA
A demo account is provided
Cons:
Hard to find educational tools
Limited research tools
Your capital is at risk.
5. Fortrade - UK's Stock Platform With Competitive Spreads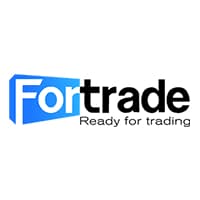 Fortrade can also be considered a good stock trading platform for trading shares such as Amazon. It was established in 2013 and is focused on online trading and investing in international capital markets.
Through user-friendly technology, Fortrade focuses on providing a simple trading environment suitable for experienced traders and beginners. Experts at the company have designed and developed a series of fully-scalable trading platforms that allow clients to keep an eye on global financial markets and derivatives at the time and place of their choice.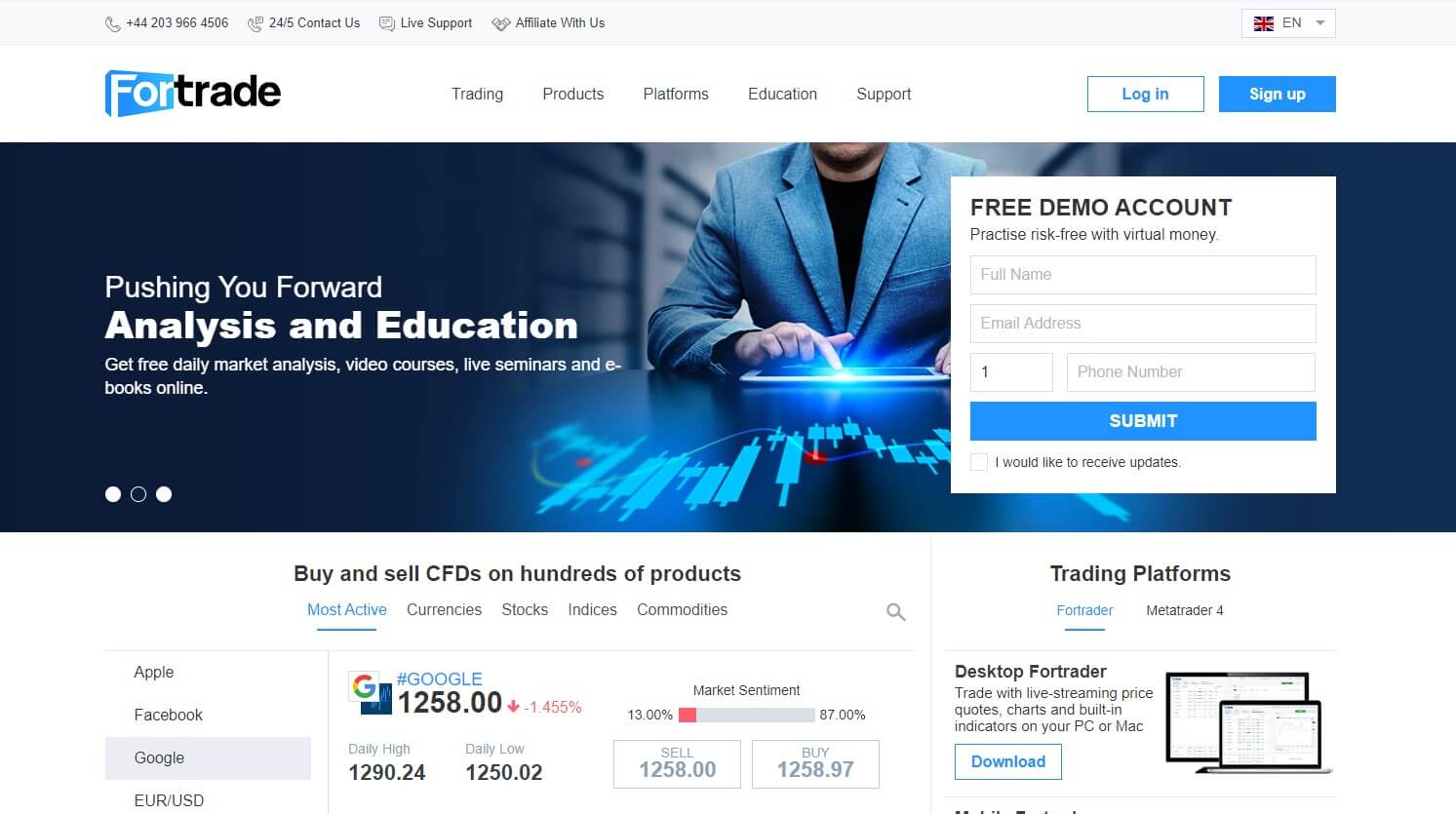 Furthermore, Fortrade aims to be the most affordable player in the market, with opening deposits starting at $200, tight and competitive spreads, and leverage ratios as high as 1200.
With the FCA regulating the firm, traders can trade in a safe and secure environment.
Pros:
Multilingual support and website
Islamic accounts are supported
There are many educational tools available
Market news and insights in-depth
Cons:
It may take up to 15 business days for debit/credit card withdrawals
Your capital is at risk.
How To Buy Amazon Shares UK- Conclusion
By definition, investing consists of the allocation of funds to a stock or company with the expectation that it will provide additional rewards as a result. The investment in stocks over the long term has the potential to generate very high returns for investors. This is because it is one of the most effective methods of increasing capital in the financial world.
It is no secret that Amazon has achieved phenomenal success in the market. Moreover, it continues to prove to be a profitable business to invest in as it grows exponentially. As far as market analysts and financial research firms are concerned, Amazon's successful and impressive market performance is expected to last for some time.
Due to its FCA regulation, eToro provides investors with extensive protection and makes it easy for you to invest in Amazon stock quickly in a safe and user-friendly environment. So get started and click the button below to open an account with eToro in less than five minutes.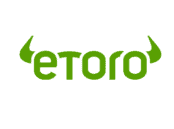 Sponsored ad. Your capital is at risk.
FAQs
How to buy shares in Amazon?
The process of buying Amazon stock through a broker involves opening a live trading account and depositing funds. Then you just need to go to your chosen broker's dashboard and look for Amazon in the search bar and click on trade. Finally, to place an order you must select the amount you wish to trade, choose an order type, and click on the Open Trade button.
Is Amazon stock a good investment?
Ever since Amazon went public in 1997, it has grown into one of the world's largest companies. But, according to most analysts, its continued success is attributed to its diverse portfolio. Stock market investing, however, always involves risks that we should be aware of before purchasing shares.
Where is the best place to buy shares in Amazon?
As per our research, we consider eToro as the best place to buy amazon shares in the UK. Trading stocks at eToro is fairly straightforward. The eToro platform is user-friendly and allows you to open a free account in just a few minutes. In addition, a broker does not charge a commission when opening or closing a trade, so anyone can invest in stocks.
What is the current price of amazon shares?
Every stock price rises and falls throughout the day, including Amazon's. As of July 9th, 2022, Amazon stock cost $115.54 per share. However, if you're interested to invest in them you can do so through fractional stock apps such as eToro. Our top recommended broker allows you to invest as little as $10 in the stock.