SwissQuote Review UK- Features, Pros and Cons Revealed!
Fact checked
Everything you read on our site is provided by expert writers who have many years of experience in the financial markets and have written for other top financial publications. Every piece of information here is fact-checked. We sometimes use affiliate links in our content, when clicking on those we might receive a commission - at no extra cost to you. By using this website you agree to our terms and conditions and privacy policy.
Many people are interested in digital trading assets such as cryptocurrencies but do not know which platforms are best. SwissQuote is a reliable platform that has been operating since 1996.
This review will show the key details and some of the commissions charged on this platform. We recommend you continue reading our article if you are interested in SwissQuote.
What is SwissQuote?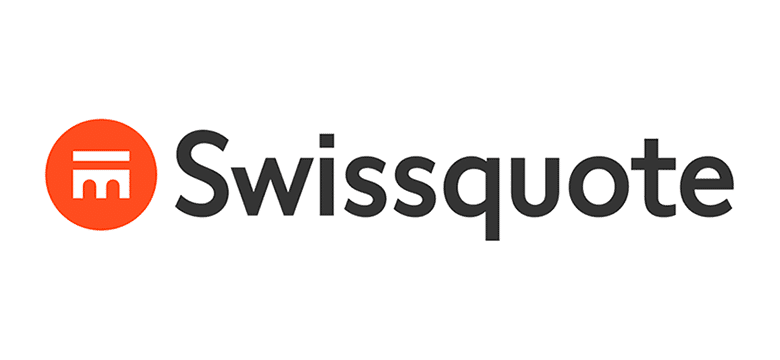 SwissQuote is one of the leading banks in financial services and credit. It is headquartered in Switzerland and was founded in 2000 in London. SwissQuote is a publicly traded online broker. SwissQuote Group Holding Ltd, listed on the SIX Swiss Exchange and SQN, participates in the SIX Swiss Exchange.
Several major financial regulators regulate SwissQuote bank, including the UK's Financial Conduct Authority (FCA), the Swiss Financial Market Supervisory Authority (FINMA), the Dubai Financial Services Authority (DFSA), and the Securities and Futures Commission (SFC).
Through SwissQuote, you can trade cryptocurrencies, stocks, CFD and bonds, in terms of digital assets available. Using SwissQuote, you can access more than 60 markets worldwide.
This broker generally contains two divisions: the Swiss section offers funds for future stocks with trading, while the UK section only offers CFD and forex instruments. In addition, for investors and traders who want to trade forex and CFDs. Swissquote has access to FSCS and Esisuisse fund protection. It also has a head office in Luxembourg.
SwissQuote Pros and Cons
Pros:
Different trading platforms, including MetaTrader 4/5 offering advanced trading features.
Great reputation worldwide.
Cryptocurrency lending and staking.
Regulated by several regulatory bodies, including the FCA.
Cons:
Very low payment possibilities.
Reduced offer of financial tools.
How Does SwissQuote Work?
It is very easy to understand how this broker works. First, you need to open an account on their trading platform and make the first deposit in order to start trading. After that, the broker will provide full access to its trading platform once the registration process is completed and the subsequent deposit is made.
Within the platform's operation, it should be noted that there are 4 types of accounts available: Standard, Premium, Prime, and Professional.
Traders should note that the minimum deposit with the initial (Premium) account is 1000 dollars.
The only difference between the Premium, Prime, and Elite accounts is the minimum deposit, spreads, and commissions. In addition, forex and CFD trades must be a minimum size of 0.01 lots.
A stop-out level of 50% and a maintenance margin of 100% is used.
SwissQuote Trading Platform Key Features
Below we will review some key features to consider if you decide to use SwissQuote as your platform of choice for digital trading assets in the market.
Fees
As Swissquote has 4 types of accounts available, we have taken the task of showing the commissions of each one in the following table:
 Trading Account
Standard Account
Premium Account
Prime Account
 

Professional Account

 

Spread
1.7 pips
1.4 pips
1.1 pips
Custom spreads

 

Forex Commission
No
No
No
No
Stocks Commission
0.15%
0.12%
0.9%
Varies
Inactivity Fee
10 account currency units (monthly)
10 account currency units (monthly)
10 account currency units (monthly)
10 account currency units (monthly)

 

Minimum Deposit Requirement
1000 USD
10,000 USD
50,000 USD
Volume Best

 
Automation
SwissQuote is a platform that contains automatic pattern-stopping functions. Several functions can be used to improve the experience in the cryptocurrency market. Moreover, the platform has reading and analysis of charts and indices. An important feature is that users can customize the platform according to the market's needs.
Minimum deposit
Swissquote accepts 9 different currencies that can be used via debit, credit cards, and bank transfers. Some commission may apply. It all depends on the banking services. The minimum deposit is $1000 dollars.
Security
The Advanced Trader and MetaTrader platforms of SwissQuote are securely encrypted using SSL technology. In addition, traders can enable two-factor authentication (2FA) and Touch ID as security measures.
User Interface
The SwissQuote platform has similarities to the MT4 and MT5 platforms, although this platform can be customized according to the user and has specific built-in features. The platform interface has an easy and simple design. This platform gives the possibility to trade CFDs. In addition, the platform has automatic pattern-stopping functions. For example, financial instruments are located on the left side of the screen, while indicators are at the top along with financial charts.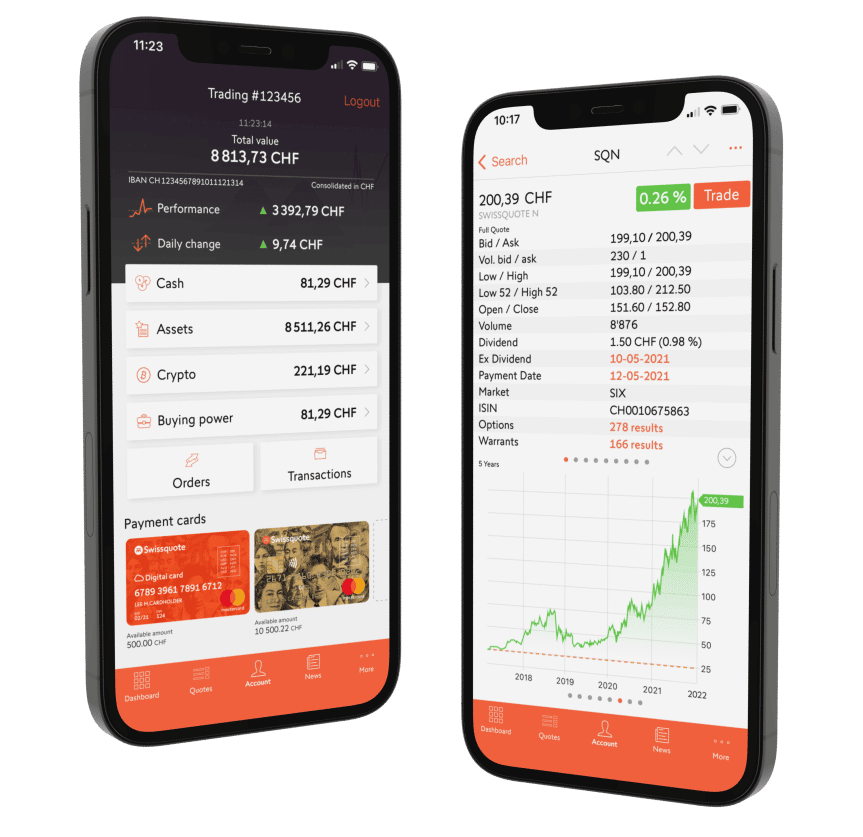 Moreover, there are additional  tools to mention, such as Autochartist, which provides new information, such as risk metrics and chart pattern identification, so there is no need to get used to it. SwissQuote's customer support team is available to assist you with any questions or problems you may have with any of these tools. Live chat is available at SwissQuote, as well as by email.
SwissQuote is considered one of the best platforms as it has advanced charting with pattern analysis.
Customer support
SwissQuote offers excellent customer support services to assist your trading journey. SwissQuote has offices in Switzerland but also has a presence in other countries with sub-offices:
Dubai
Zurich
Malta
Hong Kong
Singapore
Luxembourg
SwissQuote's customer service is available 24 hours a day, 5 days a week. Among the services available for customers service are:
Telephone support
SwissQuote contact support
Live chat with fast response time
Email support
Registration
The process to register to SwissQuote is very simple. First, you must go directly to the website to fill out the requested information. The basic data, email, and phone number are within that information. After completing the process, the account will be verified with an email sent to the address entered in the form and to complete the verification you need to upload your ID. The registration and verification process may take a few minutes.
Withdrawal methods
You withdraw money from SwissQuote via the website. However, money can only be withdrawn by bank transfer. A fee may also apply.
Please note that bank transfers take 1 to 3 business days to complete, but credit card payments are processed instantly.
Demo account
All three SwissQuote account types have a trading demo feature.
Using this feature, you will receive 100,000 USD of virtual money for practicing and testing the platform. In addition, you can access 130 instruments within the demo account to enhance the experience. SwissQuote demo accounts are active for 30 days, so we recommend you make the most of this time and get to know better how to trade in the market.
Sponsored ad. Your capital is at risk.
Asset variety
Through SwissQuote Ltd., traders can trade more than 400 forex and CFD instruments on an all-in-one platform, taking advantage of trading opportunities worldwide. In addition, traders can access the major stock exchanges and current financial information with SwissQuote's online banking portal.
A wide variety of assets are available to trade at SwissQuote, including currencies, stocks, theme investments, ETFs, Swiss DOTS, futures and options, funds, bonds, forex, and CFDs.
SwissQuote Forex Trading
To trade on this platform, we should mention that SwissQuote has at its disposal the following platforms: Advanced Trader, Metatrader 4. Each one has specific features which can be used,
Advanced Trader
The Advanced Trader web platform from SwissQuote provides traders with a customizable interface that allows them to manage and arrange the chart layouts accordingly. Furthermore, the Advanced Trader platform includes a powerful order management tool. In addition, a trader using the Advanced Trader platform gets exclusive access to market news and can switch between the Web mobile and desktop versions with complete mobility.
MetaTrader 4
MetaTrader 4, an award-winning platform in this industry and is preferred by traders of all types. With its beginner-friendly interface, Swissquote MT4 is designed exclusively for retail traders and investors. The tolerance level is the same as on other platforms. In addition to offering fast execution of trades, it also offers high liquidity. Expert Advisors (EA) can be developed on the MetaTrader 4 platform to automate trading strategies. Real-time charting, live quotes, and application for iOS and Android. The result is an excellent user experience.
Is SwissQuote A Good Platform To Consider?
After analyzing each feature, we can say that SwissQuote is a good platform to consider for your trading in 2023.
The most striking feature of the platform is that it can be customized according to each user. The registration process is very simple, and the platform has excellent customer service to answer all your queries. Its trading tools are great for all users no matter your experience with trading.
Through this platform, you can trade with several digital assets that allow you to generate great returns in the market. In addition, SwissQuote is regulated by different financial authorities, so your investments will be safe.
How To Use SwissQuote
The following are the steps necessary to trade with a SwissQuote account.
Register for an account
To register on the platform, you must go to the website and click on register. Then, you must enter the requested information such as name, date of birth, and country of residence.
Verify ID
Once you complete the previous step, you must verify your account To complete the process you need to upload an ID. Then, a confirmation email will be sent to the registered email address. This is done to avoid any fraudulent activity.
Deposit funds
Depending on the type of account, it is necessary to make a deposit. This deposit of funds can be done by debit and credit card, or if you prefer, it can be done by wire transfer.
Start trading
After completing the previous step, you can start trading on the platform. First, however, we recommend you use the demo account to get to know the market better and test your strategies. The Swissquote trading demo has duration of 30 days.
SwissQuote Review- Our Conclusion
In conclusion, we can say that SwissQuote has earned a great reputation for offering investors various services and digital trading products. For example, at SwissQuote, it is possible to use both MetaTrader 4 and Advanced Trader.
SwissQuote is regulated in the UK by the Financial Market Supervisory Authority (FINMA). It is important to note that there are four types of accounts offering different specific features.
Creating an account here takes minutes, and SwissQuote's customer service is ready to answer any questions you may have.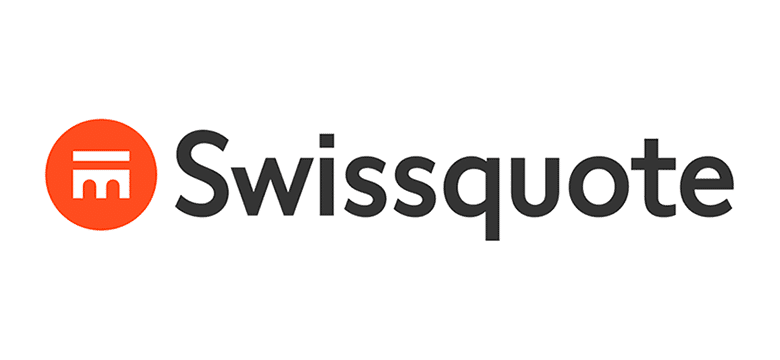 Sponsored ad. Your capital is at risk.
FAQs
Is SwissQuote regulated in the UK?
Is SwissQuote a forex platform?
Who owns SwissQuote bank?
Is Swissquote good for beginners?
What is Swissquote online trading?