Saxo Trading Platform Review UK
Fact checked
Everything you read on our site is provided by expert writers who have many years of experience in the financial markets and have written for other top financial publications. Every piece of information here is fact-checked. We sometimes use affiliate links in our content, when clicking on those we might receive a commission - at no extra cost to you. By using this website you agree to our terms and conditions and privacy policy.
For traders based in the UK, very few platforms offer a variety of products as large and diverse as the one offered by the Saxo Trading Platform. Whether you wish to trade forex, shares, commodities, indices, options, bonds, or futures, Saxo has got your back.
In this guide, we discuss and cover everything that you need to know about the Saxo trading platform. We go through the key features of the platform, the interface, their fee structure, commissions, regulations, and more.
What is Saxo Bank?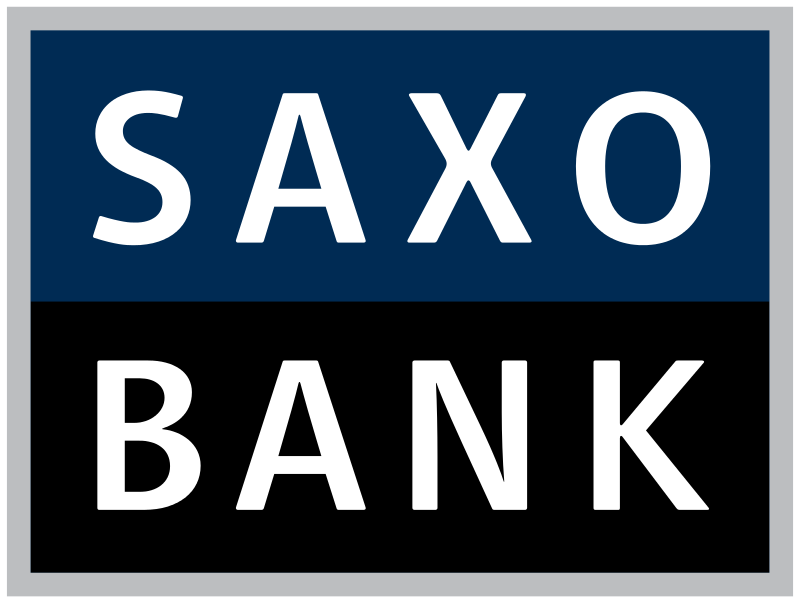 Saxo Bank is a Danish investment bank that was founded in 1992, and it provides both trading and investment services to a variety of retail and institutional clients. The platform is considered to be a reliable and safe source for 2 major reasons. The first reason is that it is regulated by agencies from all over the world, including the Danish Financial Services Agency (FSA) and the UK Financial Conduct Authority (FCA). The second reason why Saxo Bank is considered to be a reliable source where you can invest or trade is because of its track record. Saxo Bank was founded in 1992, and they have been providing services to clients for the past 2 decades.
Saxo Bank is a global service provider, and they have various subsidiaries in different parts of the world. The services by each of these entities and the fees that they charge differ based on the country wherein the subsidiary are located. Their UK offering, Saxo Bank UK, offers a variety of product classes and ownership methods. Their UK subsidiary has been in existence since 2006 and has been providing services to both retail and institutional traders.
Since Saxo Bank has a banking background, their trading platform has been specifically designed keeping advanced and experienced traders in mind. The platform is set apart from its competitors because of its interface, the presence of a mobile application, and the proprietary technology and tools on the platform. The platform provides a variety of their own tools and charting methods, but in addition to this, they also provide users with access to third-party tools that can be used to enhance the trading experience and APIs that can be used in order to build bespoke applications. This way, advanced traders can build applications that enable them to develop, backtest, and implement automated trading strategies.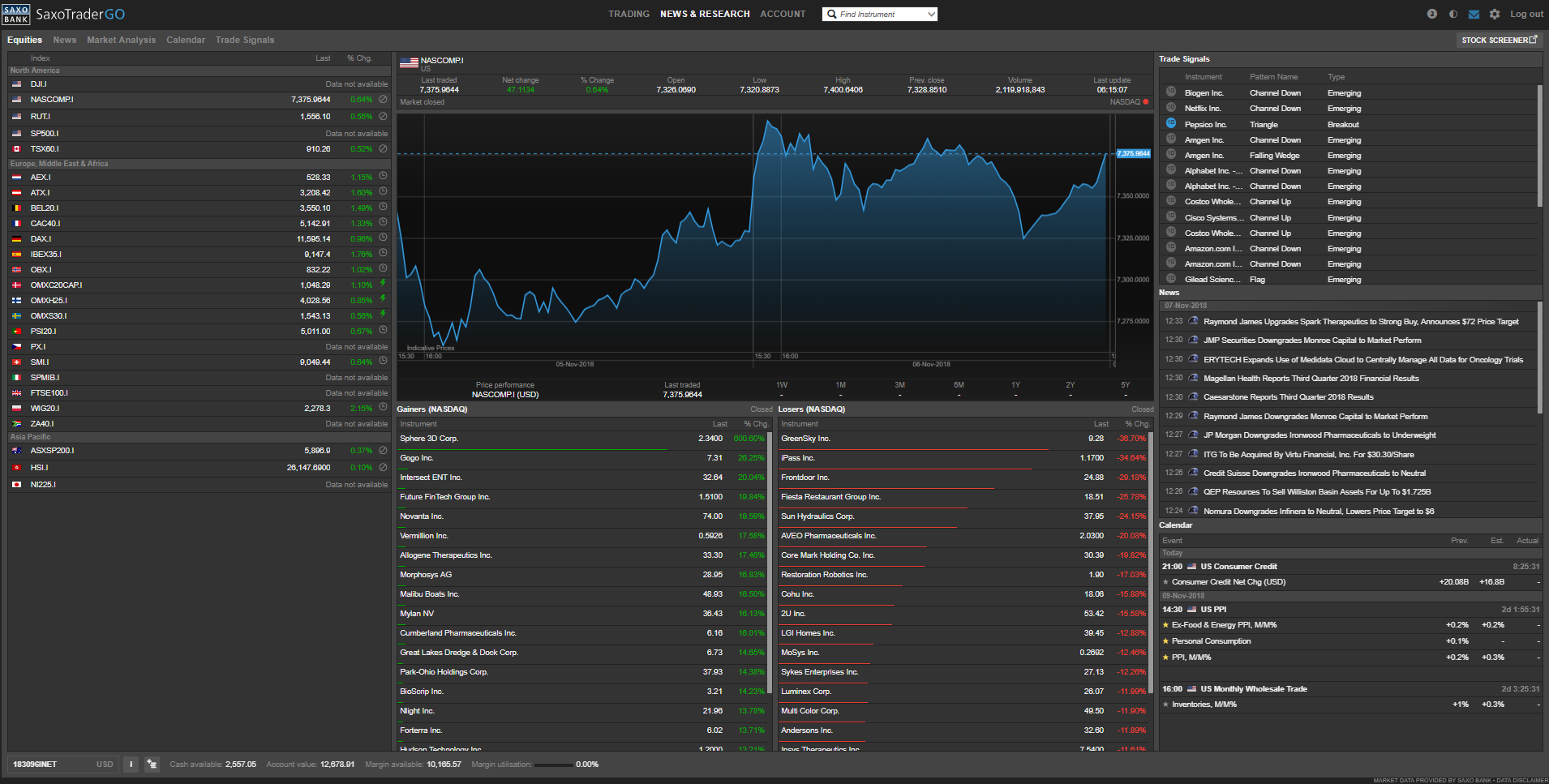 However, this compatibility with a variety of trading platforms and external APIs does not extend to the MT4 trading platform, which is widely considered to be an integral part of every forex broker's offering. While most of the features of the Mt4 trading platform can be found or customized on the Saxo trading platform itself, this can be a bit strange to traders who are habituated to using the MT4 trading platform, as they are designed in different ways and require an adjustment period.
Saxo Bank also has three different account types, which are Classic, Platinum, and VIP. each of these account types is classified on the basis of the investment and the funds you choose to leave on the platform and offers different advantages. This could include lower fees, wider access to instruments, or simply a variety in terms of the tools available to you to assist with the trading process. Saxo also offers spread betting services, however, these are only available to traders who qualify to be among the professional clients. The platform is also known for having among the lowest fees and tightest spreads, especially when it comes to the forex and equity markets.
Since the subsidiary of Saxo Global Bank is incorporated as a UK company, they also offer a variety of services that are unique to UK citizens and residents. These services include various types of ISA accounts, which are investment accounts for retirement plans or pensions and are regulated as per the statutory laws and regulations of the UK government. They also provide trust accounts and corporate accounts. The various types of accounts that Saxo provides access to, as well as the general description and relative advantages of each of the accounts, have been provided below in this review.
The Saxo trading platform also provides access to over 30,000 international products that can be traded across 40 exchanges worldwide. However, there are certain limitations that are associated with the product variety that you are offered based on the type of account that you choose to open with Saxo. For example, if you were to open an ISA account, then you would not have access to CFDs, since they have a higher level of inherent risk than normal trading products. These rules are developed by the UK government and all FCA-regulated trading platforms have to comply with them. All in all, Saxo has over 660,000 users worldwide, and the latest data from the company show that they facilitate over 180,000 trades a day from their headquarters, which are in Canary Wharf.
Saxo isn't just a trading platform, it also provides a host of investment options for those who have a longer time horizon or are simply not experienced enough to curate portfolios. The SaxoSelect optionality allows you to build yourself a portfolio with a preset risk appetite that caters to your short and long-term financial goals. You will be able to monitor and track all your investments, however, you will not have to worry about actively managing the portfolio such as keeping an eye on the composition of the portfolio or having to rebalance it every few months. These portfolios are curated by prominent asset managers such as BlackRock or Morningstar and are tailored to match your own personal preferences. They are available in various risk profiles, but their ultimate common aim is to provide high returns over prolonged periods of time.
Sponsored ad. Your capital is at risk.
What Can You Invest in and Trade on the Saxo Trading Platform?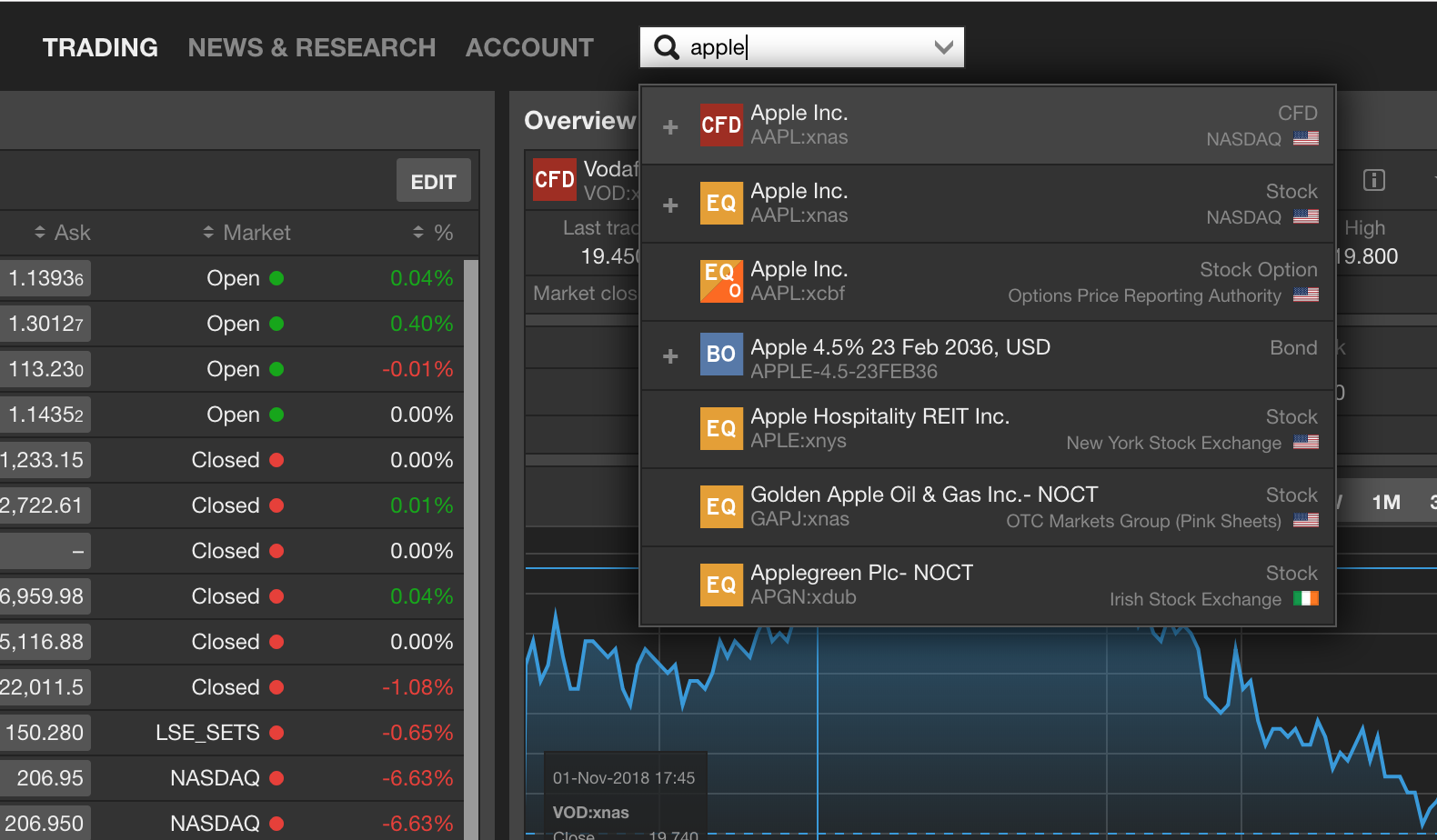 As mentioned earlier, there are a variety of products that you can trade on through the Saxo platform. These include stocks, forex currency pairs, commodities, indices, bonds, and ETFs. Each of these, along with the Saxo offering and anything else you may need to know about them, have been discussed below in detail.
Invest in Forex
The Saxo forex offering is one of the primary attractions that get people to trade through the app. Saxo boasts of some of the most extensive collections of currency pairs among all the UK forex brokers that are available. It contains options to trade major, minor, and even some exotic currency pairs. The platform provides a leverage of up to 30x to trade the major currency pairs for retail trading accounts. In addition to this, Saxo is also known for its competitive spreads, which allow you to trade on forex products at some of the cheapest rates in the industry.
Another major advantage that Saxo offers is that it contains a lot of forex-specific tools and analysis methods that can further assist advanced traders who might be trying to use complex technical analysis for their trading strategies. It also includes a very extensive and up-to-date research board, that allows traders to combine their technical analysis skills with fundamental analysis and creates a holistic and profitable trading strategy.
Trade Shares
The Saxo platform also allows you to trade and invest in shares. You can do this in two ways: you can either buy the underlying shares, or you can trade on share CFDs. As mentioned earlier, there are a few account types, such as ISA accounts, that do not permit you to trade CFDs since they contain a higher degree of risk than trading on normal shares.
If you wish to trade or invest in the actual underlying shares, then you will have to pay a commission on each trade you make. On the other hand, stock CFDs can be traded on by only using spreads. Trading on CFDs will also allow you to employ leverage, and the amount of leverage you can employ will depend on the market and the security that you choose to trade. Saxo allows you to choose from a variety of shares and markets that you can trade or invest in, which gives traders more variety. Their spreads and commissions are very competitive, and they also support the use of automated trading strategies in order to further assist and amplify your profitability.
Invest in Indices
You can also invest in indices and ETFs through Saxo. while the fees for these are a bit higher than the industry average, Saxo more than makes up for this in terms of the variety that it offers. For example, you can invest in several different types of indices by making use of Saxo. They allow you to invest in standard exchange indices and sector indices, for starters. In addition to this, you can also invest in portfolios and indices that are curated by industry professionals. This is either done by the Saxo in-house team, or by reputed asset managers such as BlackRock and Morningstar.
They offer portfolios and indices for you to invest in for a variety of risk appetites. The intention behind creating these portfolios is to minimise the risk that you take on while maximising your returns over the long run. You can invest in curated portfolios and indices that are specific to a particular sector, country, or market. You could also choose to hedge by gett8ng a geographically-diversified portfolio, which allows you to invest in stocks from all over the world.
Saxo Trading Platform Fees & Commissions
The Saxo trading platform fees and commissions differ largely over the different asset classes that the platform offers for you to trade on and invest in. However, for the most part, these fees are in line with the industry standards and are occasionally even below the industry average.
The trading fees charged by a platform can be divided into two types: trading fees and non-trading fees. Trading fees refer to the fees that a trader incurs whenever they make a trade, this could be in the form of a commission or a spread. On the other hand, non-trading fees are fees that are not directly related to the trading activity on the account. For example, this could include inactivity fees, deposit and withdrawal fees, as well as account management charges. Each of these types of fees has been discussed below in detail.
As mentioned earlier, if you wish to trade shares, then you will have to pay a commission on each trade that you make. While this commission depends largely on what tier account you have, in general, the commission is $0.02 per share. However, for the classic accounts, the minimum commission that you will be charged for every trade that you make is $10, whereas it is only $3 for VIP accounts. If you choose to trade on stocks that are listed on exchanges other than the UK/US, then you will incur additional commissions that you will have to pay.
The forex fees on the platform are among the lowest in the industry. When trading forex, there are no commissions, and traders are instead charged a spread for every time they make a trade. The spread for major forex pairs such as the EUR/USD pair can be as low as 0.8 pips for the Classic accounts, and just 0.4 pips for a VIP account. This, in addition to the 30x leverage that the platform offers to trade on most major forex pairs, has made Saxo among the most preferred forex trading platforms in the country. If you choose to invest in indices and mutual funds, the platform charges no trading fees at all.
As far as the non-trading fees are concerned, Saxo does not charge any account management fees or fees when you deposit and withdraw funds from your account. On the other hand, their inactivity fees are quite high, with them charging as much as 25 GBP for every quarter of inactivity in your account. However, this does not apply to SIPP and ISA accounts opened through the platform.
Saxo Trading Platform User Experience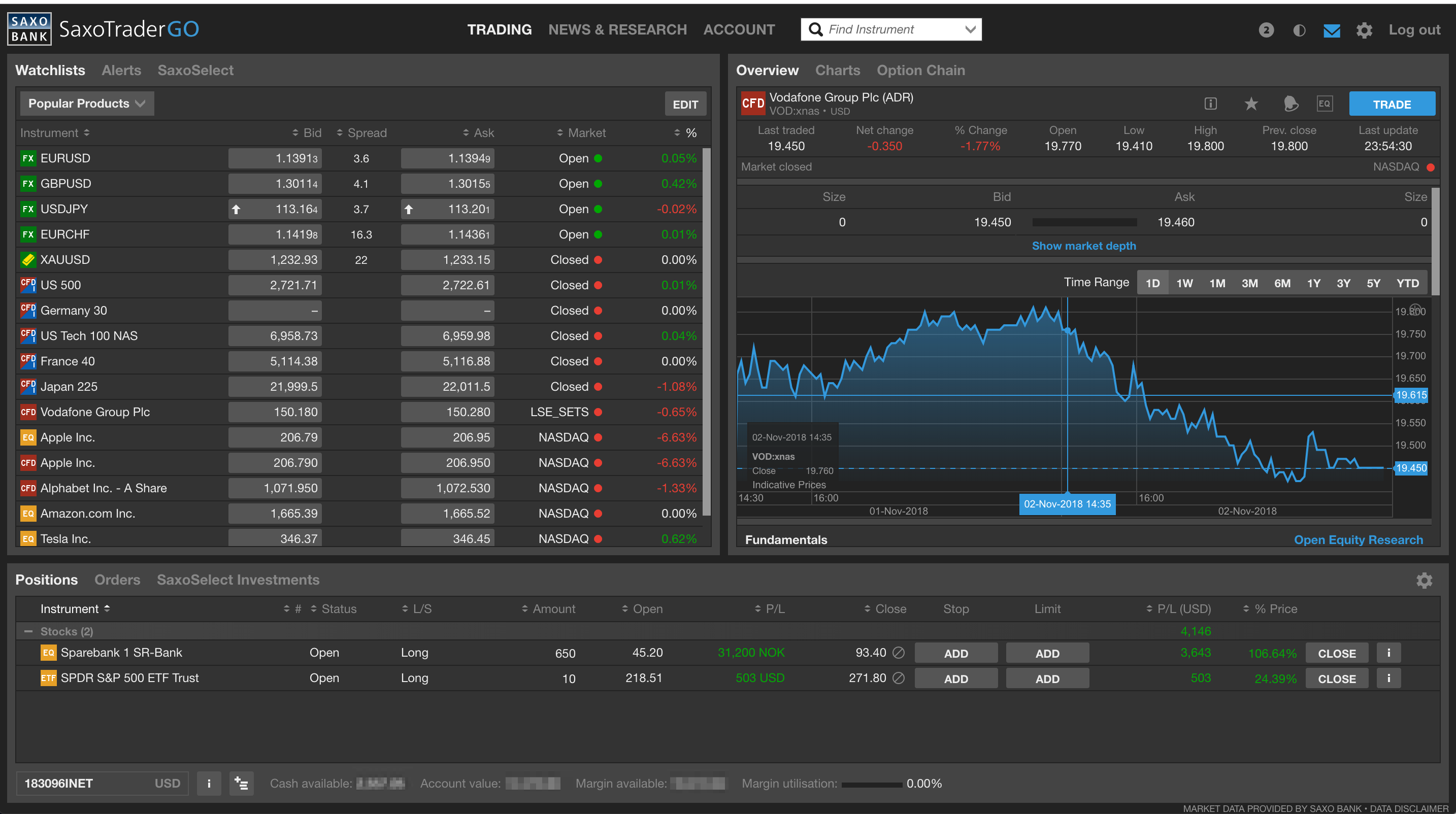 As far as the trading platform for Saxo is concerned, it is a simple platform that has been designed in a way that makes navigation very intuitive. This starts at the most basic step, which is finding the right product that you wish to trade. Accessing the selection bar for choosing the asset class that you wish to trade, you will easily be able to find a list of the most popularly traded products in the asset class. You can also develop your own watchlists.
You can either use the web platform or download the desktop app. Not just this, if you think that the Saxo app is not meeting your needs, you can also choose from a variety of other platforms to trade through. A list of these platforms has been provided below:
The OpenAPI tool for Excel allows you to manage your portfolio in Excel across different asset classes.
The Dynamic Trend Tool enables easy analysis of stocks and options that are listed on US exchanges.
The Tradingview allows you to chart forex pairs effectively and observe patterns that you might miss when using other charting platforms. It is also a social trading platform.
The MultiCharts platform is one of the most preferred platforms for advanced market analysis and backtesting of algorithmic trading strategies.
If none of the above-listed platforms meets your needs, you can also register as an API partner for Saxo and develop your own platform for trading through Saxo.
The Saxo platform supports a very wide variety of languages for traders based in different countries, and it is easily customizable to suit your specific and individual needs. For example, you can change the size of the different tabs in the trading platform at your convenience. The search function also operates across asset classes. For example, if you were to search for Apple, you would be able to see the Apple stock, CFDs, the as well as the various options and futures contracts available for Apple.
The platform also allows you to place several types of orders. This includes order selection types such as a market order, limit order, stop-limit order, trailing stop order, and an OCO order. In addition to this, you can place orders on several time limits, such as:
Good-till-canceled (GTC)
Day Order
One week
One month
End of week
End of month
End of Year
Good-till-date (GTD)
Immediate or cancel (IOC)
Finally, another aspect of the Saxo trading platform that is praiseworthy is their transparency in terms of the fees that you will be paying for each trade whenever you open a particular instrument and try to place an order, a dialog box appears, that informs you of the fees, commissions, and the margin requirements that are associated with that particular trade.
Saxo Trading Platform Features, Charting, and Analysis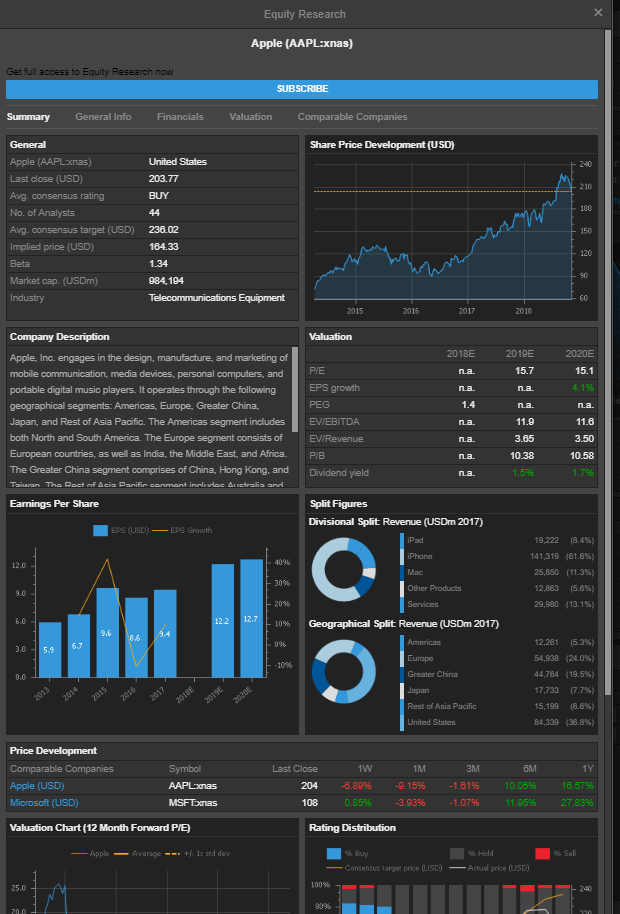 The Saxo trading platform was developed keeping advanced traders in mind, and therefore it has a very vast variety of charting and analysis tools available across different asset classes. For starters, one of the biggest and most useful functionalities provided by the Saxo trading platform are the different price alerts that you can set on both the web and mobile platforms. You can set price alerts for major movements, earnings reports, dividend announcements, as well as macroeconomic indicators. In addition to this, you can also set an alert for when certain conditions are breached, thereby effectively creating a trading signal that can assist you with trading.
Saxo provides you with a detailed fundamental analysis of every stock that is listed on the platform. While a few of these are available for free so that you can get an idea of the quality of this research, most of the others are only available if you subscribe to them. These reports contain current as well as historical stock data, the ownership structure of the company, financial statements, peer comparisons, and the option to create your own benchmark analysis. In addition to this, the research also provides you with consensus estimates and analyst research on the price target of the security over the period of the next 6-12 months or more.
The charting tool on the platform is also very interactive and intuitive to use. You can choose from up to 50 technical indicators, and add a variety of other editing tools that can assist you with spotting trading opportunities. For example, some of the most commonly used technical indicators available on the platform include trendlines and the Fibonacci tools.
The platform also includes a news feed for those traders who are interested in trading on macroeconomic news. You can also view an economic calendar that shows you all the major upcoming events that could have an effect on the markets so that you can trade accordingly. You can also use the stock screener that allows you to filter companies and securities on the basis of their country, industry, as well as their financials. For example, if you are searching for tech companies in the US with a P/E of less than 15 and a market cap higher than $1 billion, this is basically a two-click exercise on the screener.
Saxo Trading Platform Account Types
For regular traders, there are 3 different types of accounts that you could open on the Saxo platform. These are the Classic, Platinum, and VIP accounts. These accounts differ from each other in two major ways. The first is in terms of their minimum deposit requirements. The minimum deposit that you will have to make in order to set up a Classic account with Saxo is £500, which is quite high compared to several other similar brokers. On the other hand, if you choose to open a Platinum or VIP account, then the minimum deposit that you will have to make is £200,000 and £1,000,000 respectively.
The second difference between the 3 types of accounts is in the service that they receive. The spreads and fees on the accounts generally reduce as you move up the rung, with VIP accounts having to pay the lowest spreads and commissions of all. In addition to this, you will also get a dedicated contact person in case you open a Platinum or VIP account, thus enabling you to get your queries resolved faster.
You can also open SIPP and ISA accounts with the Saxo platform in order to prepare for your retirement or for other long-term financial goals.
Saxo Trading Platform Mobile App Review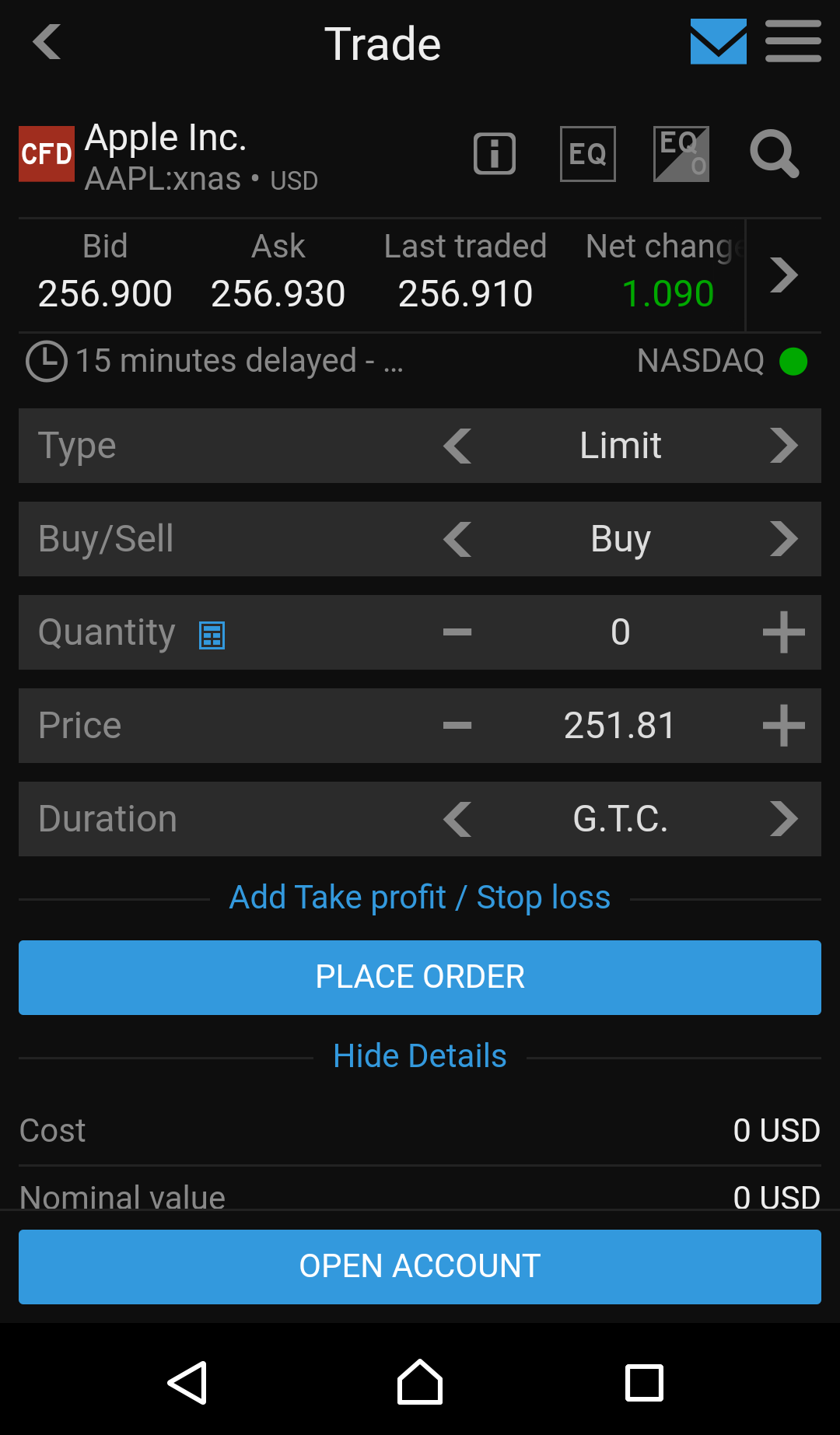 The Saxo platform is available on both iOS and Android, and it contains many of the same functionalities that are present on the web platform. For starters, all of the languages that are present on the web platform can also be enabled on the mobile app. The search function also works in the same way, allowing you to search for a product across asset classes easily. The order types and alerts can also be set in the same way, and function in a way quite similar to the web trading platform.
However, the mobile platform is a little confusing in terms of its navigation. It is not always very easy to be able to find what you are looking for through the menu, which sometimes contains a lot of unnecessary options. However, on the whole, the Saxo mobile trading platform is very similar to the web platform, making it a very convenient and competitive platform compared to other similar mobile trading platforms.
Saxo Trading Platform Deposit and Withdrawal Methods
While trading or investing through the Saxo platform, you have one major advantage: since the company has subsidiaries all over the world, there are several base currencies that you could choose from. All in all, you can invest with over 26 different base currencies, which is an option to have if you are planning to trade assets in more than one currency.
In addition to this, Saxo does not charge any deposit fees, so you can make deposits very easily and conveniently through their mobile app or the web platform. They accept bank transfers as well as debit/credit cards for depositing funds. However, they do not accept electronic wallets like PayPal. If you choose to deposit funds through a wire transfer, then it can take up to a day or two for the funds to show up in your account, whereas adding funds through debit/credit cards means that the funds will show up instantaneously. An important thing to note is that you can only deposit funds from accounts that are listed in your name.
As for the withdrawal process, there are no fees associated with withdrawing funds either. However, you can only withdraw funds via bank transfer, and the funds take a day or two before they show up in your accounts. Initiating a withdrawal is as easy as clicking on the withdraw button on either the mobile or web platform, selecting the account in which you wish to withdraw the funds, entering the amount, and clicking on "Withdraw".
Saxo Trading Platform Contact and Customer Service
You can contact the Saxo customer service either through call or via email. They do not have a live chat option on the platform, however, their FAQ page is well-stocked with several different commonly asked questions and problems. This page is available in several different languages, including Hungarian, to assist traders who speak different languages.
The phone service for the Saxo trading platform is quite helpful and assists with the timely and effective resolution of queries, however, connecting with them takes time because of the heavy volume of queries they receive on any given day. In addition to this, the email service also provides answers within one day. Saxo's phone customer service is available only from Monday to Friday between 9:00 am and 5:30 pm local time in 16 offices worldwide.
Is Saxo Trading Platform Safe?
The Saxo trading platform is safe, and you can be sure about this for one simple reason: they have been providing services to their clients for over 20 years. They are among the largest financial advisory firms and trading platforms in the UK. They are known for their platform's ease of use, below-average fees, and reliable service. Over the course of their years of service, they have had very few complaints, and they constantly update their platform and portfolios to take care of any small and big issues that might arise while trading. They are an international organisation, however, the UK is one of their primary markets. Therefore, they are catered to UK traders and provide a safe and reliable platform.
Is Saxo Trading Platform Regulated in the UK?
Yes, the Saxo trading platform is regulated in the Uk by the highest regulatory authority in the country, which is the Financial Conduct Authority (FCA). The regulator ensures that Saxo is providing services in a manner that protects the interests of the traders and that the capital invested with Saxo is invested in a safe and secure manner.
At the same time, the regulator also places some restrictions on what customers and clients the platform can take on, and this is why new users usually have to submit proof of their identity and complete the Know Your Customer (KYC) process before they are allowed to trade on the platform. Regulatory scrutiny and compliance are also important for the platform since it provides users with access to ISA accounts, which are closely monitored by the government.
Saxo Trading Platform Review – Conclusion
In conclusion, the Saxo trading platform is one of the most reliable and safe trading platforms for UK investors, and it also contains among the largest variety of asset classes to trade on. Their trading platform and its functionalities are almost unparalleled in the industry, and it also has low spreads and fees on the trading of stocks and forex pairs. All in all, Saxo is definitely a strong option to consider for your trading needs in the UK.
eToro – Alternative to Saxo Trading Platform
An alternative to trading through the Saxo trading platform is to trade via eToro. It is one of the largest social trading platforms in the world, and it provides traders with access to over 2400 markets and instruments. In addition to this, the platform also allows you to trade cryptocurrencies, stocks, indices, ETFs, and commodities at no commissions and very competitive spreads. eToro is regulated by agencies all over the world, and it has over 15 million users on its platform.
There are two main reasons why eToro is considered to be a suitable platform for stock trading. The first reason is their platform, which has been designed like a social media platform o make it easy for beginner traders to navigate it. They also offer a demo account and tutorials for you to be able to familiarise yourself with the platform before you begin trading. The second reason is their social trading tools. In addition to being able to see what other traders think about a particular stock, eToro also gives you the copy trading option to copy other more experienced traders and profit from their expertise.
FAQs
Where is Saxo Bank headquartered?
Can I invest in shares in the Saxo Trading Platform?
Is Saxo Trading Platform regulated in the UK?
Can I open an account with Saxo Trading Platform overseas?