FBS Broker Review UK 2023
Fact checked
Everything you read on our site is provided by expert writers who have many years of experience in the financial markets and have written for other top financial publications. Every piece of information here is fact-checked. We sometimes use affiliate links in our content, when clicking on those we might receive a commission - at no extra cost to you. By using this website you agree to our terms and conditions and privacy policy.
If you're looking for an all-in-one trading platform that offers forex pairs, CFD trading of stocks, indices, cryptocurrencies, and other equities then you should consider the FBS broker platform.
In this FBS review UK, we'll take a deep dive into the global online broker. We'll give a rundown of the platform's main features, user interface, costs, spreads, regulations, and more.
Sponsored ad. Your capital is at risk.
What is FBS UK?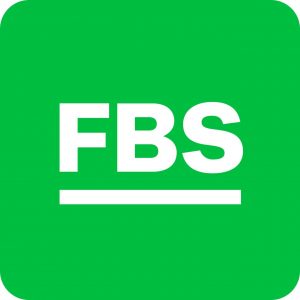 With over 150 countries under its belt, the FBS platform is a multi-award-winning forex and CFD broker that is innovative and accessible. From our FBS forex review, FBS regulation comes with licenses from the Cyprus Securities and Exchange Commission (CySEC), Financial Sector Conduct Authority (FSCA), and other regulatory agencies.
Founded in 2009, FBS has amassed over 17 million traders and 410 thousand partners worldwide. We found in our FBS review UK that they aim to be "easy to maintain for beginners – functional to satisfy professionals" as stated in their landing page and site.
A couple of other recognized organizations that did an FBS review have awarded the platform multiple recognitions for their performance in forex and CFD trading. Thanks to their work, an FBS broker review has found that they've given an annual profit of $500 million to their clients.
Initially a forex platform, the FBS broker has been well spoken of from other FBS forex reviews. Despite starting out with just FX, the platform has diversified into an all-in-one platform and even adds diversity as a value for the company. They've let Muslim traders enter the market with swap-free forex accounts who would have otherwise not been able to trade forex due to conflict in their beliefs.
Sponsored ad. Your capital is at risk.
What Can You Invest in and Trade on FBS UK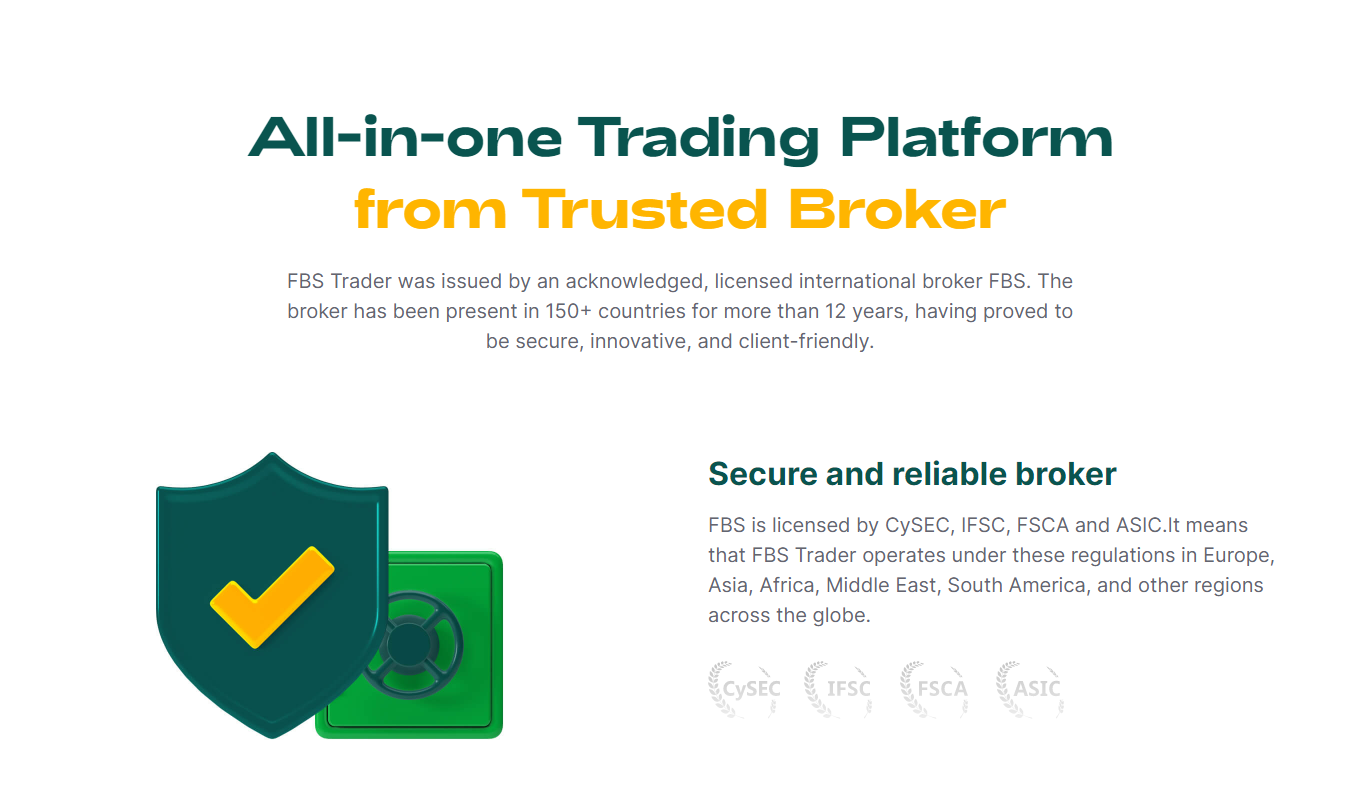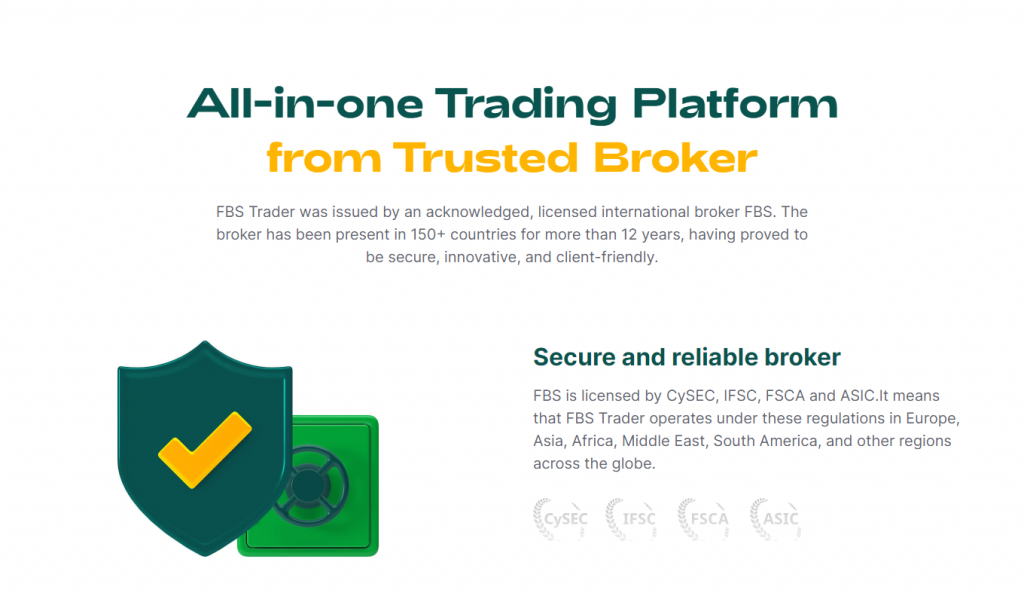 Being an all-in-one trading platform and trusted broker, the FBS platform offers plenty to trade. In this FBS markets review, we'll go through the five different financial instruments and markets that users can invest and trade.
Invest in Forex
With about $5.1 trillion worth of value being exchanged per day, the Forex market or FX market is the largest market in the world. It's common in an FBS broker review to highlight that the FBS broker started out as a forex platform.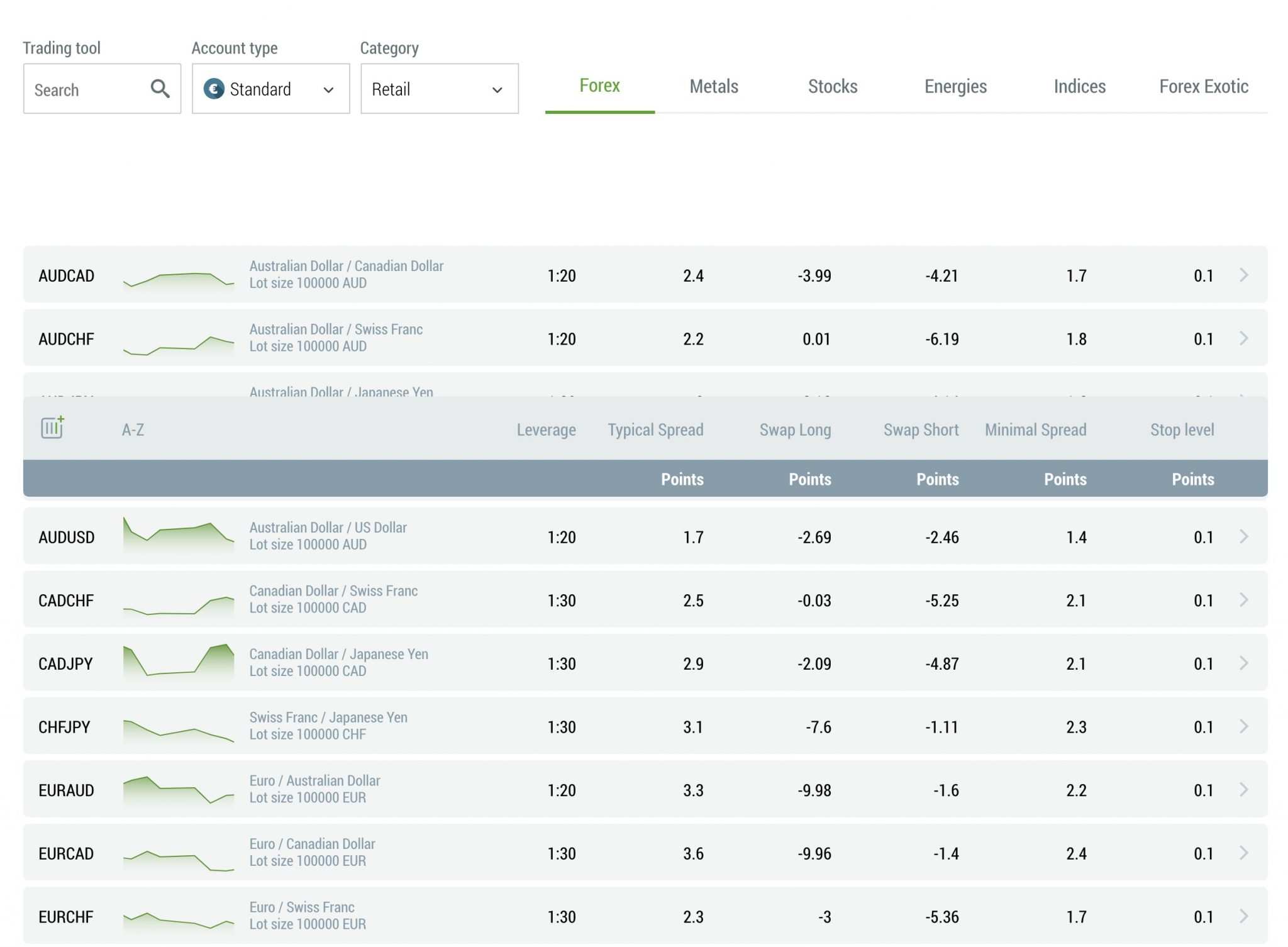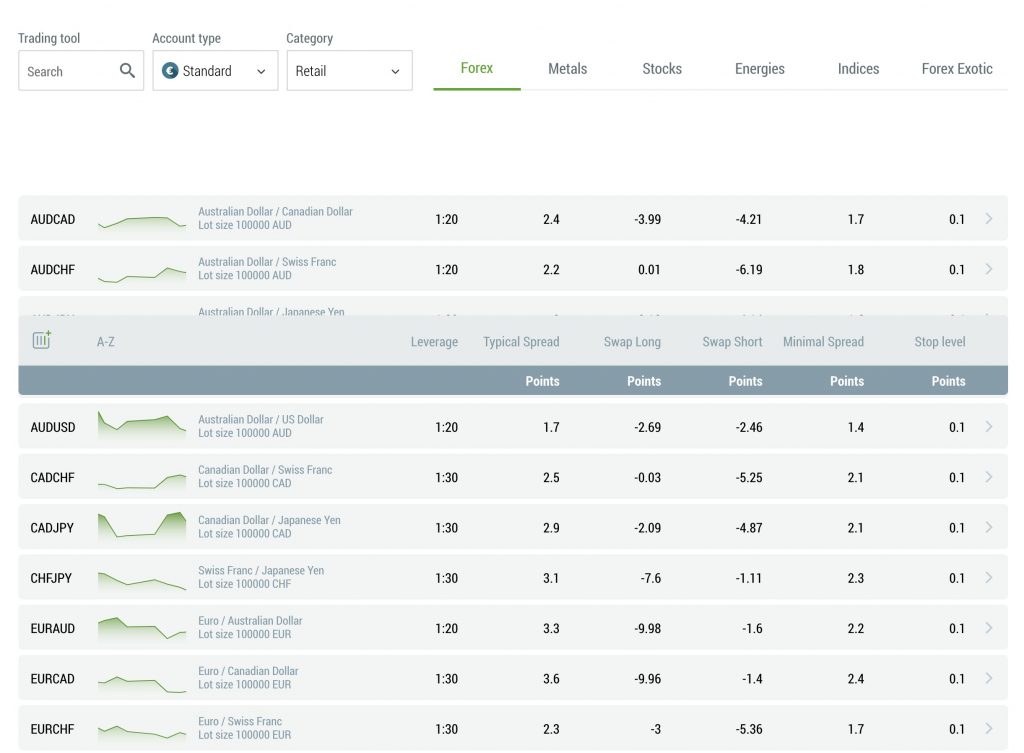 From the FBS forex review UK, 43 forex pairs featured such as EUR/USD, USD/JPY, GBP/USD, and AUD/USD among others. It features a mix of 28 standard forex pairs and 15 exotic forex pairs.
Trade Stocks
Perhaps one of the fastest moving equities to date, the stock market or stock exchange allows traders to buy and sell publicly-owned shares of companies in a global domain.
From our review broker FBS, the FBs platform offers 40 US, 30 UK, and 30 German stocks. Shares of popular companies such as Apple, Google, Facebook, and Microsoft are among those that are available for trading.
Invest in Indices
A measure of the price performance of an aggregate of securities, indices are another popular equity offered on the FBS platform. They allow investors to invest in entire sectors or sectors with just one position.
In our broker FBS review UK, users can trade futures of the NASDAQ and S&P 500 indices as well as other indices in the FBS platform.
Trade Commodities CFDs
Commodities can be an important diversification method for many investors' portfolios. For those looking to invest beyond traditional securities, commodity investing is an option as they usually trend opposite the stock market.
Coming from our FBS broker review, the available CFD commodities in the FBS platform are hard commodities such as oil, natural gas, gold, and platinum.
Trade Cryptocurrencies
Cryptocurrencies are digital assets based on a blockchain network. These digital assets or currencies are impossible to counterfeit and are being bought and sold in the crypto market.
Popular digital coins such as BTC, ETH, LTC, and XRP are available for trade in the FBS platform's crypto account. Earlier in this FBS broker review, we described the platform to be accessible. These cryptocurrencies together with traditional assets are tradeable even in the mobile app.
FBS Broker UK Fees & Commissions
FBS fees come in many different forms and it's important that we go through the main ones. One of them, the broker FBS spread, is a common way brokers earn in forex. We'll show in this FBS review UK that the platform has different accounts with differing spreads.
The table below shows the FBS spread per account type as well as the commission fees. Take note that FBS operates in either USD and EUR, so if you're looking to add from or to a bank GBP account, take note of the conversion.
| | | | |
| --- | --- | --- | --- |
| | Cent Account | Standard Account | Crypto Account |
| Spread | From 1 pip | From 1 pip | Floating spread from 1 pip |
| Commission | €0 | €0 | 0.05% for opening and 0.05% for closing positions |
| Inactivity Fee | €0 | €0 | €0 |
| Initial Deposit | €10 (or equivalent in $) | €100 (or equivalent in $) | $1 |
Another FBS fee based on our FBS broker review is the withdrawal fee. This will vary depending on the withdrawal method of your choice. Below is a table showing the differing fees per withdrawal method.
| | | | |
| --- | --- | --- | --- |
| | Currency | Commission | Duration |
| VISA | EUR | 0% Commission | Max 2 days |
| Mastercard | EUR | 0% Commission | Max 2 days |
| Maestro | EUR | 0% Commission | Max 2 days |
| Wire Transfer | EUR | 0% Commission | Max 48 hours |
| Skrill | EUR | 0% Commission | Max 48 hours |
| RAPID Transfer | EUR | 0% Commission | Max 48 hours |
| NETELLER | EUR | 0% Commission* | Max 48 hours |
Sponsored ad. Your capital is at risk.
FBS Broker UK User Experience
As one of the leading online trading platforms out there, FBS broker has been lauded for its user experience both for beginner and advanced traders. From our FBS review UK, newbie traders would be pleased to find an abundance of educational resources available to them from the platform.
As for the more advanced traders, MetaTrader (MT4) software integration with FBS means that the traders can keep their settings and technical indicators when switching to FBS. Those familiar with MT4 will get a seamless experience based on our FBS broker review.
For those looking for more financial instruments to trade, MetaTrader 5 (MT5) is the next integration also available for FBS users. We found in our FBS forex review that cryptocurrencies can be traded through MT5. This means that traders looking for more versatile investing shouldn't worry with FBS since they can use the MT5 platform under it.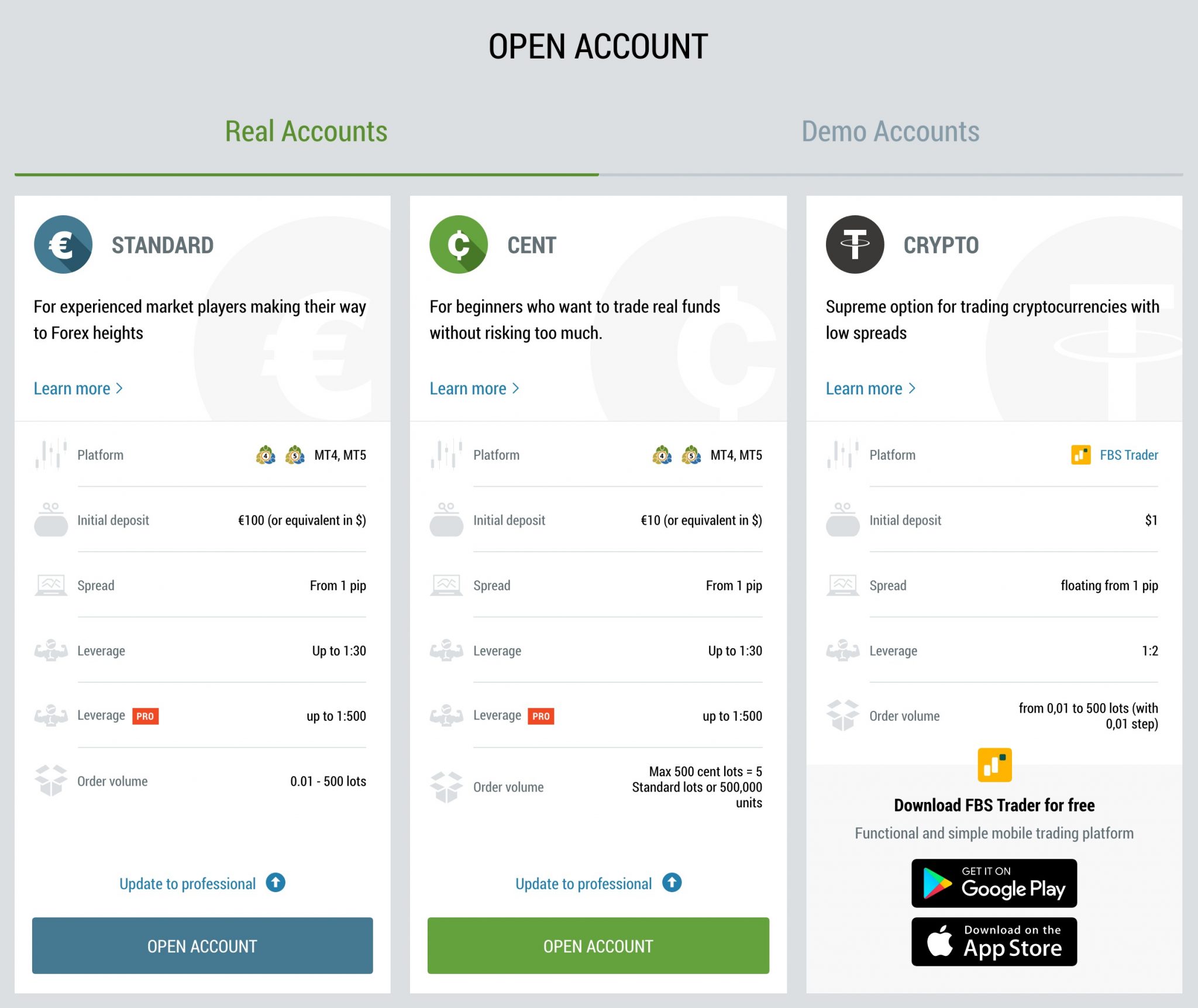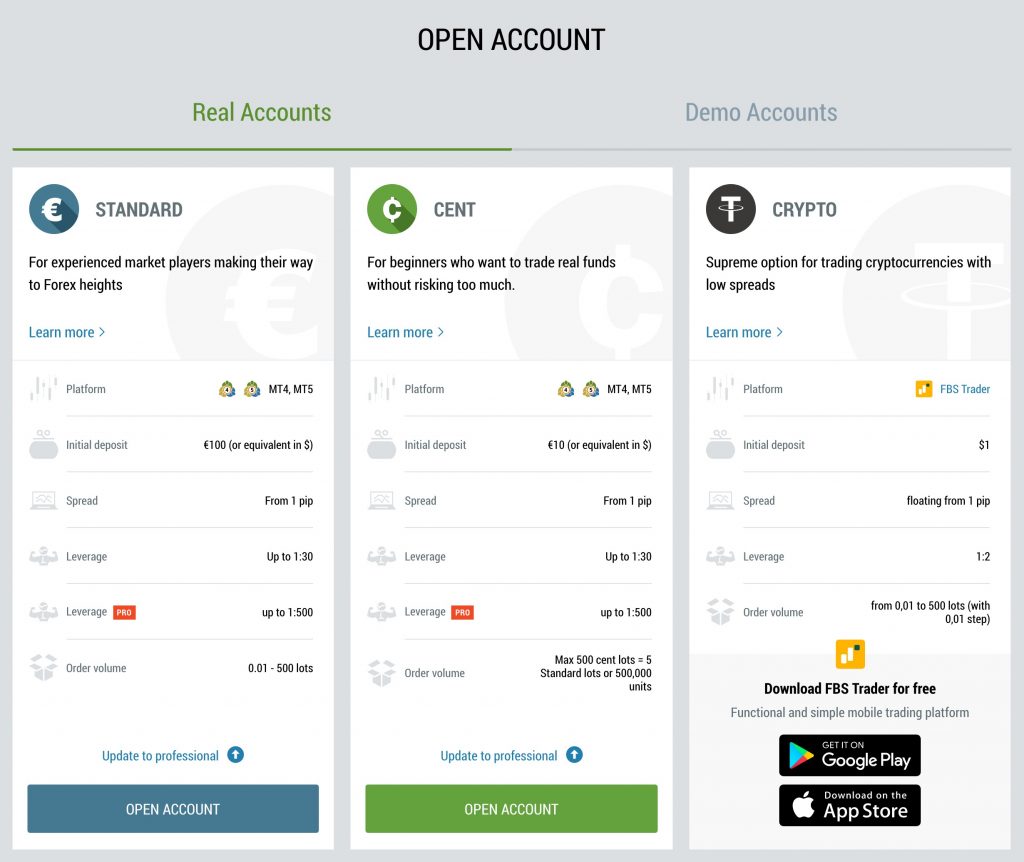 Sponsored ad. Your capital is at risk.
Aside from MT4 and MT5, users can also opt to trade equities via the FBS proprietary mobile app. The app is available for both Android and iOS, meaning more accessibility and trading for all.
Depending on which trading platform you plan on integrating with your FBS platform, your experience may vary in terms of trading. However, the overall experience of using FBS with the versatility of different accounts remains the same.
From our FBS broker review, it seems that it's hard to compete against a broker that offers different types of accounts based on what investors want to trade. Since the platform has been well regulated and established across hundreds of countries, the experience is practically smooth.
Furthermore, when it comes to depositing and withdrawing money, FBS meets today's broker standards in terms of payment methods and delivery. One could even argue that based on the FBS broker review that the platform offers an even wider array of payment options than many modern brokers.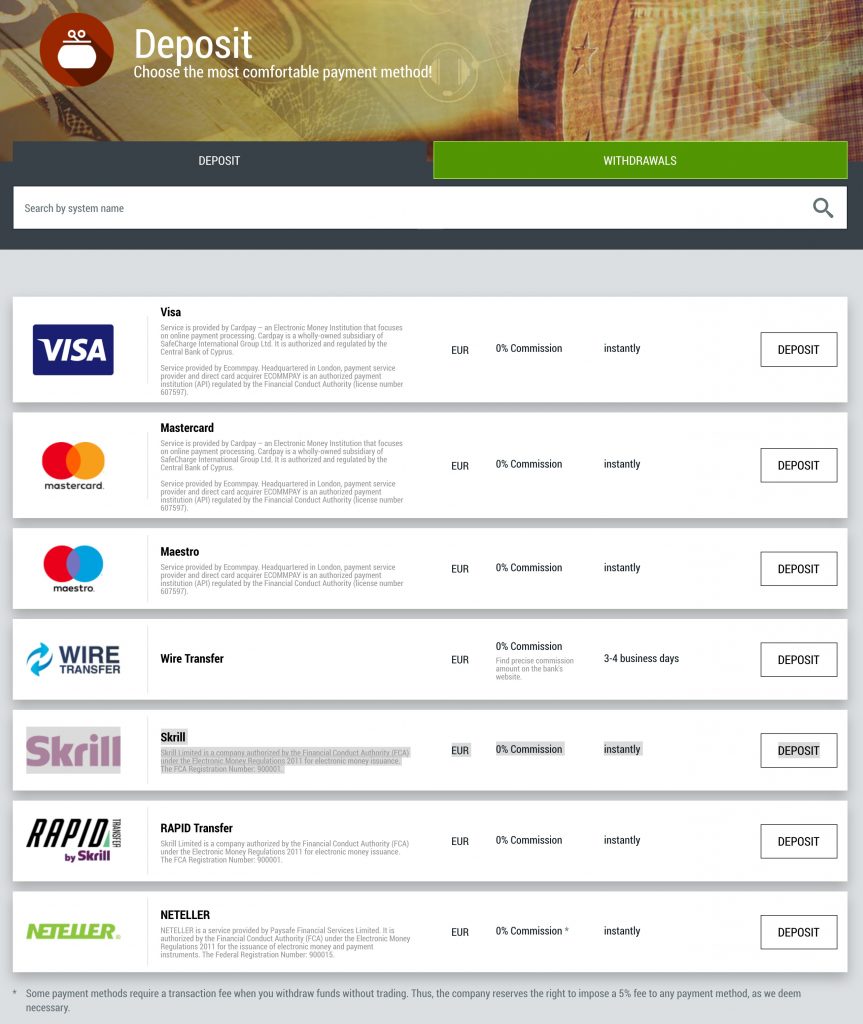 Creating a platform that attracts both beginner and experienced users is hard to achieve, but the FBS platform seems to do just that. Of course, there are some improvements that could still be made in terms of user experience and their interface, but they can definitely be fixed. Overall, our FBS review UK shows that users of the platform should be pleased with the application and what it has to offer
FBS Broker UK Features, Charting, and Analysis
The FBS broker features vary depending on what type of account you'll be getting and what platform you'll use to trade. In this part of the FBS review UK, we will explore the different features, charting, and have an analysis of the platform.
To start, let's talk about the beginner account and what the site recommends that newbies use. New traders should create a demo account first, whether it be a standard demo account or a cent demo account. What's important is that the beginner gets to simulate trading and learn the movements and strategies that they want to implement.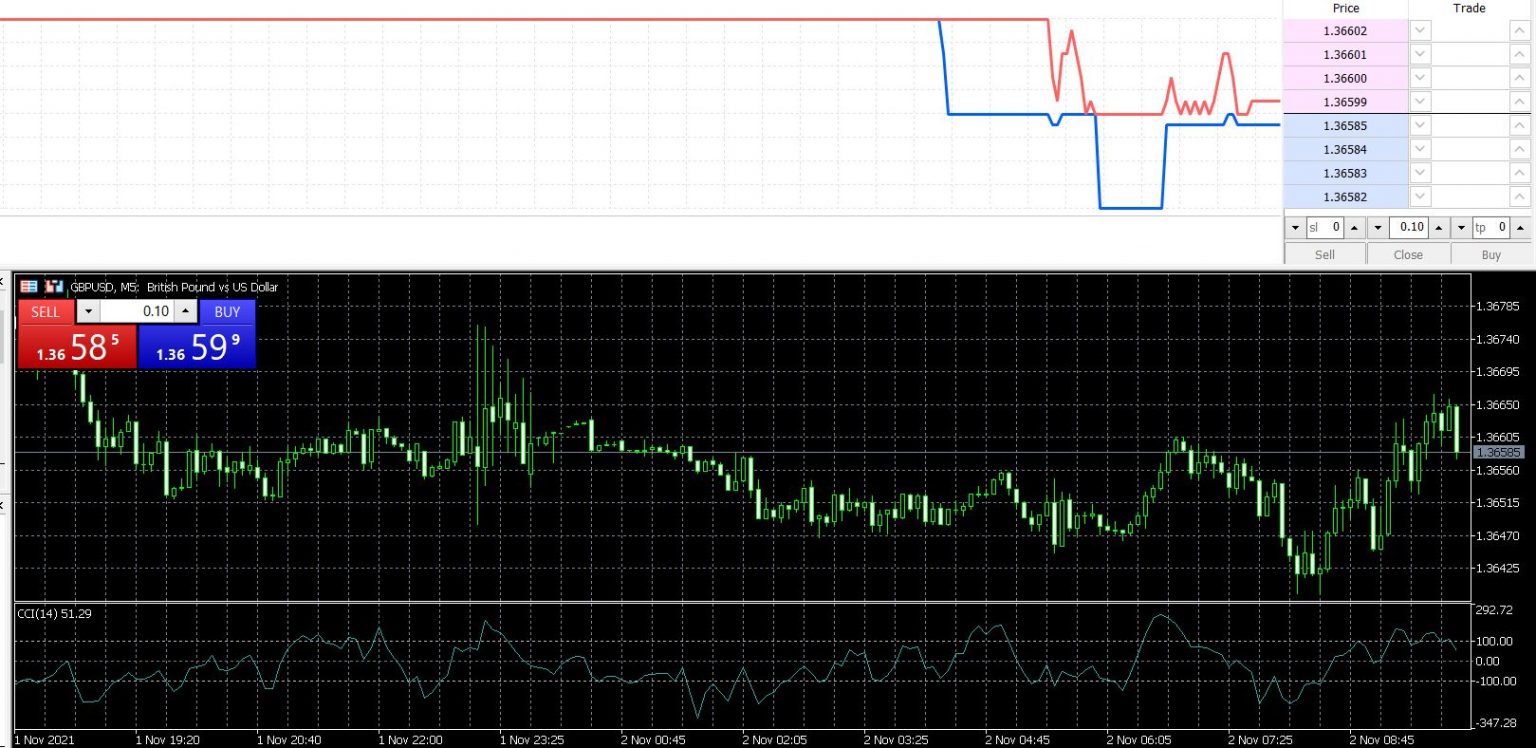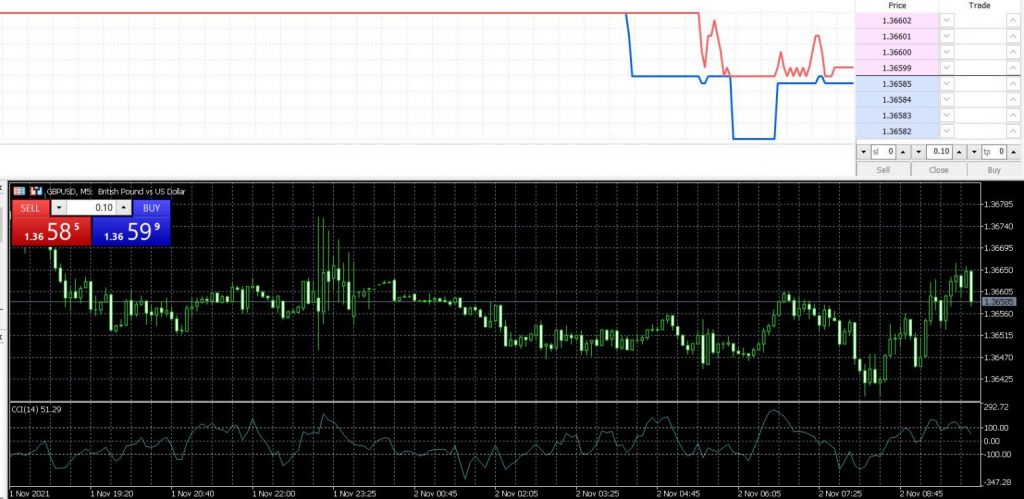 It's hard to put an amount of time a beginner should put under a virtual account, but for our FBS broker review, one month is the minimum before creating a live account. Once the trader has enough confidence to put actual capital in their account, they can start with a cent account.
When it comes to choosing what platform to use to execute trades, it also depends on the experience of the trader. New traders should definitely use the FBS trader application.
Even more intermediate traders of one to two years experience should still consider using the FBS trader app if they have no experience with MT4 or MT5. Those seasoned traders who have already been using an MT4 or MT5 platform for their trading can opt for the same platforms based on our FBS broker review insights.
In terms of the account type, we recommend in this FBS forex review either the Standard or Cent account. Take note that the Standard account requires a larger initial deposit of €100 versus the Cent account's €10 minimum deposit.
Sponsored ad. Your capital is at risk.
FBS Broker UK Account Types
There are six account types based on our broker FBS review. For UK residents, there are three account types available plus one Islamic account. A user can open many account types and can even deposit differing amounts per account type. Because there are different types of accounts that a user can access, it's recommended that users first try the demo version of the account they want to try.
Demo versions of any account have the features and tools at your disposal minus the actual equity and capital being used. In this FBS forex review we will review below the Cent Account, Standard Account, Crypto Account, and Islamic Account of FBS.
Cent Account
As the name suggests, the Cent account is a trading account on which the balance is displayed in cents as each transaction is also carried out in cents. For example, depositing €10 equates to €1000 cents in a Cent account.
We can tell from our FBS forex review that trading on the Cent account is low-risk, making it an option for new FX traders. It's also typical for advanced traders to use Cent accounts to test new trading strategies with relatively low risk.
The Cent account allows people to trade smaller lot sizes and open an account with a lower initial deposit than any other account. From our broker FBS review UK, you can open an FBS Cent account at just €10 minimum deposit.
The Cent account currencies are in EUR or USD. It's available in MT4 and MT5 and supports the following trading instruments: 28 currency pairs, 4 metals, 11 Indices, and 5 Energies.
After this FBS broker review, if you're still not sure if you should open a Cent account, you can try it out as a demo first. Open a demo account at FBS and learn firsthand about this account type!
Standard Account
The Standard account currencies are also in EUR or USD. It's available in MT4 and MT5 and supports the following trading instruments: 28 currency pairs, 16 exotic pairs, 4 metals, 11 Indices, and 5 Energies.
As you can see, the Standard account is pretty similar to the Cent. According to our FBS forex review, the differences are more subtle. The Standard account has an additional 16 exotic forex pairs under its belt and a heftier €100 initial deposit. This makes it a better option for seasoned traders.
After looking into our FBS markets review, we found that users are free to select leverage (up to 1:500) for pro users. Standard account owners have a maximum of 400 open positions and pending orders.
Crypto Account
Those looking to venture out into the crypto markets should consider opening a Crypto account with FBS. In our review broker FBS, the Crypto account adds to the claimed diversity values of the platform.
According to FBS, "the Crypto account is an option if you want to try the world's newest exciting asset class – cryptocurrencies." In the Crypto account, popular coins such as Bitcoin, Ethereum, and other digital coins are available for trading.
In this FBS broker review, we found that the Crypto account offers the following: low spreads, fixed leverage 1:5, and deposits and withdrawals in fiat and crypto. Note that the Crypto account is available on MetaTrader 5 only.
Islamic Account
Forex Islamic accounts are ideal for Muslim clients as they align with the Islamic faith and incur no swaps or interest charges on overnight positions. Based on our FBS forex review, the company aims to make trading comfortable and equal for everyone. Coupled with FBS' pride in diversity, the broker offers traders Swap Free options on Cent and Standard accounts, making trading on these interest-free.
The Islamic account currencies are in EUR or USD. It's available in MT4 and MT5 and supports over 60 trading instruments, 1:30 leverage, 1:500 leverage (professional), and a floating spread from 1 pip. Activate it in 2 steps and trade without any additional fees.
If you're wondering if Islamic accounts are available for other brokers, there are Islamic Forex Brokers that do exist in the UK.
FBS Broker UK Mobile App Review
In this part of our broker FBS review, we will be discussing the FBS mobile trader app. The application is available for download on both iOS and Android.
In this FBS review, we used the iOS version of the mobile application. The FBS mobile trader app is an option for those looking to still continue trading on their mobile devices.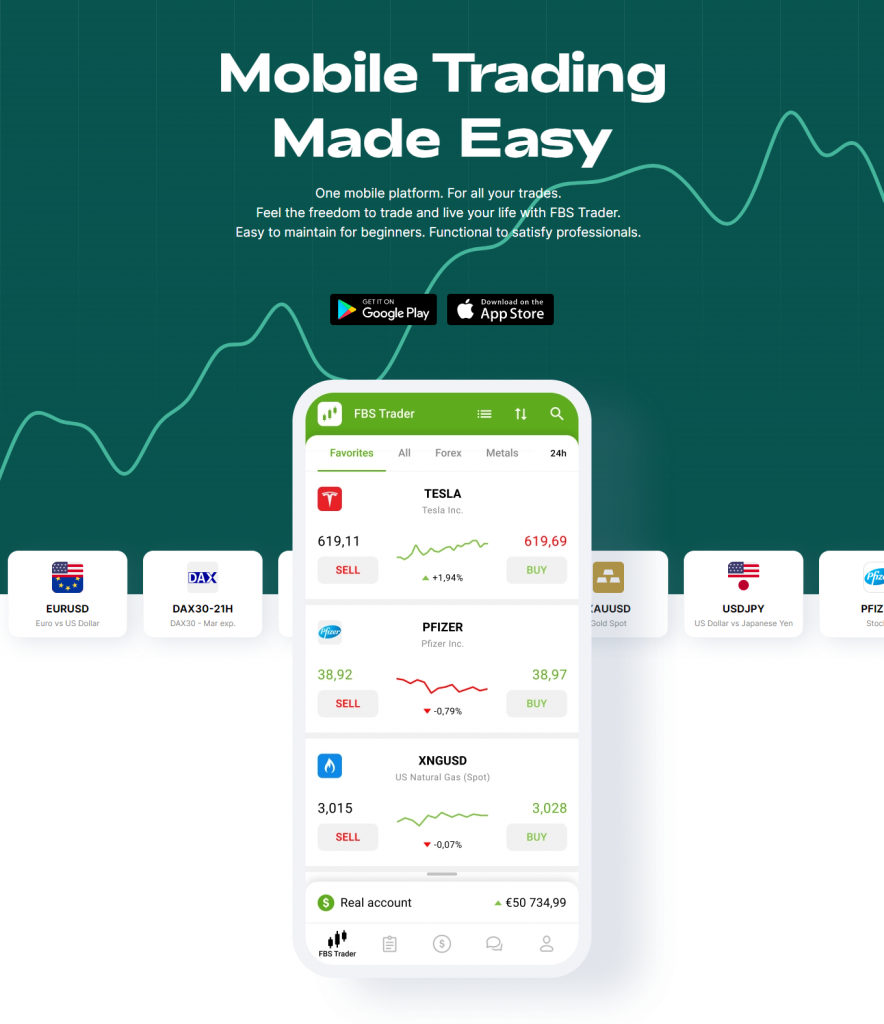 Several technical indicators are still available on the mobile app such as the moving average technical indicator as well as the Bollinger bands. As for the charts viewed on the app, the standard candlestick is there, but those who want to use the tick-based chart can opt for that as well.
As the time frames in many web-based brokers, the mobile app also features 1m, 5m, 15m, 30m, 1h, 4h, 1d, 1w, and 1m time frames for the charts.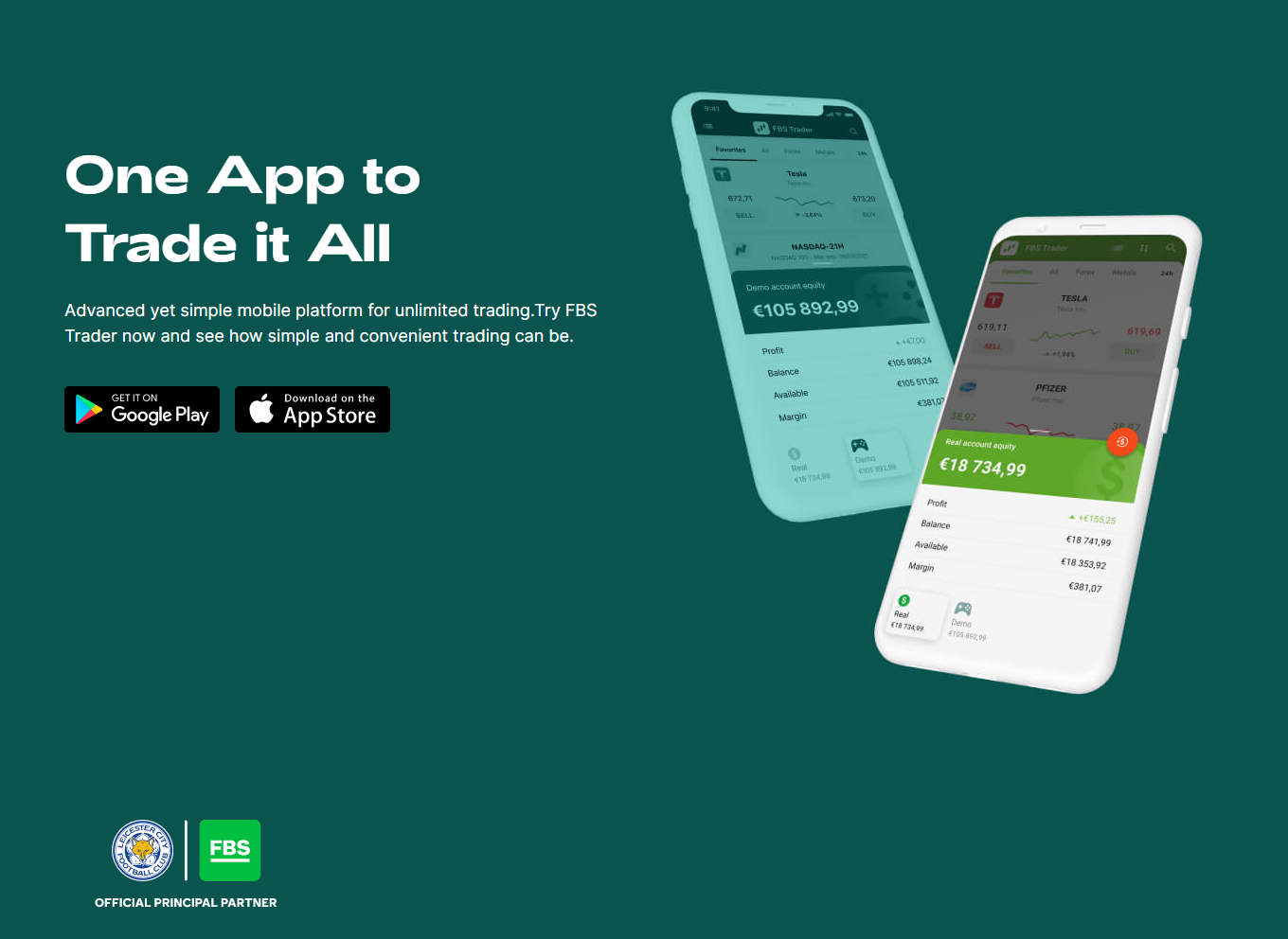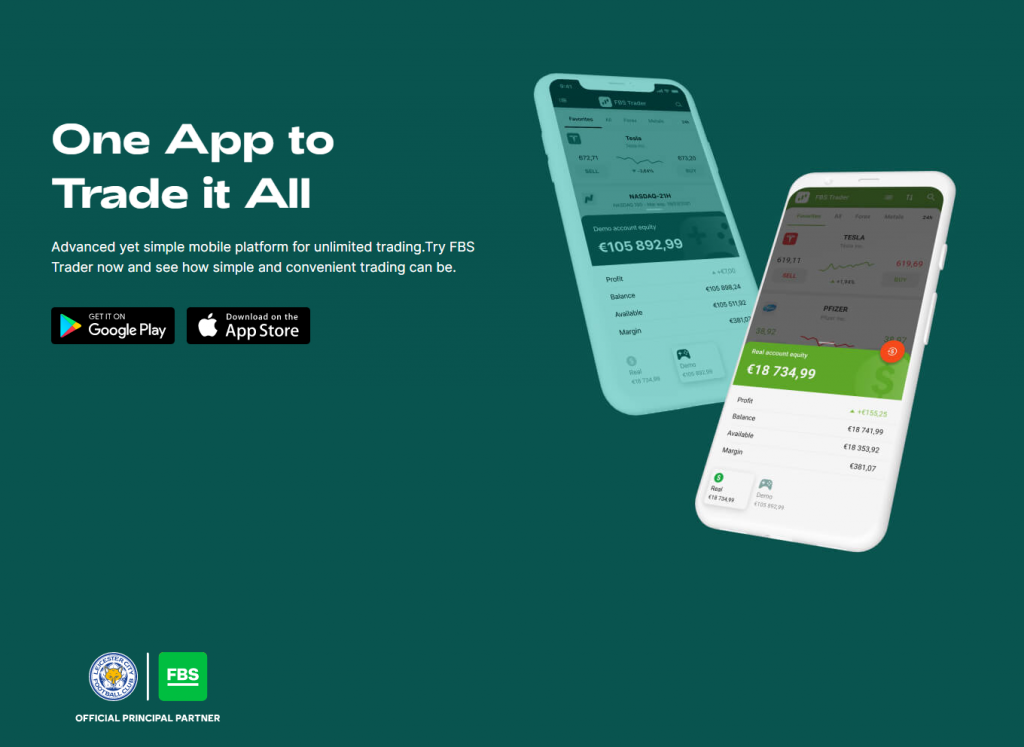 Based on our broker FBS review UK, functionality on the mobile app does not feel limiting. Users can still open multiple demo accounts from the FBS mobile app. It's important also to note that there is password and biometric authentication available in the application.
Sponsored ad. Your capital is at risk.
FBS Broker UK Deposit and Withdrawal Methods
As seen in the FBS forex review, you can deposit funds into your account via Visa, MasterCard, Maestro, Wire Transfer, Skrill, RAPID transfer, and NETELLER.
The minimum deposit can range from €1 to €100 depending on account type. In this FBS broker review, we've shown the table with withdrawal fees. It's almost all zero commission. Keep in mind that some payment methods require a transaction fee when you withdraw funds without trading. Thus, the company reserves the right to impose a 5% fee on any payment method, as they deem necessary.
FBS Broker UK Contact and Customer Service
The FBS customer support is available 24/7, above the industry standard of 24/5. You may email them, call them, or reach out to their live chat. Contact them on Telegram, WhatsApp, and Facebook Messenger.
From our review broker FBS, users can expect support to reply in around 24 hours. FAQ articles and other educational material is available onsite that may be able to answer some concerns you might have.
Is FBS Broker UK Safe?
It is important to ask about regulation when it comes to brokers, so is FBS regulated? The answer is a definite yes. FBS regulation has been well licensed as the broker has been around for over 12 years.
Over 17 million of their clients choose the FBS platform as a reliable and secure broker. An award-winning broker with more than 60 international recognitions, FBS has a lot to show for itself in terms of safety.
Is FBS Broker Regulated in the UK?
We know that the question 'Is FBS regulated?' is a yes, but let's explore deeper into the FBS regulation.
Internationally, FBS is regulated by the International Financial Services Commission (IFSC) in Belize and has offices in a number of Asian countries, including China, Indonesia, South Korea, Malaysia, Thailand, and Myanmar.
UK residents will be trading under the subsidiary, Tradestone Ltd, regulated by CySEC. So UK-based traders are afforded negative balance protection and have their capital held with the Bank of Cyprus Public Company Ltd in segregated accounts.
Sponsored ad. Your capital is at risk.
FBS Review – Conclusion
All throughout this broker FBS review UK, we have covered all you need to know about this powerful global trading platform. Novice and seasoned traders alike will be pleased with the experience of using the platform, so the decision to use FBS depends on if the account types suit your trading strategy or not.
Eager to try the FBS platform? Click the link below to begin and start trading forex, stocks, indices, and other equities – sign up here!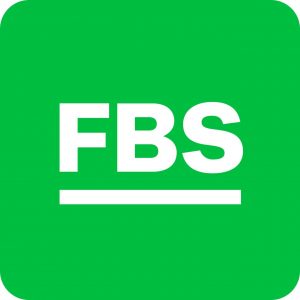 Sponsored ad. Your capital is at risk.
FAQs
Is FBS Broker regulated in the EU?
What is cryptocurrencies trading?
Can I trade with leverage in commodities in the UK?
What is a pip in forex trading?