CMC Markets Review
Fact checked
Everything you read on our site is provided by expert writers who have many years of experience in the financial markets and have written for other top financial publications. Every piece of information here is fact-checked. We sometimes use affiliate links in our content, when clicking on those we might receive a commission - at no extra cost to you. By using this website you agree to our terms and conditions and privacy policy.
Established in 1989, CMC Markets boasts a long and varied history and is one of the most respected and well-known brands in the online brokerage industry. According to the company's 2021 annual report, it has over 300,000 active clients, 87million trades annually, and thousands of instruments.
In this CMC Markets review 2022, we will examine the platform's key features from its fees, trading instruments, payment options, and mobile trading capabilities. First, let's look closely at CMC Markets and see if it's the right broker for you.
Your money is it risk. 
What is CMC Markets?

Due to its long history of operation, CMC Markets is considered one of the best platforms in terms of reputation, owing to its prestige as a CFD and forex broker with low spreads. In addition, the platform's parent company, CMC Markets PLC, is listed on the London Stock Exchange, it is amongst the top 250 largest companies listed on the London Stock Exchange. Further, several global regulatory bodies regulate it, including the top-tier Financial Conduct Authority (FCA) of the United Kingdom.
As part of the services provided by the broker, its customers have access to more than 12,000 financial instruments, including currency pairs, commodities, indices, shares, ETFs, treasuries, and cryptocurrencies (for professional clients only in the UK). Thus, users can choose from a variety of assets to trade.
As part of its 'precision pricing' system, users can also access the best purchase price by comparing multiple banks' fees. As a result, there is little or no slippage with the execution at CMC Markets, and lightning-fast execution.
A market-making approach offered by CMC Markets is highly recommended for advanced traders interested in accessing a broad range of tradable assets. Traders can build diversified portfolios with CMC Markets, while benefiting from advanced risk-management tools because of the wide variety of financial instruments offered.
Furthermore, it is a suitable broker for beginners who wish to understand the industry better. As there is no requirement for a minimum deposit, as well as extensive research, support and educational materials, novice investors can learn the nuances of investing without looking elsewhere for training materials.
It's quick and straightforward to set up an account and trade on this top-rated platform. There is no minimum deposit amount, and debit/credit cards, PayPal and bank transfers are accepted.
CMC Markets Pros & Cons:
What we like:
● Traders can choose from a large variety of spread betting (UK & Ireland clients only) and CFD markets
● Forex trading commissions are 0% on a standard account
● There is no minimum deposit required
● Highly regulated and well-respected
● Tight spreads
● Newsfeeds and excellent research materials
What we don't like:
● Does not accept U.S. clients
● Spread betting only for UK residents
What Can You Trade on CMC Markets?
As one of the largest brokerage firms, CMC Markets offers clients a wide variety of trading assets. There are over 12,000 instruments to choose from, which opens up many new opportunities and the ability to diversify your portfolio. These instruments include:
● 330+ currency pairs
● 80+ indices
● 10,000+ shares
● 1,000+ ETFs
● 100+ commodities
● 50+ treasuries
● 21 cryptocurrencies (professional clients only in the UK)
CMC Markets Fees & Commissions
Traders are not charged any hidden fees by CMC. They have a transparent fee structure when it comes to their services.
Depending upon the asset traded by the user, the broker's earnings are generated either from commissions or average spreads, or a combination of the two.
CMC Markets fees stand out for their tight spreads, which traders highly value. As a result of the spread, traders incur the cost of entering and exiting trades. This cost can often determine whether an active trader ends up being profitable or losing money.
Popular products are offered at attractive and competitive spreads. For instance, CMC Markets' spreads are especially low during peak trading hours, averaging around 0.7 pips for EUR/USD and USD/JPY. Spreads typically range from 0.8 pips to 1 pip.
Furthermore, there are no deposit fees, withdrawal fees, or monthly account fees charged by CMC Markets - although there is a £10 inactivity fee charged after a year of no trading if the account is not actively maintained. However, this is redeemable if the account is used again after the fee has been paid.
| | | | |
| --- | --- | --- | --- |
| | CFD Account | Corporate Account | Spread Betting Account |
| Minimum deposit | $0 | $0 | $0 |
| Spreads from | 0.3 Pips | 0.3 pips | 0.3 pips |
| Commissions | Shares only | Shares only | N/A |
If you decide to trade instruments whose currency is different from the currency in which your account is held, you should be aware that CMC Markets will charge you a currency conversion fee. A mark-up of 0.5% will be applied.
CMC Markets User Experience
As a trading platform, CMC Markets offers users a very intuitive and easy-to-use experience. In addition, the broker's advanced research and support tools can assist its clients greatly. For example, through a strategic alliance with Morningstar, it provides information regarding a wide range of shares at users' fingertips.
Furthermore, the broker provides its users with various tools designed to enhance their trading experience. Among those tools are economic calendars, stop-loss support, and pattern recognition systems that help traders identify patterns.
In addition to their helpful customer support, they offer useful risk-management tools and exceptional order execution, which set them apart from their competitors. Furthermore, to ensure that their customers have access to a range of informational materials, the broker ensures they have direct access to them 24/5. The team of customer service representatives is also prompt and takes the time to resolve all customers' questions quickly.
CMC Markets Features, Charting, and Analysis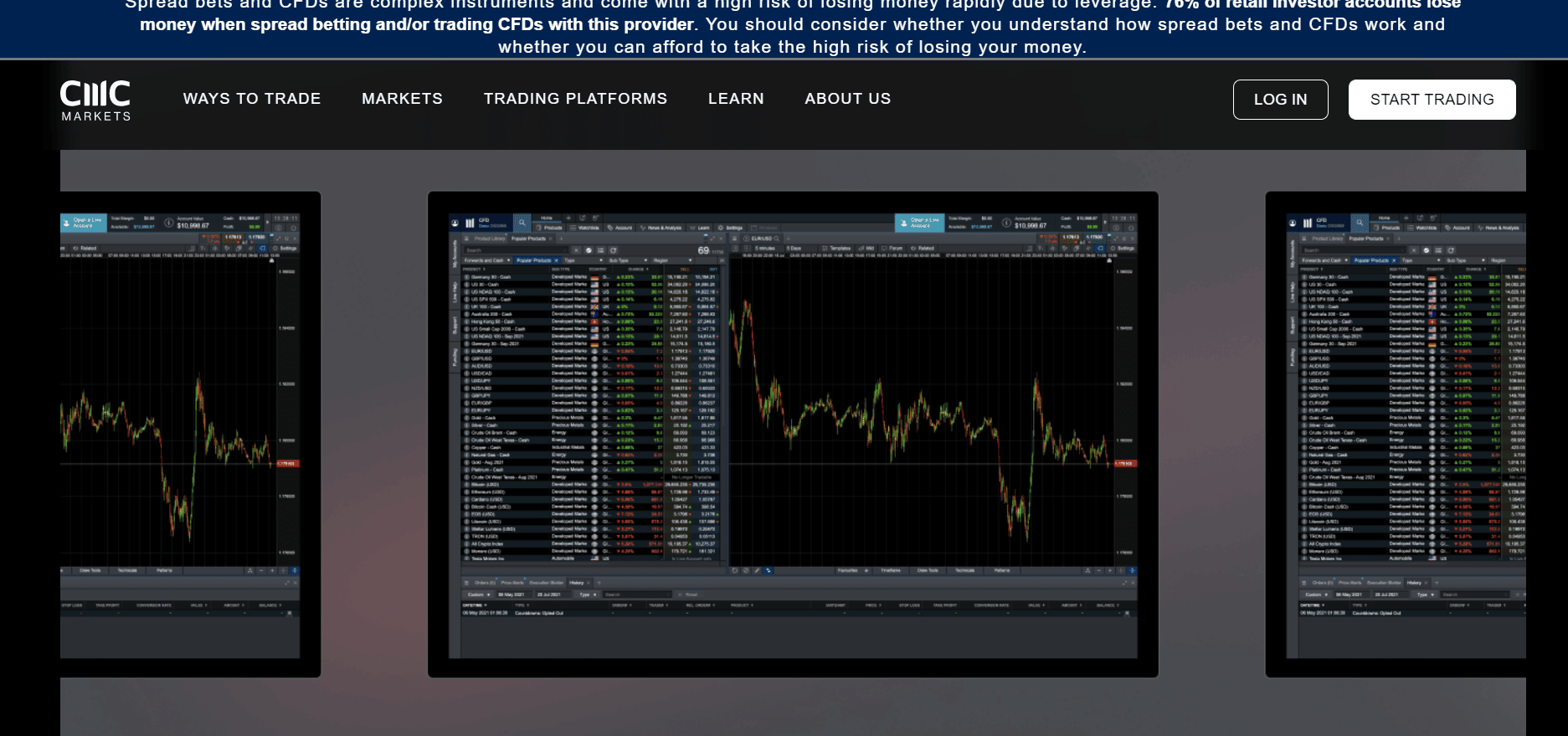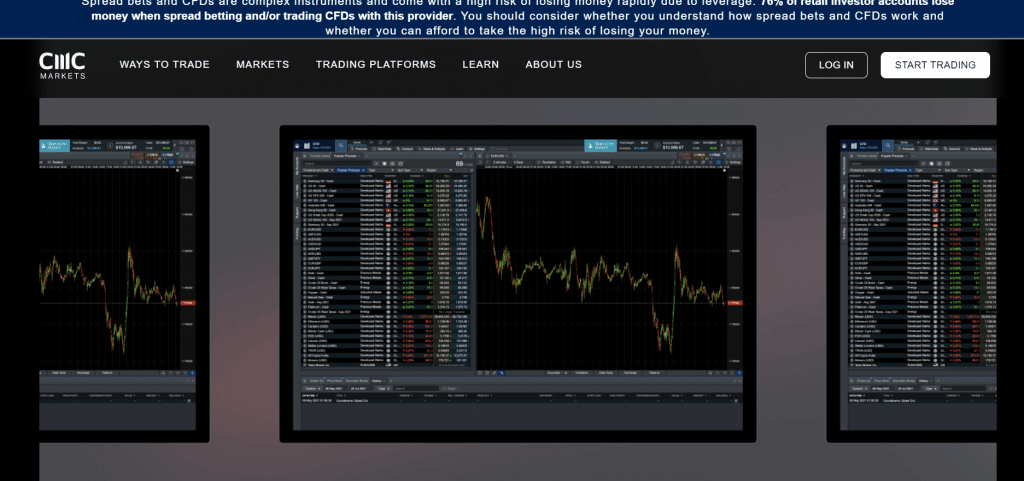 CMC's 'Next Generation' platform features an extremely rich charting environment, including 80 technical indicators and studies, 40 drawing tools, and 60 candlestick patterns that can be easily manipulated. Breakouts and emerging patterns are two tools that make the platform the standout charting platform in the market.
Among the many features available on the CMC trading platform, pattern recognition is one of the most useful. Trading and analysing the price action of an asset can be made easier by having a variety of options available to traders. Accordingly, you can devise and implement sophisticated strategies as part of your daily operations.
Trading from a one-minute chart to a monthly chart and identifying patterns is easy thanks to these auto-adjustable chart patterns. Additionally, you will have access to the client sentiment indicator. This shows the sentiment of the firm's client exposure, both in buying and selling instruments.
There is also an exclusive feature worth mentioning called module linking. The layout can be configured to connect multiple windows. The result is that whenever a change is made in one module, the data for the same instrument will also be updated in all other linked modules.
Also, the CMC trade deal comes with some useful features. For example, as part of the Market Calendar window, you can get a countdown to the release of various economic news events.
In addition to the top-of-the-line research department offered by CMC Markets, the company has a team of top analysts that provide reports on fundamental news sources, as well as key insights and updates on the markets, which are being provided on its site daily.
Furthermore, it provides traders with the option of subscribing to specific events. Whenever the news release time draws near, you will automatically be notified. Several market research reports and analyses are also posted on the website, discussing the development of certain markets and their impact on the market. There is no more suitable way to prepare for major macroeconomic events than these tools.
Similarly, there are educational materials available on the CMC Markets website, especially useful for new traders. As well as regular live webinars, traders can ask questions to the host, as well as experienced traders via chart forum in the platform.
CMC Markets Account Types
Choosing the type of account is an important decision you must make when opening a new account. The requirements and features of each of these are different. They can be subject to the type of investor, background, the products, the currency options, and personal investment advice.
When it comes to CMC Markets, they currently offer four types of accounts to its users:
● Spread betting account
● CFD trading account
● FX Active account
● Corporate account
The first account is the Spread Betting account. There are thousands of global financial instruments you can speculate on, and the process is tax-efficient. However, it is important to note that tax treatment depends on individual circumstances and can change depending on the jurisdiction that you reside in. Traders with an account will only be able to sign up for it if they are within the UK or Irish jurisdiction and the spread for forex starts at 0.7 pips. This account allows you to spread bet on over 12,000 assets.
Secondly, we have the CFD account, which features the ability to trade on several asset classes, including forex pairs, commodities, indices, shares, and bonds, as well as other asset types. As far as the spreads for this account are concerned, they start at 0.3 pips, and there are no commissions for CFDs, except on shares and ETFs when trading with this account.
Thirdly, CMC offers an FX Active account on both CMC's platform and MetaTrader 4. This account offers the same as a standard CFD account on each platform, but six major FX pairs start at 0.0 spreads, plus there's a 25% spread discount on all other FX pairs versus a standard account. FX trading on this account also has a low, fixed commission cost at $2.50 per lot (100,000 of notional value).
Finally, Corporate accounts are primarily available to institutional traders with more experience than average – accounts of this type work a little differently than other types. The spread starts at 0.3 pips, with no commission on CFDs, but there is a $7 commission on shares. Traders can choose from more than 4,000 stocks and 10,000 tradable CFDs.
Furthermore, customers can easily sign up for a demo account. Spread Betting and CFD accounts are eligible. It is an interesting option for users to practise trading, understand the key features and experience the platform's functionality.
CMC Markets Mobile App & Trading Platforms Review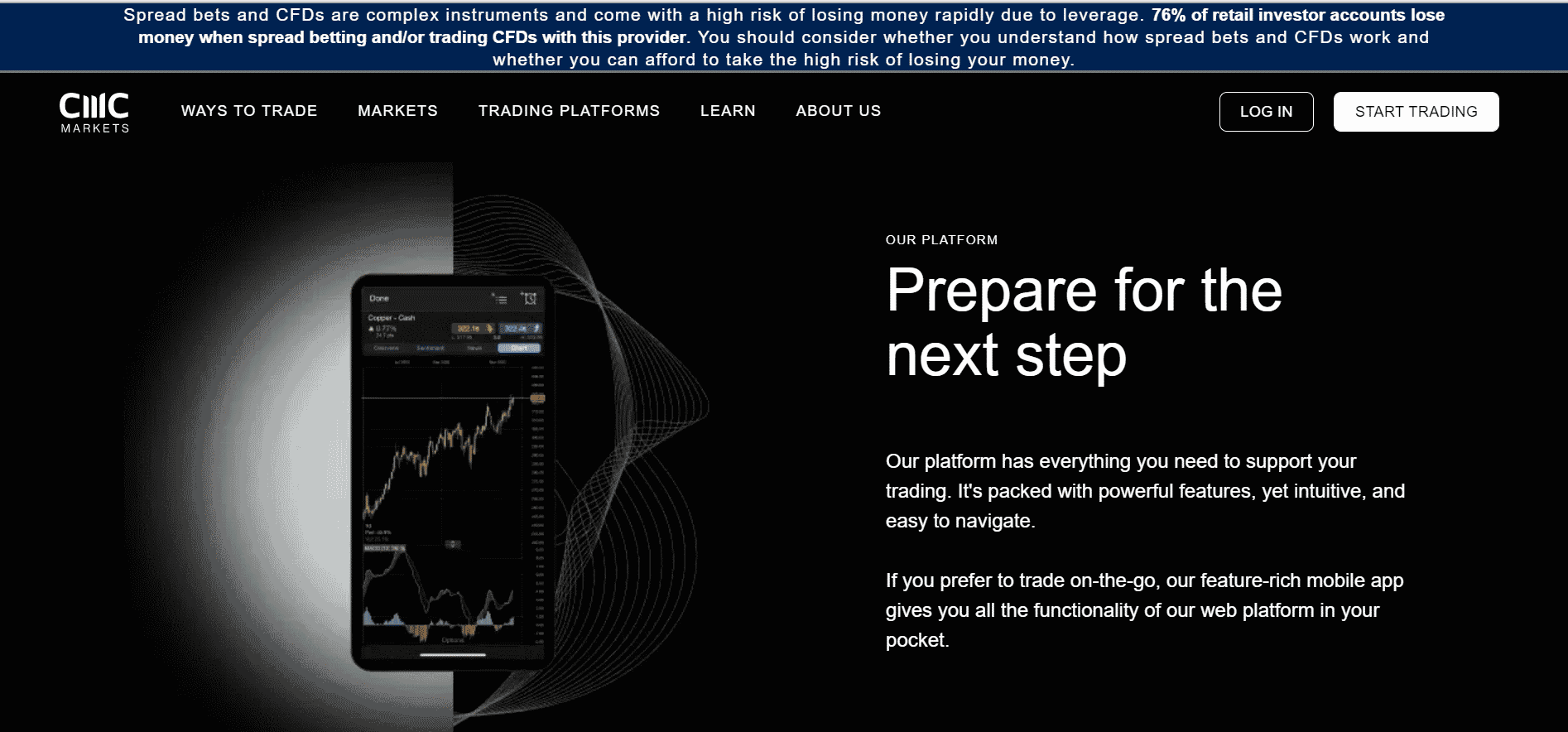 Depending on the type of account, CMC Markets offers its users two trading platforms: Next Generation (developed in-house) and MetaTrader 4 (developed by a third party).
The first is the company's proprietary platform, which is available to spread betting (in the UK and Ireland) and CFD account holders. In terms of accessibility and customisation, this platform is highly intuitive and can be tailored to a great extent. In addition, powerful analysis tools, regular news updates, and advanced technical indicators make this award-winning platform one of the most popular.
CFD accounts can also be opened using MetaTrader 4, a standard tool for the industry. Among the many features available on this platform is the ability to measure client sentiment, access price alerts, and customisable indicators. Besides being accessible on Android and iOS platforms, a web-based version of the platform is available for this account type to ensure 24/7 accessibility for all users, regardless of where they are.
Overall, the broker offers many useful trading features and platforms, helping to ensure that all its users remain informed about the market situation.
CMC Markets Payments
Several payment methods are available to fund your trading account on CMC Markets. Besides bank transfers, you can also use your credit/debit cards and PayPal, the same options offered by the company's closest competitors. Funds from third-party sources will be rejected.
As well as the outstanding functionalities offered by CMC Markets, the broker also has a feature that does not impose any minimum deposit requirement on its UK users. Due to this feature, you can start trading on the platform as soon as you've made an initial deposit. Moreover, you can also withdraw your funds at any time, since there is no minimum withdrawal requirement.
CMC Markets Contact and Customer Service
Customer service is a top priority for the broker.
Customer service at CMC Markets is available 24 hours from Sunday night to Friday night in various languages, such as Chinese, English, French, German, Italian, Norwegian, Polish, Spanish, and Swedish.
As part of a well-functioning customer service department, one of the most important components is having enough channels to contact them to get the help you need. Usually, the more communication platforms there are, the more likely someone will be able to answer your question promptly. Considering this, the following are how you can contact CMC Markets:
● Live chat via the platform
● Phone
● Email
Social media
All communication options provide fast and reliable service. For example, the live chat feature is responsive, and you can even get relevant answers within a minute.
Likewise, phone support is excellent; wait times were short, and every operator spoke clearly and understood. Regarding inquiries sent by email, it is common to get an answer to emails within one business day of the inquiry being made.
In addition to providing essential information about the broker's key offerings and potential issues, the FAQ section of its website is particularly helpful to individuals who are comfortable seeking answers. Clients can also use search tools on the site and knowledge base to find answers.
Is CMC Markets Safe?
As a member of the Financial Conduct Authority, CMC Markets is regulated by the UK Financial Services Authority (FSSA), under reference number 173730.
According to the FCA's client money rules, the broker also ensures that its clients' funds are not mixed with the company's funds. CMC holds clients' funds in segregated accounts at regulated banks to ensure that their assets are protected in the unlikely event that CMC becomes insolvent.
There is also an asset protection scheme known as the Financial Services Compensation Scheme (FSCS), which may provide the client with additional asset protection of up to £85,000. Eligibility conditions apply. Please contact the FSCS for more information.
As a result of ESMA rule changes that took effect in 2018, it is now mandatory to protect negative balances. In other words, it means your account balance cannot go negative at any time.
As far as software security is concerned, CMC is aligned with the best in the industry. As well as two-factor and biometric authentication, the application has a timer that will log the user out of the mobile application if it is not being used for a prolonged period.
Additional transparency is provided by CMC Markets' listing on the London Stock Exchange.
How to Start Trading with CMC Markets
Step 1 – Registering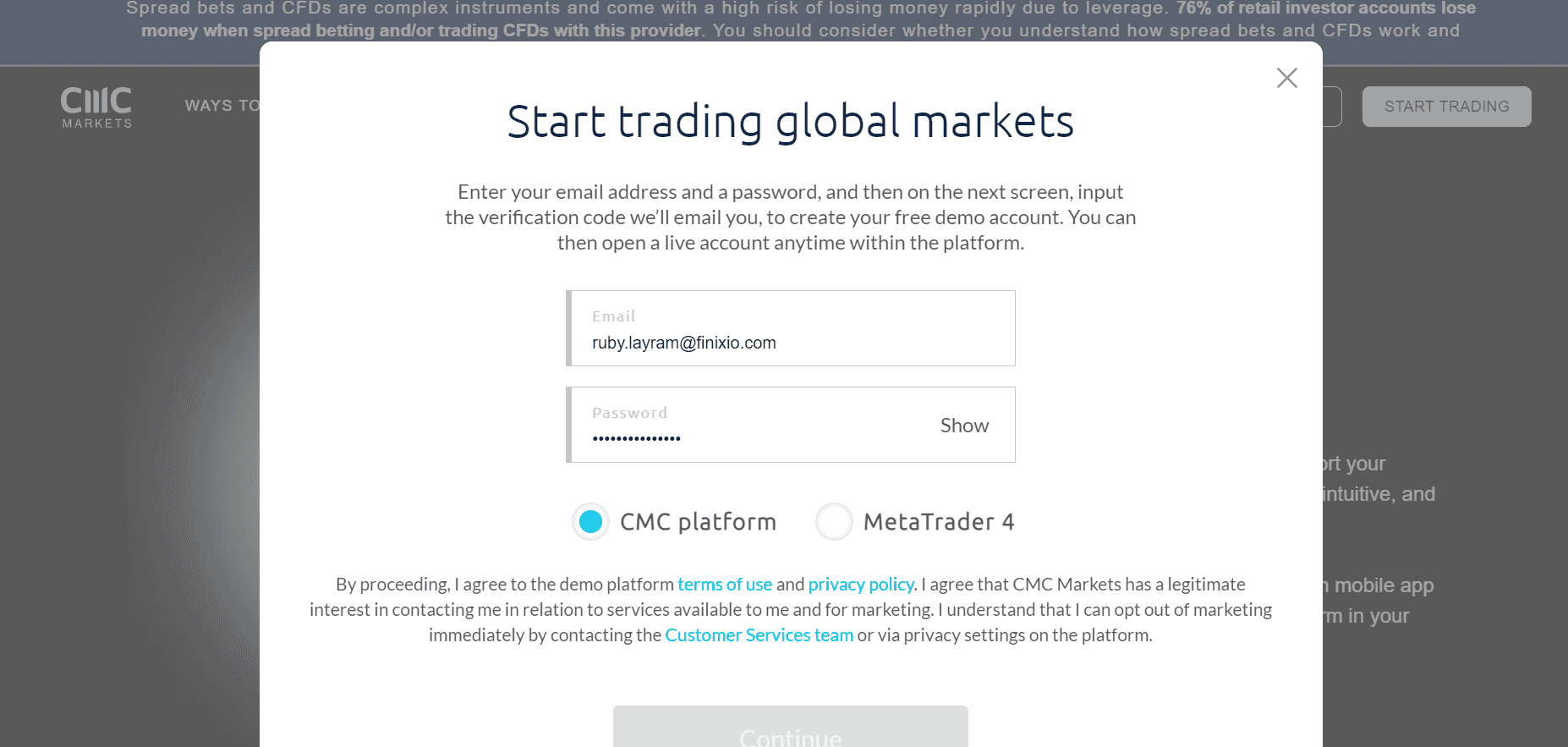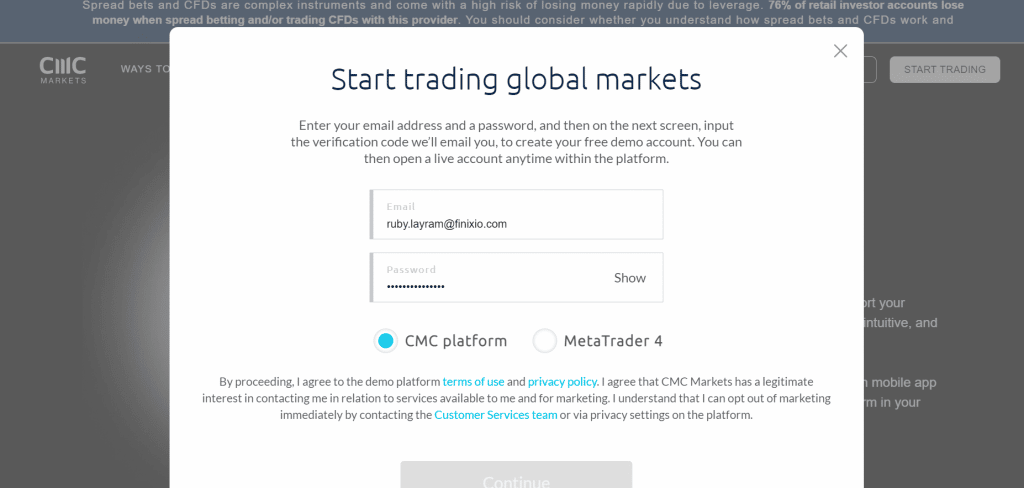 As a first step toward creating an account with CMC Markets, you can click the "Start trading" button at the top right of the CMC Markets website to begin the registration process.
On the registration page, you must select your country of residence.
Having done this, you will be asked to create a unique password and choose your preferred trading platform. Depending on your trading needs, you can choose either the CMC platform or MetaTrader 4.
Step 2 – Select Account Type & Verify Your Email
In this step, you will be directed to another window where you can select the type of account you would like to open. This can range from spread betting, to CFD trading, to FX Active.
Afterward, you will be prompted to check your email for a verification code, which you will need to enter. After entering the code, a demo account will automatically be created for you. During this stage, you can decide whether you are interested in registering a live account or prefer to start trading on the demo account right away.
For the process to be completed, click on Continue.
Step 3 – Register For A Live Trading Account
A six-step process is needed to create a live account; to do so, you must fill out a form.
The first step is filling out general information, such as account type and currency base.
After that, you will be asked to enter your personal details, such as your date of birth, nationality, and tax status.
The next requirement will be to fill out details about your address, such as your city and postal code. In addition to the address details, it will also be necessary to provide employment details.
To comply with regulatory requirements, you must also provide your financial background. As soon as you have completed this section, you can proceed with the final step related to market knowledge and experience.
Step 4 – Start Trading
If you have chosen CMC's Next Generation platform during the registration process for a live or demo account, you will be taken to the homepage of this platform after registering.
Once you are logged into the platform, you can select the 'Products' tab, then 'Library', to browse through over 12,000 financial instruments. You can also type a specific instrument into the search bar to find exactly what you are looking for.
CMC Markets Review – The Verdict
By providing a broad range of different investors with access to one of the most diverse asset varieties, this broker provides a solution for any strategy or trading preference. Aside from advanced charting features, the broker's trading platform offers news, research, signals, and other in-platform features that are among the best in the industry.
As a result, its Next Generation platform comes with various powerful and versatile features, as well as high-quality mobile apps.
Due to FCA regulation and the emphasis placed on account security, CMC lends credibility. Moreover, negative balance protection protects clients' accounts from volatile market conditions by minimising risk.
In summary, CMC Markets is a great choice if you are looking for a forex and CFD broker with competitive spreads! By clicking the link below, become a trader with one of the industry's most reputable brokers.
Your money is at risk. 
Spread bets and CFDs are complex instruments and come with a high risk of losing money rapidly due to leverage. The vast majority of retail client accounts lose money when spread betting and/or trading CFDs. You should consider whether you understand how spread bets and CFDs work and whether you can afford to take the high risk of losing your money.
FAQ
Does CMC Markets offer forex trading?
Which account types does CMC Markets offer?
Which trading platforms does CMC Markets offer?
Can I trust CMC Markets with my funds?
Spread bets and CFDs are complex instruments and come with a high risk of losing money rapidly due to leverage. The vast majority of retail client accounts lose money when spread betting and/or trading CFDs. You should consider whether you understand how spread bets and CFDs work and whether you can afford to take the high risk of losing your money.