Barclays Trading Platform Review UK
Fact checked
Everything you read on our site is provided by expert writers who have many years of experience in the financial markets and have written for other top financial publications. Every piece of information here is fact-checked. We sometimes use affiliate links in our content, when clicking on those we might receive a commission - at no extra cost to you. By using this website you agree to our terms and conditions and privacy policy.
If you're a UK resident looking for a safe investment platform for the long term, then look no further than the Barclays trading platform. If you've already got an account with Barclays and you have a large account then, even more, you should consider the platform.
In this Barclays trading platform review, we'll go through the user experience, key features, and everything else you need to know to start trading with Barclays online trading platform.
What is Barclays?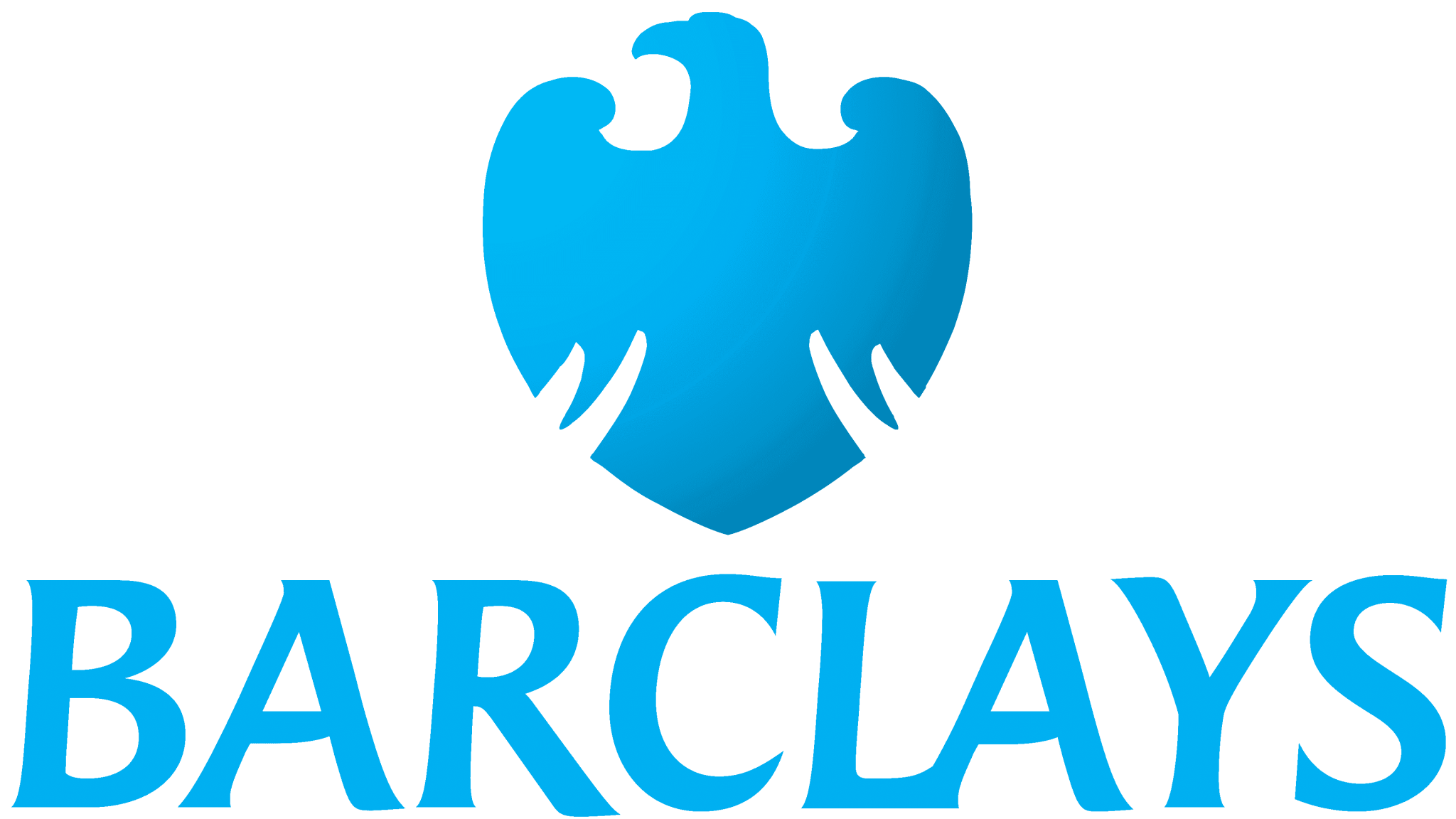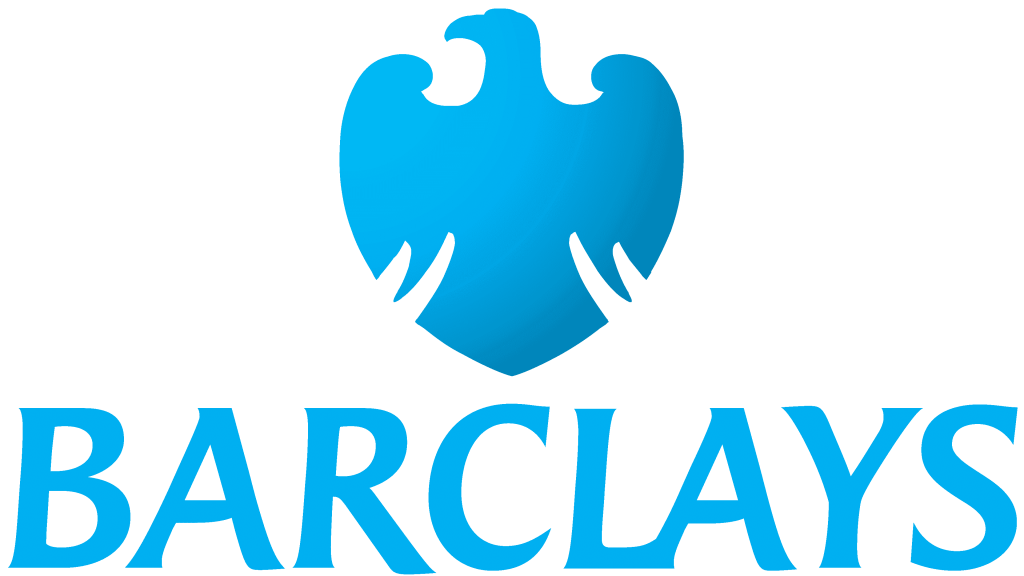 Founded in 1690, Barclays is one of the world's leading investment banks and one of the oldest standing global financial institutions. It's a publicly-traded company in the London Stock Exchange as Barclays plc or ticker BARC.
Headquartered in London, Barclays operates as two divisions, Barclays UK and Barclays International, supported by a service company, Barclays Execution Services.
In 1992 the Barclays Smart Investor, a subsidiary of Barclays, was instituted for UK customers. It is regulated by the Financial Conduct Authority (FCA). With a long track record spanning almost three decades, the Barclays Smart Investor is a safe and secure Barclays investing system.
Barclays also has a cross-asset electronic trading platform called BARX which can help users optimize execution performance. It does this by accessing deep pools of liquidity through its many innovative and evolving trading technology solutions. In a way, this is the Barclays forex trading platform.
Do note that BARX is limited to institutional and professional clients only and not retail traders.
Sponsored ad. Your capital is at risk.
What Can You Invest in and Trade on Barclays Trading Platform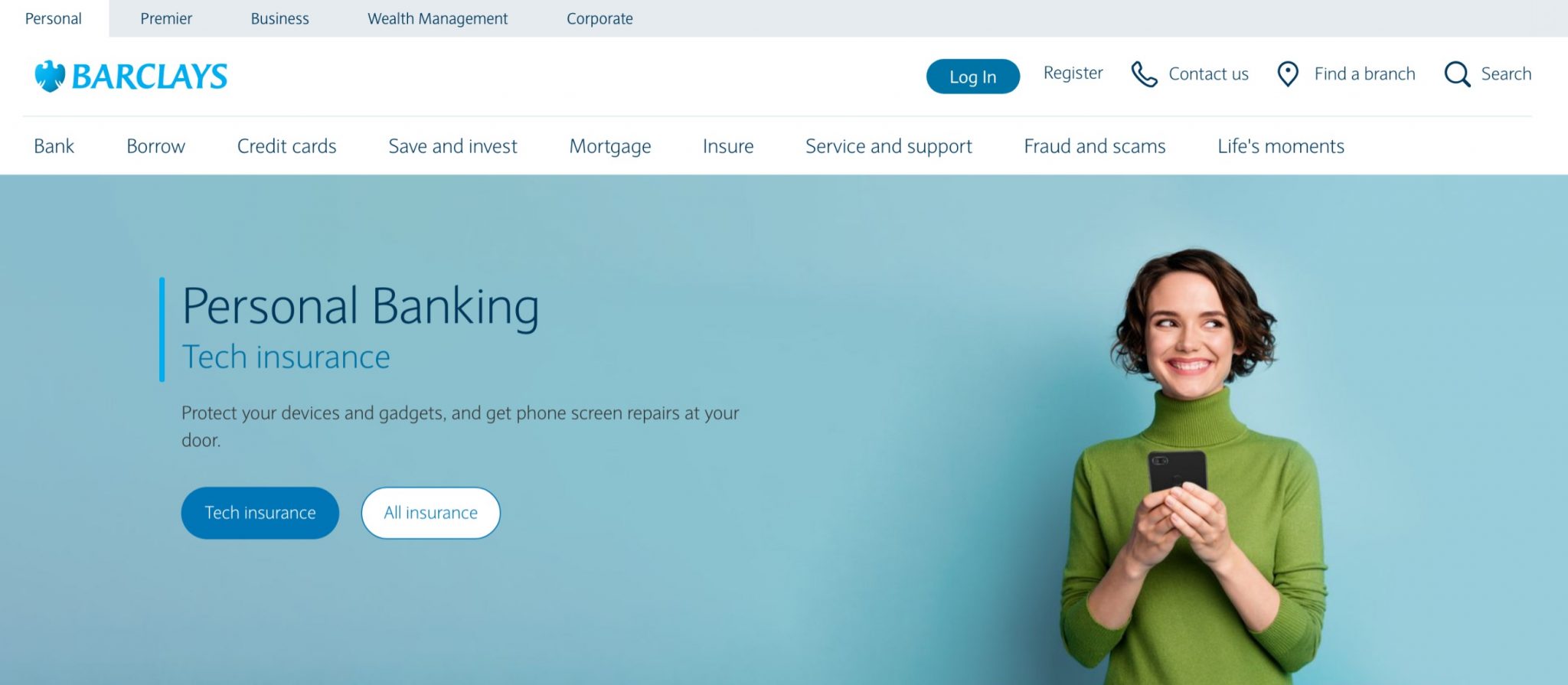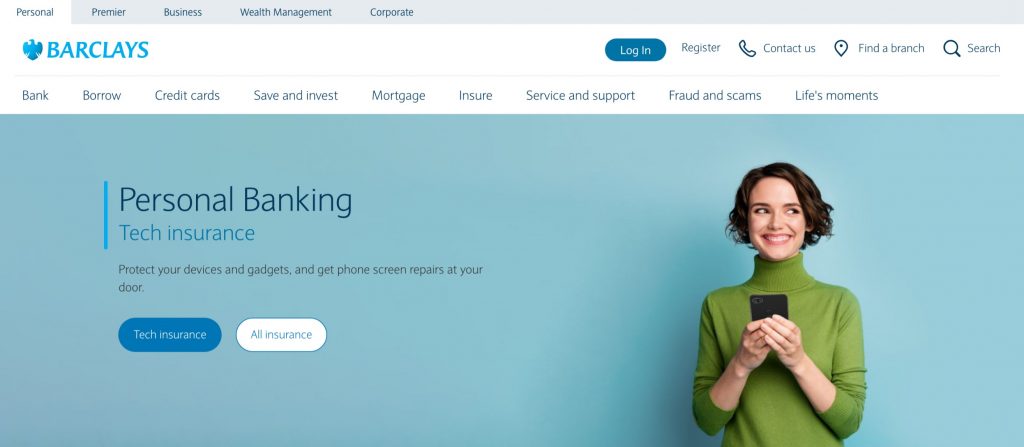 Being a traditional investment bank, the Barclays online trading platform features a couple of trading instruments. Traditional shares trading is available in investment accounts as well as funds, ETFs, and indices. As mentioned earlier, institutions looking to start trading forex can try out BARX, the Barclays forex trading platform.
Invest in Forex
As a multinational bank, Barclays has offered the management of foreign exchange risk to different corporations and businesses across decades. For businesses looking to go under the Barclays investing site, there are a couple of key benefits for choosing Barclays.
For one, when transacting with different currencies, Barclays will better handle their assets by protecting them against adverse currency market fluctuations. They will also help manage the balance sheet FX exposure and identify contingent or uncertain FX exposures. They also will help businesses learn more about emerging market currencies and develop a treasury policy for FX using their detailed market insight.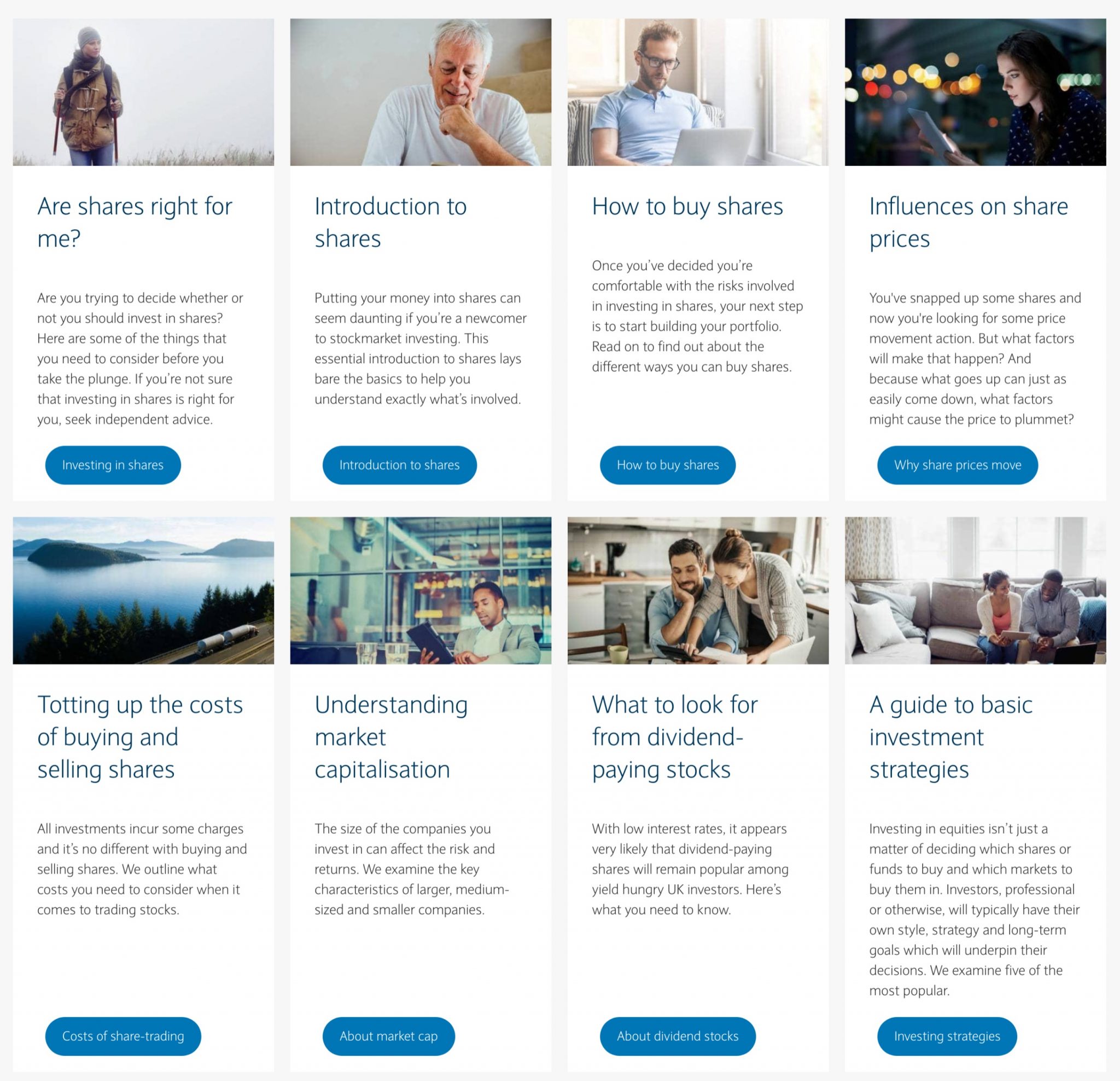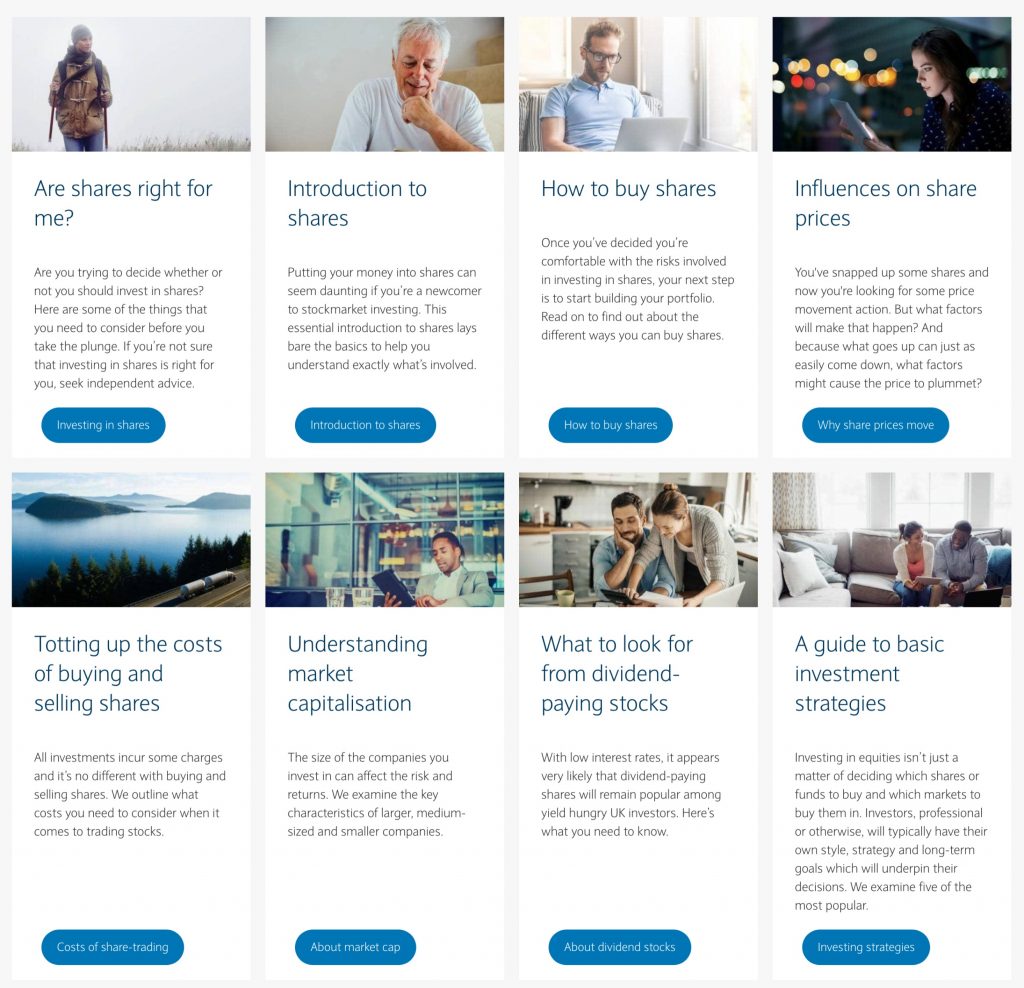 Corporate accounts who want to trade under the Barclays forex trading platform BARX, will also be pleased with what the Barclays fx trading platform has to offer. Below are some of the main features of the Barclays forex trading platform:
Secure online FX trading in over 55 currencies in real-time, 24 hours a day, 5 days a week
Trade FX spot and short-dated transactions, fixed and option dated forward contracts, FX orders and Call orders, FX swaps, and multiple FX deals
FX tools including FX Charts, FX Ticker, and FX Rate Calculator
Flexibility to place single and multiple Money Market deposits over variable terms for a wide range of currencies and benefit from the auto rollover facility
Customer helpdesk available 24 hours a day, 5 days a week, along with online customer support
Secured access, with the option to provide different levels of access to individual users and trading limits
If you're a retail investor looking to get into forex trading, you can look into forex trading platforms in the UK.
Trade Shares
Adding shares to your trading portfolio suits various trading strategies, but with it comes a little more risk. Barclay users, however, shouldn't be worried since the trading platform Barclays offers a wide range of educational content for users looking to add shares into their investment portfolios.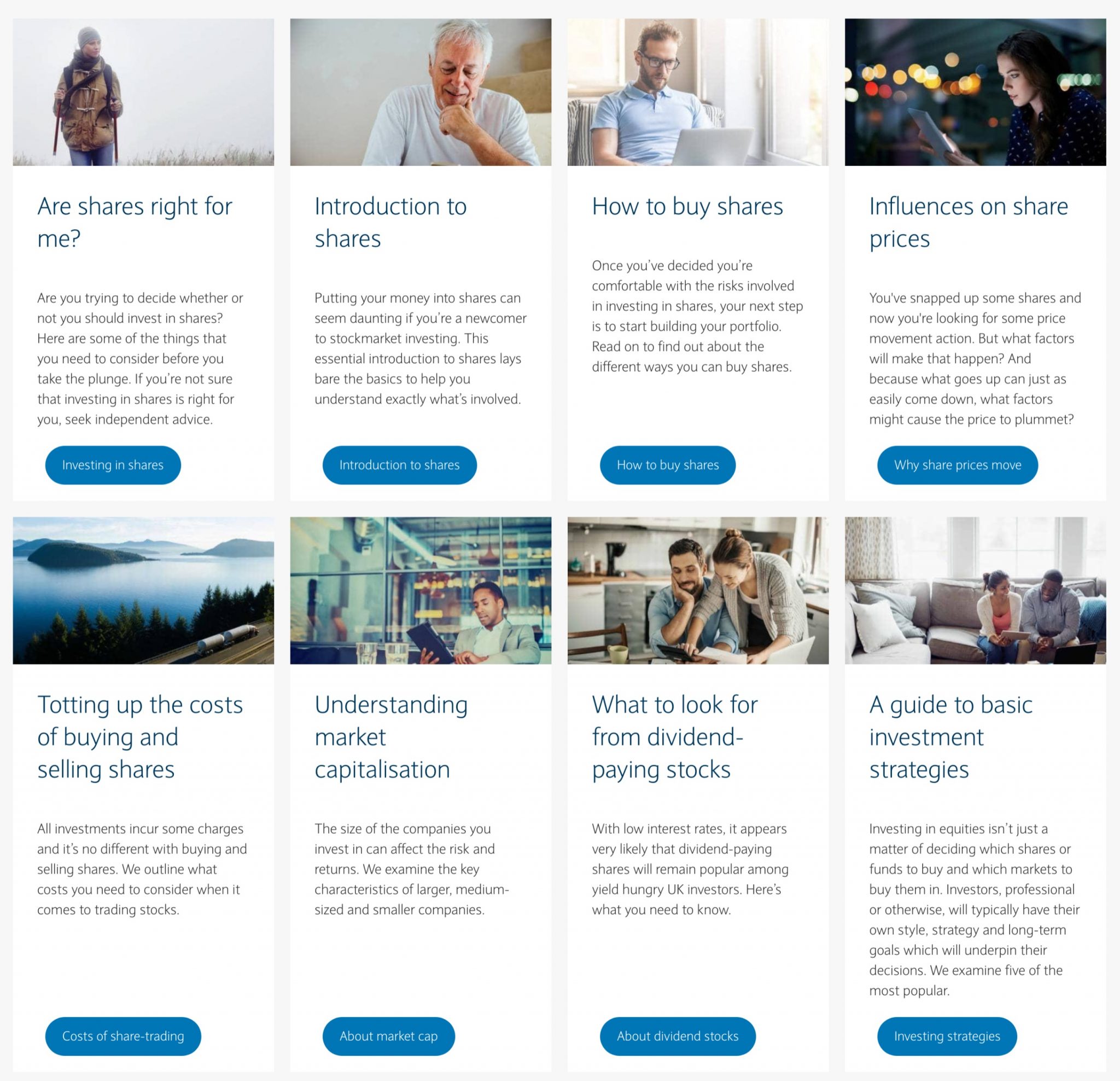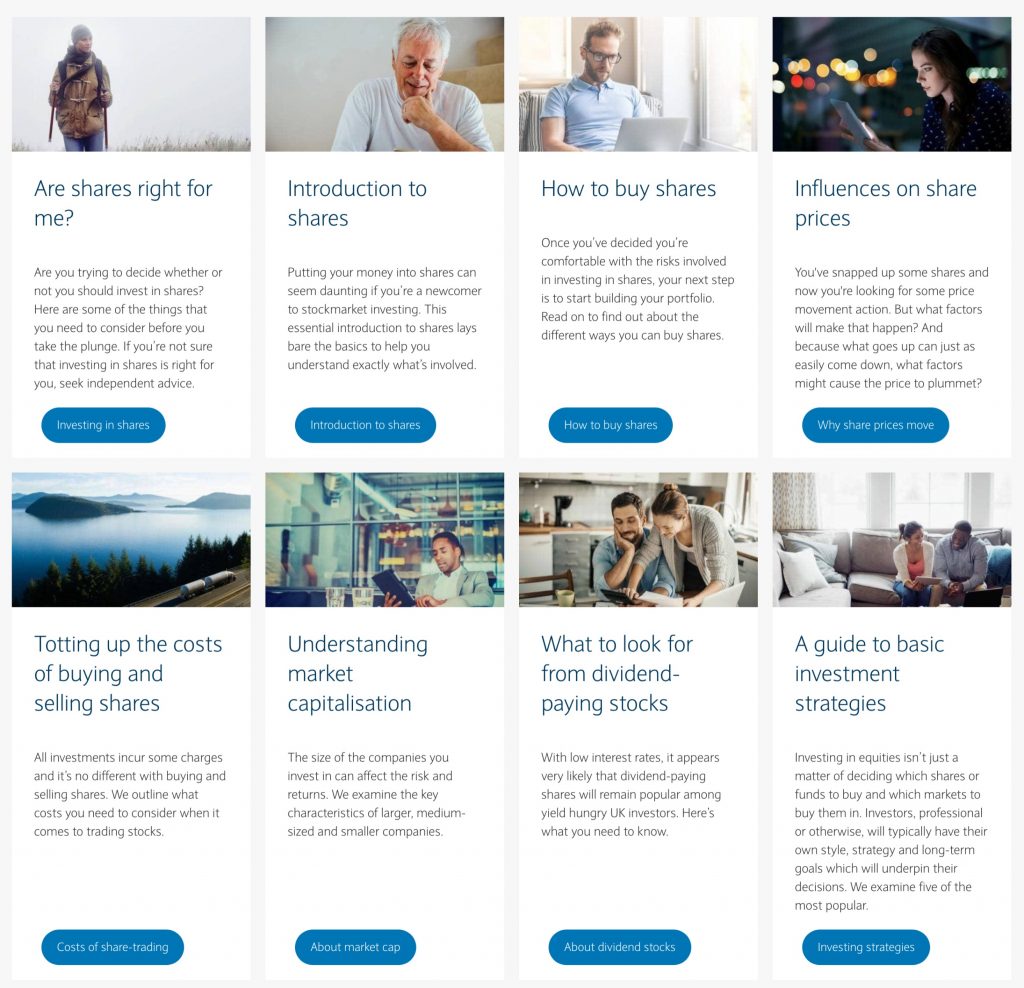 How trading shares works for the Barclays share trading platform is simple. When you're looking to place a deal, you may do so online or over the phone. You'll be giving the Barclays share trading platform an 'order' which is an instruction to buy or sell the investment that you've chosen. The Barclays online trading platform highlights that if you're planning on choosing investments yourself, always do plenty of research before buying.
Invest in Indices
Investing in indices gives you access to a wide range of markets and industries. If you're looking to invest in an entire industry or sector, trading indices is the way to go. In Barclays online trading platform, they suggest investing in indices or funds if you're looking for passive income.
In one of their educational articles, the Barclays team mentions that funds that simply track an index might always underperform the market when taking into account costs. This is where more active managers who move in and out of investments in short time frames might get the upper hand.
However, it is more widely known that in the long-term, short-term movers get beaten by the market and so investing in indices is still an option for long-term traders. Just like in trading shares, you may find a Barclays online trading platform fund manager to help you decide which indices to get. Alternatively, you can also make a deal via call or online on the Barclays share trading platform.
Barclays Trading Platform Broker Fees & Commissions
As with all brokers, the Barclays forex trading platform, as well as the Barclays online trading platform, have fees. In this section of our Barclays trading platform review, we will go through the different broker fees and commissions of the Barclays fx trading platform and Barclays share trading platform.
The table below represents customer fees based on asset holdings.
| | | | |
| --- | --- | --- | --- |
| Funds | Other investments | Minimum fee per month | Maximum fee per month |
| 0.2% pa | 0.1% pa | £4 | £125 |
Every time a Barclays forex trading platform or Barclays online trading platform user buys or sells an investment, they pay a one-time fixed fee to cover the costs. Bellow are these transaction fees in a table.
| | | | |
| --- | --- | --- | --- |
| Funds (Online) | Other investments (Online) | All automated regular investments | All investments (Telephone) |
| £3 | £6 | £1 | £25 |
Looking deeper into the costs and fees in this Barclays trading platform review, it seems that having a larger portfolio can lessen customer and transaction fees. For example, investing in up to £24,000 in funds assuming you make two transactions per year nets £54 in total costs. But doubling this investment to £48,000 assuming you make four transactions nets a per year total cost of just £7.
Barclays Trading Platform User Experience
The Barclays online trading platform has a user-friendly interface and is very well designed. Initially, however, users might be overwhelmed by the sheer amount of information available once they get access to their web portal. There's a lot to choose from and navigating takes some getting used to, but after a while, everything becomes smooth.
Another aspect of the platform is its transparency when it comes to fees and the portfolio fund. Because you have the option to have your portfolio managed, you'll need to be able to see where your capital is being invested in. Luckily, the platform used by Barclay shows clearly what you're invested in and what you'll need to pay.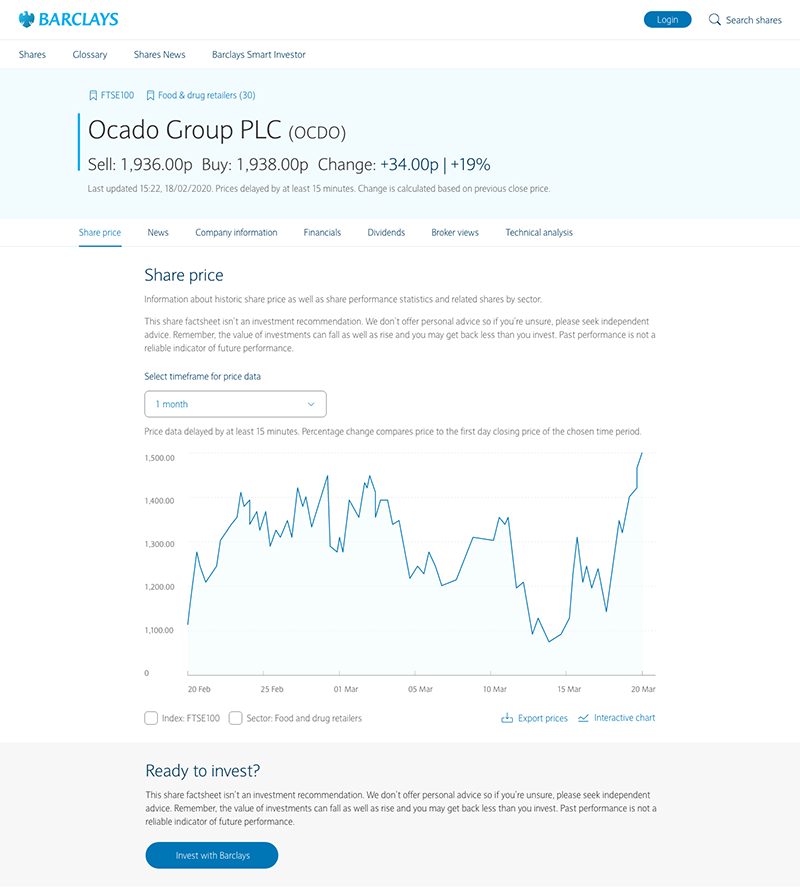 When it comes to logging into the account, we found in our Barclays trading platform review that the trading platform Barclays does not provide the usual two-factor authentication upon login. Instead, users will need to fill up their surname, membership number, passcode, and two random letters of a memorable word.
When it comes to sifting through the different financial instruments around, this is where the Barclays forex trading platform and Barclays online trading platform shine. Their search capabilities are optimal. You can easily filter through what asset type you're looking for because everything is categorized well. When searching for equity, the data is complete and pleasant to the eyes.
Lastly, what surprised us in this Barclays trading platform review was the sheer amount of research that is put into the different financial instruments and markets. A quick glance at the platform already shows layers of different short articles with simple goals. If you want to know how you could invest in ETFs, there's an article for that on the platform. It seems that they can answer so many questions just from the content available on the site.
Barclays Trading Platform Features, Charting, and Analysis
We know that the trading platform Barclays doesn't skimp on its research department and they extend this diligence when it comes to market news. The Barclays fx trading platform understands that keeping up to speed with the issues that could affect your investments is important for all smart investors. Their periodic news and articles tackle topics like topical economic and market insight, investment ideas, and some world-shaping trends of today.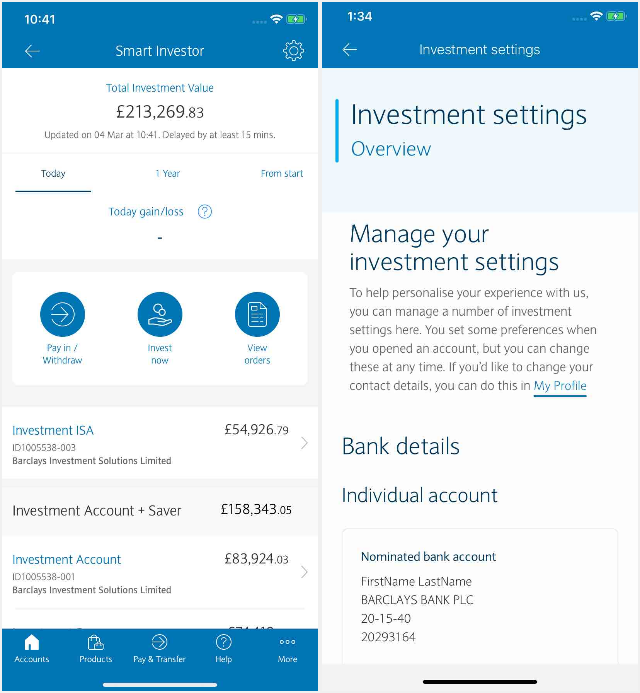 In terms of charting, the platform offers very limited trading tools as they only allow their predefined charting settings. Their technical indicators aren't too bright either as customization options are kept to a minimum for the platform. But in the overall view of the site, these low points for the Barclays forex trading platform aren't deal breakers in any sense since user portfolios are geared towards long-term investing. It would be harder if it was a day trading platform with such fees.
The Barclays platform uploads market analysis articles which we found in our Barclays trading platform review that the content is easy to digest and insightful. In the end, the purpose of these articles is to first update the users on the current market conditions and second help them make better decisions for their investments.
Barclays Trading Platform Account Types
In the Barclays platform, there are three investing accounts to choose from and for the Barclays forex trading platform, there's mainly one for institutional traders.
Investment ISA
The Investment ISA is a tax-efficient account designed for those looking for an easy way to start investing. It's a popular account for those prepared to invest for the long term which is upwards of five years.
In this account, users can buy, hold and sell investments such as funds, shares, and bonds. Already with the Investment ISA, a wide range of investment opportunities and financial options are available to help investors reach their financial goals.
Investment Account
The Investment Account lets investors buy funds, shares, and bonds, with no annual limit, meaning there is no minimum or maximum investment requirement. This is a flexible plan as users have the freedom to be as versatile in their portfolio as possible.
Their site states "whether you're looking for just a single diversified fund or want to build a wide-ranging portfolio of shares, our Investment Account gives you the freedom to build a portfolio to suit you."
SIPP Account
The Self-Invested Personal Pension (SIPP) Account is a tax-efficient way to save for retirement. Investors who are confident in making their own investment decisions and managing pension payments versus relevant allowances should consider this account type.
One advantage of the SIPP Account is that users won't be restricted to pension funds offered by any single pension provider as they can instead invest in a wider range of investments all from different providers. Users also get to optimize on taxes as the returns from the SIPP account investments are protected from income tax, tax on dividends, and capital gains tax (CGT).
BARX Corporate Account
Although only available for institutional or corporate investors, the BARX corporate account is the only Barclays FX trading platform as it allows for major forex trading. This type of account has tools for FX trading including forex charts, tickers, and rate calculators.
They have quite the customer service as the help desk is available 24 hours a day, 5 days a week in conjunction with customer support. They offer secure online FX trading in over 55 currencies in real-time as the Barclays forex trading platform.
Barclays Trading Platform Mobile App Review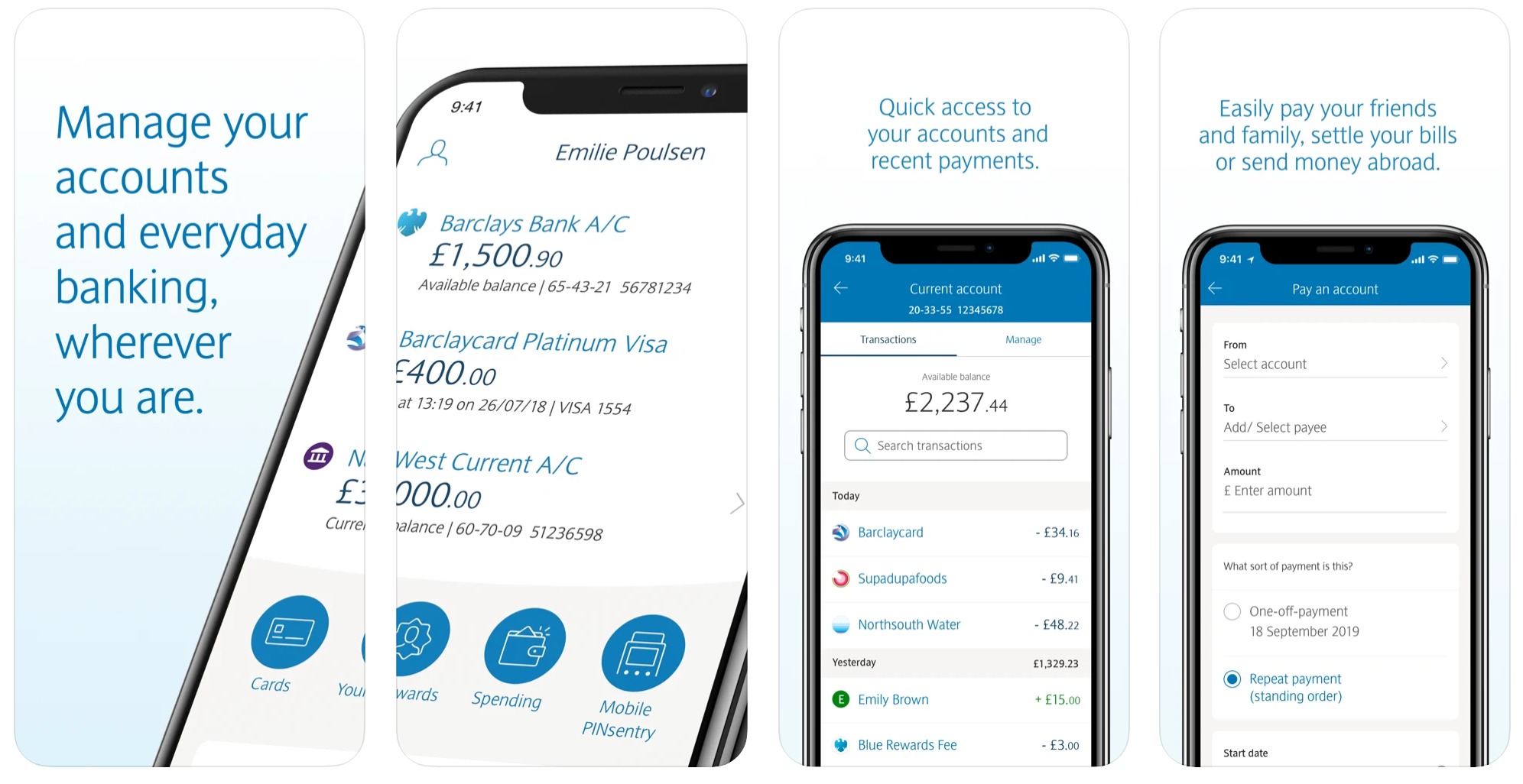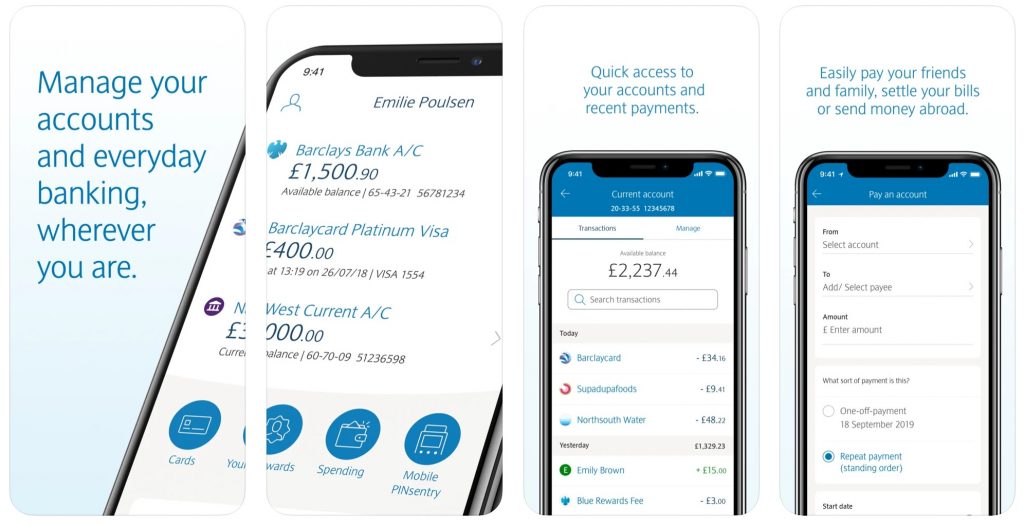 As of posting, there is no proprietary mobile trading platform for the trading platform. Users who wish to manage their portfolios on mobile will need to download Barclays' mobile app. For this, however, a Barclays Current Account (bank account) is required.
Although we haven't been able to review the mobile application, based on the Google Play and App Store reviews, the app seems stable. Though some hiccups have been reported on lower-starred reviews, the mobile app enjoys an average rating of 4.7 stars across both platforms.
Barclays Trading Platform Deposit and Withdrawal Methods
Without any deposit or withdrawal fees, the Barclays account beats much of its competitors in this regard. Note that users can only deposit money from accounts that are in their name.
Users looking to deposit money can use their credit card, debit card, or even bank transfer. Adding funds via debit card will instantly reflect on the account while paying in via bank transfer can take up to two business days. Unfortunately, there are no electronic wallets payment methods available.
Barclays Trading Platform Contact and Customer Service


In our Barclays trading platform review, we found their customer service to be quite slow compared to others. Although they do meet the standard of 24/5 availability for support, this doesn't seem to be completely consistent. Even other reviews pose the same problems and it is something that we expect to hopefully improve.
You may contact Barclays trading support via live chat, phone, and email.
Is Barclays Trading Platform Safe?
As mentioned earlier, Barclays is a well-established company in the UK, stemming centuries of existence. Although its brokerage and investment arms are more recent than that, their brand and reputation remain the same.
Account safety is perhaps one of the highest priorities of the Barclays online trading platform and Barclays forex trading platform. Under the Barclays platform, users are covered by Barclays Investment Solutions Limited, a division that is regulated by the FCA.
Is Barclays Trading Platform Regulated in the UK?
The Barclays platform is well regulated and licensed by the UK's Financial Conduct Authority. This means that the regulatory authority has deemed the trading platform acceptable in its required standards.
Certain investor protection protocols shield users against the loss of cash and securities if the broker becomes bankrupt. If this happens, each user is allotted up to £85,000 in reparations.
eToro – Alternative to Barclays Trading Platform
If Barclays forex trading platform or online platform isn't hitting the spot for you, then consider eToro as an alternative.
It's a broker available in the UK and it has a mobile platform and copy trading.
FAQs
Can I invest in shares in Barclays Trading Platform?
Is Barclays Trading Platform regulated in the UK?
Can I open an account with Barclays Trading Platform overseas?