Cum să cumpărați acțiuni la bursă în România 2023 – Ghid online pentru începători
Informații verificate
Tot ceea ce citiți pe site-ul nostru este furnizat de scriitori experți care au mulți ani de experiență pe piețele financiare și au scris pentru alte publicații financiare de top. Fiecare informație de aici este verificată. Uneori folosim link-uri afiliate în conținutul nostru, atunci când apăsați pe acestea s-ar putea să primim un comision - fără niciun cost suplimentar pentru dumneavoastră. Utilizând acest site, sunteți de acord cu termenii și condițiile noastre și cu politica de confidențialitate.
Are you based in Romania and looking for financial advice on how to buy shares on the stock market for the first time?
In this beginner's guide, we will give you all the advice you need to buy shares in Romania. We'll discuss how to select a licensed and regulated stockbroker, what commissions to expect, how to place your first stock order, and advice on choosing the right stocks.
74% dintre investitorii de retail pierd bani atunci când tranzacționează CFD-uri cu acest furnizor.
1 Furnizor care se potrivește cu filtrele dvs Furnizori care se potrivesc cu filtrele dvs
Comisioane fixe pe operațiune
Taxe totale (pentru 12 luni)
$ 0
Ce ne place
Cumpărați acțiuni și ETF-uri cu comision 0%.

Rețeaua de socializare și copy-trading

Investește și tranzacționează cripto cu comisioane mici
Comisioane fixe pe operațiune
Aplicatie mobila
Caracteristici
Metode de plata
Taxe totale (pentru 12 luni)
$ 0
74% din conturile de investitori de retail pierd bani atunci când tranzacționează CFD-uri cu acest furnizor.
How to Buy Stocks – Step by Step Guide 2023
This step-by-step walkthrough of how to buy stocks is based on our recommended and regulated broker,  eToro , although the process is similar for most brokers. You can register using the form below when you feel familiar with all the information on this page:
74% dintre investitorii de retail pierd bani atunci când tranzacționează CFD-uri cu acest furnizor.
How to buy shares – Select the right broker
Before buying stocks, you need to choose a top broker. To help you, we have listed the best brokers in Romania below , with a full breakdown of the fees charged and the features of these brokers. You can even enter the amount you plan to invest and the number of trades to find out how much each broker will cost!
How to Buy Stocks – Step by Step Guide 2023
This step-by-step walkthrough of how to buy stocks is based on our recommended and regulated broker,  eToro , although the process is similar for most brokers. You can register using the form below when you feel familiar with all the information on this page.
1- Open an account today with eToro – Pay 0% commission on shares
To create an account, eToro will ask you to enter some personal information – such as:
full name

Home address

Date of birth

Passport

Contact details
You will also need to choose a strong username and password.
2 – Upload the ID
You can deposit up to $2,000 without uploading your ID to eToro, but if you want to deposit more, you'll need to verify your account as eToro is regulated by the Financial Conduct Authority.
You simply need to upload a copy of your passport and proof of your address. This can either be a recent bank statement or a utility bill. Once you've uploaded your documents, eToro should be able to validate them within minutes.
3 – Deposit funds
The minimum deposit amount to  eToro will need to be $200. Accepted payment methods include debit/credit cards, bank transfer and e-wallets such as PayPal, Neteller and Skrill.
As we briefly discussed earlier, all eToro deposits will be converted to US dollars at a 0.5% fee. This will subsequently give you instant access to over a dozen financial markets – both in Romania and abroad.
4 – Buy shares
Once your eToro account has been funded, you can buy your first share. In our example, we intend to buy shares in BP ('British Petroleum'). As such, we enter 'BP' in the search box at the top of the screen and then click on 'TRADE'. If you still haven't decided which stocks you want to buy, click the 'TRADE MARKETS' button and browse the eToro stock library.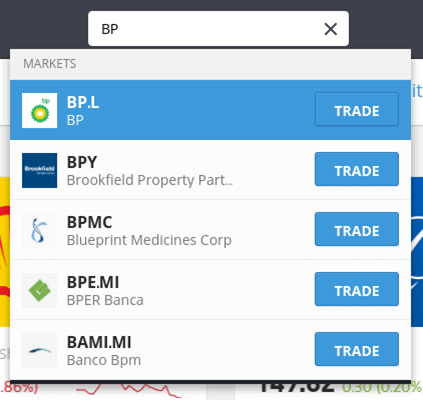 Before we can buy shares in the company of our choice, we need to set up a "buy order". As you can see from the screenshot below, the current market price of BP is 305.60¢ – and it will change almost every second. However, we need to enter the amount of money we want to invest in US dollars. In our example, we buy $500 worth of BP stock. Note – we buy the underlying asset as opposed to selecting leverage and trading the stock as a CFD.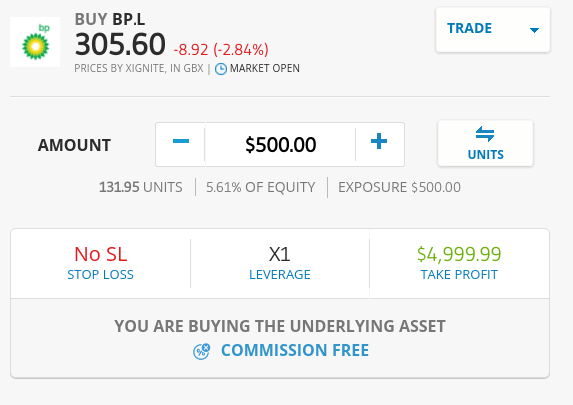 To complete the investment process, we simply have to click on 'OPEN TRADE'. Within seconds our order will be executed – meaning we've just bought BP shares commission-free.
Learn the basics of buying shares in Romania
Thanks to the way stock trading in Romania works today, you can buy thousands of global stocks with the click of a button. All you need is a trusted online broker account.
The biggest advantage, as there are now hundreds of Romanian brokers competing for your business, is that fees and commissions have never been so competitive. In fact, there are even  Romanian stock trading platforms that allow you to buy stocks without paying any trading fees.
However, in addition to familiarizing yourself with how to buy shares in Romania, it is also very important to familiarize yourself with the operation of shares, the investment process and any taxation rules vs. tax benefits. Once you know the basics, you have the best possible chance of avoiding costly mistakes. Mandatory mention: once you have bought shares in a company, the latter is obliged to send you a share certificate within two months.
What are Actions?
When a company decides to go "public", it means it will be listed on the stock exchange. Instead, this allows ordinary investors to buy "shares" in the firm. As the name suggests, you will own a "part" of the company you invest in – in proportion to the number of shares you own.
The value of shares is determined by market forces. In other words, if there are more buyers than sellers, the share price will rise. In this case, the value of your investment will follow suit.
If there are more sellers than buyers, this has the opposite effect – meaning the value of your shares will fall. As a shareholder in a company, you will be entitled to a number of benefits.
Sale of shares
At the forefront is the right to dividends and the ability to vote at annual general meetings (AGM). You can sell shares at any time during standard market hours. The amount of cash you get back will be based on the number of shares you own relative to the company's current share price.
How Much Money Can You Make Investing in Stocks?
If you want to find out how much you can get from investing in shares, our investment calculator is at your disposal. Remember that stocks tend to produce an annual return of 6%-7% based on their track record.
| | | | | |
| --- | --- | --- | --- | --- |
| The year | Initial amount | Interest earned | Total interest collected | Closing balance |
| 2021 | 5.000 RON | 300 RON | 300 RON | 5.300 RON |
| 2022 | 5.000 RON | 318 RON | 618 RON | 5.618 RON |
| 2023 | 5.000 RON | 337 RON | 955 RON | 5.955 RON |
| 2024 | 5.000 RON | 357 RON | 1.312 RON | 6.312 RON |
| 2025 | 5.000 RON | 378 RON | 1.690 RON | 6.690 RON |
| 2026 | 5.000 RON | 401 RON | 2.091 RON | 7.091 RON |
How to make money from stocks:
This can be achieved in three ways – capital gains, dividends and compound growth.
1 – Capital gains
If the value of your shares is more than the price you originally paid, this is known as "capital gains".
E.g:
Let's say you buy 1,000 shares of BP at 350¢ per share

This means your total investment amounts to $3,500

Five years later, BP stock is trading at 450¢ per share

You are satisfied with your earnings, so you decide to sell the stock

You made 100¢ per share (450¢-350¢), and at 1,000 shares, that's a $1,000 profit
This $1,000 profit represents what is known as capital gains. The specific rate of tax will vary depending on your personal circumstances.
2 – Dividend
You will also have the opportunity to earn money from the shares in the form of dividends. In their most basic forms, dividends allow large companies to share their profits with shareholders.
If and when they do, you'll be entitled to your share of the proceeds. The specific dividend income you get will vary depending on the company's performance. Not all stocks pay dividends, but if they do, they are usually distributed every 3 or 6 months.
Here's how dividend stocks work:
Let's say you own 500 shares in HSBC
The firm pays dividends every three months

HSBC announces 7% dividend yield this time

That works out to $0.28 per share

You own 500 shares, so you will receive a total of $140 ($0.28 x 500 shares)
The best thing about dividends is that you will receive these amounts in addition to capital gains. In an ideal world, you'll invest in stocks that grow in value while making periodic dividend payments!
Although past performance is never a 100% sure indicator of future results, below you will find the average annualized returns of the FTSE 100 over the past 25 years.
If you would like to mirror these returns, you should invest in an ETF or mutual fund that tracks the FTSE 100.
3 – Compound growth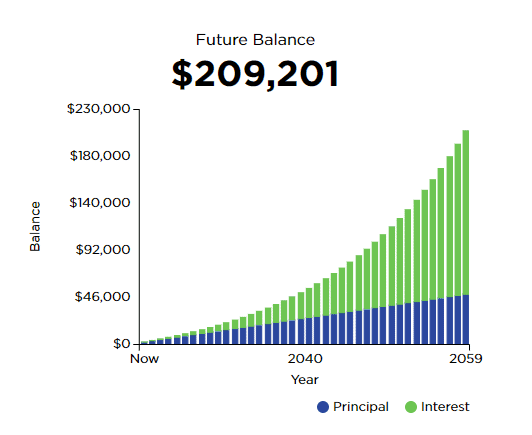 Rather than simply cashing out capital gains or reserving dividend income, many investors look to reinvest earnings in an asset to generate more earnings over time. This is known as compounding. By holding a stock for a long time and constantly reinvesting capital gains, you can achieve a compounding effect that will represent additional earnings for you.
Let's take a look at an example of how compounding works:
Invest $100 per month in an asset with a 6% return

If you did this for 10 years, you will have invested $13,200 and have $18,915

If you did this for 20 years, you will have invested $25,200 and have $50,640

If you did this for 40 years, you will have invested $49,200 and have $209,201
The reason your investment grows this way is because you are adding to the earnings you reinvest as well as your original investment. This means that each year you earn more interest on both your original investment and your compounded earnings.
Compounding requires patience as the initial gains are small, but in the long run it can be extremely profitable. Of course, you have to factor in stock fluctuations, inflation, and fees, but if applied correctly, compound interest can be one of the best ways to grow your stock wealth.
What to consider before buying shares in a company
Although the history of the stock markets indicated good performances – this is not the case  for all  companies. On the contrary, many firms – both from Romania and abroad are now worth only a fraction of their previous highs.
With that in mind, below you'll find some useful stock tips to help you mitigate your risks when investing in stocks for the first time.
Tip 1: Diversify as much as you can
In short, diversification is simply the opposite of putting all your eggs in one basket. That is, instead of investing in one or two companies, a well-diversified portfolio could have you own dozens, if not hundreds, of different stocks. And not only that, as you'll be investing in companies across multiple sectors – ensuring you're not overexposed to a single niche. For example, let's say you have $5,000 to invest in the stock markets.
An inexperienced investor could use the entire $5,000 to invest in a single company

A savvy investor would probably buy shares in 100 different companies at $50 each.

This would also cover several sectors.
Tip 2: Start with small stakes
If you have never invested in stocks, it might be worth starting with small stakes. On the one hand, most regulated brokers in Romania require you to come with a minimum investment amount, which is usually in the range of $100-200. On the other hand, you are not required to inject your entire balance in one transaction.
On the contrary, platforms like eToro allow a minimum investment in shares of $50. As such, by starting with small amounts, you will be able to build your confidence without having to pay more than you can afford.
Tip 3: Learn how to document your actions
In addition to some general examples of how to get started with buying stocks, it's also important to learn how to document them. And we're not talking about anything too complicated here, like technical analysis or reading charts. Rather, you just need to make sure you are aware of any key market developments that could affect the value of your investment.
For example, let's say you invested $3,000 in Amazon

If Amazon announces plans to cut hundreds of jobs, how do you think this will impact the stock price?

Undoubtedly, negative news like this would likely lead to a massive sell-off by shareholders.

Instead, the value of the shares will decrease.

In conclusion, if you sold the stock as soon as the news broke, you would have the best possible chance of minimizing your losses and once again making as many gains as possible.
As an additional tip, for newsletters, it might be worth signing up on a third party platform. For example,  the financial site Yahoo! Finance allows you to add your investee companies to its portfolio and then choose to receive real-time notifications when relevant news breaks. For more information on stock advice and selling stocks, see our guide to the best stocks to buy.
Some examples of widely used stock analysis methods are listed below:
Price-Earnings Ratio:

The price-earnings ratio (P/E) analyzes the correlation between a company's earnings and that of its stock price.

This allows investors to check whether stocks are undervalued or overvalued.

You simply need to divide the current share price by the company's earnings per share and you will be left with a ratio.

Although there are many other variables to consider, the major US stock markets have an average price-to-earnings ratio of 13-15.

Debt-Equity Ratio:

The debt-equity ratio refers to how much debt a company has in relation to its equity.

In simple terms, this lets you know whether or not the company has too much debt.

The calculation will result in a ratio between 0 and 1 – and thus, the higher the number, the more debt the company has (relative to the amount of equity).

You need to assess the type of industry the company operates in when using the debt-to-equity ratio, as it is widely accepted that certain sectors must have more debt than others (such as construction firms).
There are many other fundamental analysis methods used by experienced investors. You can read more about how to choose do-it-yourself (DIY) actions here.
Tip 4: Consider a copy trading portfolio
If you have little to no knowledge of how stocks work, it might be worth considering the advantages of a copy trading portfolio. Beginner-friendly platforms like eToro allow you to copy the trades of experienced investors.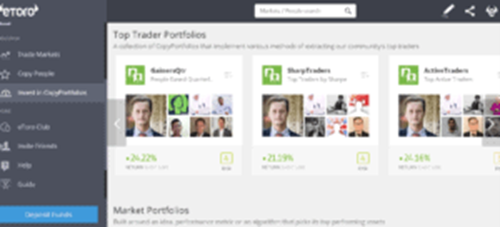 This includes not only their current portfolio – but every related investment. The most advantageous thing about this is that you will be able to review the credentials of the trader before investing money. Copy trading essentially allows you to invest in stocks without putting in any effort, so the portfolio is very popular among new investors.
How to select a stockbroker in Romania
Now you know how to buy stocks, but do you have a trusted stockbroker to match your investment preferences? There are many brokers and they all differ in terms of tradable assets, fees and features, so you should take some time to research the various platforms before signing up.
Some of the most important factors to watch for are:
Regulation of the Financial Conduct Authority
The first – and most important – indicator that you must take into account before joining a stock broker in Romania is whether or not it benefits from regulation by the Financial Conduct Authority (FCA  )  . This will ensure that you can buy, sell and trade shares in a safe and reliable environment.
E.g:
All FCA brokers are required to go through an exhaustive registration process before legally accepting traders from Romania.

The platform will have to have its accounting records audited quarterly by the FCA.

All client funds must be held in segregated bank accounts.

This is a crucial guarantee as it means that the broker cannot use the funds invested by you to cover their own working capital.

Segregated bank accounts also mean that should the broker have financial problems, your money would be safe.
In conclusion, never sign up to a stock trading platform in Romania if you don't have that all-important FCA license.
Payment methods in Romania
Once you've assessed the broker's regulatory status, you need to explore what payment methods it accepts. In the vast majority of cases, stock trading platforms in Romania will accept a debit/credit card and bank transfer. The latter is more suitable for deposits greater than $10,000. Depending on the broker, it could take 1 to 3 business days for electronically transferred bank funds to reach your account, but if you do an instant bank transfer, the funds can be credited within two hours.
Brokers like eToro also accept electronic wallets: Skrill, Neteller and, most conveniently, Paypal.
What stocks can you buy in Romania?
As I briefly mentioned earlier, there are tens of thousands of publicly traded companies. Essentially, the specific markets you will have access to will depend on the broker you sign up with. For example, between eToro and Plus500, you will be able to buy, sell and trade over 10,000 different companies.
Here are included the companies listed on:
London Stock Exchange (UK)

Alternative Investment Market (UK)

NASDAQ (SUA)

New York Stock Exchange (USA)

Tokyo Stock Exchange (Japan)

Hong Kong Stock Exchange (Hong Kong)

And many, many more!
It is best to choose a stock broker that covers both the Romanian and   international markets, as this will give you the greatest possible chance to diversify your risk. eToro, for example, allows you to buy stocks from 17 different markets.
Taxes and Commissions
There are a number of fees and charges to consider when looking for a stock broker, including trading fees, annual account fees and withdrawal fees.
The good news is that some share trading platforms in Romania allow you to buy shares without paying any trading fees or annual fees. Instead, they make their money from the 'spread' or a one-time conversion fee when you make your first deposit (eToro, for example, charges 0.5%).
To get an idea of ​​what you'll most likely pay, check out the comparison chart below.
Where to buy shares – The best share trading platforms in Romania in 2023
Documenting the ins and outs of an online stockbroker can be a demanding process. Below you will find a selection of the main share trading sites in Romania that meet a number of minimum requirements and can act as investment managers for your shares. This includes the major license from the Financial Conduct Authority , support for debit cards/credit cards and bank accounts in Romania, as well as the possibility to buy and sell shares in national  and  international companies.
1 . eToro – The best stock broker in Romania, with the widest range of products (0% commission and no stamp duty)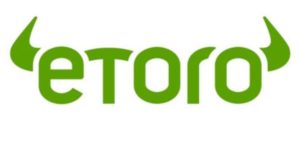 eToro is our recommended stock broker because it allows you to buy over 800 different stocks with 0% commission. eToro also   absorbs the cost of stamp duty to keep costs even lower, making it one of the most affordable brokers on the market. In terms of safety and reliability, eToro is an FCA regulated broker and very popular among young people who are currently newbie investors. With a minimum starting deposit of $200, opening an account is very quick and easy.
At  eToro , you can invest in UK blue-chip stocks such as Tesco, BT and Rolls Royce, as well as trending tech stocks such as Amazon , Apple and Tesla . One of the main reasons eToro is on our list is that it allows you to buy and sell stocks without paying any trading fees.
This aspect is revolutionary in the Romanian investment and stock trading scene, because brokers like Capital will charge you over $11.95 per trade. Instead, the currency conversion fee of just 0.5% on your deposit is the only fee charged.
If you want to trade CFDs on shares – where leverage of up to 1:5 is available – then you will have to pay a small fee, known as a spread. You can learn more about the difference between buying a physical stock and trading stock CFDs here.
eToro is fully licensed with the FCA. It's also licensed in Australia (ASIC) and Cyprus (CySEC) – so you have regulatory protection on three fronts.
In terms of getting started, it only takes a few minutes to open an investment account. The platform allows you to deposit funds with a Romanian debit/credit card, bank account or e-wallet – although you will need to meet the minimum deposit criteria of $200. Once your deposit has been processed by the broker, it will be converted into US dollars for a small fee of 0.5%. This allows you to access international markets without ever having to worry about exchange rates. If you want to deposit more than $2,000, then eToro requires you to submit an ID. The platform accepts large investments – up to $40,000 per card transaction and no limit for bank transfers.
Another advantage of eToro is its copy trading functionality, which gives you the chance to copy successful stock investors and build identical portfolios. However, this feature incurs additional charges. For a more detailed overview, check out our eToro review.
Important note: eToro does not calculate for you any taxes that you may need to pay, such as capital gains tax, so you must calculate this tax yourself based on your country of residence.
Pro:
FCA regulated and trusted brand.

A Premier League sponsor.

Buy shares without paying any commission or trading fees

More than 1,000 shares listed on several international markets

Deposit funds with a debit/credit card, e-wallet or Romanian bank account

Ability to copy trades of other users

Custom eToro account where you can set up trading price alerts
Contra:
It is not suitable for advanced traders who like to perform technical analysis

Wide currency spreads

0.5% conversion fee per deposit
74% dintre investitorii de retail pierd bani atunci când tranzacționează CFD-uri cu acest furnizor.
2. OKX - platform with many pairs for trading

OKX is one of the top trading platforms in Romania due to its ease of use and the services it offers to its customers. It stands out in the crypto field as it also provides users with an educational platform that can help you learn more about exchanges and the trading process.
The platform offers many useful tools for those just starting out, while also having access to a complex range of options for those interested in becoming more advanced traders. In this way, regardless of the level of experience acquired so far, through OKX you will be able to meet your expectations, without limiting yourself to just a few simple basic processes.
Another aspect that highlights OKX in this sector of activity is represented by the section intended to compare token prices between exchanges, also having the possibility to analyze volume data.
For those who want to stay up-to-date with the latest developments in the crypto market, OKX also offers its users a mobile app, available on both iOS and Android devices.
Pro:
Low transaction fees

Numerous trading pairs

Intuitive design

Mobile application
Contra:
Only digital currencies as deposit methods
Banii dvs. sunt în pericol.
3 . Libertex – Low-Cost trading platform with ZERO Differences between selling and buying prices

Libertex is a CFD trading platform , popular among those traders in Romania who aim for low commissions and fees. In the foreground is the offer of the zero spread platform. This means that, regardless of the nature of the assets you choose to trade, there is no gap between the selling price and the buying price.
Therefore, the reference platform allows you to benefit from top quotes from the stock market. Additionally, even if Libertex collects a commission from both parties involved in the transaction, it is often very low. In fact, commissions are below 0.1% per order.
For example, the popular currency pair, NZD/USD can be traded with a commission of only 0.012%. In terms of financial instruments, Libertex offers CFDs in stocks, commodities and currencies.
As a CFD specialist, you can apply leverage for any of the trades you choose.
This falls under FCA limits, meaning you will be restricted to 1:30 on major forex trading pairs and less on other instruments. All investments in the CFD exchange at Libertex are limited to the long-term and short-term investment option. This allows you to profit from both growing and declining investments. Libertex offers two trading platforms, from which you can choose.
The latter include Meta Trader 4 and its own platform, which was built in-house. Both options can be accessed online or through a mobile application. In the case of the MT4 platform , it can be downloaded to your desktop - being the way to go if you want to install an automatic robot.
If you agree with Libertex , you can open an account in a few minutes. The minimum deposit is only $100 and you can use a Romanian debit/credit card, bank transfer, or an electronic wallet. From the moment your account is initially funded, all future deposits will be made at a minimum of just $10.
Regarding security, it is good to know that Libertex is not regulated by the FCA. Instead, it is regulated by the main license issuers in the EU, CySEC. In addition, Libertex has been offering online transactions and financial services since 1997. As a result, the provider has a remarkable track record that spans over two decades.
Pro:
Zero spread on CFD transactions

Very competitive commissions – starting at 0% +

Good educational resources

Broker with a long established reputation

Compatible with MT4

A great diversity of possibilities to choose the market
Contra:
70.8% dintre investitorii de retail pierd bani atunci când tranzacționează CFD-uri cu acest furnizor.
Top brokers from a comparative perspective
Now that you know everything about the best stock brokers in Romania , let's analyze them through a comparative prism in terms of some key criteria.
What are the advantages and disadvantages of investing in stocks?
Pro:
As shown by their track record, the shares produce annual returns of 5-8%.

It's better than a bank.

High liquidity - you won't wait days to buy a share of the company

Increase the value of your investment when stocks rise in value

Earn passive income in the form of dividends

You mitigate your risks by creating a diversified stock portfolio

All share trading platforms listed on this site are regulated by the FCA

Some online brokers allow you to buy stocks without commissions

Easily deposit funds with a Romanian debit/credit card, e-wallet or bank account

A $1,000 investment in Amazon in 1997 would be worth $2.5 million now!
Contra:
you could lose money

You will need to select your own investments

No guarantee that your shares will increase in value
How to Buy Stocks – The Verdict
The process of buying shares in Romania has changed considerably in the last decade. You no longer need to get on the phone with a traditional stock broker to place your buy and sell orders. Instead, you simply choose a regulated online share trading platform, deposit some money with your Romanian debit/credit card – and then choose which shares you want to buy. We recommend you try eToro due to FCA regulation, zero commission and zero stamp duty.
eToro – The most convenient tool to invest in stocks

74% dintre investitorii de retail pierd bani atunci când tranzacționează CFD-uri cu acest furnizor.
FREQUENT QUESTIONS
For a beginner trader, what are the best technical analysis indicators to use?
When investing in the stock market, what account would I need if I want to become an active day trader?
Hi, regarding the eToro CopyTrader feature, does it really work?
How can you tell if a broker is regulated by the FCA?
Which which of the brokers is the best?
Do you still get paid dividends if do you only trade CFDs on shares?