Value of known illegally acquired BTC surged 57% to stand at $21.5B
The value of known illegally acquired Bitcoin (BTC) has surged in the last three months. A data presentation by tradingplatforms.com reveals that the worth of known illicit BTC stands at 547,833 BTC.
Tradingplatforms.com's data indicates a 57% uptick in known illicit BTC holdings in the last 180 days. At the time of writing, the known illegal BTC held had a value of $21.5 billion.
" Unscrupulous actors are looking to cryptos and particularly BTC to mask their nefarious activities," says Edith Reads of tradingplatforms.com. "They have this erroneous belief that BTC's P2P function makes their transactions anonymous. What they don't appreciate, though, is that their transactions are public, and anyone can trace them if they wanted to."
An Important Metric
It's possible to observe the flow of these illicit funds because of the blockchain's (BC) transparent nature. Blockchains are public ledgers capturing all transactions. All actors are pseudonymous; you can track them through their wallet addresses.
The value of known illicit BTC held is an important metric. That's because such holdings and flows can be significant in dollar terms. At the moment, though, they constitute a tiny fraction of the BTC ecosystem. Some estimates put it at 3% of all BTC transactions.
The analysis further reveals where these funds reside. The darknet holds most of them, with dubious actors stashing about 361K BTC here. Additionally, stolen funds keep another 112K coins or so. And scams and other rackets hold 62K and 12K BTC, respectively.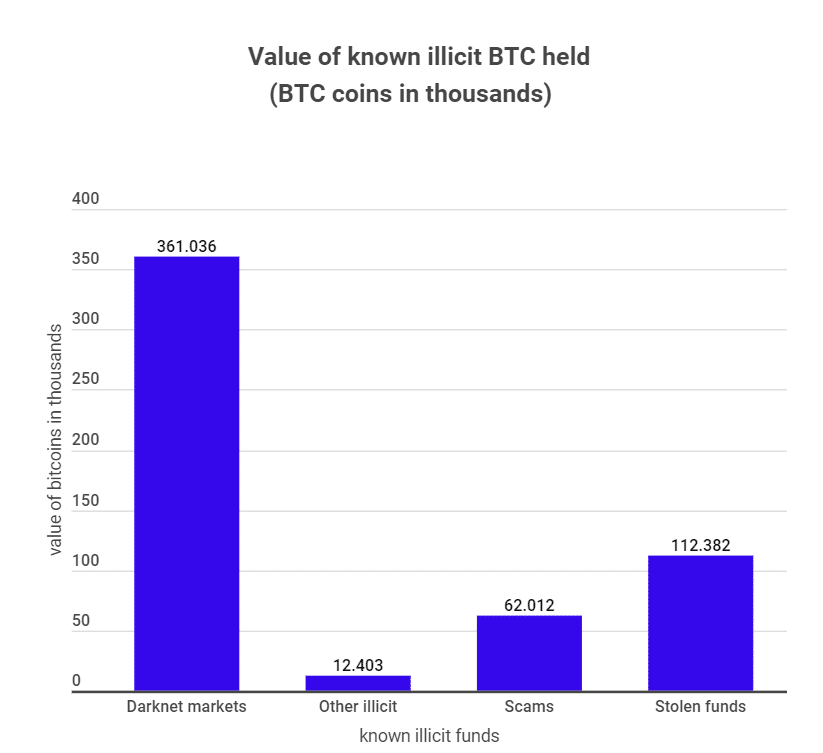 Placing known illicit BTC
Tradingplatforms.com analysis further shows the placing of these funds. The placing of illicit funds is the initial stage of money laundering schemes. Bad actors choose to place their funds in various legitimate services.
Ironically, most of them prefer crypto exchanges to any other means for "cleaning" their funds. At press time, exchanges recorded illicit BTC placing worth over $5 million. 
They favour market mixers next. These actors have helped place about a million dollars worth of illegal BTC. Finally, other services have helped clean nearly $1.3 million worth of dirty BTC.
Do cryptos support illegal activity?
Crypto Skeptics have raised issues about their use in illegal activities. They claim that BTC and other cryptos are vital enablers of money laundering, human and drug trafficking, tax evasion, and financing terror.
To them, the unregulated nature of the space, plus the "anonymity" accorded by BC technology, provides perfect cover for performing illegal deeds. 
Nevertheless, available data discounts that notion. Chainalysis, for instance, has shown that illegal activity accounted for only 2.1% of all crypto transactions in 2021. That comes to roughly $21.4 billion.
In contrast, the UN estimates that illicit activities take up between 2% to 5% of the world's GDP. That's a staggering $1.6 to $4 trillion annually. Traditional finance tools support most of these activities. So comparatively, crypto's involvement in nefarious activities is way smaller.