Best Stock Broker – Cheapest Online Brokers Revealed
To invest profitably, you must find a brokerage service whose features align with your educational needs and learning style. It can mean the difference between establishing a new income stream and frustrating disappointment for new investors, especially when choosing the best stock broker.
It's impossible to guarantee investment returns, but selecting an online broker that suits your situation can set you up for success.
Best Online Stock Broker 2023 List
eToro – Over Best Stock Broker

2023

WeBull – Best US Stock Broker to Trade Thousands of Stocks and ETFs
Futunn – Overall Best Stock Broker With Conditional and Intelligent Orders
Robinhood – Best Trading Platform for Buying US Stocks
Interactive Brokers – Best Trading Platform for Seasoned Investors
5 Provider that match your filters Providers that match your filters
Fixed commissions per operation
Best Online Stock Broker Reviewed
1. eToro US – Over Best Stock Broker
2023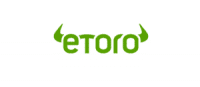 eToro was our first choice as a free stock broker for 2023. It is now home to over 17 million active traders thanks to its selection of markets, user-friendly interface, and high level of regulation.
With over 2,400 stocks available, you have access to 17 international exchanges. You can trade companies listed in Germany, France, Sweden, Hong Kong, and other countries on top of major exchanges like the NYSE, NASDAQ, and London Stock Exchange. Its commission-free nature makes it one of the best stock brokers.
If you purchase or sell a stock, there will be no charge. There are no maintenance fees of any kind to worry about either. You can also buy Palantir stocks for just $50 at eToro (for example). Due to eToro's support for fractional ownership, this is the case regardless of the shares' price.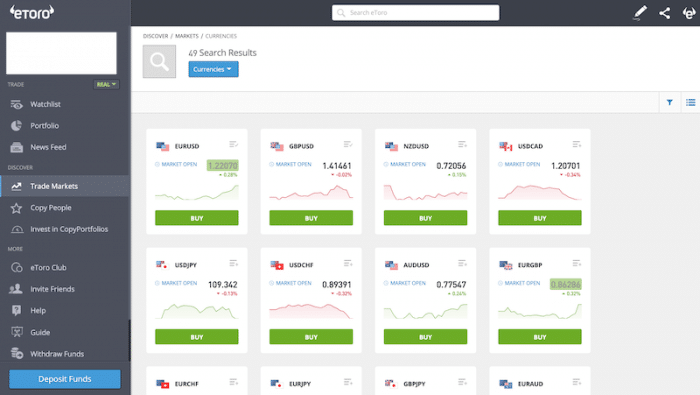 Also, eToro is our top choice since it is perfect for first-time stock traders. A user can open an account within minutes, it takes minutes to use the platform, and it even provides automated trading services. One of the most innovative features of the platform is Copy Trading. With this, you can copy an experienced investor's portfolio. In addition to pharmaceutical stocks, you can trade them on eToro.
This Copy Trading option is available at no additional cost with a minimum of $200 per investor for online trading. Funding via eToro could be accomplished through debit or credit cards, bank transfers, and e-wallets like Neteller and Paypal. Finally, eToro is registered with FINRA in the U.S. and the FCA, ASIC, and CySEC.
Pros:
Super user-friendly broker
No commissions or fees for buying stocks
2,400+ stocks and 250+ ETFs listed on 17 international markets
Trade cryptocurrencies, commodities, and forex
Deposit funds with a debit/credit card, e-wallet, or bank account
Availability of copying other users' trades
Cons:
That is not suitable for advanced traders who like to perform technical analysis
| | |
| --- | --- |
| Fee | Amount |
| Stock trading fee | Free |
| Forex trading fee | Spread, 2.1 pips for GBP/USD |
| Crypto trading fee | Spread, 0.75% for Bitcoin |
| Inactivity fee | $10 a month after one year |
| Withdrawal fee | $5 |
67% of retail investor accounts lose money when trading CFDs with this provider. You should consider whether you can afford to take the high risk of losing your money.
2. WeBull - Best US Stock Broker to Trade Thousands of Stocks and ETFs

Webull is a user-friendly brokerage platform accessible online or via a mobile app launched in 2017. Various assets are available for investment, such as stocks and ETFs, options, cryptocurrencies, and ADRs (American Depositary Receipts).
Many reasons account for the high popularity of Webull in the U.S. Webull offers a simple, stress-free user interface, regardless of whether the investor invests online or through the app. It is, therefore, a good choice for inexperienced investors.
A small amount of money can also be invested with Webull. Partitional ownership is available for as little as $1 per trade. Webull is also 100% commission-free when it comes to fees. Due to its zero fees, it competes directly with Robinhood, eToro, and CedarFX.
As such, Webull charges a subscription fee to access Level II market data, just as Robinhood does. You will have to pay $1.99 a month for this service. The safety of our clients is assured as we are registered with the SEC, FINRA, and SIPC.
Pros:
Trade thousands of stocks and ETFs
ADRs supported by foreign companies
Trading in cryptocurrency and stock options
0% commission trading
User-friendly and very simple interface
A mobile app is available for iOS and Android devices
Cons:
For Level II pricing data, there is a monthly platform fee of $1.99
PayPal or debit/credit cards are not supported
For experienced investors, a bit too basic
No commodity, indices, and forex trading facilities
Customer support response times are slow
| | |
| --- | --- |
| Fee | Amount |
| Stock trading fee | 0% |
| Forex trading fee | Not Supported |
| Crypto trading fee | 0% |
| Inactivity fee | No Inactivity fee |
| Withdrawal fee | $25 |
[/su_list][/su_column] [/su_row]
76.25% of retail investor accounts lose money when trading CFDs with this provider.
3. Futunn - Overall Best Stock Broker With Conditional and Intelligent Orders

The Futu Securities mobile app, "Futu Niuniu," has more than 600,000 users in Hong Kong and was invested in by Tencent (0700. H.K.). In addition, it offers cheaper transaction fees, a simple-to-use app, and the ability to trade Hong Kong and U.S. stocks easily.
In Hong Kong stocks, U.S. stocks, and A shares can be done through Futu's iPhone, Android, Windows, and Mac apps. As with the bank's system, the procedures for buying and selling are similar. After selecting the stock, quantity, and order instructions, you'll just have to wait for the order to be executed!
According to Futu's trading system, Hong Kong stock orders are completed in 0.0037 seconds - although this won't matter to most investors)
Futu supports the deposit of U.S. dollars directly into your account or exchanging them via the app. However, the Future A-share account must be funded with RMB if you plan on investing in A-shares. Furthermore, you can subscribe to IPO stocks in Hong Kong and the U.S., although you should not do this as a beginner investor!
Pros:
Streaming live news
An interface that is simple to use
Support for customers integrated
There are several powerful analytical tools available
Conditional and intelligent orders
Market data and stock quotes in real-time
Cons:
High margin rate fees
Chinese residents only
No MT4 or MT5 access
Limited payment options
| | |
| --- | --- |
| Fee | Amount |
| Stock trading fee | 0.0049 USD per share |
| Forex trading fee | Not supported |
| Crypto trading fee | Not supported |
| Inactivity fee | No Inactivity fee |
| Withdrawal fee | $0 |
Your money is at risk.
4. Robinhood - Best Trading Platform for Buying US Stocks

The chances are high that you have heard of Robinhood if you live in the U.S. The online trading platform was launched in 2013 and now has over 10 million clients. U.S. investors primarily use it to buy stocks simply and cost-effectively.
Robinhood offers commission-free stock purchases - much like eToro. More than 5,000 stocks are available on the platform - mostly US-listed stocks. They are listed on both the NYSE and NASDAQ.
Aside from U.S. stocks, Robinhood also offers stocks from around the world. However, if you are interested in international shares, other trading platforms offer a much wider selection of companies. Robinhood is a good choice if you're considering investing in ETFs or cryptocurrency or looking for a penny stock trading platform because of its user-friendly interface.
A popular stock options trading facility is also housed on the platform. There is no better way to access the U.S. stock markets than this. Commission-free access to the asset above classes is available as well. Robinhood only accepts U.S. bank transfers when funding your trading account.
Your deposit might be processed instantly, depending on the type of account you choose. You will receive the first $1,000 of your chosen deposit amount instantly if you are on the free account, but the rest may take a couple of days. Robinhood does not require a minimum deposit, which is great if you trade small amounts.
Pros:
Hugely popular trading platform in the U.S.
Buy over 5,000 US-listed stocks
ETFs, cryptocurrencies, and stock options also supported
Does not charge any commissions
No minimum deposit in place
Very simple to use and ideal for newbies
Cons:
Only 250-ish international stocks offered
No debit/credit card or e-wallet deposits
| | |
| --- | --- |
| Fee | Amount |
| Stock trading fee | Free |
| Forex trading fee | N/A |
| Crypto trading fee | Free |
| Inactivity fee | No inactivity fee |
| Withdrawal fee | No withdrawal fee |
Your money is at risk.
5. Interactive Brokers - Best Trading Platform for Seasoned Investors

Interactive Brokers has been offering trading services since the 1970s, an established brokerage firm similar to T.D. Ameritrade. If you're an experienced investor, Interactive Brokers is perhaps the best option.
Due to its advanced features and tools, it's ideal for advanced traders. There are valuable resources available for both technical and fundamental research. In addition, there are thousands of financial instruments to choose from on this top-rated trading platform. More than 135 markets are available in over 33 countries.
Among other things, you can purchase stocks listed in North America, Europe, and Asia. In addition to fractional ownership, the platform allows you to buy a 'fraction' of a stock. Those looking to invest in a diversified way can also take advantage of index funds and ETFs.
Additionally, Interactive Brokers offers markets on futures, options, and forex if you would like to take a more sophisticated approach to trade. At first glance, Interactive Brokers' fee structure is a bit confusing. Depending on the account type you choose and the asset you choose, there will be different fees.
In other words, if you are on an IBKR Lite account and choose to buy stocks or ETFs listed in the United States, then you won't pay any commissions. Furthermore, interactive Brokers have no policy regarding minimum account balances, so if this sounds like the right trade platform for you, it may be a good choice for you. In addition, your bank account can be used to deposit funds easily.
Pros:
A large collection of traditional stocks, index funds, and ETFs
Tools for chart analysis and advanced trading features
A total of 135 markets in 33 countries
Trade CFDs, futures, options, forex, and more
No minimum deposit
Commission-free purchases of stocks and ETFs listed in the U.S
Cons:
Not suitable for newbie investors
Fee structure is a bit confusing
| | |
| --- | --- |
| Fee | Amount |
| Stock trading fee | Free |
| Forex trading fee | Commission + spread. Commission is 0.08 to 0.20 basis points. 0.1 pip GBP/USD. |
| Crypto trading fee | Commission. $15.01 per Bitcoin futures contract. |
| Inactivity fee | $20 per month |
| Withdrawal fee | Free |
Your money is at risk.
Best Stock Brokers Fees Comparison
Trading

Platform Fees

Stock trading

fees

Forex trading

fees

Overnight

fees

eToro
Free
Variable spread
Overnight fees for CFDs. No overnight fees for non-leveraged stocks, ETFs, and crypto.
WeBull
0%
Not Supported
Margin fees charged
Futunn
0.0049 USD per share
Not supported
No overnight fees.
RobinHood
Free
N/A
No overnight fees.
Interactive Brokers
Free for US stocks, £6 for UK stocks & variable commission for other stocks
Commission
Yes. Vary depending on the instrument.
How to Choose the Best Stock Broker for You
You need to consider your immediate needs when selecting an online broker. It may be necessary for you to find a broker who offers educational materials about the stock market and other financial markets if you are a beginner. It is one of the reasons T.D. Ameritrade has been rated as one of the top choices for beginners. Most brokers allow you to draft a paper trading account before funding it. By doing so, you can become familiar with the platform, explore and test out the assets, and assess the trading experience before you risk any money.
Regulation and Security
An explanation or disclaimer is typically found at the bottom of the home page. In addition, the SIPC website provides quick access to the brokerage.
Is There Any Guarantee of Protection Against Fraud?
Fraud losses will you be reimbursed by the company? Double-check the brokerage's requirements for reimbursement before you submit your claim. Make sure you know the documentation needed or whether you need to take any specific precautions to protect yourself.
Assets
Investors of all sizes and shapes participate in the online trading world. For example, some may wish to make money by trading futures or options, while others may only wish to invest in stocks.  Therefore, it is important to check whether or not the provider offers your chosen market.
In addition to the markets that we have discussed today, the best online trading platforms for beginners offer markets on these core asset classes:
Stocks and Shares
Exchange-traded funds, index funds, and mutual funds bonds
Forex and Commodities
Cryptocurrencies such as Bitcoin
Stocks CFDs or Traditional CFDs
People are also dipping their toes into other types of futures and stocks, such as ETFs, options, and CFDs, as more and more people become interested in trading stocks. Although CFDs aren't traded in the U.S., trading platforms for them can be just as tricky to find as other markets.
There are trading platforms that offer CFD options that others do not, giving you the option of a wider variety of products or better CFD products than their competition. In some cases, interfaces may be better, or jurisdictions may differ depending on their country of origin.
Fees
It may be more important to focus on other factors than fees, but you should know how much your brokerage will cost you.
Those who use a platform that offers features that their competitors lack may consider a small premium justified. Accounting fees and trading commissions both reduce investment returns, but you should aim to lose as little as possible.
Beginning with the bottom line enables you to easily identify which is the best stock brokers are too expensive to consider and irrelevant to the type of investment activity you are engaged in.
Deposit Minimum
Generally, mutual funds require a minimum investment of $1,000 or more, but that's not the same as a brokerage company requiring you to deposit a set amount when you create an account.
As an experienced investor, you should know whether or not upgrading your account will give you access to tools and resources that match your level. In addition, customers who agree to trade or invest a certain amount of money on some advanced platforms can use them for free.
67% of retail investor accounts lose money when trading CFDs with this provider. You should consider whether you can afford to take the high risk of losing your money.
Stock Trading Commission
Buying or selling stocks requires a brokerage fee, a trade commission. You might also pay commissions or fees if you buy or sell other investments, such as options and exchange-traded funds.
Stock Trading Spreads
Trades are executed through a spread, which a trader pays for. In the case of some assets, such as shares, providers charge a commission instead of using a spread; other assets might be a mix of one and the other.
Traders who use spreads in their product transactions hope that the market price will move beyond the spread price. In this case, the trade is profitable to be closed. However, the trader may lose money if the price does not move beyond the spread despite the market moving in the predicted direction.
Leverage Fees
Forex, stocks, and commodities can be leveraged highly with the best stock brokers. Nonetheless, most globally respected regulators will limit retail traders to a maximum of 1:30. The best stock brokers regulated by the SEC will not likely provide margin trading beyond this level.
Trading Tools & Features
Charting tools, which generate signals to buy or sell, or indicate trends or patterns in the market, are the tools of the trade for day traders and technical analysts. Technical indicators can be divided into two categories:
Overlays: On a stock chart, overlays are technical indicators plotted on top of the prices. Several examples of these include moving averages, Bollinger Bands®, and Fibonacci lines.
Oscillators: Technical indicators oscillating between local minimums and maximums are generally plotted above or below rather than overlaying a chart. Stochastic oscillators, MACD, and RSI, are examples. These two types of technical indicators will be the primary focus of this article.
Fractional Shares
Particularly for investors just starting, fractional shares are very appealing. Since some stocks sell for thousands of dollars, you can invest what you can afford if you have a modest amount of money. In addition, since the best online stock brokers have slashed their transaction fees to zero, it's much easier to use dollar-cost averaging with this feature.
While some brokers enable investors to purchase fractional shares recently, many others have offered dividend reinvestment plans that have made this possible for years. Even if the brokers did not offer fractional trade shares, the same is true. In addition, some brokers do not offer fractional shares through dividend reinvestment.
Automated Trading
Server-based trading platforms allow traders to run their automated trading systems. In addition, traders can often purchase commercial strategies for designing their systems or hosting existing systems on these platforms.
Short-Selling
To short sell, you will require a broker to loan you a stock to understand that you will sell it on the open market and return it later.
Education, Research & Analysis
Considering the brokerage's educational offerings, searchability, and a useful and user-friendly trading platform.
New investors should search for unfamiliar terms or find information on analyzing data. Try using the search function to find information quickly and efficiently if you're unclear about a topic or metric.
You should go with a broker that you are comfortable working with since what's intuitive and user-friendly for one investor may be a nightmare of fruitless search queries for another.
You should be able to answer these questions fairly easily once you've spent 20 minutes or so exploring each broker. However, it is likely a sign that the brokerage's platform is not for you when you cannot find specific answers and a quick search of the site fails to yield enough information.
67% of retail investor accounts lose money when trading CFDs with this provider. You should consider whether you can afford to take the high risk of losing your money.
Educational Offerings Provided by Brokers
Whether it offers videos, user forums, podcasts,  or articles, the format must suit your needs. Remember that the best stock brokers offer several educational materials
There are various topics for beginners, including glossaries and how-to articles, fundamental analysis, portfolio diversification, interpretation of technical studies, and other topics.
Analytical Resources
Market and sector data and analyst ratings from multiple sources should also be included.
Is There Sufficient Fundamental Data Available?
An appropriate stock profile would include historical financial data, such as earnings reports, cash flow statements, income statements, balance sheets for the issuing company, dividend payments, stock splits, and buybacks. Additionally, any insider trading activity should be disclosed.
User Experience
Best Stock Broker's Quality and Usability
No matter how many educational resources are available, they are worthless if you cannot access them easily. Instead, customers should find the information they need in a format that suits their learning style on a broker or website that offers a variety of learning options in multiple media. To determine which educational resources are user-friendly, let's first evaluate how you can expect those resources from a good brokerage.
Easy and Intuitive broker to Navigate
Accessing a trading screen from a research page should be straightforward. Clicking back and forth shouldn't be necessary. Instead, your site should make it easy to find different topics. The best stock brokers are always intuitive.
Mobile App
The mobile apps of some online brokers offer nearly all the features as their desktop counterparts. For example, the tastyworks app is similar to the tastyworks desktop platform for options traders. In addition, T.D. Ameritrade customers can choose between thinkorswim and T.D. Ameritrade mobile apps, each with features tailored to different types of investors, with the thinkorswim app designed for traders and the T.D. Ameritrade app for less active investors. The best stock broker apps are always easy-to-use.
Payments
A good brokerage account provides ease of money transfer, especially if you're investing to supplement your regular income. Alternatively, withdrawals may not bother you if you plan to set it and forget it. Still, life often throws us curveballs we are unprepared for, so you should thoroughly review the deposit, withdrawal, and funds settlement policies of the brokerage you are considering.
Payout Rate
If you notice an amazing trade entry but lack the available cash to execute it, you need to consider settling times carefully. If deposited funds are available for investment within a certain period, verify that.
There might be advantages to leaving your funds in a linked bank account; then, you can bulk up your investment account more quickly if you need to do it (FDIC-insured) checking and savings accounts if the brokerage offers them.
Withdrawing Funds
Discover how long it will take for your funds to reach your bank account if you withdraw via ACH, wire, or check. Check if there are withdrawal fees as well.
You can access the debit card option by linking a checking or savings account to a brokerage account or by opening a brokerage account with this option. Find out which ATMs you can use if you have a card. If you have a card, find out if there are any fees associated with its use.
Customer Support
The number of brokerage firms that blow you away with their resources, features, and usability is likely to have shrunk by now. However, check out the Help section of the brokerages you're considering if you're still unsure if this is the best stock broker for you.
Ensuring that you can reach the customer service team quickly and easily is important for a new investor. If you are technically challenged, make sure the tech support team is available around the clock.
Is there a dedicated phone number to call if you need trade assistance?
Check whether a call-assisted trade will result in additional fees.
For basic questions, do you have an automated number?
Can you get immediate assistance through the website's online chat feature?
How to Start Stock Trading - eToro
Step 1: Open an Account
Click here, fill out your details, click on 'create an account,' and that's it. You are now part of the eToro family.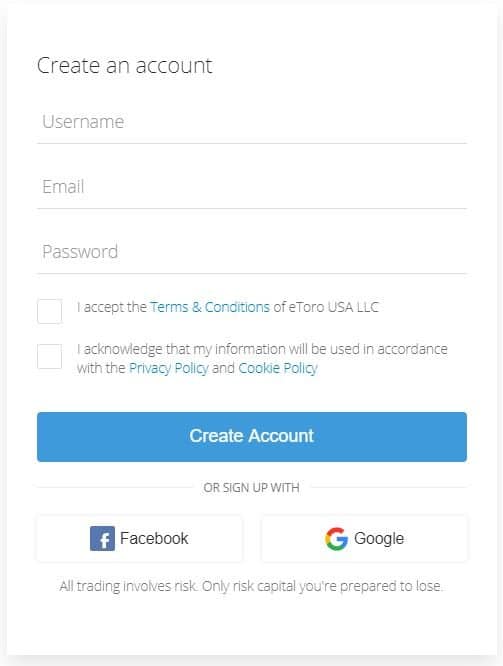 67% of retail investor accounts lose money when trading CFDs with this provider. You should consider whether you can afford to take the high risk of losing your money.
Step 2: Upload ID
Uploading documents is a simple process that can be done by clicking here. Documents can be uploaded in the following formats: .pdf, .jpg, or .doc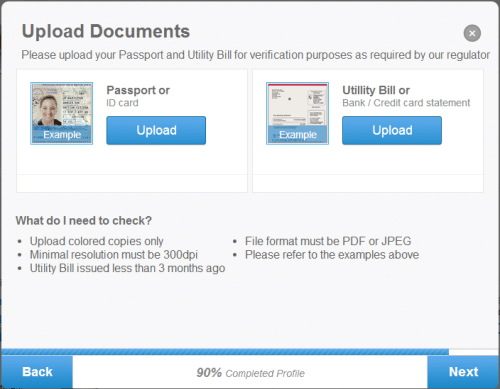 Step 3: Deposit Funds
In the left-hand navigation box, select the "Deposit Funds" button. Enter the amount you would like to deposit. Enter your payment information and choose your preferred method of payment. Users in the U.S. have the following three payment options: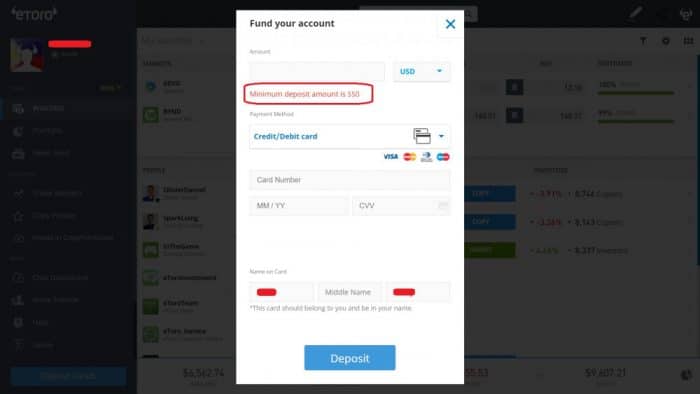 Step 4: Search For a Stock Trading Market
On your eToro dashboard, click "Trade Markets." Select "Stocks." Then scroll down to look for "DOGE" and click "Buy" and set the amount you want to invest. Click "Open Trade" and there you go!
Step 5: Place a Stock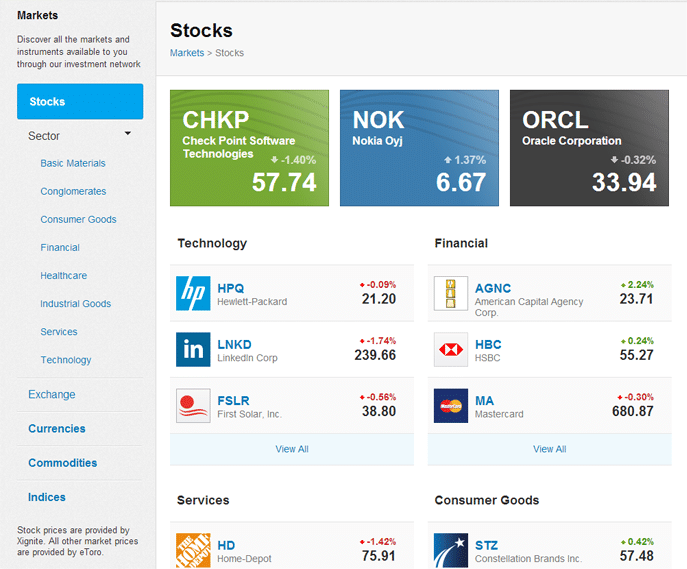 Conclusion
In today's market where so many stock trading brokers compete for your attention, you don't need to settle for the first service that catches your eye. Investigate the many platforms in this space, instead. You will be able to find a trading platform that is right for you by doing so.
However, if you don't have time to explore the hundreds of platforms available, we recommend eToro. Over 2,400 stocks are available on this platform across 17 international markets - all commission-free. Additionally, the platform is heavily regulated and enables you to deposit funds within minutes after setting up an account!
eToro – The Best Stock Broker With 0% Commission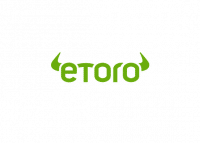 67% of retail investor accounts lose money when trading CFDs with this provider. You should consider whether you can afford to take the high risk of losing your money.
FAQs
What is the best stock broker for beginners?
If you are trading stocks online for the first time, you must use a user-friendly broker for beginners. According to us, the eToro stock trading broker is the best for beginners. To use the broker, you do not need any previous trading experience.
What stock trading markets can you access online?
You can choose from different stock markets depending on the broker you choose. eToro, for example, covers 17 international markets, while Robinhood focuses largely on US-listed stocks.
Are the stock brokers safe?
It's safe to use stock brokers in most cases. However, the broker must have a brokerage license from a reputable organization to be considered safe. The FCA, FINRA, and ASIC are a few examples.
How do stock brokers make money?
The best stock brokers make money by charging fees, just like traditional brokerage firms. These fees can be in the form of commissions or spreads. In addition, deposit/withdrawal fees, overnight financing fees, and inactivity fees are also how stock trading brokers make money.
Which stock trading brokers accept PayPal in the U.S.?
PayPal can be used to buy stocks online. People are increasingly investing in stocks online. You can research investments, track company performances, and buy and sell stocks with many online stock trading companies.
How do you short stocks online?
Using a trading stock broker is the easiest way to short stocks online.