Axi Review Nigeria- Main Features, Pros and Cons Revealed!
Axi broker is a popular platform that offers some of the best tools to improve your trading. In this Axi Review Nigeria, we will take a look at the key tools as well as the platform's main features. If you are interested in creating an account on this platform, keep reading to find out everything you need to know before getting started.
Axi Review Nigeria- Key Points
One of the longest-running platforms on the market

Offers multiple account types

Demo account available

Minimum deposit required

Excellent customer service

Allows trading in multiple assets

Platform regulated by the Australian Securities and Investments Commission (ASIC), the Financial Conduct Authority (FCA) in the UK and the Dubai Financial Services Authority (DFSA).
79% of retail investor accounts lose money when trading CFDs with this provider.
What is Axi?
Axi is a global forex and CFD trading company. The company has more than 60,000 clients and is available in more than 100 countries worldwide. Axi was established in 2007 to become a top-tier global broker thanks to its innovative approach, excellent customer service, and AI technology. The company offers a series of tools and instruments that aim to benefit all strategies used in the market.
On the other hand, the platform does not charge transfer fees, and spreads on all Axi accounts are considered very competitive. Another aspect to highlight is that no matter your experience level, the customer service team will be on-hand to help you when needed.
79% of retail investor accounts lose money when trading CFDs with this provider.
What Assets Can You Trade With Axi in Nigeria?
Below is a list of all the assets you can trade with Axi:
Cryptocurrencies
Over 30 cryptocurrencies are available as CFDs on Axi including, Bitcoin, Dash, Ethereum, Litecoin, and Ripple.
Indices
Axi offers 11 indices as futures, including European, Asian and Australian markets, as well as three mini-indexes. These include the NAS100, SPX500, and EU50, perfect for less risk-inclined traders.
Forex
Forex pairs from more than 70 providers are available at Axi, including major, minor, and exotic pairs with excellent spreads starting at just 0 pips, thanks to the broker's access to more than 20 liquidity providers.
Commodities
Traders can choose from seven commodities, all of which are available as CFDs. These include 3 metals (gold, silver, and copper), 2 energy commodities (natural gas and oil), and two agricultural commodities (coffee and cocoa).
Is Axi Regulated in Nigeria?
Axi does not have a specific regulator in Nigeria. However, the platform is regulated and authorized by the Australian Securities and Investments Commission (ASIC) and the Financial Conduct Authority (FCA) in the UK.
Is Axi a Legit Broker?
As a platform controlled by different regulators, Axi must comply with high-security standards to store all user data safely and securely. In addition, all data is encrypted, and the company employs high-tech software to protect user data.
Axi Pros and Cons
Pros:
Reduced trading commissions
No fees on withdrawals and deposits
No minimum deposit
Support for multiple users
Demo account available
Cons:
The Axi demo account ends automatically after 30 days.
The trading is limited to currencies and CFDs.
Axi Broker Key Features
In the next part of our article, we will mention some features you should keep in mind if you want to use Axie to trade any digital assets, such as cryptocurrencies, indices, forex, and commodities.
Demo account
It is always a good idea to start with a demo account at any broker. A demo account replicates real trading with virtual funds and is a no-commitment, no-risk way to get to know a broker if you are new to trading. For example, Axi offers a demo account that can be used for 30 days.
Algorithmic trading
There are several tools available in Axi that make use of algorithmic trading. These include: 
AxiTrader PsyQuation Premium
This advanced tool uses signals to trade currencies using comprehensive analysis and market indicators. The signals are based on an algorithm that helps the user to get better trading performance.
AxiTrader Autochartist
Autochartist for MetaTrader 4 is a plugin that can detect chart patterns and find trading opportunities in real time. A daily market report is produced for three days while market volatility analysis is generated.
By examining these performance statistics, traders can also refine their approach. In addition, an Autochartist plugin is an important tool for retail traders. It eliminates conditions that lead to losses.

Minimum Deposit
No minimum deposit is required to open an Axi account. However, most brokers recommend a deposit of $100 or $200 to get the most out of the service.
Among the methods available to make the minimum deposit are:
Debit and credit cards

Bank wire transfers
Withdrawals
Withdrawals from AxiTrader accounts can be made using standard debit cards. In addition, the withdrawal process is secured by third parties.
The withdrawal process typically takes up to two days, and you must withdraw a minimum of $5, depending on your withdrawal method.
Registration
The Axi registration process is relatively easy. You only need to access the broker's website, fill in the requested information and then go through the verification process. For verification, you will need to attach a photo ID and a utility bill in the name of the person interested in opening an account. The latter is to verify the address of residence.
Generally, the process is very fast, and once it is completed, the deposit is made to start trading if you do not want to use the demo account.
79% of retail investor accounts lose money when trading CFDs with this provider.
Platform fees and spreads
In terms of commissions and spreads, the platform offers only floating spreads. In the standard Axi account, the spread begins at just 0.4 pips. In the pro account, the spread starts at 0 pips with a reasonable $3.50 per side per lot traded.
Night rates
Overnight fees are common to all brokers- they are the charges involved with holding positions overnight. The overnight fees are generally charged on CFDs, marked up when the market closes.
The exact figures will have to be checked through your trading platform since it is a fluid fee based on the market and the asset
24/7 trading
As the merchants run the company, they understand the importance of 24-hour service for their customers and do their best to provide it. In addition to offering advanced and developed MetaTrader 4 (MT4) platforms, Axi always emphasizes integrity, service, and execution. Client funds are also separated from the funds of the company to ensure the safety.
Another way to stay connected with the market and 24-hour trading is by taking advantage of the fact that Axi has a mobile app compatible with all mobile devices, whether iOS or Android. In addition, the app works with MT4. The app is very easy to use. It also has fully detailed charts and tools that allow you to stay on top of market prices and trade anywhere; all you need is internet access.
Customer support
AxiTrader's customer support team is available 24 hours a day, 5 days a week. Traders can send their queries via email or use the free number on the trading platform.
The broker's website offers support in more than 10 languages. Traders worldwide can access these languages, which include English, Spanish, Russian, Arabic, Chinese, Thai, Vietnamese, and others.
It is often difficult for traders to contact customer support teams overseas to request a callback, as emails and phone calls often take a long time to respond. AxiTrader's live chat feature makes connecting and receiving immediate assistance easily. In addition, live chat representatives can help traders with their main concerns.
The Axi FAQ section provides reliable answers to questions and enhances clients' trading experience. In addition, to live chat, a FAQ section explains in detail some training topics.
When users encounter a minor problem while opening or managing multiple accounts, they need to contact AxiTrader customer support. In addition, the customer support staff puts new accounts in touch with experts for a quick recovery if they lose money when trading with the software for the first time.
Axi Account Types
Axi offers a wide range of trading accounts. Here's a closer look.
Demo Account
As mentioned in this review, you can use a demo account at Axi to learn how the platform works and how the market behaves. This tool is perfect, especially for beginners, as you will be able to practice without putting your capital at risk.
In Axi broker, the demo account lasts for 30 days. After that, you only have to complete the form with the requested data to re-activate it.
Axi Standard Account
The standard Axi account offers an excellent and very competitive spread that allows trading with 0.4 pips without having to pay a commission, and the best thing is that there is no minimum deposit required.
Through this type of account, you can trade over 140 assets with CFDs, plus other advantages such as the possibility to use VPSs, and EAs through their trading platform and free chart analysis.
Axi Pro Account
The next type of Axi account available is the Pro account. Again, this account has no minimum deposit and has an even more competitive initial spread. This spread starts from 0 pips, although there is a $7 commission per turn on forex trading. Again, over 140 tradable markets with the same great features you would get with any other major broker if you use a Pro account.
Islamic Axi Account
Islamic accounts do not charge exchange fees, so they comply fully with Islamic law. You will have available all the tools and assets to operate.
Is Axi Endorsed By Any Celebrities?
Some platforms use celebrities to endorse their products and encourage people to invest. However, Axi is yet to be linked to any major celebrities in Nigeria or around the rest of the world. 
Never the less, there are rumors that the platform is linked to Elon Musk and Jeff Bezos. These rumors have not been confirmed and you must proceed with caution when choosing what to believe. 
How To Start Using Axi in Nigeria
For users interested in opening an account on Axi, here are the steps to follow to open an account on this platform successfully.
Register for an account
To successfully register, you must go to the platform's official website and fill out an application form.
The registration requires the following information: email address, phone number, and country of residence.
79% of retail investor accounts lose money when trading CFDs with this provider.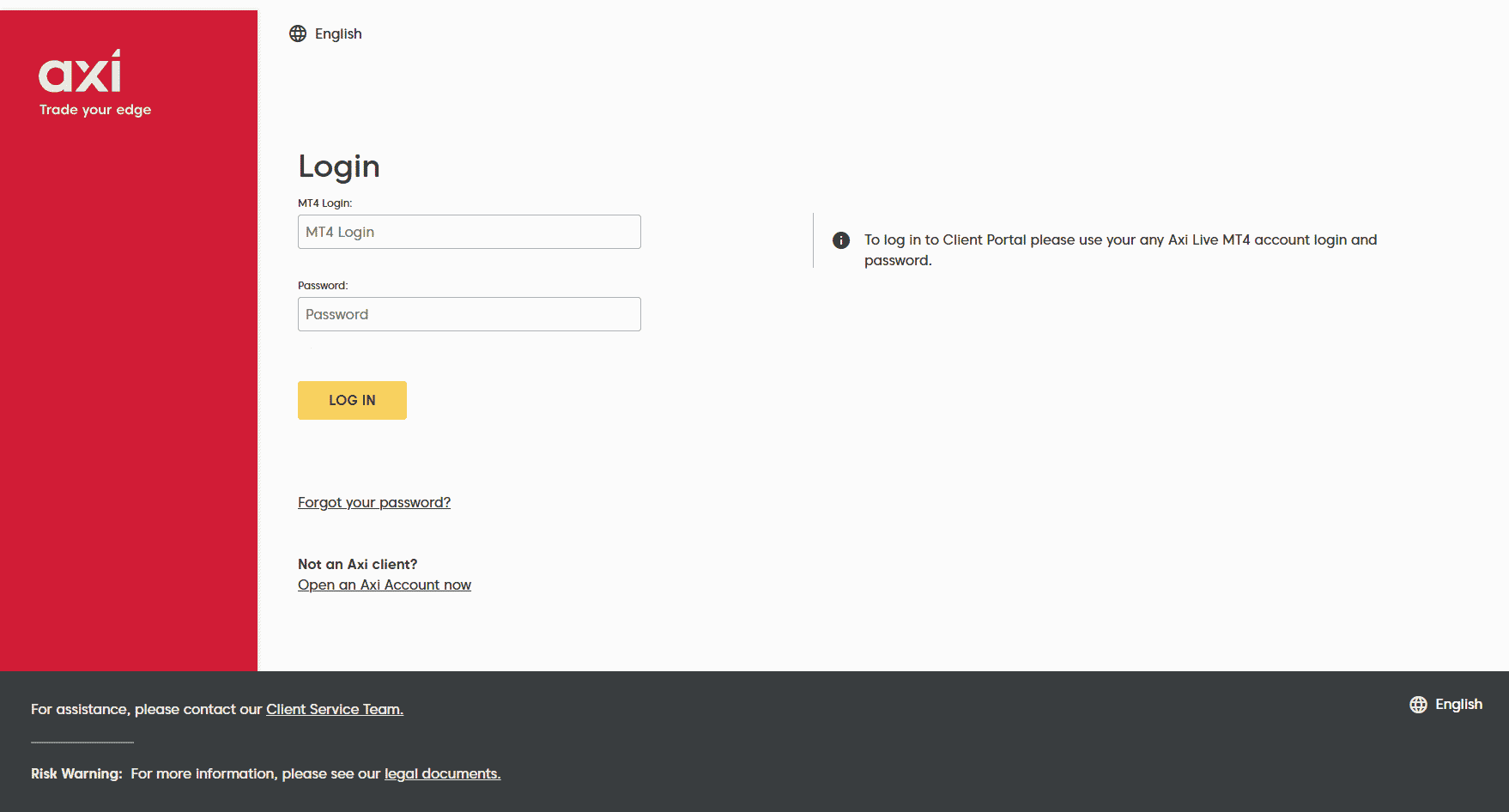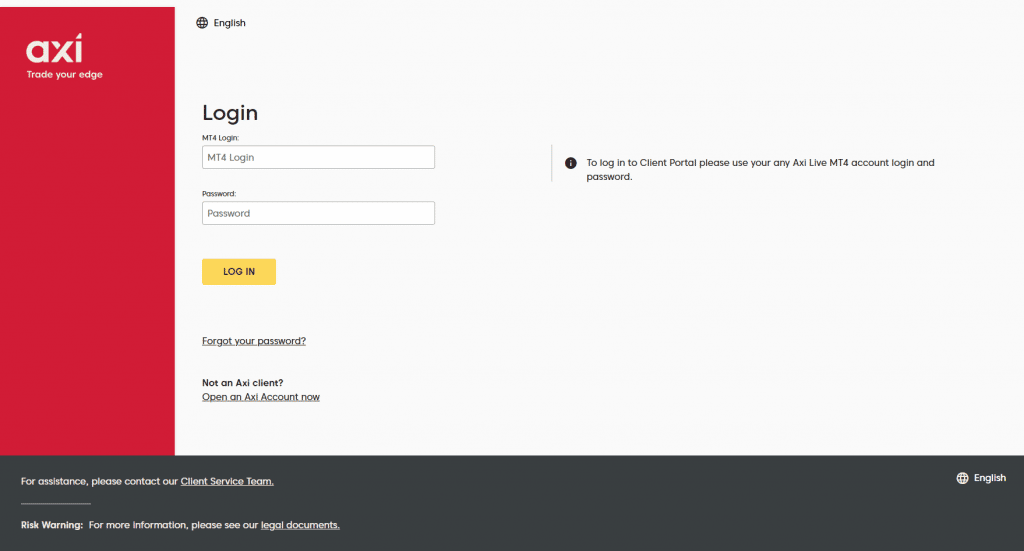 Verify ID
You will require to upload digital copies of proofs of identity and residency, including a driver's license or passport and a recent utility bill or bank statement.
AxiTrader has developed a simple, four-step procedure to meet KYC regulatory requirements. This process will likely make new traders comfortable opening an account with AxiTrader. It takes a minimum of two business days to approve a new account.
Deposit funds
Once the previous step is completed, it is time to deposit funds into the account. Again, it is important to remember that Axi does not require a minimum deposit to get started, so we recommend you start by depositing small amounts.
Accepted methods include debit and credit cards, bank transfers, Skrill, and others.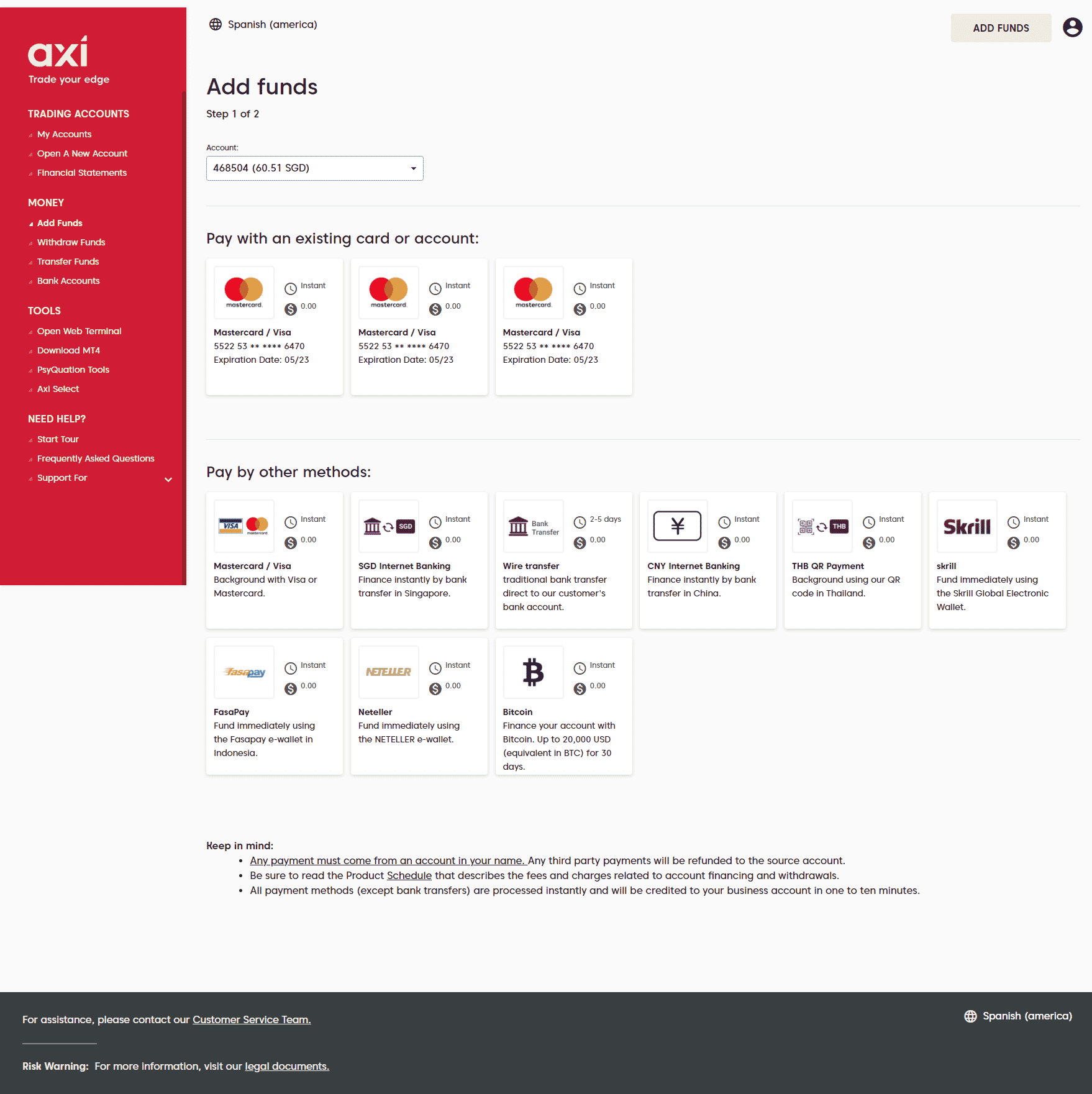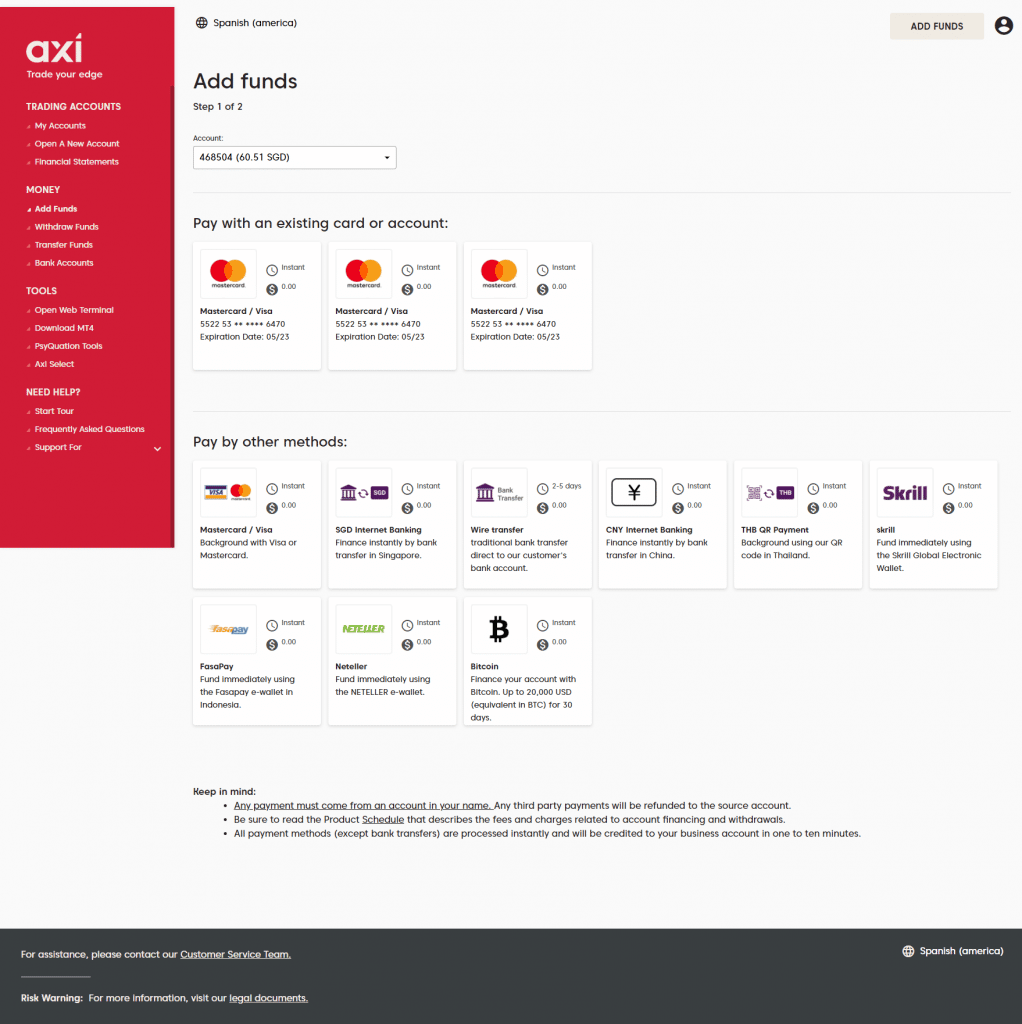 Choose an account type
Now you must choose the type of account that best suits your goals in the market.
Before trading, we recommend that if you are a beginner, you make use of the possibility of using the demo account. With the demo account, you can test all your strategies and get to know the market and how the platform works. Moreover, on the demo account, you do not put your real money at risk.
Start trading
Once you feel ready, you can use the platform to research assets and place trades. 
Axi Broker Review Nigeria- Our Conclusion
This Axi Review Nigeria has provided a closer look into the trading platform, from its founding to the types of accounts and digital asset classes you can trade. We also we went over the platform's key features you should keep in mind when you want to use it.
So, if you want to open an account, simply follow the step-by-step instructions explained in this review, and you will be able to trade with one of the best platforms on the market.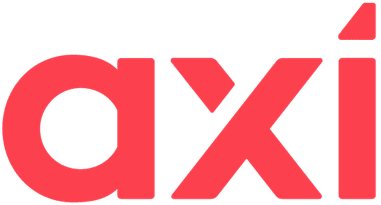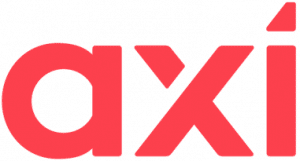 79% of retail investor accounts lose money when trading CFDs with this provider.
FAQs
Can you trade crypto with Axi broker?
Axi can trade over 30 cryptocurrencies as CFDs including, Bitcoin, Dash, Ethereum, Litecoin, and Ripple.
Is Axi a trading bot?
Axi is a platform that allows you to trade different digital assets, such as cryptocurrencies and indices, among others.
Is Axi a safe platform?
You can consider Axi a completely secure platform as all user information is encrypted, which makes it difficult for it to be stolen. Axi is also regulated and authorized by ASIC, FCA and DFSA.
Can you use Axi to trade forex?
Yes, you can trade forex pairs from more than 70 providers on the platform.
Is Axi good for trading in Nigeria?
Axi is an excellent choice for trading in Nigeria because it offers no minimum deposit for any of its accounts. It also has a demo account and all kinds of charts for market analysis. On the other hand, Axi is a safe platform as it is regulated.