How To Buy Battle Infinity IBAT 2023– Beginner's Guide
Hundreds of new cryptocurrency projects have launched in the past few years, taking original concepts to new levels. Battle Infinity aims to do the same in 2022 with NFTs, P2E elements, and a metaverse-based crypto-gaming platform.
This guide aims to provide you with a detailed explanation of how to buy Battle Infinity (IBAT), including a step-by-step tutorial on how to invest in IBAT tokens before highlighting some of the main reasons why Battle Infinity could be a great investment.
Key points on Battle Infinity
Battle Infinity is an NFT-based gaming platform that integrates play-to-earn (P2E) mechanics and NFTs into a rich virtual world.
As part of Battle Infinity's fantasy sports league, crypto staking, NFT trading, and other avenues, users can earn rewards (denominated in IBAT).
IBAT has a capped supply of 10 billion and is used for staking and transactions in the Battle Infinity metaverse. The token is based on the Bep-20 protocol.
Early investors can purchase tokens using BNB as part of Battle Infinity's crypto presale to gain exposure to the project's growth.
Cryptoassets are highly volatile unregulated investment products.
How To Buy Battle Infinity- Quick Steps
Since Battle Infinity is still in the presale phase, the process of buying IBAT is slightly different to the typical process of purchasing cryptocurrency. Taking that into account, here is a step-by-step guide to help you understand how to buy Battle Infinity crypto in minutes through the platform's online portal:
Step 1 – Set Up a Crypto Wallet: Use a wallet compatible with BEP-20 tokens, such as MetaMask or Trust Wallet.
Step 2 – Purchase BNB: Invest in Binance Coin (BNB) through a reputable broker or exchange.
Step 3 – Connect Wallet to Presale Dashboard: Upon opening the Battle Infinity website, click on 'Launch Presale,' then click 'Connect Wallet' and follow the instructions to link your wallet to Battle Infinity.
Step 4 – Buy Battle Infinity: Specify how much IBAT or BNB you'd like to buy, and click 'Buy IBAT' to confirm your purchase.
Step 5 – Specify IBAT Contract Address: To access your IBAT holdings, click 'Import Tokens,' enter the IBAT token address, and click 'Add Token.'
Cryptoassets are highly volatile unregulated investment products.
How to Buy Battle Infinity Crypto Tutorial

Due to its exciting play-to-earn (P2E) features and NFT integration, Battle Infinity is considered one of the best new crypto coins on the market today. However, investors can only participate in Battle Infinity's presale since its platform has not yet been released.
This section will give you a more detailed overview of how to purchase Battle Infinity. We will ensure that everything is covered so the process can be completed as smoothly as possible.
Step 1: Set up a MetaMask wallet
Firstly, you need to create a crypto wallet compatible with Binance Smart Chain (BSC), the blockchain that runs Battle Infinity. Many crypto wallets offer this functionality, but MetaMask and Trust Wallet are two of the easiest to use wallets out there.

Throughout this guide, we will use MetaMask as an example to explain how it works. To create a MetaMask wallet, go to the MetaMask website, click on the 'Download' button, and follow the instructions on the screen.
Step 2: Deposit BNB
Binance Coin (BNB) is the token used by the platform for buying Battle Infinity. You can purchase BNB from most major exchanges including eToro. Once you have purchased the coin, add it to your MetaMask wallet.
Step 3: Link Wallet to Presale Dashboard
Then click 'Connect Wallet' on the page after clicking 'Launch Presale' on Battle Infinity's website. You will be asked to choose your wallet provider; click MetaMask and follow the instructions on the screen.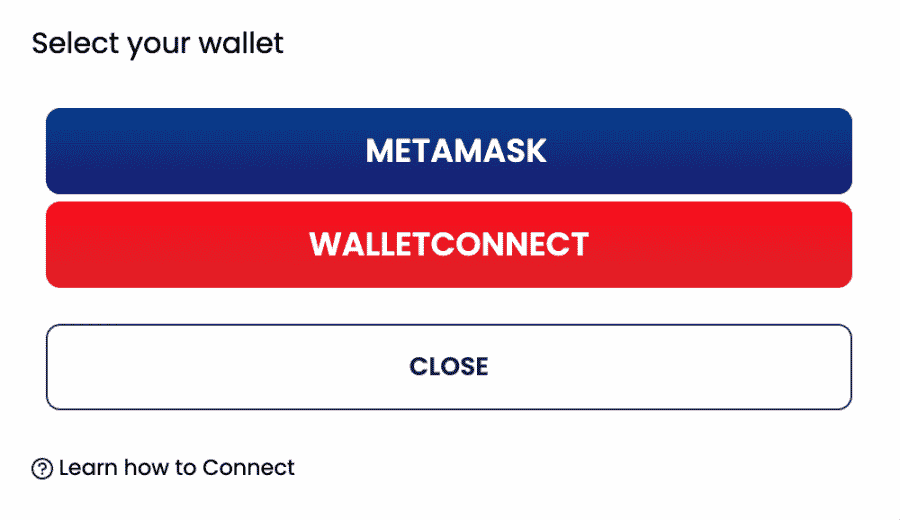 Step 4: Buy Battle Infinity
Enter the amount of IBAT (or BNB) you would like to acquire (or invest) in the 'Buy IBAT' order box. Then, click 'Buy IBAT' when you are satisfied with the conversion.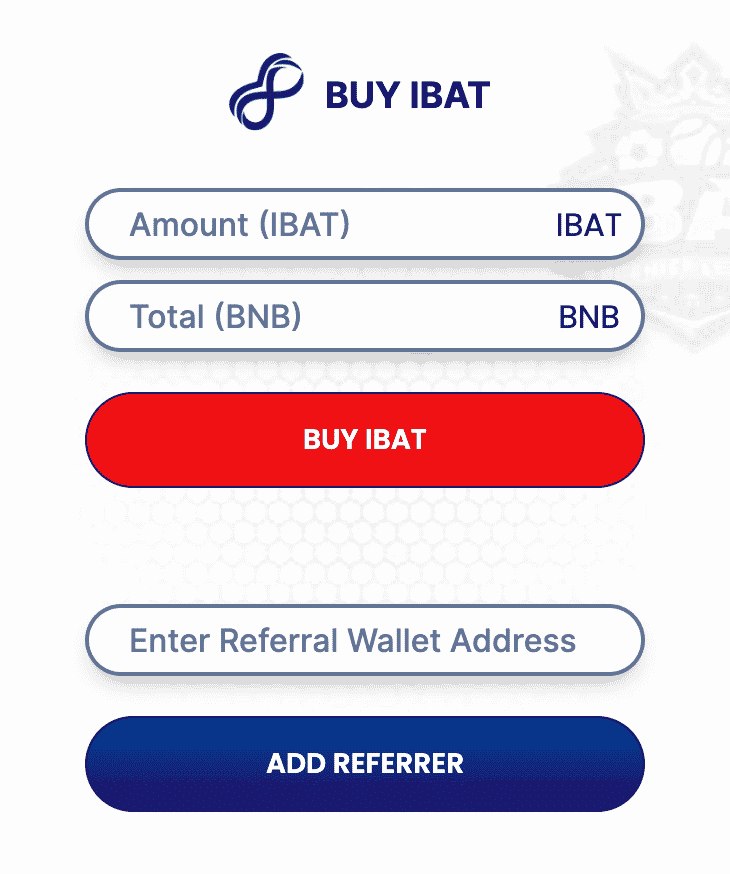 Step 5: Import IBAT Contract Address
To access your holdings, you must manually import the token's contract address into your MetaMask wallet. Then, enter the unique IBAT contract address in the pop-up that appears – this address will be available in the official Telegram group. Then click on 'Add Custom Token.'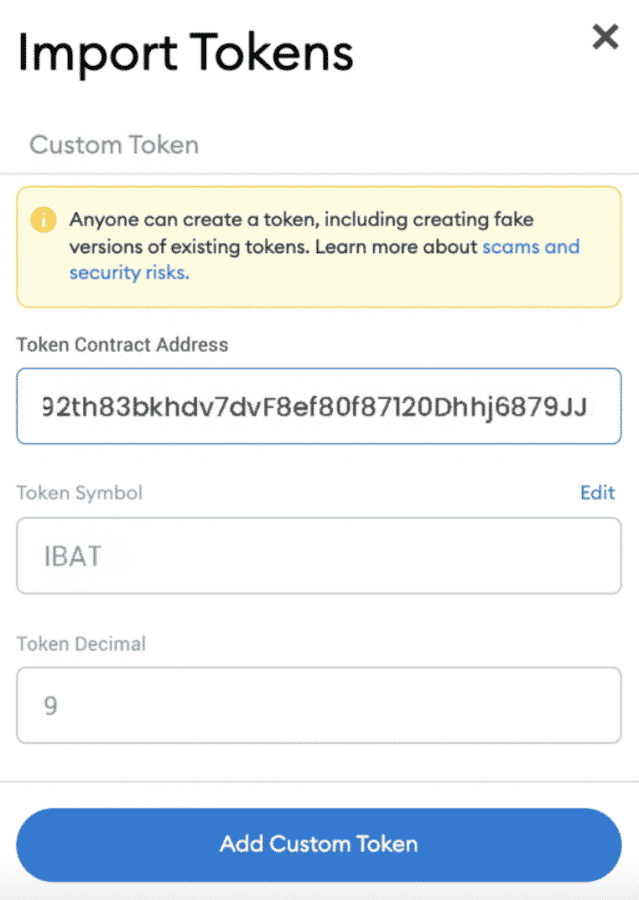 Cryptoassets are highly volatile unregulated investment products.
What is Battle Infinity Token?
The IBAT token unlocks the main features of the Battle Infinity platform, which removes all barriers between the gaming platform and the Metaverse/Blockchain, making its ecosystem smoother, more efficient, and barrier-free.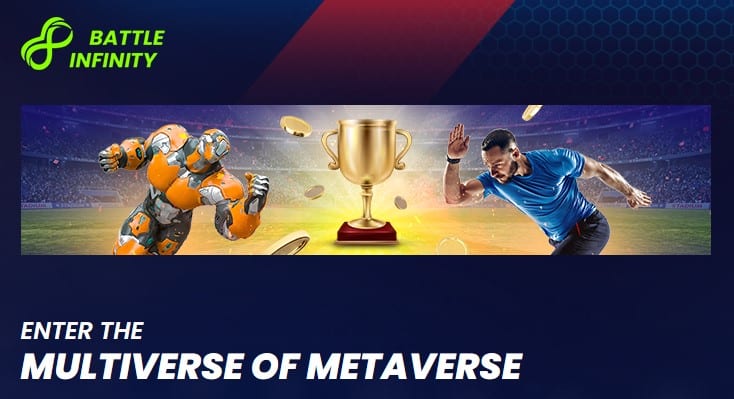 Based on the BEP-20 protocol, IBAT is a utility token that runs on the Binance Smart Chain network. It gives value to valueless objects, assets, characters, etc., in traditional gaming platforms. In addition to the above, IBAT Tokens can be used in a variety of ways, such as:
Entrance to Battle Infinity Platform: With this token, users gain access to Battle Infinity. Playing the games on the platform allows users to collect IBAT tokens, which they can spend on their custom characters, lands, and weapons.
Advertisement: In the Battle Infinity Platform, users can advertise on the billboards using only IBAT tokens they earn by playing games or purchasing them.
Monetization: As part of the Battle Infinity platform, users can earn money by monetizing their land and billboards. Owners of the land on the platform can allow other users to advertise inside their games on their land and earn money by doing so.
Battle Stake: Users who want to play a game on the platform must stake some amount in the battle pool to get an entry pass for the game, whether 1VS1 or any other team game. A 10% fee will be deducted from the total stake amount from the battle pool, of which 5% will be used for the foundation development. The remaining 5% will be allocated to the global stake pool to reward the players and users; the remaining 90% will be awarded to the winner of the game they staked.
Global staking pool: The global staking pool receives 50% of any transaction fees deducted. The most active and valuable players are rewarded through the global staking pool. On this platform, winners can be rewarded based on their score, completing tasks, being the most valuable player, active user, and participating in Airdrop Events.
Platform Foundation: It contributes to the development of this platform's ecosystem. In addition, it helps the foundation to make efficient and gives the users a better gaming experience.
Why Invest in Battle Infinity Token?
The developers' roadmap even notes further exciting plans for the future for Battle Infinity so that it can become the best crypto to invest in within the metaverse niche. So now, let's explore some of the main reasons why Battle Infinity could be a good investment:
Access Battle Infinity Platform
Play-to-earn (P2E) mechanics are integrated with NFT integration in Battle Infinity, a revolutionary crypto-gaming platform based in the metaverse. Battle Infinity is considered one of the year's best gaming crypto coins for its ability to generate income through skilled gameplay with a social component.
There are five distinct parts to the Battle Infinity ecosystem:
IBAT Premier League – This is Battle Infinity's flagship feature. The IBAT Premier League is structured as an NFT-based sports tournament. Players build their own team of players and compete to win rewards. These winnings can then be swapped for currency in the Battle Swap exchange.
Battle Swap – Battle Swap is the platform's native exchange that allows users to swap tokens without needing a centralized intermediary. For example, battle Infinity's native token, IBAT, can instantly be exchanged for alternative digital currencies.
Battle Market – This functions as the in-game marketplace for Battle Infinity since all the platform's assets are NFTs. Here, users can purchase new NFTs.
Battle Store – The multiplayer game store offers a variety of P2E games, providing users with additional ways to earn rewards. Also, these games offer NFTs for skilled gameplay, which can then be sold on the Battle Market.
Battle Stake –Staking can be done solo or on this platform, generating a yield on IBAT holdings. Additionally, Battle Stake offers 'crates staking,' which rewards players with random prizes.
All main features take place within the Battle Arena.  In addition, players can customize their avatars with new hairstyles, clothing, and accessories in the Battle Arena. These can be purchased as NFTs in the Battle Market.
The Battle Arena allows players to interact and team up with other Battle Infinity players. According to Battle Infinity's whitepaper, users can also gain an even more immersive experience with virtual reality headsets.
In addition to being the native token of Battle Infinity, IBAT is also a key component of the ecosystem's smooth operation. In addition to rewarding distribution, transactions, and staking, this BEP-20 token can also be used to purchase advertising space on in-world virtual billboards. As a result, IBAT looks like one of the most promising altcoins of this year.
Battle Infinity recently launched a presale phase for IBAT tokens that is available through the Battle Infinity website. Early investors can purchase tokens for a reduced price – thus placing them in the best position to make high returns if the project's launch on exchanges causes a price increase.
Battle Infinity has already been KYC-verified on CoinSniper and fully audited by SolidProof.io, one of the leading security firms in the industry. In addition, the official Telegram group is a great place for investors to learn more about the project.
Token Staking
Battle Stake is a staking platform, where users can compete against other stakers for higher APYs. In general, there are three different types of staking:
Solo Staking
Duo Staking
Crates Staking
Solo Staking
This type of staking allows you to directly stake your IBAT token to earn a high annual percentage yield (APY) on the token, where the company creates pools based on the time period, such as monthly, half-yearly,  and yearly pools.
Duo Staking
Using this type of staking, you can stake any token with the native IBAT token and earn interest. By doing this, they will also get stable and passive income not just from the token but also from their favorite tokens & coins like BNB, ETH, DOGE, and even stable coins like USDT and BUSD.
Crates Staking
With this type of stake, you buy NFT crates from the Battle Market and unlock them with the matching NFT key, which you can either purchase or obtain by playing games on Battle Games and waiting a certain amount of time to unlock them, depending on the crate type fully. Crates can be divided into three types:
Free Crates – In order to unlock these, you must complete daily tasks or win a game. These are extremely rare and have a short unlocking period.
Silver Crates – They are less rare than gold crates and can be purchased from Battle Market or won by ranking high on the weekly leaderboard.
Gold Crates – You can buy these crates from Battle Market or win them by ranking high on the monthly leaderboard.
Crates not only earn IBAT tokens but also offer exclusive gifts, vouchers, prizes, special benefits, etc. Depending on the rarity of the crates, IBAT tokens and gifts increase exponentially. Crates can also be traded on the Battle Market.
Cryptoassets are highly volatile unregulated investment products.
Revolutionary NFT Gaming Platform
Aside from being one of the coolest NFT projects of the year, Battle Infinity is also leveraging the success other platforms have had in this area. Battle Infinity's NFT ecosystem provides users with complete control over their in-game assets.
In Battle Infinity's fantasy sports game, all players will be categorized as NFTs. As a result, users can trade these players on the secondary market, benefiting from value increases due to each player's actual performance. In addition, the IBAT tokens can also be used to improve a player's team, increasing their chances of getting rewards.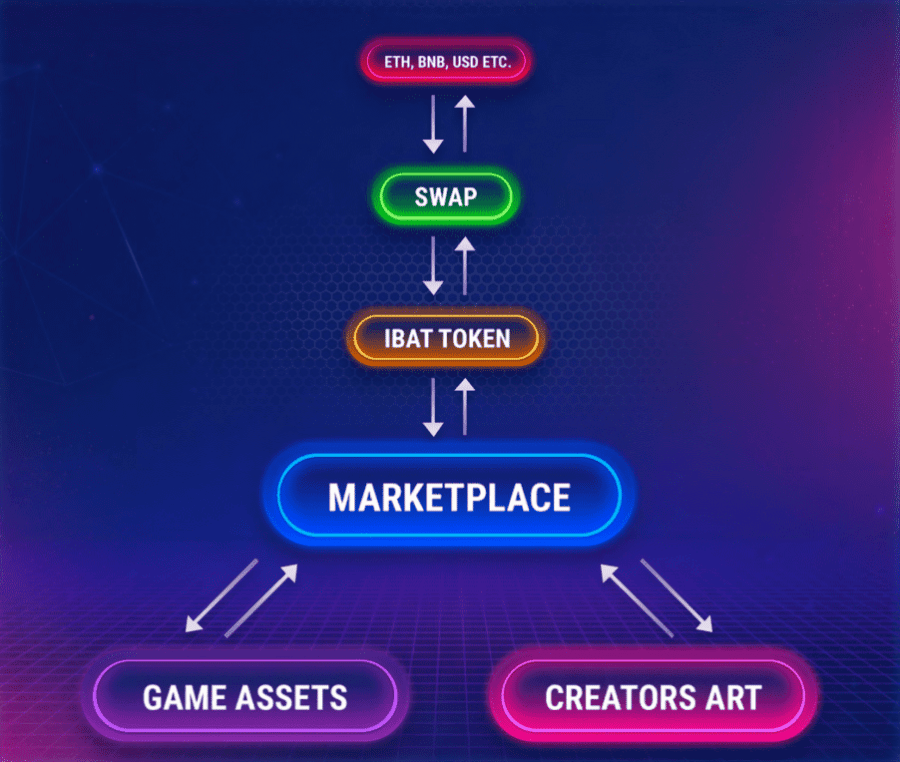 Users can purchase NFTs from the Battle Market. Additionally, users will be able to mint artwork and advertise on virtual land within the 'Battle Arena' – providing another way to earn rewards.
Protected Against Bots (ANTIBOT)
There are several concerns that investors of IBAT could have when it comes to the use of bots to disrupt the price of the token. However, Battle Infinity has an ANTIBOT system that prevents bots from disrupting price action.
IBAT Price
There have been a number of great ICO cryptos that had a presale phase that was used to drum up momentum and raise funds for the project. Presales for Battle Infinity are now live, with tokens available to purchase using BNB. The investment of 1 BNB will provide 166,666.66 IBAT tokens.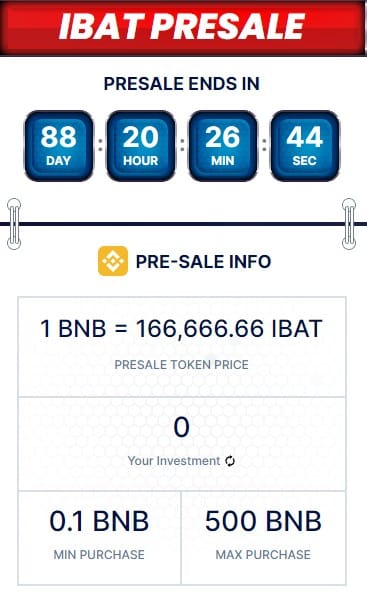 During this presale phase, each IBAT token is valued at roughly $0.0015 based on the BNB/USD exchange rate. The presale will be live for 90 days. In addition, Battle Infinity's presale is accessible to all investors with a minimum investment of only 0.1 BNB ($22).
Battle Infinity Price Prediction
Providing an accurate estimate of IBAT's future value is challenging, similar to the best penny cryptocurrencies. Due to IBAT's presale phase and lack of exchange availability, this is even more difficult.
However, the crypto-gaming sensation Lucky Block surged by over 3,000% after launching on PancakeSwap from its presale price.
Despite the lack of guarantees, Battle Infinity has the potential to produce triple-digit (or quadruple-digit) returns.
IBAT Premier League
IBAT Premier League is the world's first decentralized blockchain-based fantasy sports game, integrated with metaverse, where you can build your team and compete against other players worldwide.
It is necessary for users of the IBAT premier league to purchase an NFT pass to enter the league or matches within the league. With an NFT pass, users are given a budget to form their virtual team by buying real-life sports players within the budget.
Based on their performances in real-life sports, the players are chosen from this pool and are given a valuation based on their performance.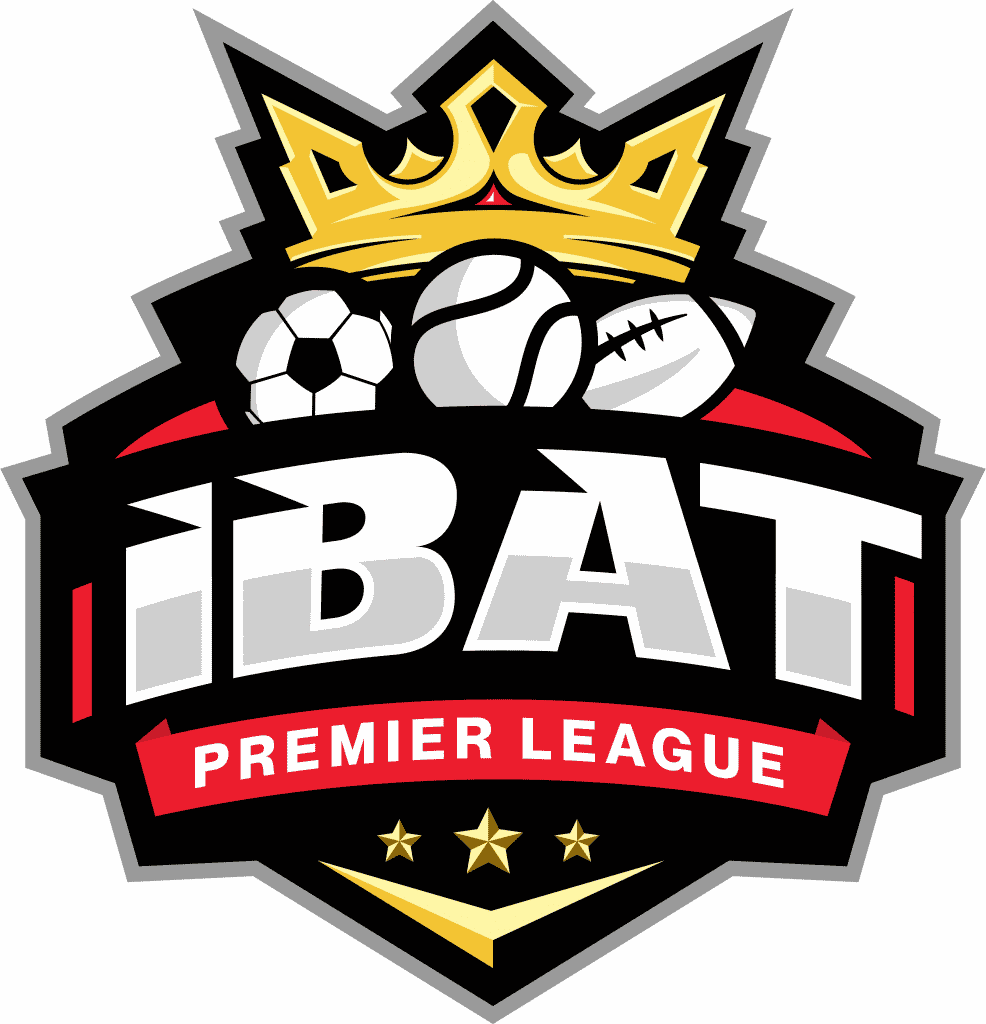 Users' teams get scores based on the performance of their players, and the team with the highest score wins and receives a reward. In addition to rewards, the holder's NFT pass gets whitelisted, which entitles them to additional benefits.
The Whitelisted NFT passes can also be traded in the Battle Marketplace, and the original winner gets extra winning rewards during each BUY/SELL.
Features
NFT Passes:  As these are digitally created NFT passes that uniquely allow access to Leagues and Matches, this is the core of the complete game.
Budget Player Valuation & Team Valuation: A budget is the maximum amount a user can spend on forming a team, a player valuation is a price a user must pay for a player, and a team valuation is the total value spent on forming a team.
Trade: All NFTs used in the game are tradable, which makes its fantasy sports ecosystem unique. The Battle Market provides liquidity for automatic trading of whitelisted NFT passes (winning NFT passes).
Rewards
A reward is an integral part of every game; without a reward, there is no motivation for users to play the game. A reward can be monetary or non-monetary. As part of their ecosystem, they offer users a hybrid reward system where they can earn rewards both in monetary and non-monetary terms. Rewards can be categorized into four types:
Daily task reward: Users who complete daily tasks are rewarded with this reward.
Match reward: Owners of teams receive this reward based on their score.
League reward: A reward is given to the owner who has the highest total score in every match of the league or session.
Rank reward: Besides the match reward, the team owner who ranks in the top 10 gets an additional reward for becoming a leaderboard rank holder
Winning NFT pass Rewards: Users who achieve the highest rank in a match or league will receive NFT pass rewards.
Where To Buy Battle Infinity
The guide has presented a comprehensive walkthrough of how to buy Battle Infinity, highlighting the steps investors need to take to acquire tokens during the presale.
Even though Battle Infinity is still in the development stage, the hype surrounding this exciting project is already beginning to build. The combination of NFTs, P2E gaming, and metaverse elements makes Battle Infinity highly sought-after crypto. According to its roadmap, IBAT will be listed on Pancakeswap once it reaches phase 3.
PancakeSwap – IBAT Will Be Available on Phase 3
PancakeSwap is a decentralized exchange (DEX) on the BSC network that facilitates token swaps through an automated market maker mechanism. A group of anonymous developers launched it in September 2020. In addition, it is a permissionless DEX, so anyone can list their tokens on the exchange if they create a liquidity pool.
PancakeSwap provides its users with token swaps, liquidity provision, farming, staking, perpetual trading, lottery, NFT marketplace, launchpad, etc. A variety of financial products are available through one interface, making it one of the few DEXs that provides a complete Defi experience. Users usually experience this type of user experience on centralized exchanges with large operational teams and funding. Typically, DEXs specialize in one or two financial products.
According to Defi Llama, PancakeSwap is the largest DEX and DeFi application (by TVL) on the BSC network, holding approximately $2.95 billion in assets. 'CAKE' is PancakeSwap's governance token that allows holders to vote on proposals. In addition, stakeholders and liquidity providers are also rewarded with CAKE.
Battle Infinity – Best Crypto Presale 2022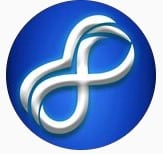 Cryptoassets are highly volatile unregulated investment products.
FAQs
How to buy battle infinity tokens in the US?
Currently, Battle Infinity is offering its IBAT tokens through a presale. These tokens can be purchased using BNB by linking crypto wallets to Battle Infinity's presale dashboard.
What is Battle Infinity?
Battle Infinity is a metaverse-based 'play-to-earn' (P2E) platform that integrates NFTs to provide an immersive gaming experience. As part of the platform, users can participate in a fantasy sports league, stake cryptos, and trade NFTs in order to generate rewards.
Is Battle Infinity a good investment?
Battle Infinity has undoubted potential due to the popularity of metaverse-based platforms, despite nothing being certain in the crypto market. In addition, Battle Infinity will benefit from positive investor sentiment once the market picks up again.
Where to buy Battle Infinity?
Investors can access the presale dashboard on the platform's website to purchase Battle Infinity. Additionally, you can purchase IBAT tokens using BNB for approximately $0.0015.