Netflix has continued to expand its global reach each year, and the first quarter of 2023 was no different. According to TradingPlatforms.com, the streaming giant reported that its global membership had grown by 1.75 million in the first quarter to 232.5 million, marking a new milestone for the company.
This also marked the first earnings call since Reed Hastings stepped down from his role as CEO and moved up to executive chairman. Hastings was replaced by Greg Peters and Ted Sarandos, who now share the role of co-CEOs.
Edith Reads, TradingPlatform's financial analyst commented on the data saying," The streaming giant has had an impressive growth trajectory since it first launched and its latest numbers only continue to prove its power in the streaming industry. It's clear that Netflix has managed to capture a global audience with its wide variety of content, from blockbuster movies to award-winning documentaries."
In addition to reporting on subscriber totals, Netflix also revealed that it generated $8.16 billion in revenue for the first quarter. It has seen a 3.7% per cent year-over-year growth in Q1 2023, just below Wall Street's expectations of $8.18bn. Operating income was reported at $1.71bn, and operating margin came in at 21%, compared to 25% from the year-ago period. Net income for the quarter was reported to be $1.3bn, and diluted earnings per share were $2.88, ahead of analysts' expectations of $2.86.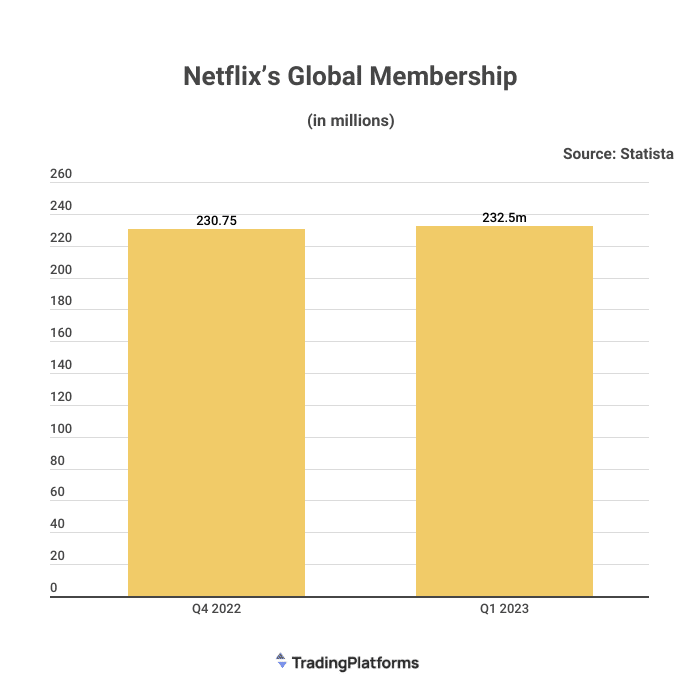 Why the Decline of Netflix's Viewership 
Netflix has announced that it will launch its paid sharing program in the US and Canada in the second quarter. This program will charge users who allow others to use their login credentials. It has already been launched in 12 other countries worldwide, including the UK and Australia.
The program launch is expected to cause a decrease in viewership due to casual viewers leaving and account holders downgrading or cancelling their subscriptions. Viewership for young adults, particularly those aged 18-24, is projected to decline faster than other age groups because they tend to share accounts more often, resulting in an estimated drop of 4.1 per cent for this demographic. Viewers aged 25-34 are also expected to see a decrease of 2.1 per cent in the US due to account sharing.
Still Going Strong
Despite the expected decrease in viewership from the launch of its paid-sharing program, Netflix is still going strong. It continues to dominate the streaming industry with its vast library of content and expansive reach.