The Austin, the Texas-based manufacturer of electric vehicles and solar panels, Tesla, had a spectacular year in 2022, with net profits more than doubling. According to TradingPlatforms.com, Tesla's net profits for the year came in at 12.6 billion dollars.
According to TradingPlatforms financial analyst Edith Reads, "Tesla's success in 2022 is a testament to their innovation and commitment to providing customers with quality vehicles at competitive prices. In January of this year, Tesla cut the price of its base Model 3 sedan by $3,000 to encourage more people to purchase electric cars."
Reads went on to say, "Tesla's successful strategy of price cuts, combined with the introduction of new models and increased production capabilities, have helped it maintain its dominance in the electric car market. The company is now facing competition from established car companies such as Hyundai, Ford Motor, General Motors, and Volkswagen, but Tesla's proven track record of producing quality vehicles has given it a clear edge."
High Demand
The strong performance was primarily driven by demand for electric cars, which has steadily been on the rise since Tesla launched the Model S and Model X in 2012 and 2015, respectively. The increased interest in electric vehicles allowed the company to break even for the first time in 2020, and the same trend primarily drove Tesla's performance in 2022.
Tesla also benefited from the sale of climate credits worth $1.6 billion in 2020, which helped to drive its profitability in 2022. In addition, its increased sales helped offset rising raw material costs and increase gross profit margins to 25 percent in 2022, despite the market pressure on car prices.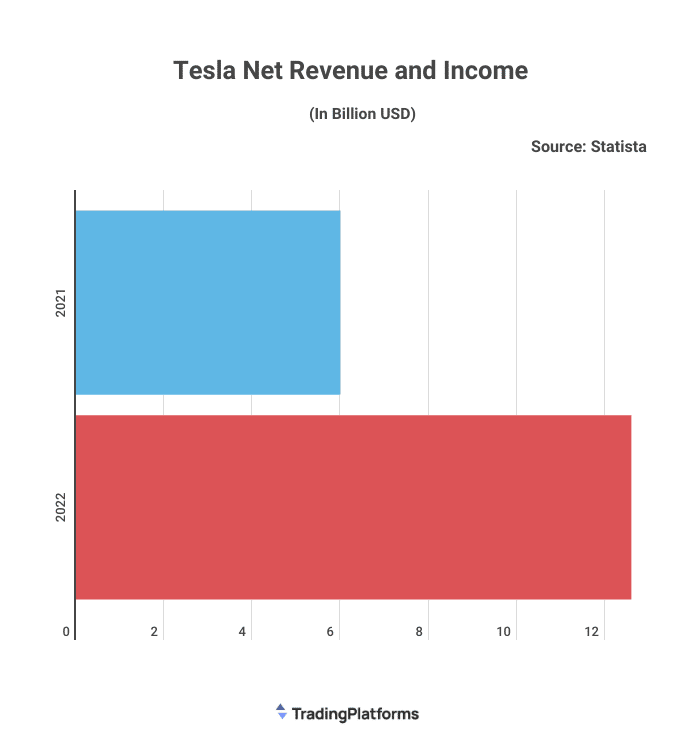 Tesla Stock Price
Despite opening 2022 at close to $400 per share, TSLA shares dropped significantly down to $108 in early 2023 due mainly to the acquisition of Twitter by Tesla's CEO and founder Elon Musk. A series of layoffs, a reshuffling and reorganizing of the core components of the network, as well as criticisms from some investors that Musk had his priorities wrong, caused stocks to nosedive.
Investors also pointed to the worries over Tesla's prospects in China. Chinese manufacturer BYD surpassed Tesla in total electric cars sold in China in 2022, and problems maintaining the supply of critical parts posed a threat to Tesla's success in the market.
Still, the company's production ramp-up of its base model in Europe, China, and North America were strong, up nearly 20 percent year-on-year. Tesla also managed to entice more customers with a $3,000 price cut on its Model 3 sedan in January 2023. This initiative appears to have spurred a surge in orders, helping the company recoup some of its losses and reassuring investors that Tesla planned to retain its dominance in electric cars.
Overall, it's been an eventful year for Tesla and its shareholders. However, with the company now focused on attaining profitability, Tesla looks set to continue growing in 2023 and beyond.