According to a forecast presented by tradingplatforms.com, the US 10-year treasury note returns will drop to 1.36% by August of this year. From the yield forecast, it seems that returns from the treasury note are headed for a downward trajectory in the coming months. At the time of writing this article, the yield on the same was at 1.7%, indicating a possible 0.34% yield decline by August.
When asked to comment on the data findings, Edith Reads from Trading platforms.com said this, "The yield from the 10-year T-note is often tracked and used as the market's benchmark. From the findings, it is clear that the yield is headed for a decline and it's safe to assume that investor confidence is also dwindling"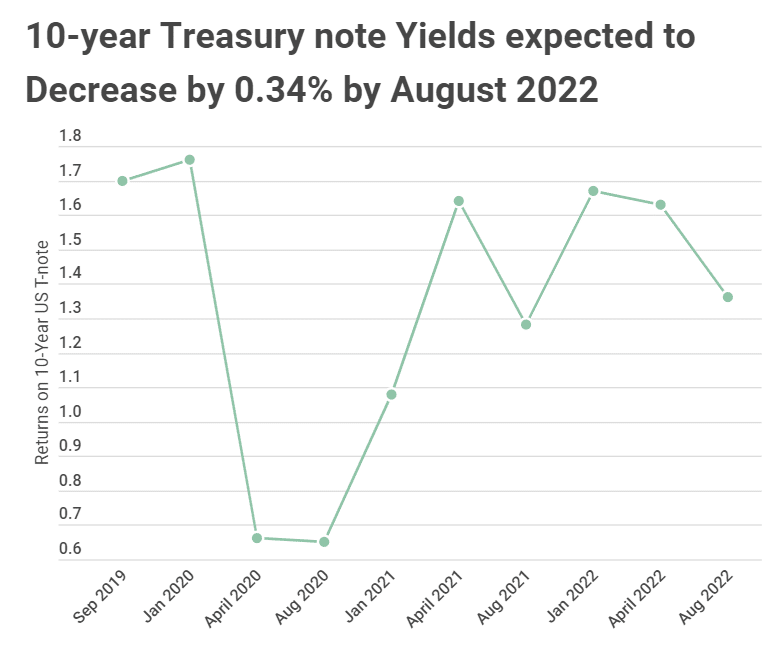 The US T-Note Yield History
To forecast the T-note's yield in the coming months, tradingplatforms.com had a look at the yield's history. 
The 10-year Treasury note has had quite the journey over the last few months, not unlike any other financial instrument. Following the emergence of the global pandemic in 2020, the T-note's yield registered a sharp decline in the first few months and hit its lowest of 0.62% in July. 
Undoubtedly, the economic uncertainty following the pandemic played a significant role in the security's yield decline. The demand for security increased as investors scrambled to get a hold of the safe security. 
The year's second half saw the yield steadily increase up to 1.64% in April 2021. Since then, the lowest yield has been 1.28% in August 2021. 
Explaining the US Treasury Note 
The US T-note is one of the securities issued by the government. It is a debt obligation that pays out fixed interests every six months and the face value at the security's maturity, which is a decade. It is one of the securities that the government uses to fund its activities. 
The 10-year US T-note is one of the most widely traded instruments in the US and outside. It is widely used to determine the overall market's growth. The yield on the 10-year T-note is used to determine other rates in the economy, such as the mortgage rates. 
The T-note's yields usually increase when investor confidence is high. The US Treasury issues the securities via an auction, and bidding determines the gains. When investors feel confident, demand for the T-note and its price drops while the yields increase.